Twitter Spaces: A playbook for professionals
People come to Twitter to discover content and information about their passions and participate in conversations about the things they love. Twitter Spaces offers professionals a new way to facilitate genuine engagements and experiences around passion points and editorial themes via audio.
Why should content professionals be excited about Twitter Spaces?
Your audience is here: The energy is already on Twitter. Spaces lets you be top of mind – at the top of their timeline – when it's time to talk to your fans and followers.
Feel the crowd: Spaces is interactive. Watch as emoji reactions flood in with your hot takes and Tweets are added into the Space to keep the conversation going.
Curate your own experience: Spaces isn't simply about holding court, it's about making creative content, reimagining the way you connect with people, and having great conversations. When to use Twitter Spaces
Extend a cultural moment: For many professionals that are already seasoned broadcasters, like podcasters, newsrooms, and entertainers, Spaces is a new opportunity to expand your reach among different audiences in a new, more social environment.
Create a unique launch moment: Twitter is the platform to launch a new series, message, or content program. Use Spaces to capitalize on the buzz and make your editorial voice heard.
Give unparalleled access: Brands and organizations can directly connect people to their favorite celebrities, athletes,  artists, and industry experts, creating unforgettable experiences at scale.
Create a pre and post-event destination: For people hosting or broadcasting events, Spaces are a unique opportunity to add interactivity and continue the conversation in a casual forum.
Empower diverse voices: Pass the mic to creators, experts, activists, and educators who have the representation, cultural fluency, and equity to host meaningful conversations on inclusion and diversity.
Elevate your own thought leaders: With Spaces, you can give your audience an unprecedented glimpse into the way leaders in your industry think, feel, and talk. Twitter Amplify is a way to monetize content and extend your O&O sponsorships to social. As you develop Twitter Amplify Sponsorship packages, you can include new ways to connect your advertisers to audiences via Twitter Spaces. 
Here is how you can incorporate your brand advertisers to sponsor the Twitter Spaces you host.
Scheduled Spaces 
Scheduled Spaces is a game changer for allowing a brand to be involved in your Spaces with the ability to schedule ahead with a set reminder feature allowing for more visibility and a promotional lead up. You can schedule up to ten Spaces at any one time, 30 days in advance.
Brand attribution 
The brand can have multiple surface areas to be natively integrated within the Spaces experience. Some ways include scheduled promotion of the card/Tweet, the live Space Tweet itself, a pinned Tweet within the Space, and the brand actually joining in as a Speaker or Listener. 
Recurring series
The ability to sell a series of Spaces, again utilizing the schedule feature, is a no brainer. Consistent usage of a product can help drive user retention and build a sense of ownership for both the brand and the publishing partner. 
Promotable inventory
Spaces allow for plenty of Tweets to allow-list/promote, including the initial scheduled Tweet with the set reminder card, additional lead up promo Tweets, and the Space itself when Live.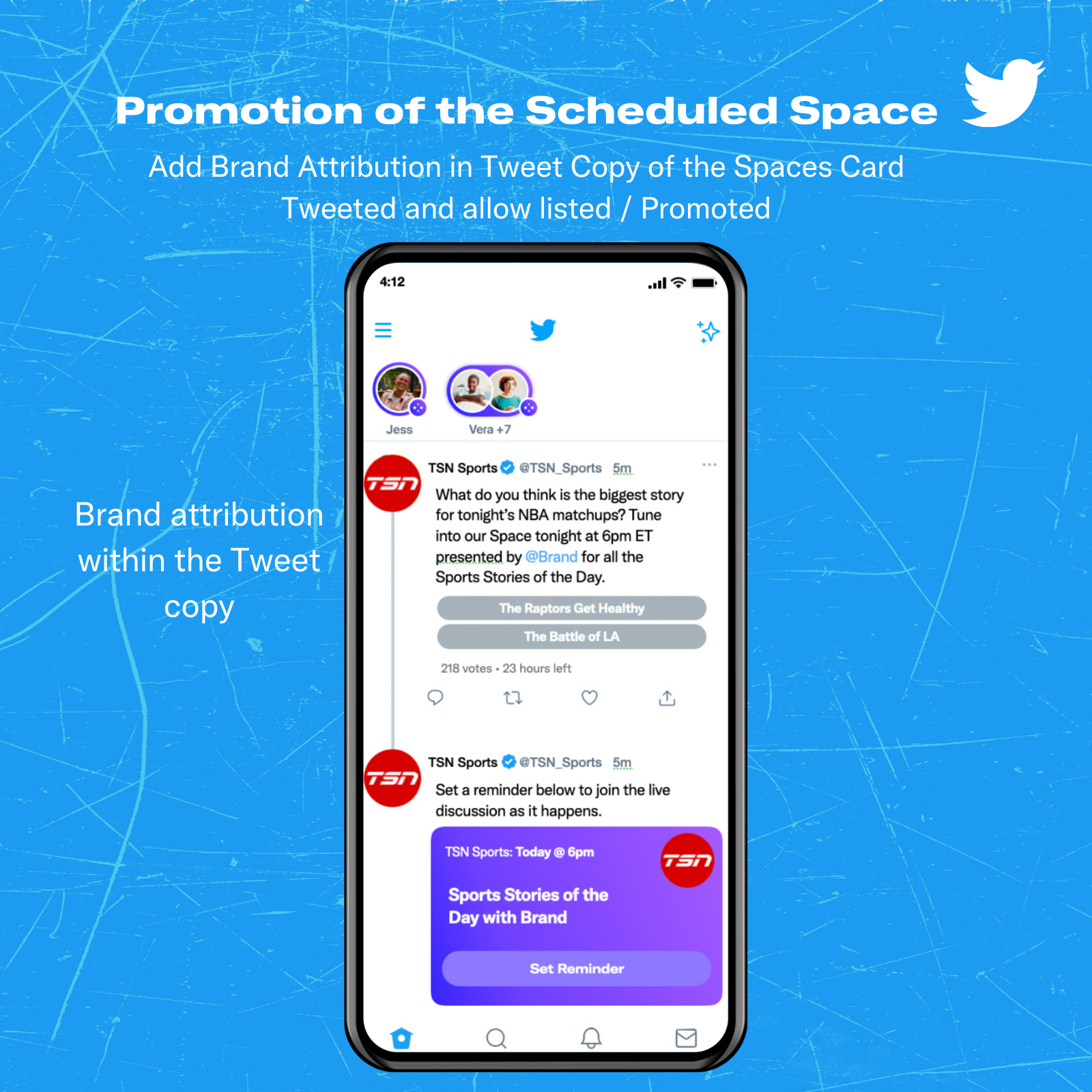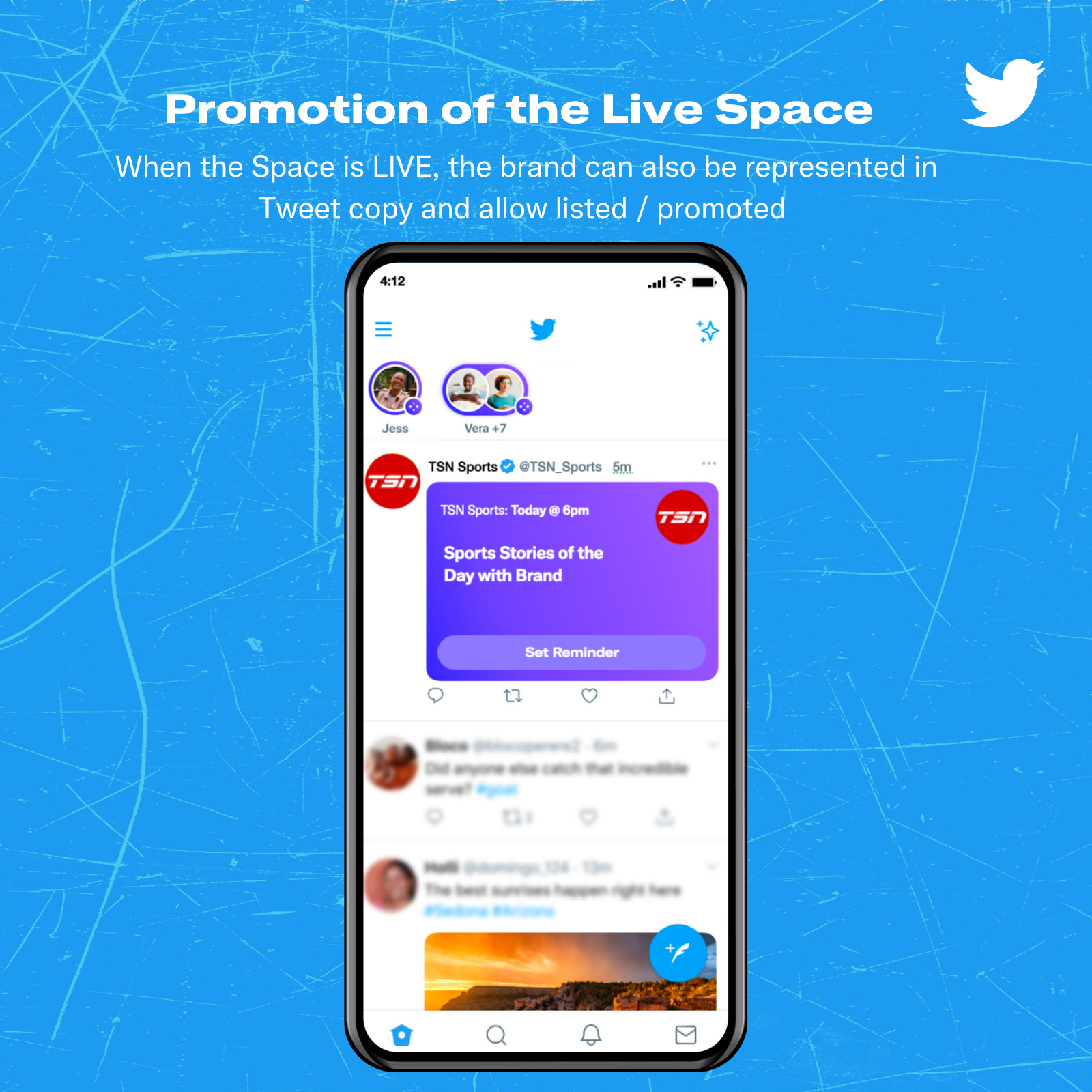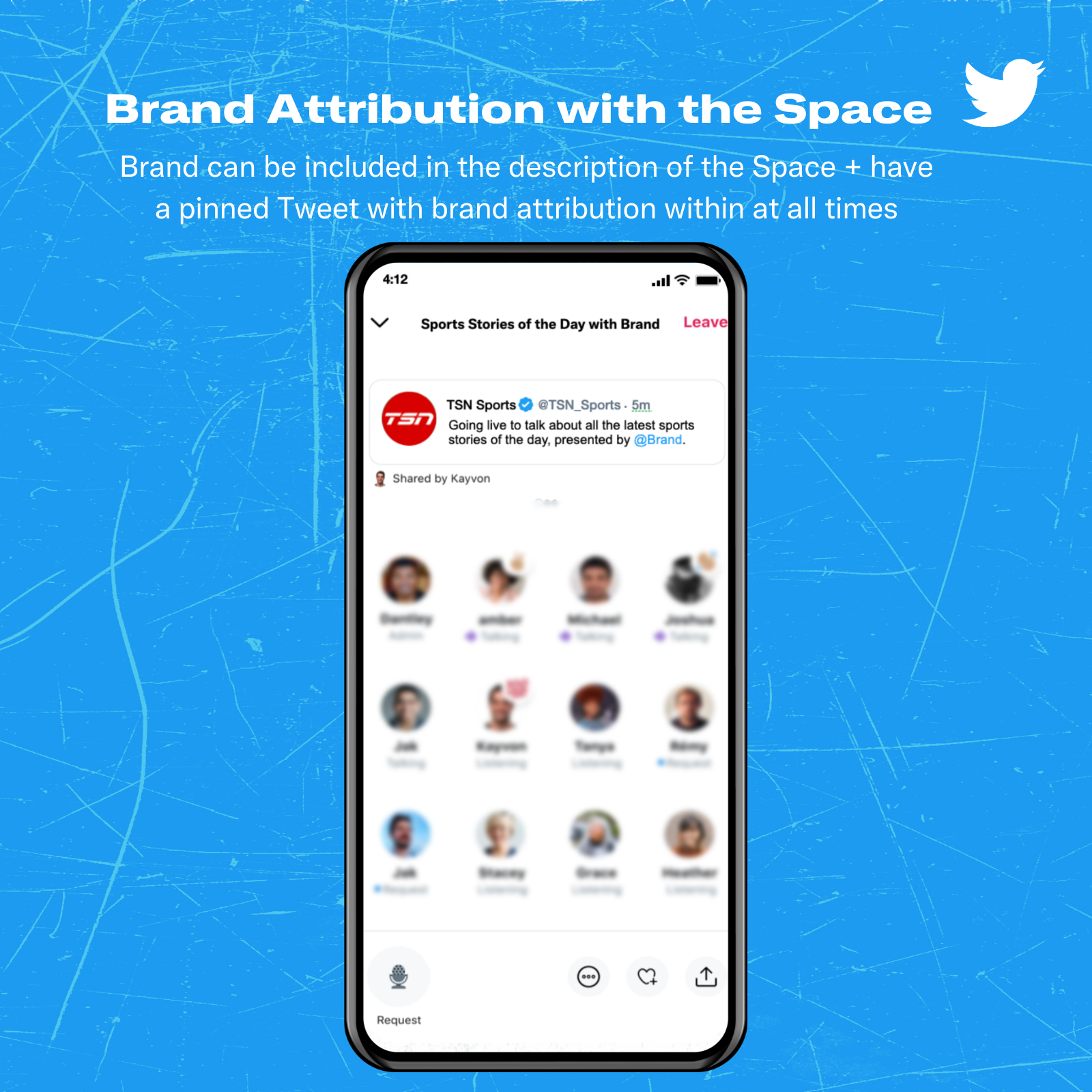 Just like Twitter, Spaces are real-time and unfiltered. And while that open, honest connection makes it so valuable to brands, we also want to make sure it's a welcoming, safe experience.
Since Twitter's purpose is to serve the public conversation – in all forms – we're committed to making it a safer place for everyone, including brands, by always working to improve our  policies, products, and partnerships.
Policies
The Twitter Rules that prohibit behavior, such as harassment and hateful conduct, also apply to Spaces. If you can't Tweet something under the Twitter Rules, you can't say it in a Space. We aim to make it easy to report violations and take enforcement action where needed.
Products
Spaces is designed to give Hosts full control. You choose who can speak; can take away/mute the mic; and remove, report, or block people from your Space. And anyone you've previously blocked can't join your Space. Moving forward, we're working on even better blocking capabilities, reporting flows, and creating NSFW warnings as needed.
Partnerships

Twitter is a founding member of the Digital Trust & Safety Partnership (DTSP), an industry coalition committed to keeping digital services safe. DTSP's best practices include identifying, evaluating, and adjusting for content and conduct-related risks in product development. So following this guidance, we created Spaces with safety, accessibility, and healthy public conversation at its core.