Introducing Twitter for Professionals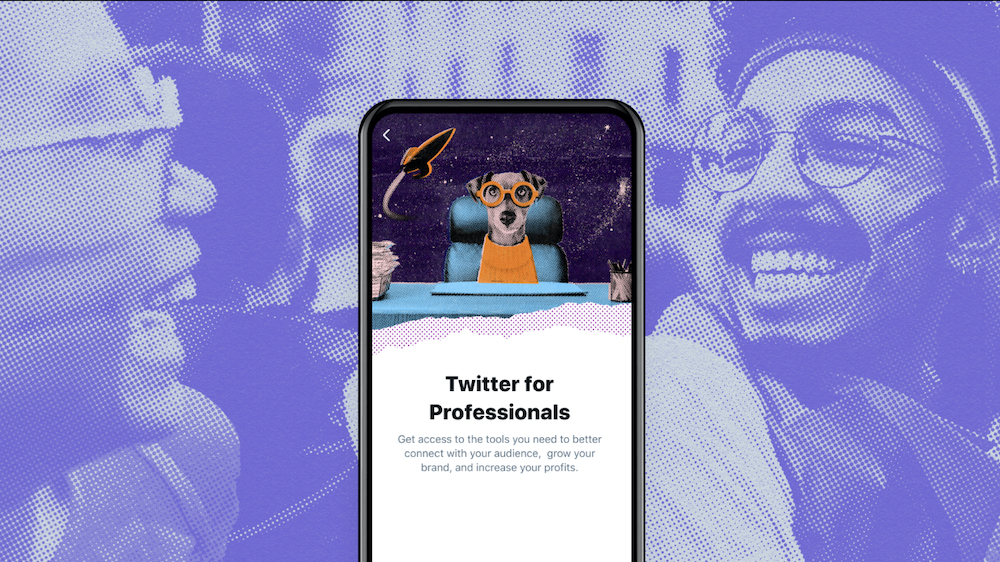 Professionals: Creators, publishers, businesses, nonprofits, developers – anyone who comes to Twitter to do business.
In the last year, we have introduced a handful of new ways for professionals to enrich their experiences on Twitter. Whether you're a creator looking to make money or someone who wants access to exclusive features and perks,  we want to give everyone on Twitter - creators, marketers, businesses, and everyday people - reasons to come and stay.
As we continue to test and expand upon these features, we've created one central experience where professionals on Twitter can get access to the tools we're designing specifically for their needs.
What we're building for professionals
The foundation of Twitter for Professionals is to provide businesses, creators, publishers, and developers of all industries and sizes space to showcase and highlight their content, products, and services directly on Twitter for free. 
Twitter allows anyone to tap into the public conversation. We know people come to Twitter to interact with brands and engage in conversations about products and services. All this demand gives us confidence in the power of combining real-time conversation with enhanced features for professionals aimed at better controlling and enhancing their identity on Twitter.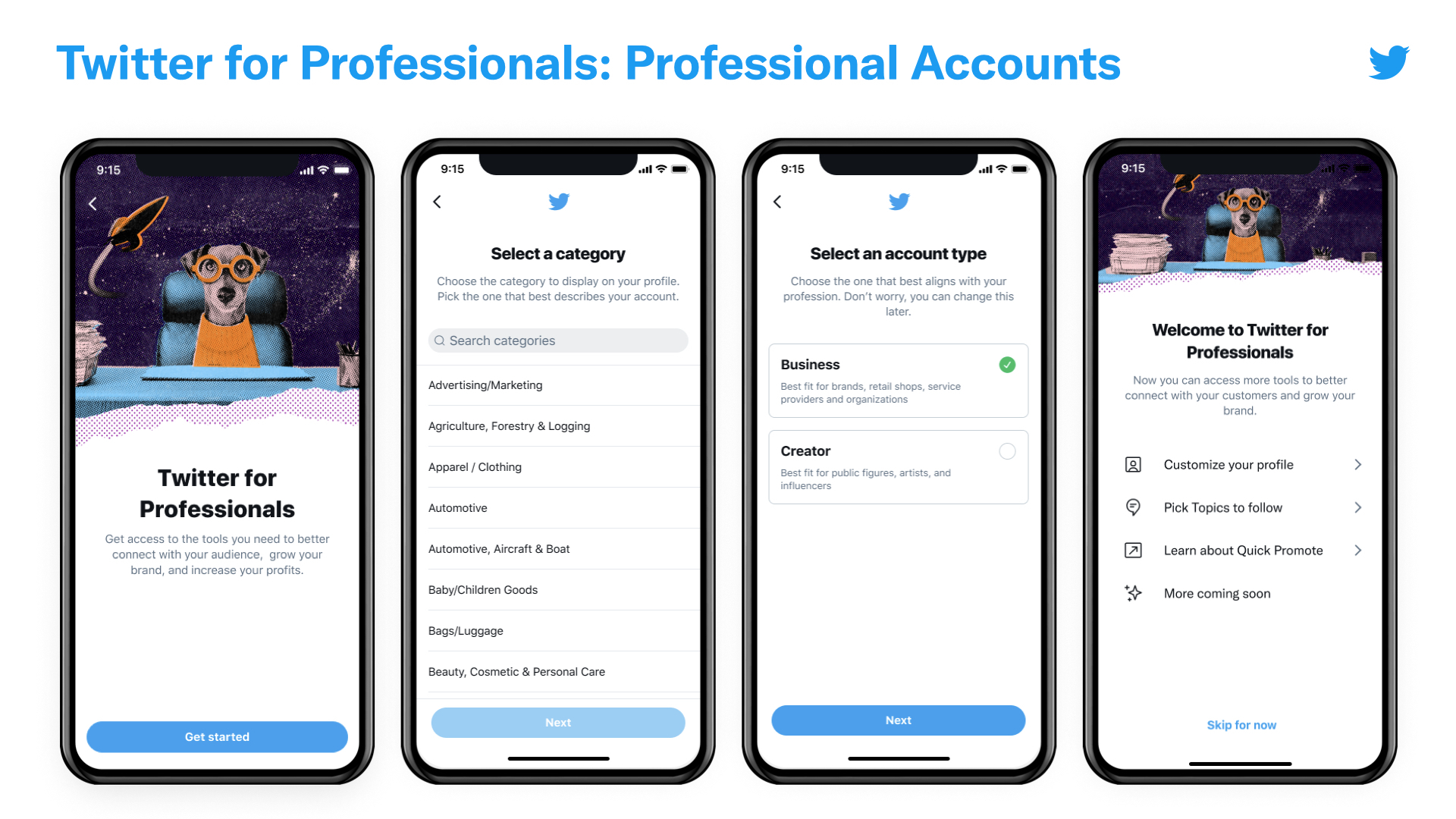 Professional Accounts

Starting this week, we are beginning to introduce an entirely new platform for brand identity on Twitter, Professional Accounts. With Professional Accounts, people will now have the ability to grow and strengthen their presence on Twitter.
Professional Accounts are a gateway to a wide range of professional tools not available to non-professionals, including our Twitter Ads, Quick Promote, Advanced Profile features, and our future efforts around shopping. 
For more on Professional Accounts and to learn how to convert your account, please visit our Help Center. 
Professional Profiles
Professional Profiles are how you show up on Twitter with a Professional Account. These profiles will enable professionals, for the first time, to have a unique and clearly defined presence on the platform, separate from the general user. 
Twitter Professional Profiles are comprised of two features:
The professional category is an indicator of a professional's profile, showcasing what kind of professional they identify as. This information is collected when a professional converts to a Professional Account and can be updated at any time.
Profile modules are dedicated space on a professional's profile to showcase what's most important

to them.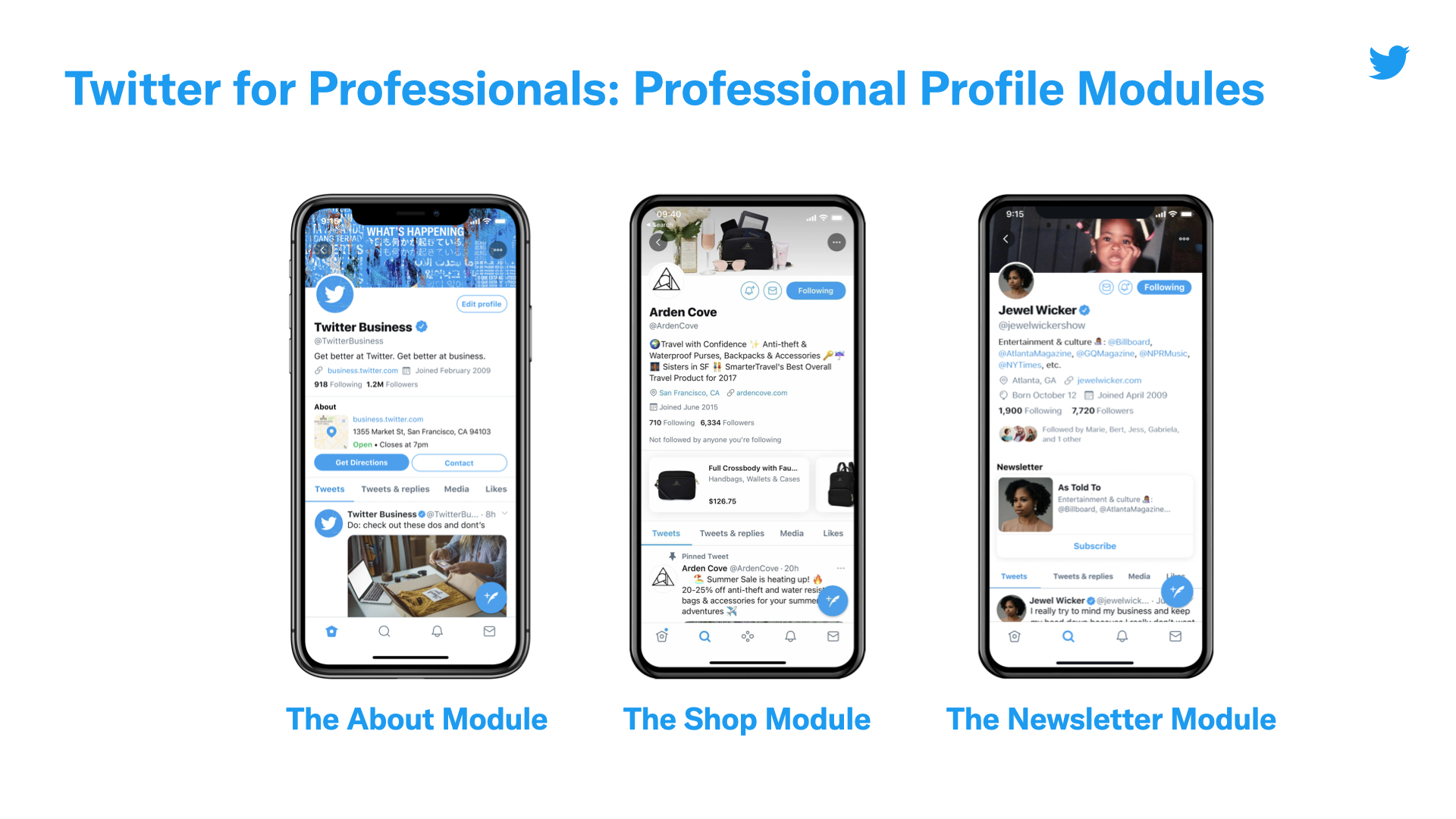 We introduced Professional Profiles first in April this year with the About Module. Since then, we have launched two additional modules the Newsletter module, built in partnership with Twitter's recently acquired newsletter service, Revue, and the Shop module, part of our growing efforts around Twitter Shopping. 
We recently expanded access to the About Module to all professionals in the United States. To learn more or to nominate your account, please visit our application form. 
What's Next for Professionals on Twitter
Some of the features and tools offered to Professional Accounts are still available only to a small group of people in select markets. We're working on bringing all of these features to everyone. When you opt into Professional Accounts, you'll see whichever tools are currently available to you.
Professional Accounts are vital for us to understand the needs and blockers of success for professionals on Twitter. We're excited for what's to come and stay tuned for more!
Have ideas on how we can make it easier for professionals to use Twitter? Be sure to Tweet @TwitterBusiness with your suggestions. 
Ready to advertise on Twitter?