Insights
The Conversation:



And the crowd goes wild(er)!
Twitter is the roar of the crowd — and that roar is louder than ever.
The past year brought some big changes to the sports landscape, including the fan experience. But one constant remained throughout: Twitter is where passionate fans connect and talk about what's happening in sports. And while people are returning to stadiums, they're only getting louder on Twitter. Let's see what the talk on Twitter tells us about these sports fans.
More sports fans are Tweeting. 
And by more, we mean 24M unique authors (+59% daily avg. author growth1) — enough to fill the Staples Center 1217 times! 
And that conversation is happening. All the time.
Whether they're rallying behind their favorite team, hometown hero, or G.O.A.T., sports conversations on Twitter are nonstop. There will be about 120 new Tweets in the time it takes you to read this sentence.
And across all major sports.
The number of people chiming in on conversations is rising across sports.
Fans are finding new ways to enhance the sports experience ...
While some are returning to (IRL) stadiums, many sports fans have turned to virtual ways to boost their experience. Topics like sports betting and fantasy sports saw significant growth. 
... While remaining connected to the culture.
It's not only about sports. A look at what they're Tweeting uncovers other entertainment hotspots, like gaming, music and food/drinks.
Fans can't get (or Tweet) enough. Are you listening?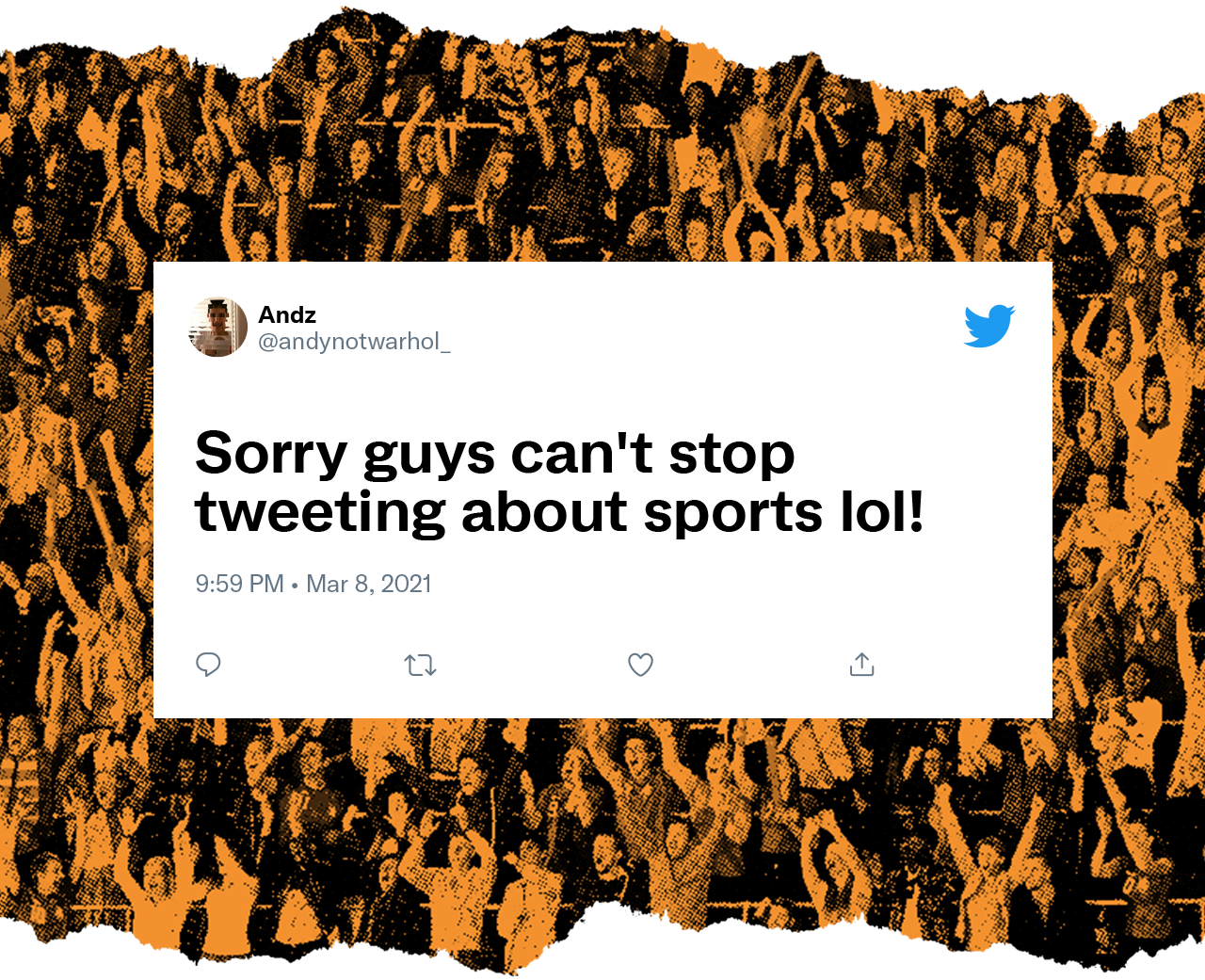 While the sports experience may have changed, the roar of the crowd on Twitter is louder than ever. Is your brand ready to get in the game?
Looking ahead: Get your backpacks ready.
Summer may have barely started, but Back-to-School season is already on the agenda. In 2020, mentions on this topic peaked earlier than usual on Twitter, so sharpen those pencils ASAP. 
Eddy Guerra (@EddyWar_ ) is a US Lead Technical Analyst for the Audience Insights team at Twitter. In his role, Eddy leverages and develops data science tools and methodologies to bring rich, actionable, insights across marketing and sales.
EJ Samson (@ejsamson) is the Content & Social Strategy Lead on Twitter's Global Business Marketing team, overseeing editorial on Twitter's flagship marketing website, marketing.twitter.com, as well as Twitter's on-platform destination for marketers, @TwitterMktg.
Source:
1. Twitter Internal Data. Daily avg. Comparing Tweets from Jan 1, 2020 - Dec 31, 2020 to Jan 1st, 2021 - May 15th, 2021. US Only.