Insights
The Conversation: Planning to beat the holiday rush on Twitter
Holiday hype begins well before the seasons change
While the holiday season is almost here, people on Twitter start talking about the holiday season months in advance. Brands get mentioned often within these conversations, providing an opportunity to connect to the conversation, build relevance, and drive sales all season long.
Plus, one in three Twitter users plan to start their holiday shopping earlier this year than last, providing even more opportunities to connect.1
As you put a bow on your holiday campaign plans, have a look at what the timeline tells us about the merriest season.
The holiday shopping conversation starts sooner than you think
Holiday excitement is so real that people can't even wait for the weather to turn, with the holiday shopping conversation beginning to gain traction in August. And a recent Twitter survey revealed that 76% of people agree that conversations on Twitter result in a product purchase.2 So jump in and join the holiday chatter to stay top of mind.
And where there's holiday talk, there's brand talk
When the holiday conversation picks up on Twitter, people often talk about brands, holiday traditions, and what they're hoping for this year.  Ensure your brand is mentioned all season long by engaging fans during this time where they're especially eager to connect.
There are specific holiday topics where brands get major play
Looking at the holiday conversation, we can spot key themes where people mention brands most frequently, ranging from what they're watching and playing to their favorite holiday foods, and more. Understanding which topics feature the most brand mentions provides an opportunity for you to anticipate the key moments for engagement with your audiences.
There's more to the holiday conversation than you might think
More than just shopping talk, certain topics go hand-in-hand with the holiday season and are more likely to get Tweeted about as people celebrate. The holidays are about more than just gift giving, so find out what else your fans might be talking about.
Set yourself up for success this holiday season and light up the timeline
The conversation on Twitter switches from summer to the holiday season in the blink of an eye, and brands will be heavily in the mix again this year. Stay in the know and on the timeline before you put a stamp on your holiday plans.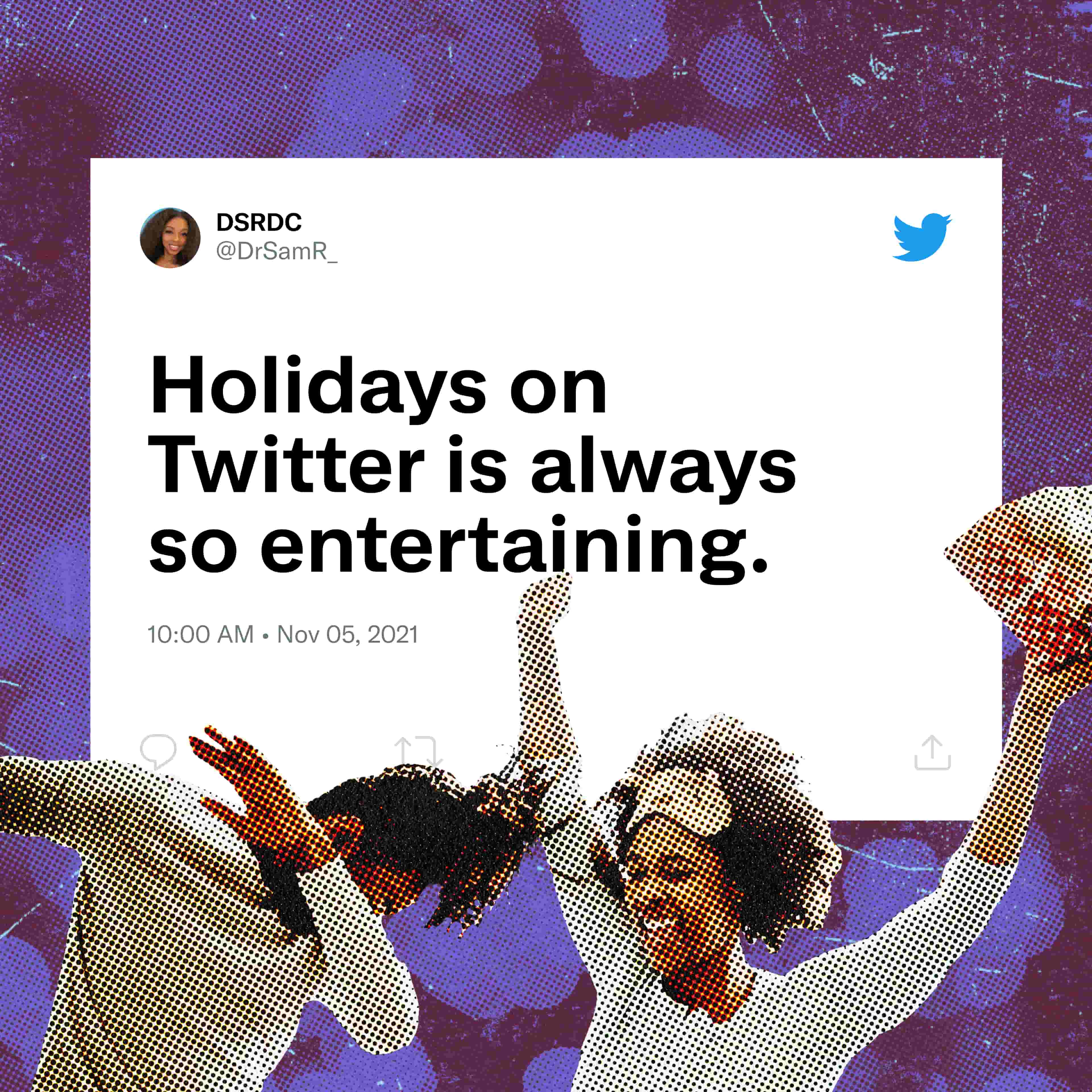 1. YouGov Profiles+ USA 2022-07-17. Q. Are you doing your holiday shopping.... (Slight earlier than last year / Much earlier than last year) Audience: Twitter Users. Control: Non-Twitter User
2. Twitter Shopper Behavior Survey, Sept. 2021. Agree/Somewhat Agree with statement: "Conversations about products on Twitter result in my purchasing a product."