Twitter Analytics: How to track and measure Twitter campaigns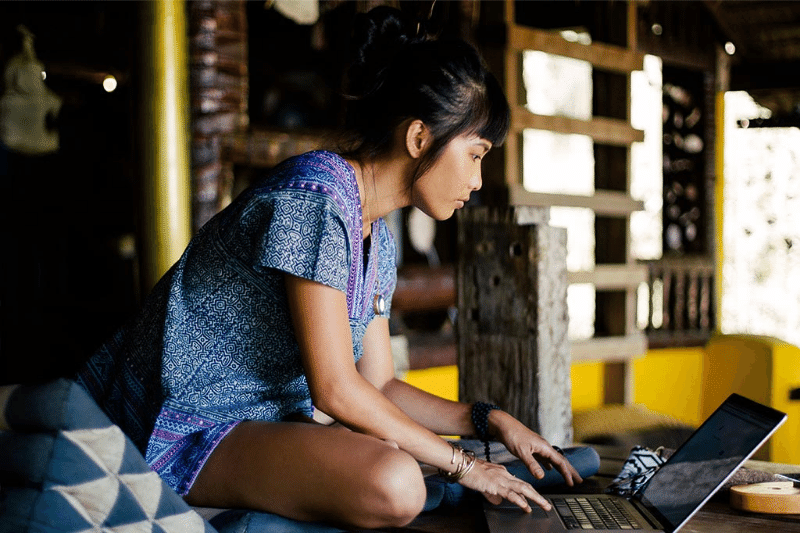 Twitter Analytics is a powerful tool that businesses can use to dive deeper into the success of their Twitter campaigns via the Analytics dashboard.
Not only does the dashboard let you track the progress and performance of your Twitter ad campaigns, but it also helps you better understand your audience. By learning which Tweets are resonating with your audience, you can fine-tune your Twitter content strategy to generate better results.

To help you get the most out of Analytics, we've put together this guide with info on everything from how to access your dashboard to expert advice from actual marketers who use Twitter Analytics every day.

First, let's look at the benefits of using Twitter Analytics.
Benefits of using Twitter Analytics
Track ROI: Ad campaign metrics let you track return on ad spend
Track growth: Organic metrics let you track audience growth and engagement
Refine your strategy: Insights help you tweak and optimize your Twitter marketing strategy for more success and better returns
Without Twitter analytics, we would have no idea what kinds of content, conversation, and ideas truly drive our growth.
Twitter Analytics for Twitter ad campaigns
Since Twitter has a ton of great ad products and campaign options, there are several metrics you could be tracking based on your campaign:
Audience measurement 
Get a demographic breakdown of your Twitter Ads campaigns and use those insights to help ensure you're reaching your target audience.
Audience Measurement allows you to see:
Age
Gender
Location
Gross ratings points metrics, and more.
Incremental reach 

Get a detailed look at how much additional reach your Twitter Ads campaigns are delivering, in addition to your TV ad buys.
Key metrics include incremental reach on Twitter, cost per reach point, and more.
Viewability 

Find out if your ad was seen by accessing viewability metrics in Twitter's Ads Manager or by partnering with a third-party viewability vendor.
Get stats on measured ads, in-view ads, fraud rate, and more.
Brand lift 

Understand how your campaigns are driving brand lift using Twitter Brand Surveys.
Measure campaigns (big and small) and see how your ad is swaying brand metrics like awareness, favorability, consideration, purchase intent, and more.
Survey insights can also help you pivot your strategy to better drive brand goals. Twitter also partners with third-party brand survey vendors to provide you additional flexibility.
Read more: Twitter Brand Surveys
Website attribution 

Measure how much your Twitter Ads drive website traffic using tools like the Twitter Pixel, the Conversions API, or leverage our third-party partner to compare performance across platforms.
Measure link clicks, site visits, conversion events, and more.
Read more: Conversion tracking for websites
Mobile app measurement 

Enable mobile app measurement to measure installs, in-app purchases, and other in-app events.
With this measurement tool, mobile marketers can see how their Twitter Ads spend leads to conversions and use those insights to create more cost-efficient, optimized campaigns.
Advertisers can also opt into our Advanced Mobile Measurement (AMM) to receive expanded device-level data, which can be used to develop a more in-depth analysis of performance. 
Location measurement 

Quantify the impact of Twitter Ads in driving in-store foot traffic. Understand outcomes like number of incremental store visits, visit rates, and more.
Buy-through rate

Understand how exposure to Twitter Ads correlates with car sales and use the insights to adjust your marketing spend towards the most effective channels. The key metric measured is units purchased by the exposed served group.
TV tune-in 

Measure the effectiveness of Twitter in driving TV tune-ins.
Use this measurement to find correlations between Twitter engagement and tune-ins across primetime broadcasts, cable programming, streaming series, and more.
Sales impact

Through sales impact studies, marketers can measure the impact of Twitter Ads campaigns on driving lift in online or offline sales and penetration across various targeting and creative strategies.
Key metrics include lift in sales per household, return on ad spend (ROAS), and more.
Marketing mix modeling (MMM)

MMM quantifies the impact of several marketing inputs (e.g. media activity, pricing, promotion, etc.) on sales and market share.
Measure your Twitter Ads campaigns' return on investment (ROI) by partnering with Twitter to gather and share data requested by your MMM vendor. Then, you can use the insights to help you effectively allocate budget across channels. 
Read more about Twitter ads: Twitter Advertising
Twitter Analytics for organic social
Analytics is also helpful for measuring your organic growth and performance on Twitter. It's actually crucial, according to Samantha Anderl (@SamanthaAnderl), Co-Founder of Harlow (@meetharlow), a business management platfrom for freelancers.
"If you're not using analytics and reviewing your Tweets' performance, you're missing out on a lot of valuable insight," Samantha says.
"Start by checking in monthly. Review which posts have performed best and then try to figure out why—maybe it's your tweets that mention members of your community, maybe it's Twitter threads, maybe it's the short and sweet tweets that perform the best. 
Once you start to understand the format and topics that perform best, you can start to replicate that success and give your audience more of what resonates."
To understand what's working best for your business, make sure you're regularly checking in with these key metrics.
Metrics to measure your organic performance:
If you're not using analytics and reviewing your Tweets' performance, you're missing out on a lot of valuable insight.
Follower growth
Follower growth tracks your following over a 30-day period and shows how many new followers you receive per day.
This insight can help you determine what content is helping you gain (or lose) followers and how to adjust your Tweets accordingly.
Don't forget to check for your Top Follower! Your Top Follower is the person with the most followers who recently followed you.
Knowing your Top Follower is a great way to tap into industry influencers who may already be familiar with your brand.
Profile visits

Profile Visits is the total number of visits to your Twitter profile. 
There are a number of ways Twitter users can visit your profile including clicking your profile image, profile name or profile username in search results, a retweet or in the Feed, navigating to it directly via the URL or following a link.
Mentions

Mentions allows you to view your @mentions over time.
Don't forget to check out your Top Mention. Your Top Mention is based on Tweet engagement, and can be an underutilized way to gain new insights. Similar to Top Follower, this metric can help connect you with people with influence who already interact with your brand naturally.
"In my opinion, an underrated analytic is the Top Mention," says Perk Social CEO, Jeff Jauszek (@jeffjanuszek).
"We can often put hundreds of tweets out there each month, meaning hundreds of replies and interactions. I can't begin to tell you how often I've looked at the 'Top Mention' to find that someone with a lot of Twitter influence interacted with our client."
This opens up the opportunity for us to connect with that account, and often creates a chance for us to work with them as an influencer. It's a stat that is unique to Twitter and we love it."
Impressions

Impressions lets you view impressions for individual Tweet performance, as well as a 28-day view of overall impressions. 
Capitalize on this information by repurposing Tweets that gained the most impressions, or creating Tweets on a similar subject.
Engagement

Similar to impressions, the Tweets section also shows your Tweets engagement, or the number of interactions your Tweet has received, as well as the engagement rate.
Pro tip: Adding a photo or video to your Tweets usually leads to higher engagement.
According to Jeremy Moser (@jmoserr), CEO of SEO & Digital PR agency uSERP (@userp_io), the real secret sauce happens when you measure impressions against engagement rates.
"Engagement rate and impressions are two key metrics I always track. Engagement rate tells me how captivating my content is and helps me plan future tweets that are guaranteed to get more interaction than others," Jeremy says.
"I also highly recommend tracking impressions per day in relation to how often you tweet. This will help you plan campaigns and monthly content schedules, as well as benchmark how many impressions you need to drive sign ups, sales, and revenue.
Analyzing impressions per day against engagement rate and conversions, you get the perfect trio of metrics for tracking real business impact."
Need help increasing engagement?
Freelance writer and content consultant Kaleigh Moore (@kaleighf) has some words of advice: Don't expect results if you just Tweet it and forget it.
"A big thing is to remember it's called social media for a reason: you need to be social," says Kaleigh.
"I try to think of it like a cocktail party. You should be a good guest by conversing, participating, engaging, etc. For example, if you're going to ask a question, don't schedule it and then walk away. Ask it and then respond to people in real time."
Video performance

If you're using video as part of your content strategy, you can track your video views, as well as see a bigger picture of how people are responding to your videos.
Top Tweet

Top Tweet will show your (you guessed it) top Tweet of the month. Click "View Tweet activity" to see the specific engagement broken down by detail expands, link clicks, profile clicks, and more.

Seeing all your top Tweets per month laid out in the same place allows you to aggregate the learnings and see what they have in common.
So how do you know which metrics to track?
In true marketing fashion, the answer is probably "Well, it depends." Your metrics should reflect your specific goals and campaigns. While website traffic and conversions might be important for an e-commerce company, Retweets might be considered key for a Creator or small business trying to increase their brand presence.
It's simple: figure out what's important to you and your business, then measure it. And there's no such thing as a "vanity metric" according to Tommy Clark (@tclarkmedia), Head of Social at ecommerce analytics tool Triple Whale (@triplewhale).
"Some marketing pros jump on Follower count, Likes, Retweets, etc. as 'vanity metrics.' But if we're getting that growth and engagement from the right audience, it's important to track," Tommy says.
"If overall impressions and engagement are going up month over month, that's a great sign. That means we're getting in front of more people that can convert into email list subscribers, podcast subscribers, and of course — paying customers."
Read more about tracking metrics and KPIs: What KPI metrics should you be tracking?
How to access Twitter Analytics
To turn on general Analytics for your account, log in to analytics.twitter.com with your Twitter username and password.
From the Twitter Analytics dashboard menu, click on Tweets to access your Tweet Activity dashboard.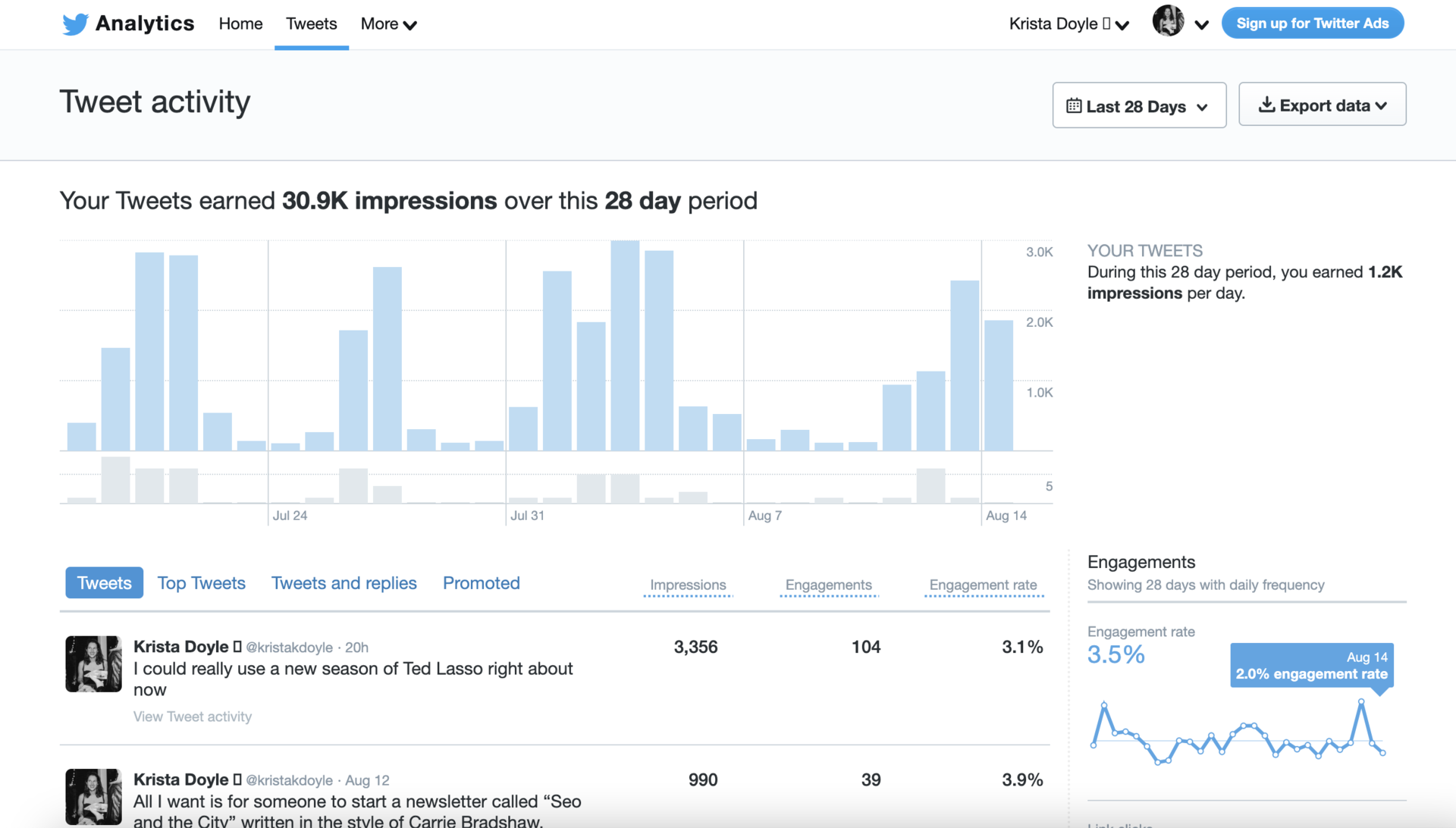 To view Tweet activity on mobile (available in the iOS or Android Twitter app), tap the "View Tweet activity" icon visible in the bottom left-hand corner of any of your Tweets.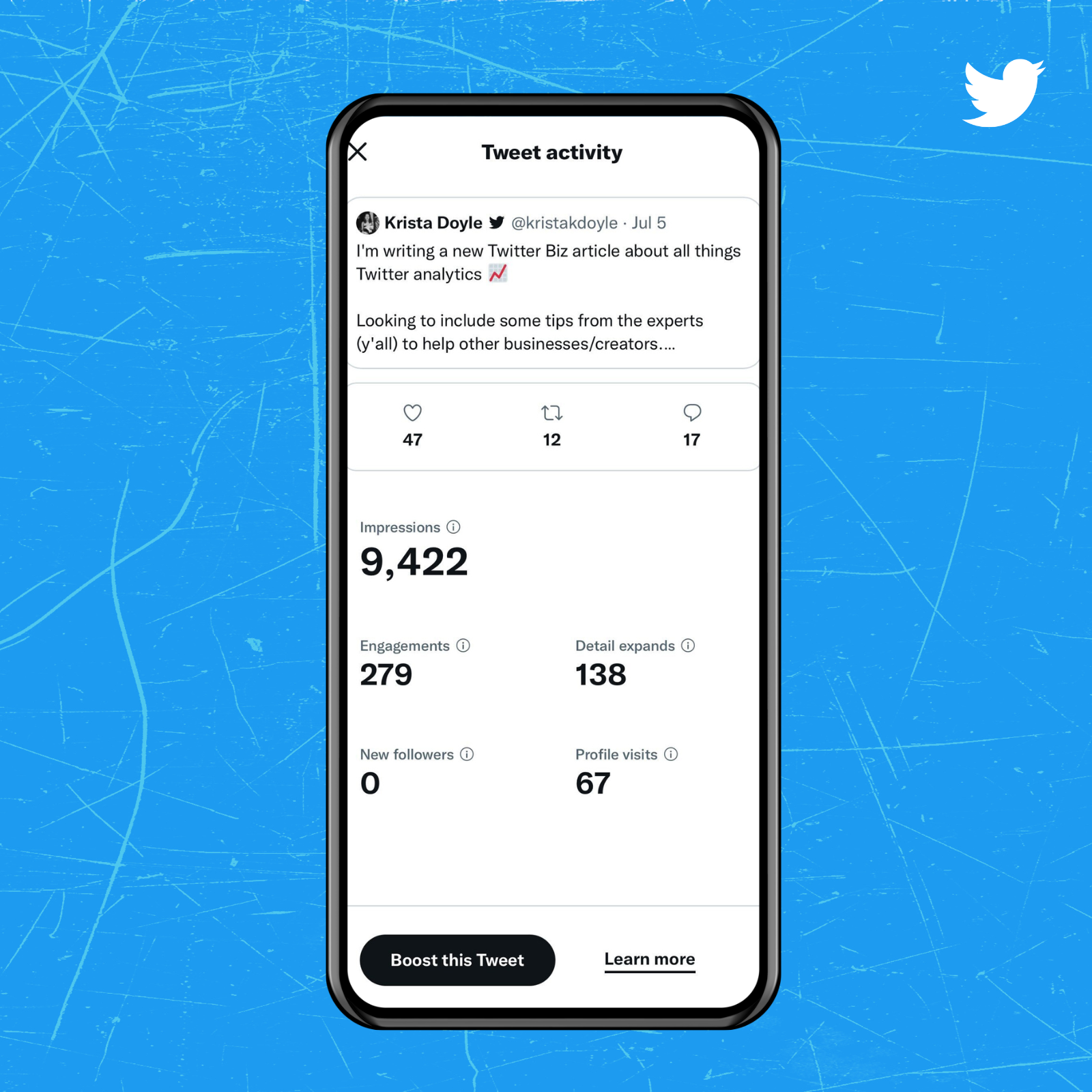 How to access your paid campaign metrics

Account home

Tweet activity dashboard

Video activity dashboard

Campaign dashboard
Find more information on our Help Center: Campaign dashboard
How Twitter Analytics can help inform your strategy
KPIs are important, but analytics are only really valuable when you use the insights to guide your strategies and tactics. 
Twitter Analytics provides a wealth of data that speaks to your on-platform performance and overall ROI — take that data and grow!
Continue testing similar creative and copy of your best-performing ads to optimize your future campaigns. Round up your most engaged followers to create micro-influencer content. Take Tweets that perform really well, study why they did well, then give people more of what they like.

"Each month, I'll take a look and see which posts drove the majority of that growth and engagement," says Tommy Clark, offering some parting advice for taking action on insights.
"Usually, a small percentage of your posts will drive a large percentage of your growth. Pay attention to those, and try to identify what made them take off like that.

"This way, you start to learn what type of posts to make when you want a desired action (i.e. someone to click a link to your podcast). You can't understand this without looking at your analytics."

Read more about Twitter Analytics and ad campaigns