Twitter Ads targeting best practices from a Twitter Account Manager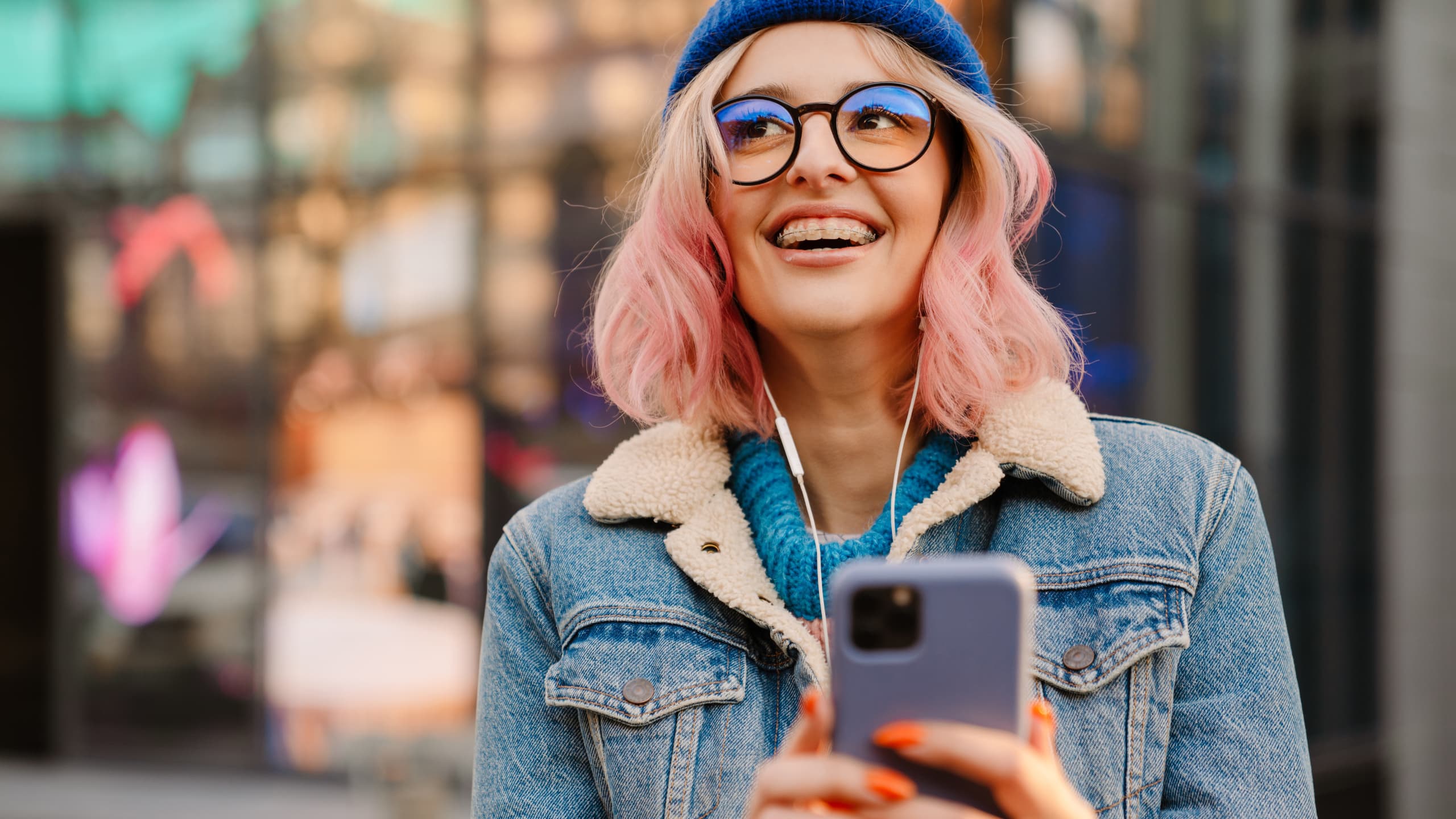 Looking for Twitter Ads targeting advice? Our Twitter Account Manager, Annika, shares her tips.
Twitter is about what's happening right now. People come to Twitter to discuss current events and the things they enjoy. 
In fact, a 2021 report showed 80% of the conversation on Twitter is about people's passions – such as gaming, lifestyle, music, movies, TV, or sports.1
Twitter Ads targeting options help put your campaigns in the middle of what's happening, and in front of the right audience for your brand. 
How do you target on Twitter?

People have conversations on Twitter about different topics, interests, events, and all sorts of industries and verticals. Twitter Ads targeting options can help you connect with the people having these conversations in real time. 
In this article I'll talk you through the different options available to help you reach the right audience and drive results.
Before you get started

First, it's important to remember Twitter is a 'look-at-this' platform. People come to Twitter with a discovery mindset and with the aim of seeing something new.
People on Twitter are receptive and more likely to actively engage with your ads and notice them. 80% of people on Twitter consider themselves opinion leaders, and they are 41% more likely than people on other social platforms to recommend products to their friends and family.2
To get your ads in front of these people the key is to tap into cultural moments with relevant content and targeting. 
Twitter Ads targeting options 
Within Twitter's ad manager you have targeting options across three main categories: Demographics and Devices, Audience types, and Custom Audiences. These are complemented by targeting expansion options, which we'll get to later. 
It's important to note that some categories use an AND function and some an OR function: 
AND = A person must match all selected criteria in order to be eligible to receive an ad

OR = A person can match any of the selected criteria to be eligible to receive an ad
Below I'll talk you through the options and combinations. You can also download a Twitter Ads targeting worksheet to help you understand your options and plan ahead.
Demographics and Devices
Demographics and Devices targeting is the foundation for a good ad campaign and serves as an 'AND' function. Meaning if a person doesn't match your demographic targeting, they won't see your ad. 
Within this category you can define the gender, age range, and language (choose from 21 languages) of your target audience. 
You can also select location targeting, which decides where in the world your ads will display. Location targeting allows you to specify the country, region, city or postal code you want your ads to appear. Your ads will show to people in all selected locations.
Note: Not all regions/cities are available for all markets. If you have a query please reach out to your account manager. 
Device targeting, as the name suggests, gives you the option to target certain operating systems, device models or carriers. For example, desktop, iOS, or android — or all of the above. Within the Device section you also have the option to specify your target audience's device model and carrier. This can be particularly useful if you're running an app install campaign.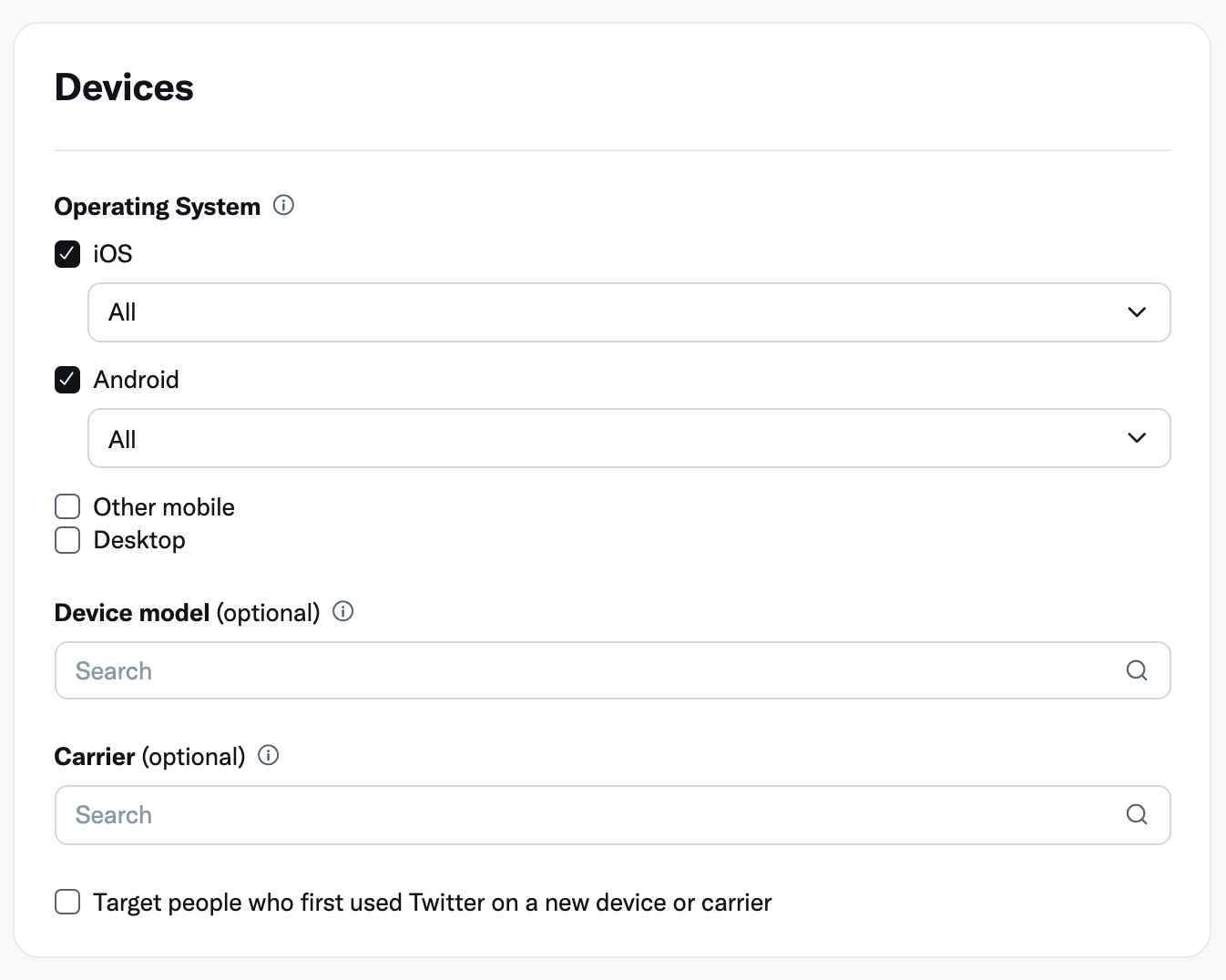 Audience types
Audience targeting is another foundational aspect of any Twitter campaign. Audience targeting serve as an OR function, meaning a person can match any of the selected criteria to be eligible to receive an ad.
Keyword targeting helps you serve ads to people on Twitter who search for, Tweet about or engage with specific words over a seven-day look back window. For example, people who have Tweeted the word 'Christmas', 'gift idea' or 'recipes'.
Top tip: Don't forget hashtags are keywords too. 
Follower look-alikes enable you to look at other Twitter accounts' followers and target people who behave similarly. You can also add followers of your own handle to the target audience. 
Take the medical campaign discussed by agency Route as an example. For their campaign they researched popular doctors, health influencers and businesses and then used follower look-alikes to target healthcare professionals similar to those following these accounts.
Interest targeting helps target people based on their area of interest. You can choose from pre-set options across 25 topics and 350+ sub-topics, for example careers, automotive, beauty etc. We recommend that each campaign has no more than 10 sub-topic interests.
You also have the option to target your audience based on movies and TV, events and/or conversations. These features give you the option to target people based on Twitter's superpower — what's happening right now.
With those options you can target people who Tweet about or engage with movies and TV shows, online and offline events or based on the content of their conversations. You can pick from pre-set options across 25+ categories and 10,000+ topics. 
Tweet engagers is Twitter's remarketing option. Engagers enable you to reach people who've already seen or engaged with your previous campaigns or your organic Tweets. This is often a very receptive group and can drive great performance results. This option is highly recommended if you are running lower funnel performance campaigns.

Custom audiences
Custom audience helps you target people who already know your brand. With this feature you can target people on your email lists, using follower handles, Twitter IDs, mobile advertising IDs, app or web activity. 
If you want to increase your reach, you can also include custom audience look-alikes. Learn more about custom audiences. 

Top tip: You can also use custom audiences to exclude certain people from your targeting. This can be helpful if you only want to target new customers.
Expansions — great for maximum awareness 
Besides the above, you can expand your audience by finding similar people that may not be reached by your standard targeting. You can choose from three expansion options: defined, expanded or broad.
Pro-tips for your Twitter Ads campaign targeting
Focus on your audience 
This might sound obvious, but when setting up targeting be sure to target the people you want to reach and not just attributes which apply to your product, service or content. 
Think about what your typical user is interested in and why they might be on Twitter. Don't expect your audience to already be actively looking for your product or service on Twitter. 
Be up to date with your targeting and connect with what's happening
Keep in mind that Twitter is all about what's happening now. Stay on top of your audience, keep up to date with what is happening in your market and in your target audience's areas of interest. This will help you stay one step ahead of your competitors. 
In terms of targeting, get into the habit of adjusting your keyword or conversation targeting based on the latest happenings. This can be an event, a football match, a new product launch, or an occasion like Christmas. 
Test and optimize targeting
Let your ads run for three days before making changes to optimize. This allows time for algorithmic learning. After three days, see how your ads are performing. If you're not getting the results you want you might need to adjust your targeting, ad copy, or creative.
For example, you might have quite specific demographic and device targeting. These layers can shrink your audience and can unintentionally limit scale.
Sometimes less is more 
It's good to have a large audience size and reach as many people as possible, but quality is also important. If you want to go broad, use generic keywords like sport, music, or garden. But remember that many other advertisers will use those too. 
Try to find the sweet spot and keywords which others might not use or which are more niche to your audience. For example a certain football club, a specific festival, a new song or a certain garden brand or product. 
Create relevancy 
Tailor your content and targeting to fit your audience's overall characteristics and interests per campaign. For example, a finance client may want to target young people like students for a debit card product. 
But with their loan products they may target an older audience with different interests like buying a house or a car. These are two distinct target audiences and would require different campaign targeting.
Localize your targeting
Every market will behave differently and have different interests. European markets will perform differently than American markets for example, and even among European markets you will see different performances. 
To make sure your targeting is impactful, translate keywords into local languages and utilize language targeting where appropriate. You can also use local look-alikes, as people may follow different handles in different markets. 
Create targeting lists
Start creating lists for all your potential target audiences. Keep a list of keywords of interests, conversation topics and look-alikes. This will help you to save time, brainstorm and find new ways to target your audiences. 
You shouldn't add all your audience features into your campaign at once. Start off with a few and see how they perform. During the campaign you can draw from this list and try new ones. 
Download the Twitter Ads targeting worksheet to help you plan your campaign targeting and save yourself time. Need help with a big campaign? Get in touch.
1Twitter Internal. Tweet volume/impressions from January 1st, 2021 - June 1st, 2021. Global
2Source: 1) Global Web Index (GWI), Q1–Q4 2020, Global. Base = Global Twitter users; Global non-Twitter users (users of other social media including Facebook, Instagram, Snapchat, etc.; 2) Global Web Index (GWI), Q1–Q4 2020, Global. Base = Global Twitter users; Global non-Twitter users (users of other social media including Facebook, Instagram, Snapchat, etc.)
Ready to advertise on Twitter?