Looking for a way to organize and customize your timeline? Twitter Lists allow you to curate Twitter accounts by a category of your own design or join a List that has already been created. They can be anything from topics you're interested in, to accounts that make you laugh, to leaders in your industry. Lists make your timeline easy to read and give you quick access to Tweets you don't want to miss. 
Lists can also be used as a resource for you or your followers — by subscribing to a List you've created, your followers can stay up-to-date on the topics that are important to you. This helps encourage impactful conversations with engaged people.
To start making a List, go to your navigation bar. If you're on a mobile device, you might need to click on your profile picture to pull it up. 
Click the List icon to bring up your List menu, which includes Pinned Lists, Discover New Lists, and Your Lists.
To curate your own List, click the Create New List icon. At this point, you'll be able to name, describe, and upload a photo for your List. You can also choose whether to make your List discoverable to others or keep it private. Click Next.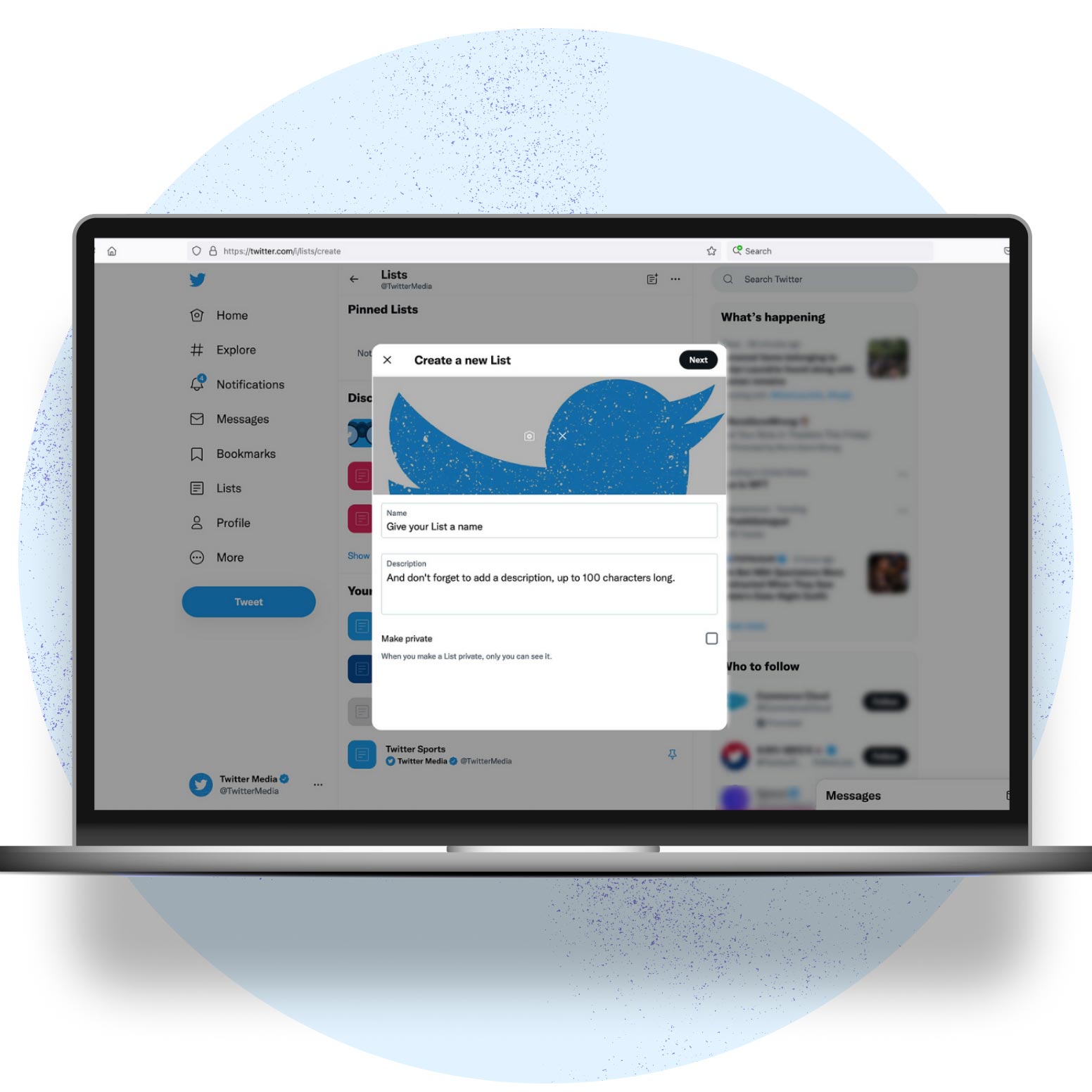 Start searching for handles you'd like to include. When you're ready to add an account to your List, click Add, and the account will be added to your timeline for that List.
Make sure you click Done, and your List will now populate on your List menu under Your Lists.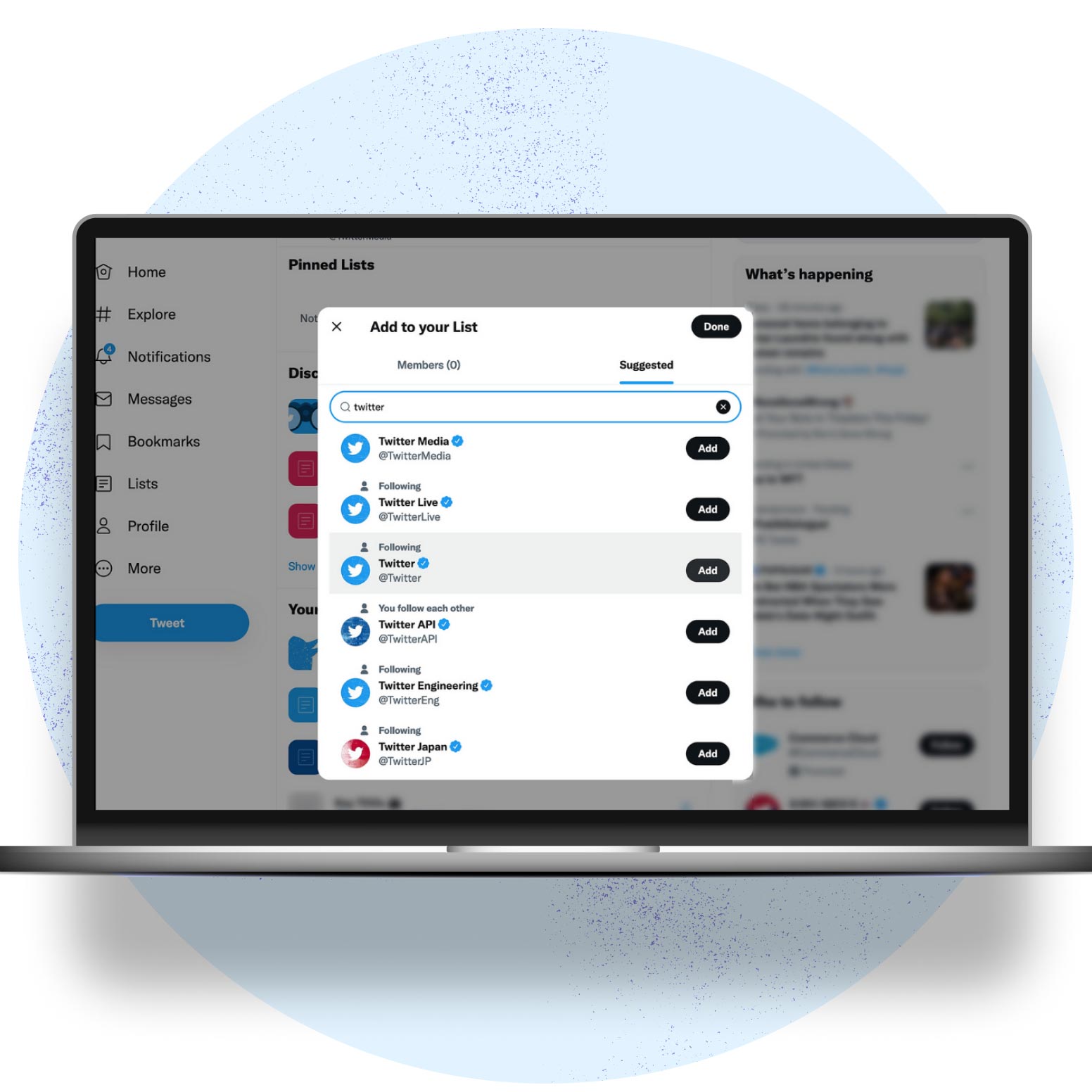 Once a List is created, you can view Tweets from the added account all in one timeline without the added noise of other accounts you follow. Click the List icon in the navigation bar, and find the List you'd like to view under Your Lists.
You'll now see the timeline you've curated filled with recent Tweets from the accounts you've added to your List.
If you're using Twitter on your mobile device, you can also pin up to five Lists to the top of your timeline, so you can easily access the most recent Tweets and happenings right from your Home screen.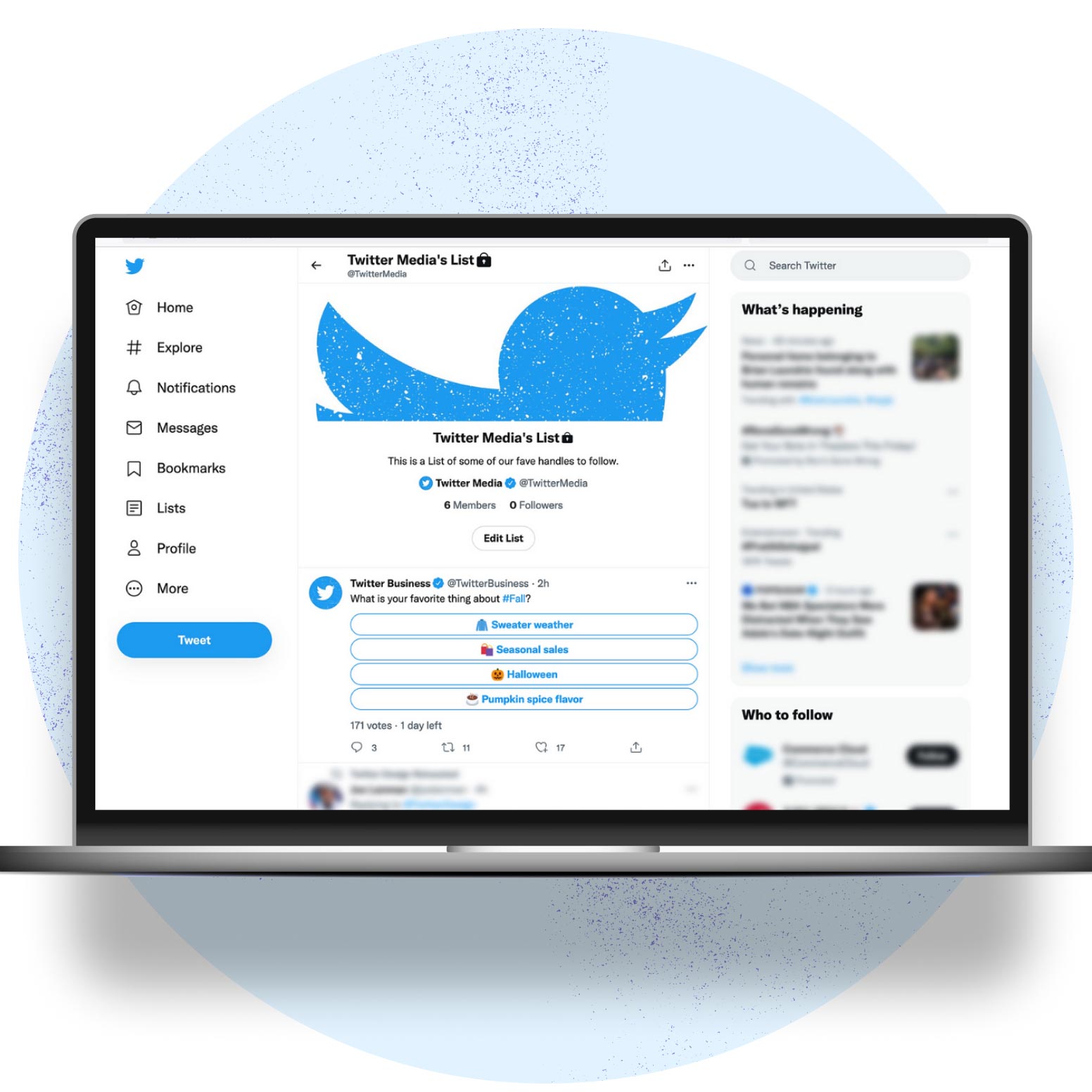 After you've created your List and added a few accounts you want to see, you'll most likely want to continue to add new accounts as you discover them. 
To do this, go to the handle's profile and click the three dots in the top right corner. This will bring up a menu, and you can select Add/remove from Lists. You'll then see options to add the account to any Lists you've created.
Follow the same process for any accounts you'd like to remove from a List, in the event that a handle has become dormant or is no longer Tweeting content relevant to your curation.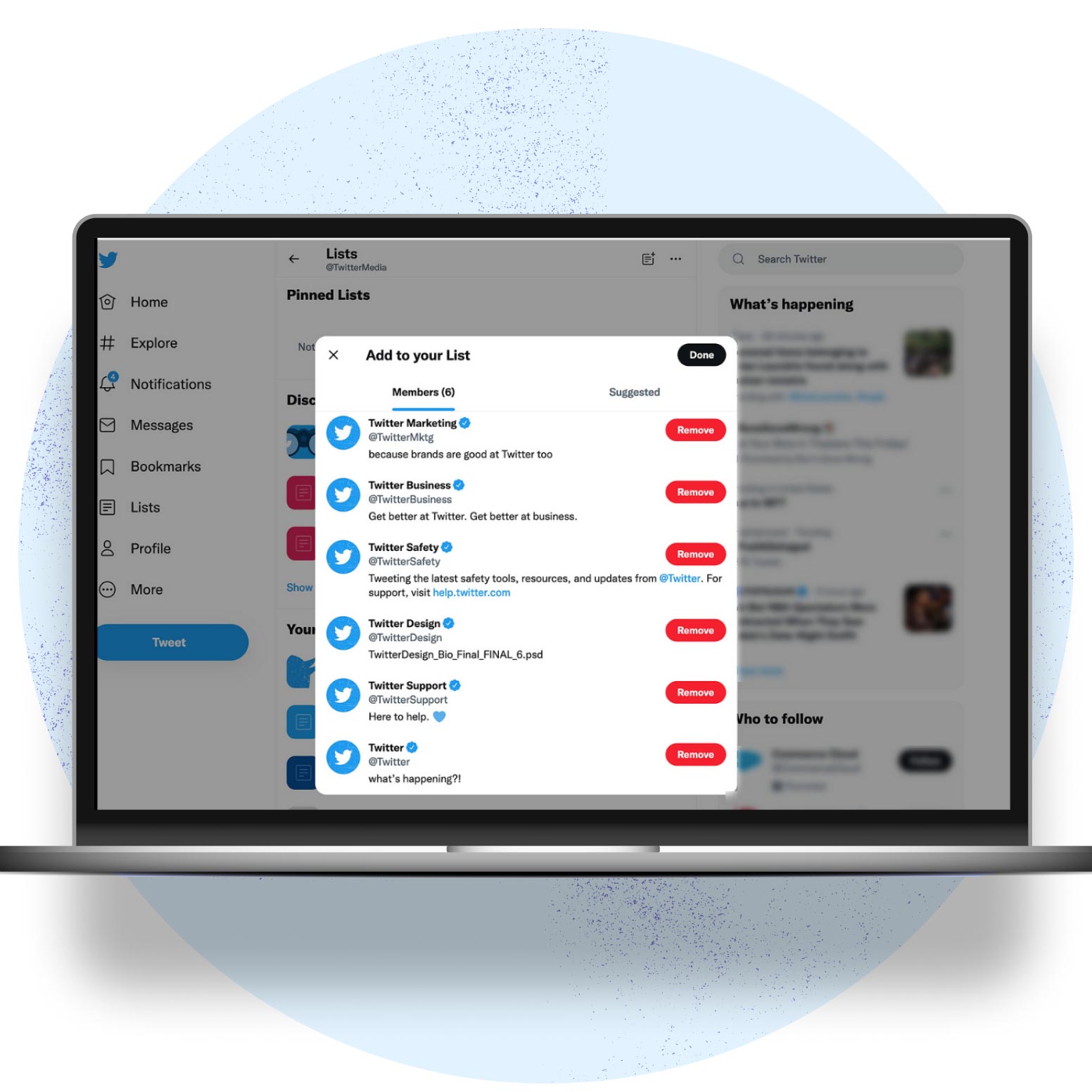 Since you can create your own categories, Lists can really be used for any purpose. Commonly, people organize a List around topics that interest them, including thought leaders or their favorite accounts. You can also use Lists as a way to gather and share resources, either related to your industry or a social justice issue you care about. 
Here are some more ideas:
Organize your team, especially if you work in the social media space.
Follow people who are (or plan on) participating in an event.
Stay up-to-date with members of an organization (like alums or contributors to a magazine).
Gather recommendations your followers often ask for (restaurants, books, etc.).
Whether you're using your List for private curation or sharing it with your followers to stimulate conversation and engagement, you're going to want to maintain it and continue to add the latest thoughts and thinkers around the topic. Even though your List is your go-to place for this information, you'll want to regularly search who is speaking on the topic in your other spheres or on Twitter, in general.
Your List might be useful for other people in your industry, so consider making it public and sharing it on your timeline. People can add it to their own List menu and follow the conversation along with you. This is particularly helpful for news organizations who might want their reporters to be easily accessible or sports teams who might want to curate their players and influential figures. 
Don't forget to engage with the accounts on your List. Whatever the reason you decided to curate profiles together, it means you're invested in the content. By liking, Retweeting, commenting, and sharing, you're helping others discover that great content, too. 
Twitter is at its best when our communities come together and Lists are a great way to encourage that.