Top hashtags and keywords to use for Mother's Day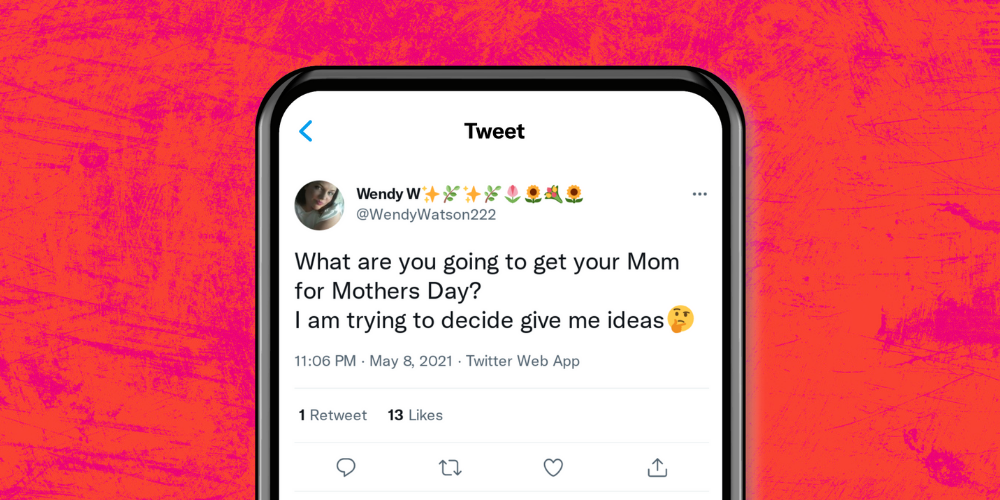 #MothersDay is a day to share thanks and connect with your customers in a meaningful way. It's also a great chance to connect with a whole new audience. Using Mother's Day hashtags, keywords and trending Twitter topics are great ways to do this.
Whether you are a florist, jeweler or another business that has great Mother's Day gifts, we got you covered.  Below we explore our internal data that shows the most popular hashtags and topics to Tweet about when advertising this Mother's Day.
How do you promote Mother's Day?
Mother's Day is an emotive time of year. Some people will celebrate, some won't, and there are different dates for the day across the world — for example, March 27 in Ireland and the UK, and May 8 in the US and Australia amongst other countries. To reach the right people at the right time, use seasonal hashtags and keywords. 
Mother's Day hashtags
While hashtags like #MothersDay or #GiftIdeas are reliable, others may start trending in the moment. 
Use these hashtags for Mother's Day Tweet inspiration, and keep an eye on the trends section on Twitter to identify new hashtags that are being talked about this year. 
If you're a small business, using hashtags like #ShopLocal and #ShopSmall alongside a Mother's Day hashtag can also be helpful. These are simple ways to reach more people, and tap into relevant conversations as they happen on Twitter. 
Want to broaden your reach even further? Why not consider running a reach campaign or a website traffic campaign to drive action on your website. 
You can then use Twitter targeting to make sure your ads are being shown to the right people. For example, a retail brand could reach people looking for Mother's Day gifts by targeting keywords and phrases such as "Mother's Day gifts," "need a Mother's Day present," or "buy mom a gift."
The top 10 Mother's Day hashtags last year1
Note that 'win' and 'competition' both made it into the top 10 Mother's Day hashtags. Why not test out your own competition this year? You can find inspiration in our 4 things to Tweet this Mother's Day blog.
When to start advertising for Mother's Day?
Think about your customers' behavior. Do your Mother's Day orders tend to happen close to the day itself, or in the weeks leading up to the day? Use this information to plan when you start your advertising on Twitter. 
Our recommendation would be to start Tweeting two or three weeks in advance, with an extra push the week leading up to Mother's Day for the inevitable last-minute shoppers.
Top tip: if you're running paid Twitter Ads, always wait a couple of days before making any changes or looking too deeply at numbers. This is because our system has a calibration period during which things are still processing and normalizing. For more Twitter Ads tips check out these 7 tricks and tips from one of our Twitter Account Managers.
Common trending Mother's Day topics to inspire
Not sure what to Tweet about? Here are some popular topics and ideas:
Gift ideas for mothers, wifes, grandmothers, stepmothers, and caregivers. Classic gifts include flowers and jewelry, but don't be afraid to branch out. 

Experiences and offers — for example a Mother's Day brunch or afternoon tea.

Mother's Day card ideas and ways to show thanks. 

Mother's Day movies and entertainment. 

Your own story — are you a mother running a business, or did your mum inspire you? Share your story for a more authentic Mother's Day Tweet.
Top tip: While it's important to incorporate popular topics into your content strategy, focus on creating content that's relevant to your target audience and authentic to your brand. Always Tweet what feels right to you and your brand and include a strong call-to-action (CTA) that encourages clicks, for example 'order now' or 'click the link to shop'.
Now you're ready to connect to the moment and reach new audiences. Try out these tips by creating Twitter Ads of your own. Create a campaign today.
Looking for more moments to connect with on Twitter this year? Check out our 2022 Twitter marketing calendar.
Twitter internal data,  3/1/2021 - 3/31/2021, UK only
Ready to advertise on Twitter?