7 tips for a kickoff meeting with your remote agency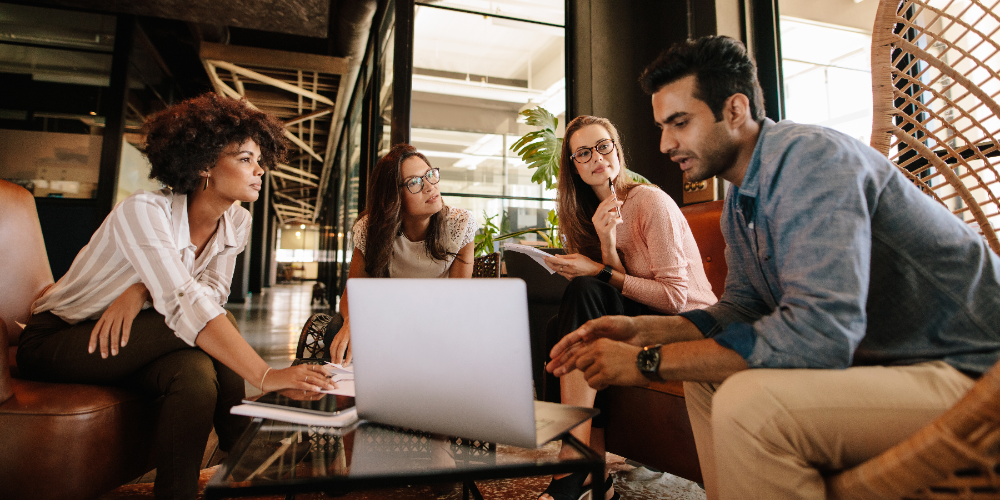 The freelance workforce is one of the most efficient and affordable solutions for growing businesses, allowing them to tap into a vast talent pool to tackle projects of all shapes and sizes. Whether they're offering a specialized skill or pitching in when deadlines get tight, freelancers can make all the difference. But when projects get complex and require the combined skills of multiple freelancers, there's a middle ground: remote agencies.
What is a remote agency? When you engage freelancers, you have the option to choose a single freelancer or an agency — teams of freelancers who pool their skill sets to handle more complex projects. Businesses get the best of both worlds: the coordination and complementary skills of an agency with the nimble flexibility of freelancers.
So, how is working with a remote agency different than engaging an individual freelancer? What should you know before you get started? In this article, we'll talk about the benefits of freelance agencies and provide some tips to help you get off on the right foot on day one with a killer kickoff call.
Getting the most from a remote agency
To a first-timer, working with an agency rather than just one freelancer can be intimidating. Will you have to spend much additional time communicating with more individuals? How will feedback and reviews work? With multiple hands on deck, how can you ensure your project goal isn't lost after handoff?
Knowing what your agency needs from you and also what they can take off your plate will ensure you're getting the most out of the arrangement. Let's take a quick look at some remote agency capabilities you may want to address in your kickoff.
Remote agencies can offer a bit more than individual freelancers in the following ways.
They can assist in scoping the work
They can help determine requirements for your project
They can assemble and coordinate the team you need
They can handle bringing on and transitioning off the talent you need at each phase as your requirements evolve
They can handle timelines and deliverables for you, from concept through completion
You'll notice a few of these line items are typically client responsibilities in your average freelancer engagement. Because you're getting a little more from an agency scenario, it's important to establish what you expect from them and what you'll keep on your plate. The kickoff meeting is the perfect time to do this.
The agency kickoff agenda
No agency is going to be a mind-reading miracle worker. Traditional agencies typically handle kickoffs when onboarding new clients, which are highly organized meetings or calls to set expectations and define who is doing what and when. For kickoff with your remote agency, let's take a page from the agency onboarding book to help you make your plan for a successful call.
Be ready for a partnership
This is more about mindset than logistics, but it's an important frame of mind to be in before embarking on a partnership with an agency. While very working relationship should be a partnership to some degree, working with an agency is can require a greater investment of time, energy, and budget. Be prepared to pass the torch in more ways than one—for instance, you may be required to share more internal data, which will require some security measures and onboarding processes. Agencies expect to sign a non-disclosure agreement (NDA), so be explicit about this in your RFP (request for proposal).
Start with (and work off of) a detailed RFP
The more details you can provide about the project scope and your company, the smoother the project will be from the start. Describe what you need: estimated timelines, budget, goals, target audience, and any technical specifics. Note that top-tier agencies are more often looking for detailed RFPs and jobs that will translate to partnerships, not vague RFPs for one-off projects.
Plan the attendees — on both sides of the table
Try and ensure a balance on both sides of the table when it comes to attendees—you don't want one side or the other underrepresented, which can come off as a lack of commitment to the partnership.
Also, consider limiting whom you invite so you're not overwhelming the agency with names and faces, or devoting too much of the meeting time to getting less involved parties up to speed. Avoid having too many cooks in the kitchen, but include the key stakeholders who will be weighing in on the work.
On the agency side, request that you meet the team you'll work with day to day. An agency may not be able to introduce you to the full team, but one or two primary leads should be present at the kickoff.
Begin with introductions, and establish primary contacts
No matter how you conduct the meeting—in person, over the phone, or via a video chat—it's important to carve out some time at the beginning of the meeting to make introductions. Explain the team structure on both sides, too, whether it's a casual a round-robin— "My name is X and my role is Y"—or an organizational chart. This is helpful for both teams and gives everyone an idea of who's responsible for what.
This is also a good time to establish the primary points of contact on either side of the table. You should plan to have a point person who will follow closely along with the project's progress, then be your internal go-to for the project once the agency's contract is over.
Tip: Opt for a video chat to meet your remote agency for the first time. This method is ideal for establishing a better rapport and connection because you're able to put a face to a name, read visual cues, and get a more "in person" vibe.
Give an overview of the project
Using the information from your job post or RFP, dive into even more detail. This will give the agency context for scoping out the project, whom they'll need involved at what stage, and how long it should take them to complete each phase.
Use your RFP and the agency's proposal to guide the discussion. The agency will likely want to discuss your goals, target audience, what you're doing now, and how it's working. If you have any questions or concerns about the proposal, address them now. Keep the floor open for feedback and suggestions; after all, this is your first chance to collaborate.
Talk goals, milestones, and next steps
As mentioned above, you may leave the timelines and deliverables up to the agency to coordinate, but be sure you're clear about any hard and fast deadlines and don't hesitate to establish benchmarks and check-ins (whether they're at the 30-, 60-, and 90-day marks). This keeps everyone on track and minimizes surprises along the way.
How you break down your project may be very straightforward, but if you don't know enough about your project at this juncture, start with a small discovery phase project, see how things go, and progress from there.
Don't worry about developing an exhaustive, set-in-stone plan during the call. Focus on outlining your highest priorities so the agency can formulate general tactics to help you meet those goals, then establish how they'll measure and report progress toward those goals.
Discuss tools you'll use to communicate, collaborate, and provide feedback
Continuous and smooth interaction makes remote work all possible. An agency by design is likely to have existing tools and established protocols to facilitate, so be sure you and your team have access to these platforms as needed. Whether you collaborate with code review tools, interactive UI prototypes, or inline commenting in Google Docs, or use tracking tools like Asana or Basecamp, make sure everyone knows what lives where and gets invited to join before you sign off.
Find out what they'll need from you to get started
Are there any assets, documentation, style guides, or briefs the agency needs to get started? Be sure to ask what they need and make a list, then send along once you're off the call.
Once the kickoff is wrapped, you should know everyone you'll be working with, have a clear direction for the project, and have all the groundwork to build a fruitful, productive working relationship with your remote agency.
Additional reading:
This article originally appeared in Upwork. This article was written by Carey Wodehouse from Business2Community and was legally licensed through the NewsCred publisher network. Please direct all licensing questions to legal@newscred.com.
Ready to advertise on Twitter?