#WEURO2022
The @Lionesses are happening on Twitter

The @Lionesses have been outstanding at the @WEURO2022 and now face the dream of a Wembley Final against Germany. The question people on Twitter ask is, will the @Lionesses be the ones to bring football home?
As the tournament has progressed, we have seen #WEURO2022 conversation soar as interest and buzz around the matches, and the players have taken off.
Since the start of June, there have been more than 600K global mentions of #WEURO2022 and #Lionesses. In the UK alone, there have been more than 205K hashtag mentions around the tournament and more than 458M impressions. Against Sweden alone, there were 72M impressions 2X the last game. On top of that, the number of Tweets is fast rising. Fans are flocking to join the conversation and get behind the @Lionesses.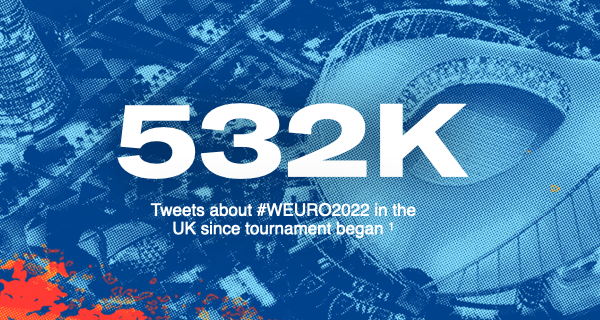 Since the tournament began, we've been supporting the Football Supporters Association and its @FreeLionesses team, who provide advice to England Women's travelling fans. The @FreeLionesses have been giving away #ShareYourRoar Tweet Scarves to England fans. The scarfs feature inspiring and positive Tweets about the women's game, which fans have been proudly displaying:
Not just the fans, the players have also displayed their scarfs, including captain @Leah Williamson, in this beautiful celebratory shot after the team's victory over Sweden.
And Beth Mead here in this fan selfie:
The tournament has helped massively lift the women's game and provided many inspiring moments on the field (that @alessiarusso7 magical nutmeg?) and off the field as well. This girl dancing in the stadium moved many and racked up millions of video views across many accounts.
However, as the former @Arsenal and @England player and commentator @ IanWright0 put it, girls after this tournament must be able to play football like the boys.
How brands can connect with football on Twitter
The best way for brands to connect with the #WEURO2022 and the upcoming World Cup is to partner with Twitter to extend their TV strategy and align with premium football content using Twitter Amplify Pre-Roll and Sponsorships. During #Euro2020, @Heineken_UK boosted sales by adding Twitter to its TV sponsorship plan. @Heineken_UK achieved a 25% increase in brand association after extending its TV ads via the official ITV Amplify Sponsorship.
A watershed moment for women's football
The progress the @Lionesses have made could be a new watershed moment. According to research, most football fans on Twitter (58%) say they have watched or followed women's football. And of those, 85% will watch the matches. That number is set to grow.
This year, as @Lionesses get ready for a Wembley final on 31 July, whatever happens on the field, the nation has been treated to an outstanding display of football. And a reminder, almost two-thirds of all football fans on Twitter thought England could win the Women's Euro or are in with a chance. They're not wrong there. 
Twitter. Where all football happens. 

Footnotes:
1. Source – Twitter internal data (Semantic Core), 1 June 2022 – 27 July 2022, UK only. Retrieved 28 July 2022.
2. . Twitter Insiders, April 2022, n=236