#WorldCup2022
The 5 Twitter World Cup trends every marketer needs to know

With nearly a month to go until the World Cup, one thing is certain: this will be a World Cup like no other. It will be the first tournament held in the winter and the most compact World Cup in history. It's the third major football event in eighteen months, which has seen legions of new fans enter the sport. 
People are excited, brands are excited, and here's what we are expecting to see play out on Twitter.
Trend 1: More fans, more Tweets, more global
The football conversation is heating up in anticipation of the biggest sporting event of the year. Following the @Lionesses' victory at the UEFA Women's EURO earlier this year, we are seeing a whole new army of fans engage with the sport. 
Event-related Tweet volume is up 98% in the UK, meaning we're seeing more conversation, more memes, and more everything – and that's because football lives on Twitter.
Just look at these stats below about the number of people on Twitter who call themselves "World Cup fans" versus people who don't use Twitter.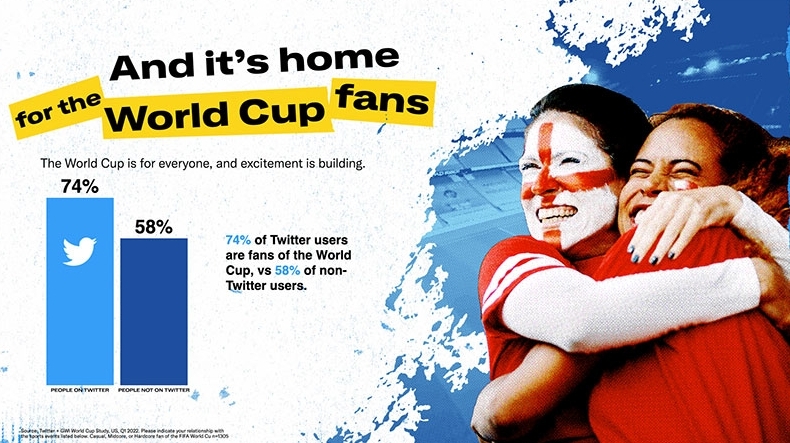 What's more 75% of fans on Twitter are excited about the upcoming World Cup vs 64% of fans not on Twitter.
The demographics have also changed, as the World Cup conversation has heated up we've seen Views on World Cup video Tweets are up to 329% over the past two months.
There has been a 45% increase in average monthly football conversation over the past 12 months, and the audience skews young: 57% of WC fans on Twitter are male, and 41% are aged 25-34.
Half of World Cup fans on Twitter say they can find content on Twitter that isn't available on other platforms, so it is where fans will come together to share, to commiserate, to commentate every single match. 
Brands that breakthrough will be the ones who don't just speak at fans, but who get them, and invite them to participate in the conversation and reward their fandom.
For example, Budweiser was the most talked-about brand globally on Twitter during the previous World Cup, by making Twitter the place to participate and vote for fans' favourite players in their Man of The Match sponsorship.
Marketers will also seek to connect with the World Cup audience by aligning their campaigns and creative messaging with premium broadcast content and live conversations amongst football fans by sponsoring real-time highlights in more than 23 countries, and contextually targeting football-specific creative in the Timeline.
Trend 2: The beautiful (brand) game
Because brands have been long invested in football and football communities - the two go hand in hand. Not only are more people Tweeting about football than ever before, but fans want to see brands promote highlights and launch new campaigns on Twitter during the World Cup.
This tells us that across the board brands are reading the room, and getting it right. They are using their platforms to bring people back together, and finding ways to stay true to their brand, no matter the context. From rallying support to invest in equal pay for Women's football  to pledging the same level of campaign spend for men and women's World Cups and backing individual athletes, brands are standing with and by fans – and Qatar 2022 will be no different.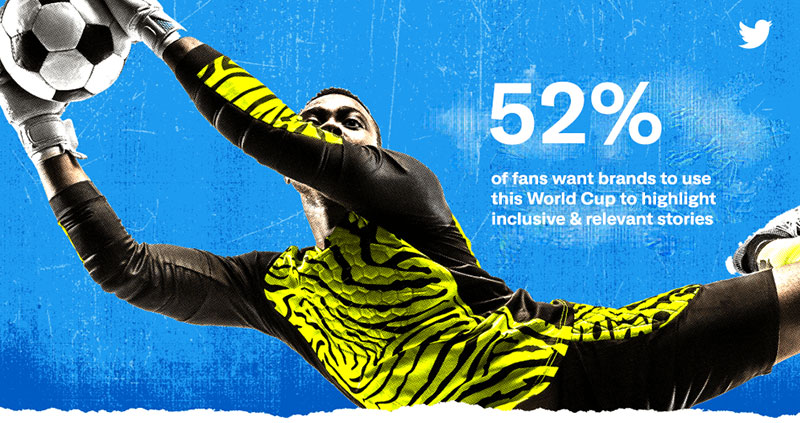 For brands, there are undoubtedly opportunities for to use their platforms in an impactful way that sees them share values that fans support and believe in. 
Trend 3: Same game, new formats
Brands know what works around major events like the World Cup: great content, exclusive access, and real-time engagement. 
We expect to see brands build on everything they've learned in past years while incorporating a whole new suite of tools for creative expression and connection on Twitter including:
Audio: The launch of Twitter Spaces has unlocked a new medium for brands to engage with fans around major cultural events and happenings through live audio experiences. We expect brands will facilitate these audio discussions with players and celebrities throughout the World Cup, bringing fans closer to the action.
Commerce: The launch of live shopping on Twitter has enabled marketers to create programming around high-profile moments and occasions that fuses entertainment and shopping into one experience. For instance, in September this year @WWE hosted their first Twitter Live Shopping event with appearances from WWE Monday Night Raw correspondent Sarah Schreiber and WWE Smackdown Women's Champion Liv Morgan. Fans were able to browse and purchase WWE Euroshop and Clash at the Castle products as they watched the live stream.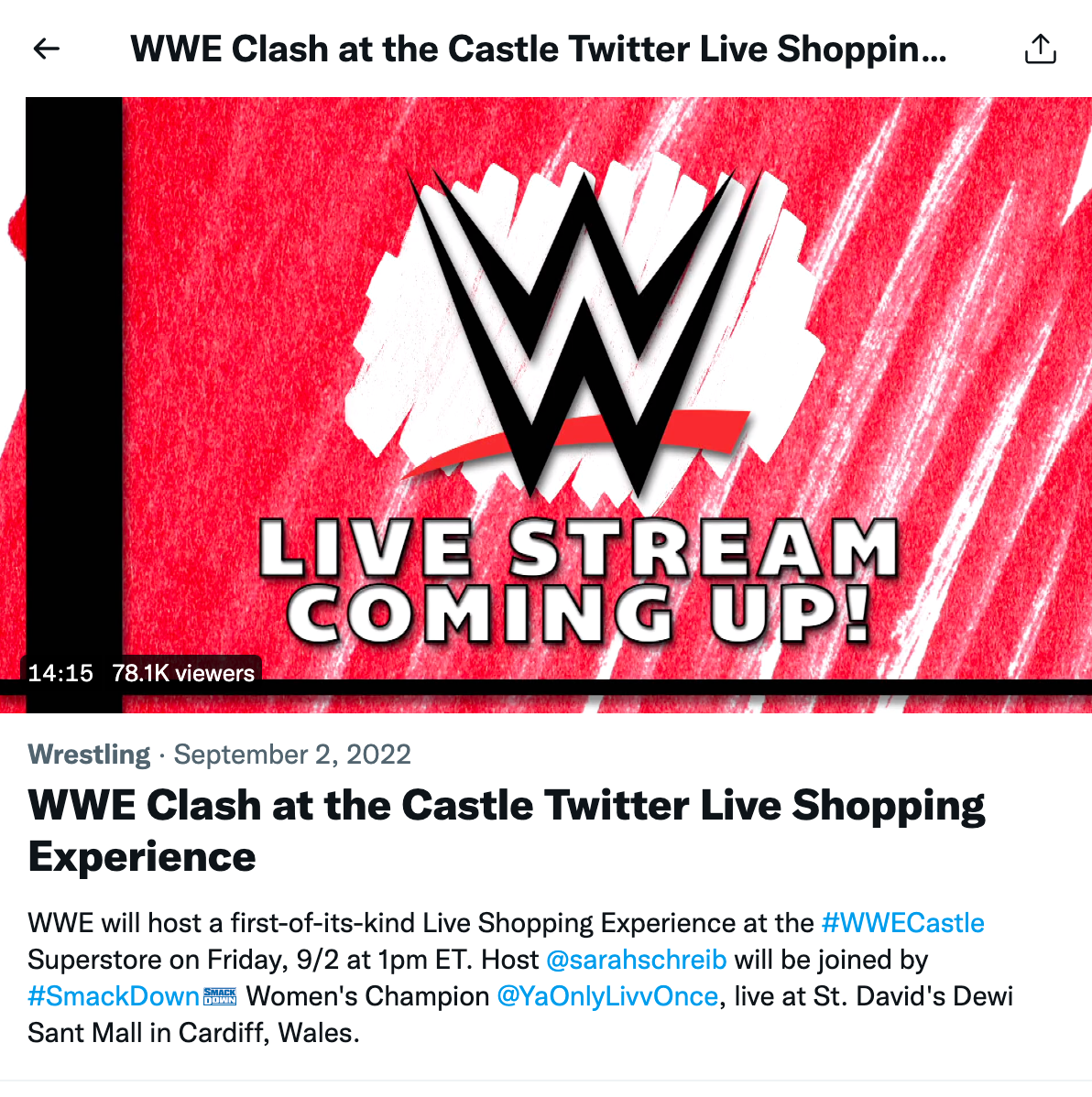 Creative Expression: Earlier this year we launched a series of new creative ad formats, including Interactive Text, Product Explorer and Collection Ads, along with Branded Likes (which allow advertisers to transform Twitter's Like button into custom animations). These new multidimensional, flexible ad formats will be on full display on Twitter during the World Cup as advertisers look to reach fans throughout the games and ultimately stop them in the Timeline with attention-grabbing and engaging experiences.
Trend 4: New players seeking real-time conversion
It goes without saying but the business landscape around the globe has changed rapidly since the last World Cup, and advertising on Twitter has expanded hand-in-hand to include countless new industries, such as sports betting, cryptocurrency, and food delivery, among many others.
Sports Betting: When it comes to Sports Betting brands we see, the world's largest sports betting brands are taking to Twitter to interact with fans leading up to and during the biggest games, matches and moments. Qatar's World Cup will be no exception. The data clearly illustrates why Twitter is such an important resource to the world's largest sportsbooks. Seven out of every 10 sports bettors are on Twitter and they spend 15% more on bets annually, compared to sports bettors on other platforms.
Trend 5: Budget-conscious content
With consumer pessimism at its highest level since the onset of the global pandemic in 2020, and brands looking to drive media efficiencies wherever possible, we expect to see more global vs. local campaigns, created with ease of adaptation in mind. We anticipate a lot of brand content grounded in simple universal truths, no translation required. 
For those who need help adapting their content to fly on Twitter, we are here to help. Our Content Creation service consistently drives 20% lifts in view rates vs. industry benchmarks. From adapting traditional assets, to creating new short-form video content, and partnering with creators to produce cost-conscious, quick hitting content: we can quickly and efficiently support your content needs. 
Get your brand in the game
As we see in these five trends, the 2022 World Cup will be an exciting time for fans and brands. Your team at Twitter is here to help connect with the moment and tap into the conversations that grow your business. And throughout the tournament, we'll have real-time guidance to keep your brand safe and messages on point. So, now's your time to get off the sidelines and into the game.
Sources:
1 Source: Twitter Internal Data - Semantic Core/KGO. World Cup Conversation (UK). 31 August – 29 September 2022. Retrieved 30 September 2022.
2. Source: Twitter + GWI World Cup Study, US, Q1 2022. Please indicate your relationship with the sports events listed below. Casual, Midcore, or Hardcore fan of the FIFA World Cup
3. Source: Twitter + GWI World Cup Study, UK, Q1 2022. On a scale of 1 to 5, with 1 being 'Not at all excited' and 5 being 'Very excited', how excited are you for the FIFA World Cup?
4.  Source: Twitter Internal Data - Semantic Core/KGO. World Cup Audience (UK). 1 July – 1 September 2022. Retrieved 2 September 2022.
5. Source: Twitter + GWI World Cup Study, UK, Q1 2022.
6.  Source: Twitter Internal Data - Semantic Core/KGO. World Cup Audience (UK). 1 July – 1 September 2022. Retrieved 2 September 2022
7. How Budweiser won the World Cup for brands on Twitter - PRWeek
8. Source: Twitter + GWI World Cup Study, UK, Q1 2022.
9. Source: Twitter + GWI World Cup Study, UK, Q1 2022. To what extent do you agree with the following statements? I like it when brands align to stories of inclusivity or unity.
10.  Twitter Insiders Studies, 2021 & 2022
11.  Twitter Internal. Comparing Tweet Volume on August 1, 2021 to Tweet Volume on August 1, 2022.
12. Twitter Internal Data, across 15 randomly sampled campaign assets in 2021.