Insights
The Conversation: The Christmas Calendar of Twitter

It's hard to believe that 2022 is wrapping up. In some ways, this year has flown by. In others, it has felt like one of the longest years ever. There's still one thing left that everyone is looking forward to, and that's celebrating Christmas together again.
In fact, 65% of people on Twitter intend to celebrate Christmas in the same way or BIGGER than they had done pre-pandemic.1 After all, don't we all deserve a 'most wonderful time of the year?' Take note, as we guide you through some of the biggest Christmas moments that pop up every year, providing excellent opportunities for marketers to tap into …
Oh Christmas tree, Oh Christmas tree
Conversations about Christmas trees and when they are going up start as early as October. That's right, while there are pumpkins on doorsteps and skeletons about, the people of the UK are already thinking about Christmas. Unsurprisingly, this means you can expect a lot of tree conversation throughout November, peaking during the last week of the month.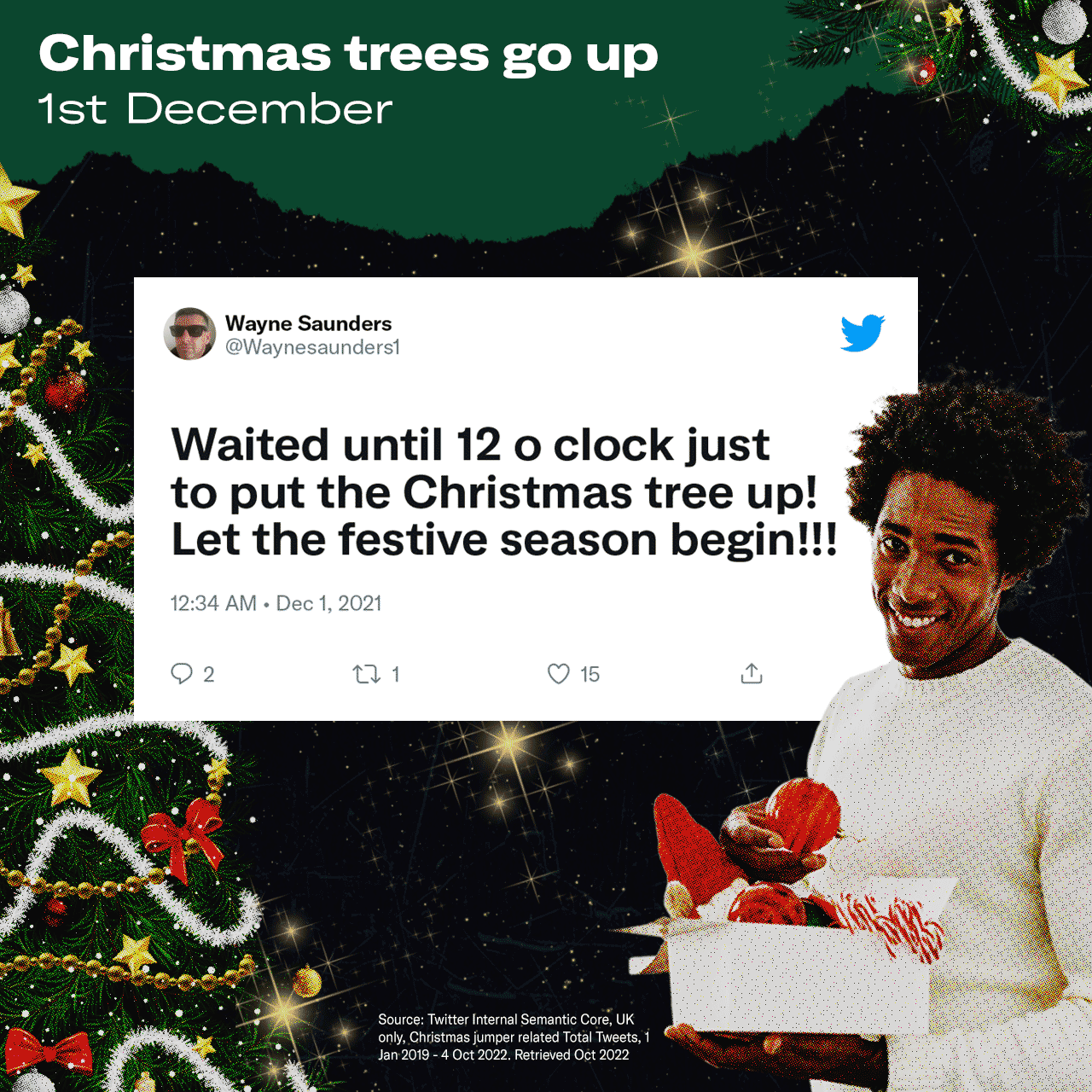 Last Christmas, I listened to Heart FM …
'Whamageddon' might sound like a sensational newspaper headline, but it's really a festive game with one simple, though impossible, objective. Participants must avoid listening to Wham's 'Last Christmas' throughout December. If a player hears the song, they have to post #whamageddon on Twitter. Most attempts to last the whole month have about as much success as you'd expect …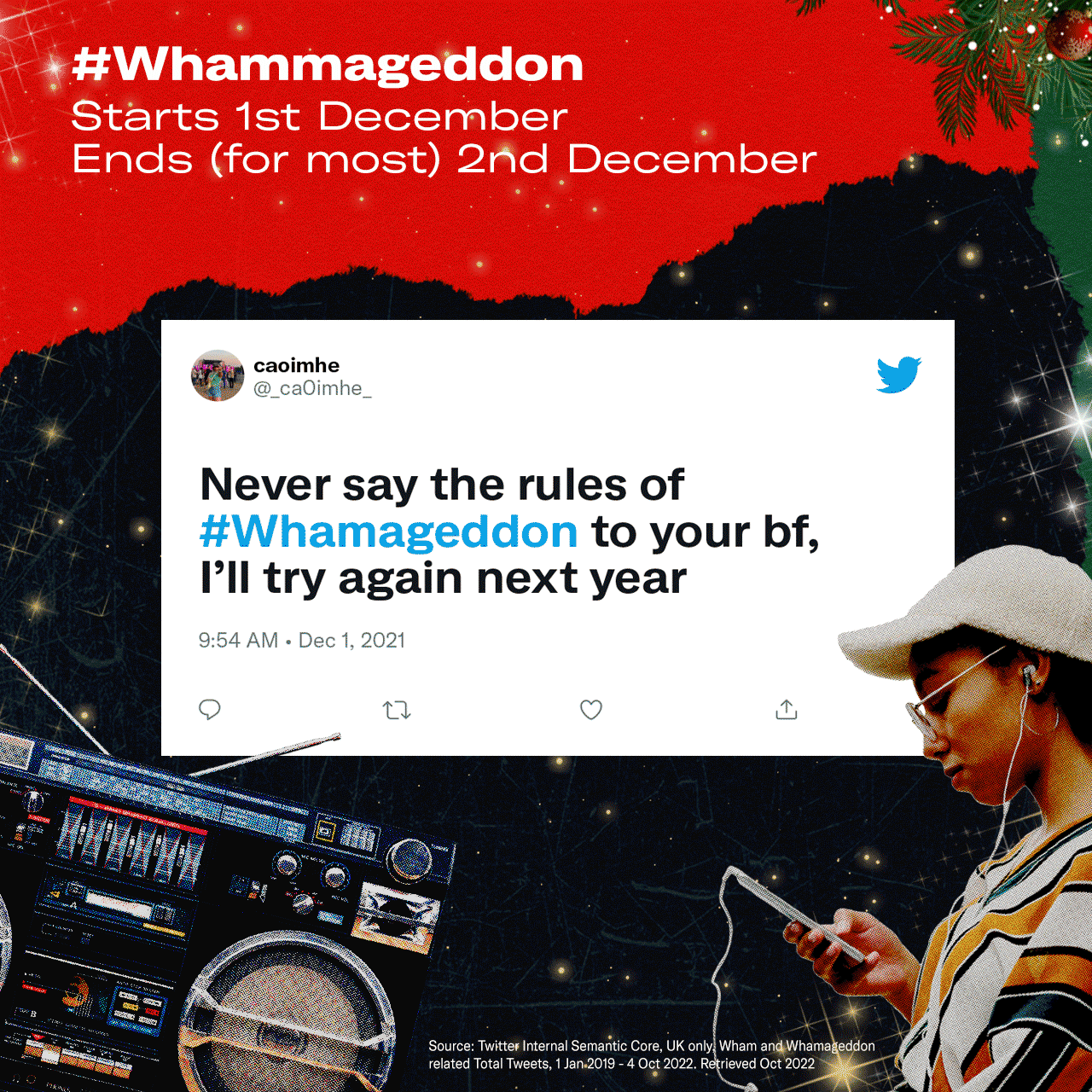 A Christmas jumper isn't just for Christmas
Ah, the dodgy Christmas jumper, a cultural institution — it's even got its own day. Started by @savechildrenuk to raise money for children around the world, there's plenty of discussion and planning that goes on for Christmas Jumper Day, as users share their jumper ideas from mid-November onwards. Conversations peak on the 8th December, as people around the UK don their ugly festive gear for a good cause.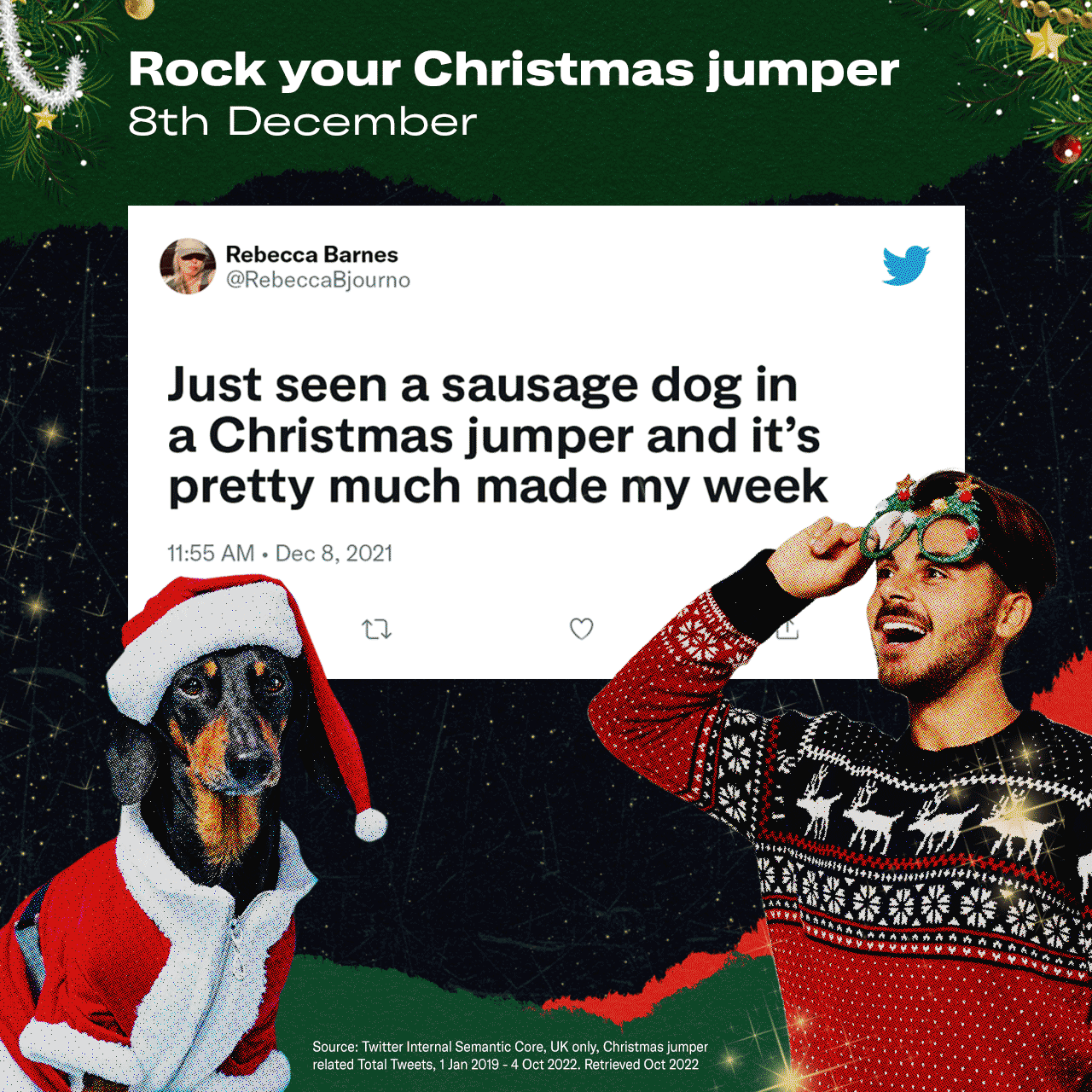 It's fair to say that we're an island that's obsessed with our Christmas ads. From the yearly tear-jerker set against a stripped-back pop cover, to a certain vegetable named Kevin, there's plenty of ads to discuss, and each one is dissected, reviewed, and discussed on Twitter. As Christmas returns to normal, we're already seeing massive interest in Christmas ads compared to prior years.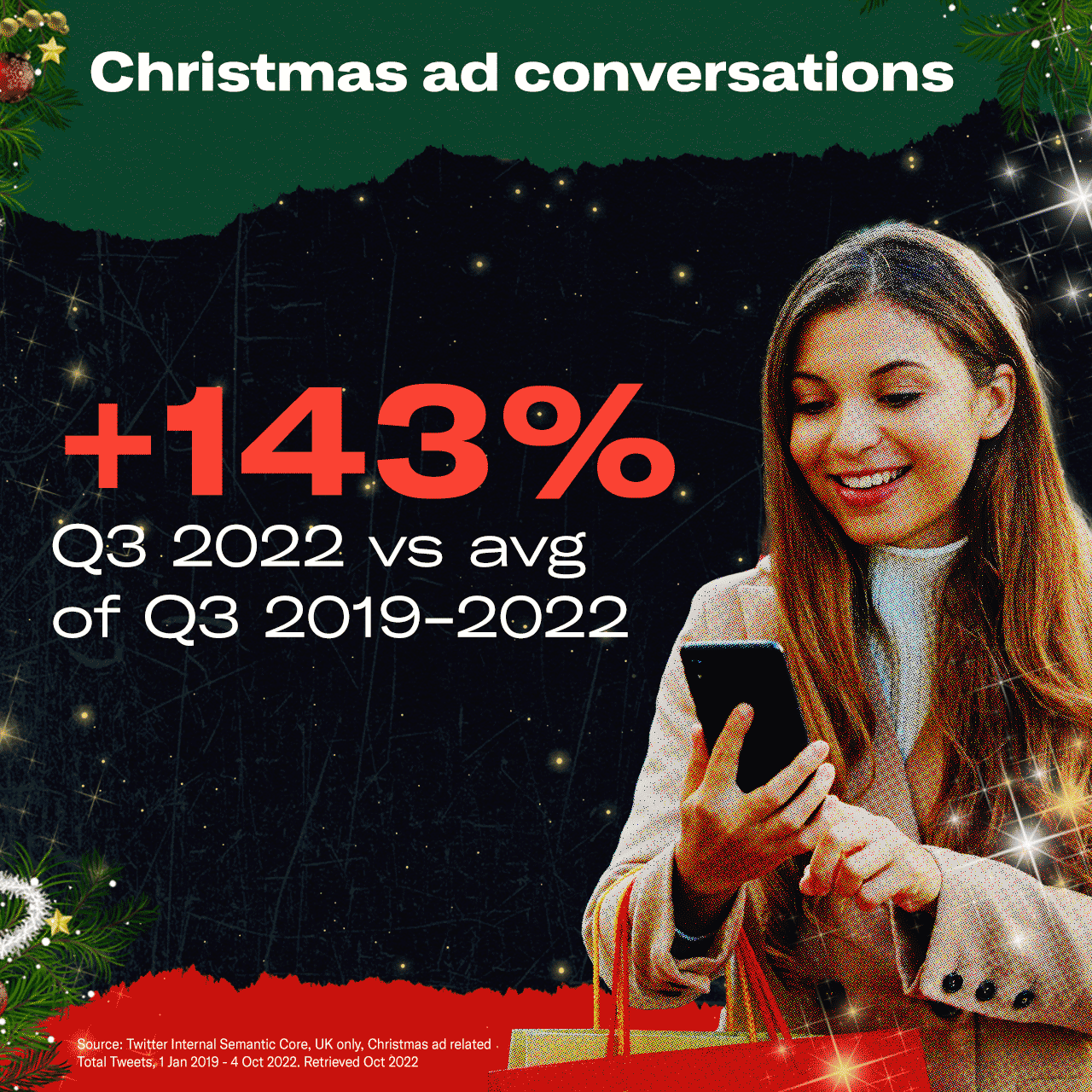 The bigger the Christmas, the earlier the planning starts, especially when it comes to food. Over the last couple of years, thanks to smaller gatherings, turkey talk hasn't started until the week of Christmas, but this year we're expecting our Christmas chefs to return to meticulously planning their Christmas Dinner from mid-December onwards.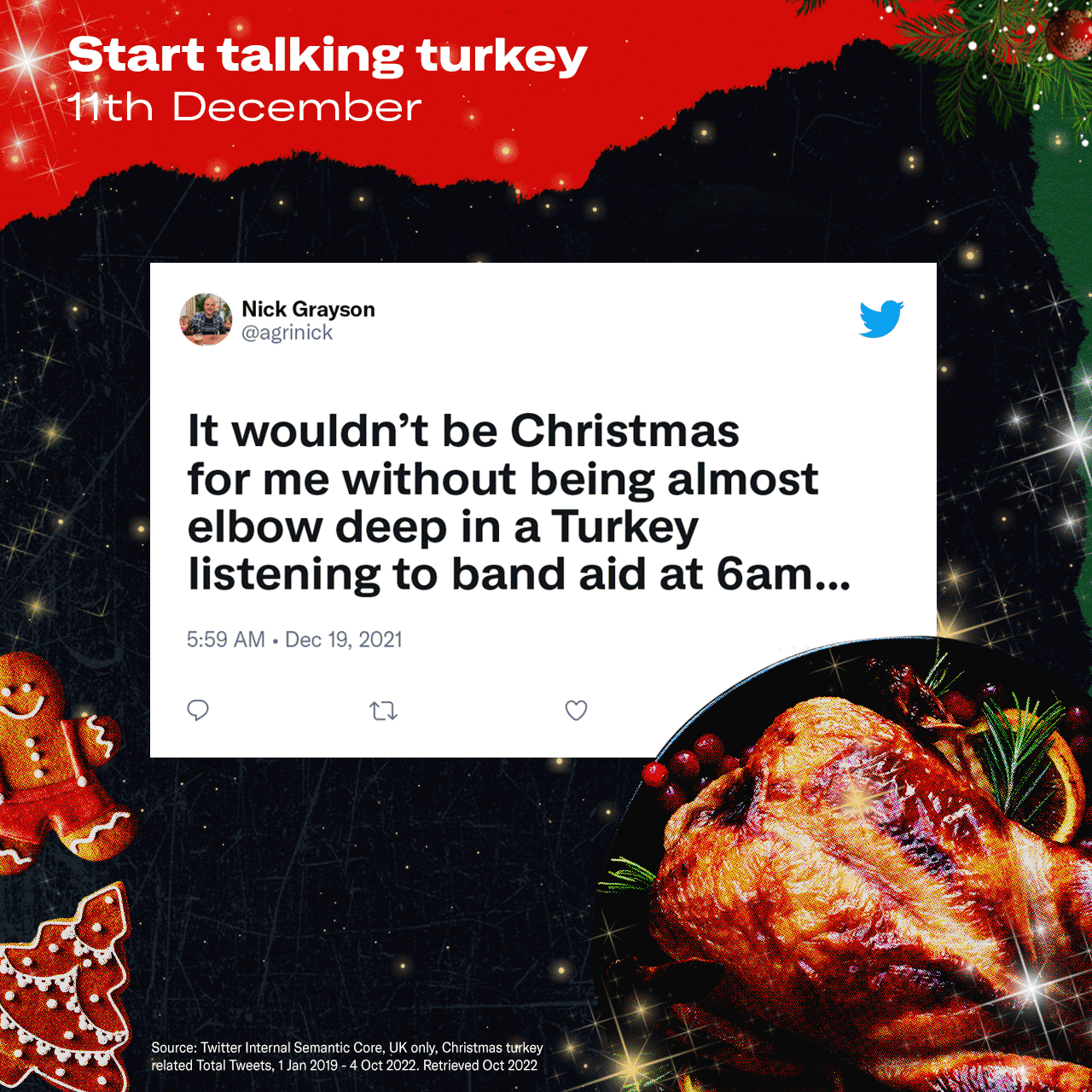 On Christmas Day, conversation (and booze) flows
On the big day itself, the UK has its priorities sorted. For most, the tipples begin before anything else,2 followed by the opening of presents.3 Afterwards, a large Christmas breakfast leaves many of us unbuttoning our trousers to make room for the main course later.4 But, given a few hours to settle, Christmas dinner is firmly back on the menu, with discussions going on late in the afternoon.5 All that hearty feasting means that folks are finally ready to settle down for another tradition, the Christmas film.6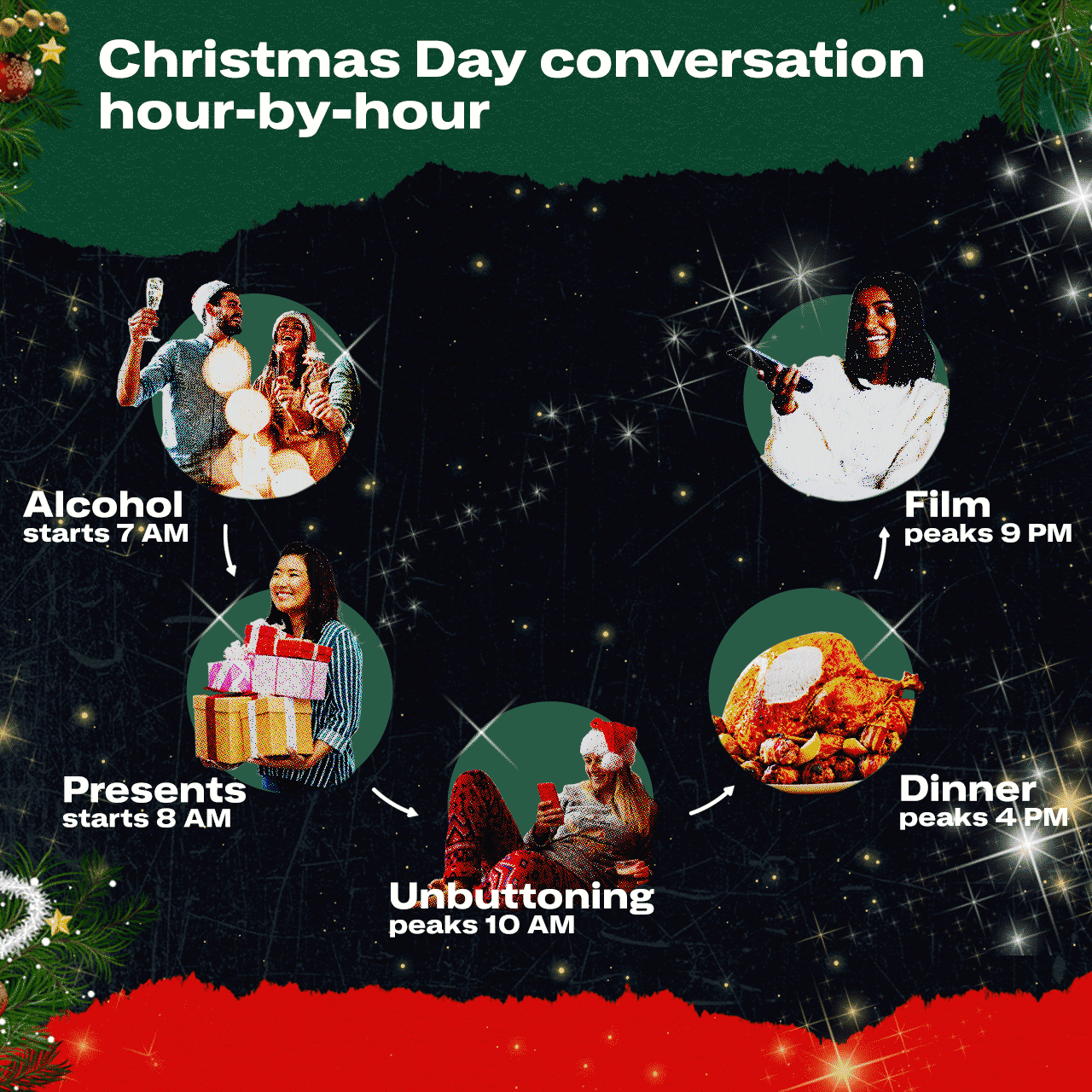 This isn't just any sandwich …
The best part of Christmas may take place the day after … While some controversially indulge in their Christmas sarnie the same day as their Christmas dinner (we see you), Boxing Day is traditionally when most people use up their leftovers and create their ultimate Christmas sandwich. Anticipation kicks off early, with the Christmas sandwich featuring as a key highlight for most people.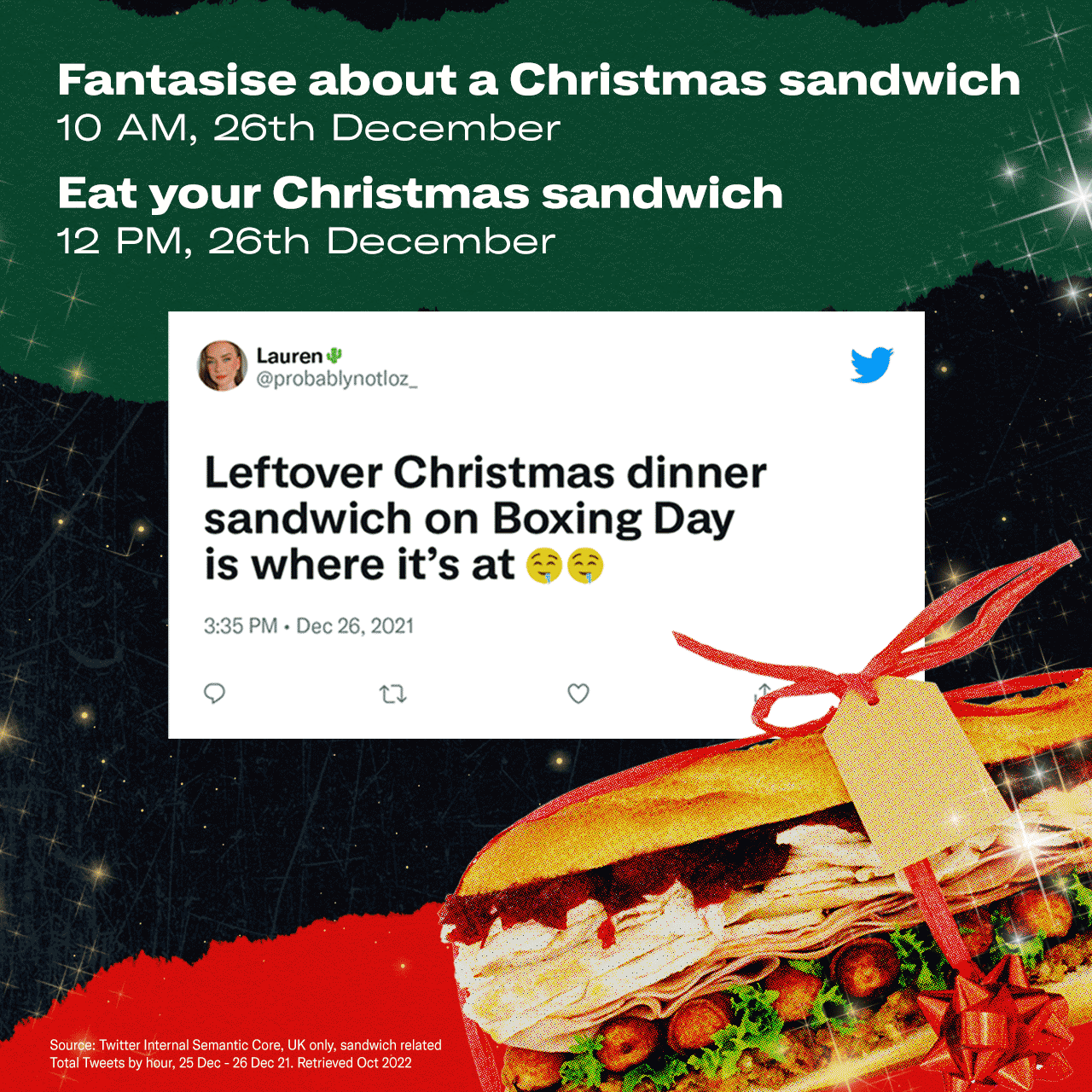 With Christmas looking to be bigger and better than the past few years, there are plenty of opportunities to take advantage of the festive season. A time for loved ones to reconnect, it's also the perfect opportunity for brands to tap in and lift the nation's mood.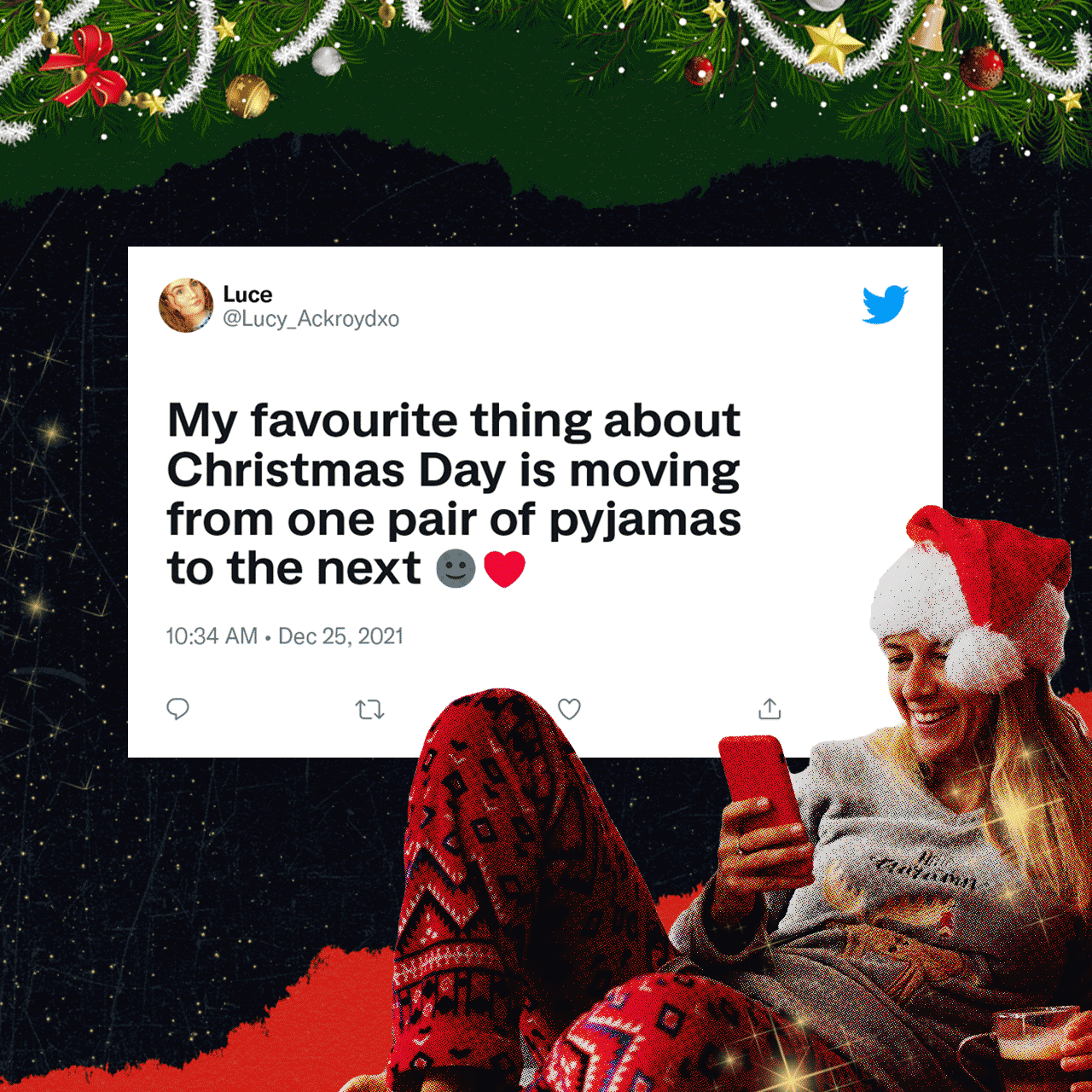 From Christmas Day planning to festive games and yearly cultural moments, the people of the UK love to share their love of Christmas with each other, and Twitter provides the perfect platform for users and brands alike to tap into the UK's love of all things Christmas.
Footnotes:
1. Sparkler, Twitter Insiders UK | Sept 2022 Q7. Are you planning for a normal or mega Christmas this year? Base: 478 (2021 base: 405)
2. Twitter Internal Semantic Core, UK only, Christmas and alcohol related Total Tweets by hour, 25 Dec - 26 Dec 21. Retrieved Oct 2022 
3. Twitter Internal Semantic Core, UK only, Christmas gifting related Total Tweets by hour, 25 Dec - 26 Dec 21. Retrieved Oct 2022
4. Twitter Internal Semantic Core, UK only, Christmas trouser and pyjama related Total Tweets by hour, 25 Dec - 26 Dec 21. Retrieved Oct 2022
5. Twitter Internal Semantic Core, UK only, Christmas dinner related Total Tweets by hour, 25 Dec - 26 Dec 21. Retrieved Oct 2022
6. Twitter Internal Semantic Core, UK only, Christmas and film related Total Tweets by hour, 25 Dec - 26 Dec 21. Retrieved Oct 2022