How one startup uses Twitter Ads to connect with customers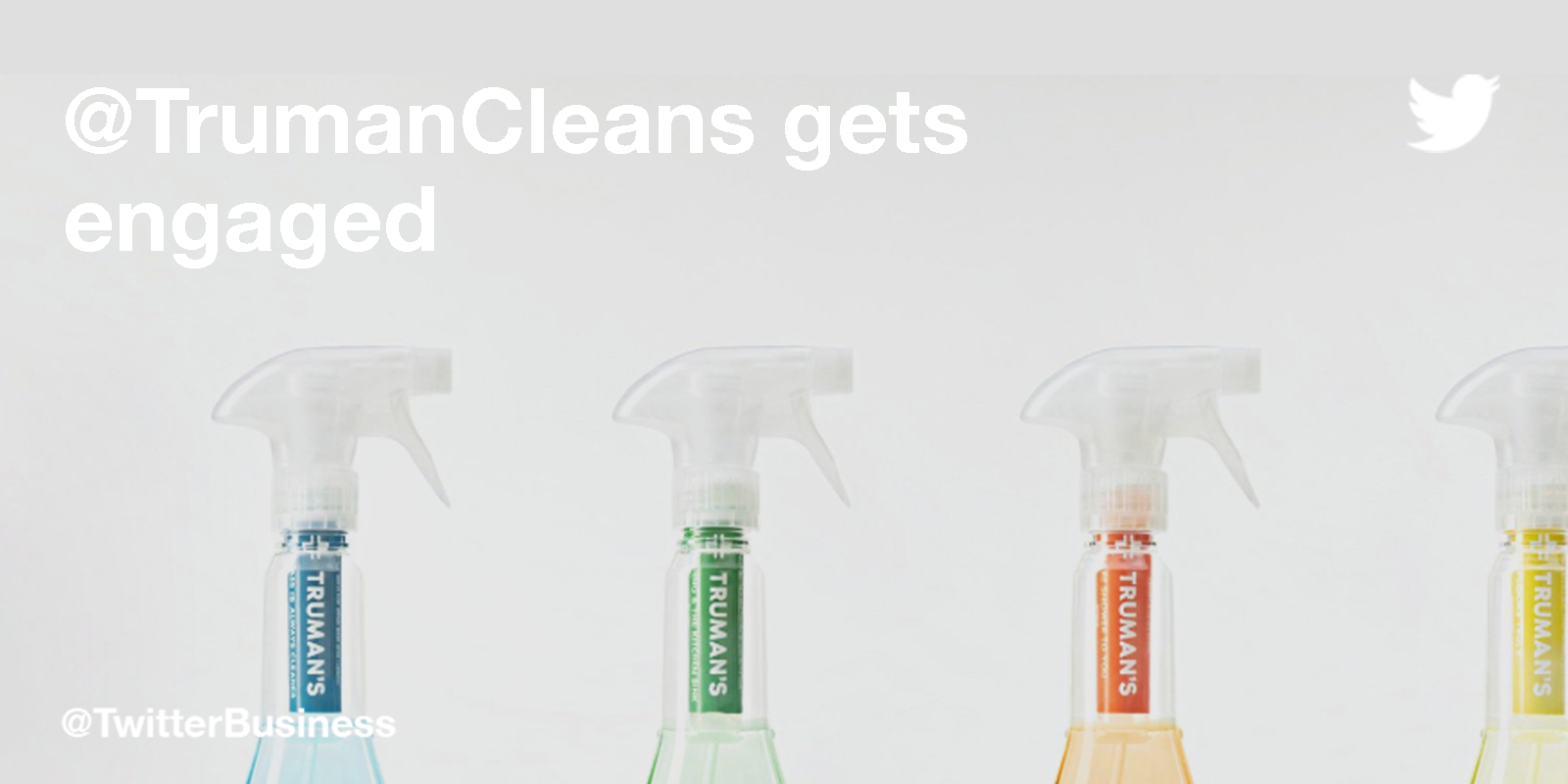 Twitter is all about conversation. But how do you converse as a brand? And how do you measure the impact?
To help answer these questions, we sat down with Jon Bostock, CEO and co-founder of @TrumanCleans, an up-and-coming brand of eco-friendly cleaning products that has found success by frequently engaging with customers on the platform.
Read the highlights, below:
Why Twitter?
"We studied which platforms would allow us to have real-time conversations with our customers. We want to make better connections with real people in an authentic way, and Twitter has provided that."
Their mission:
"We sought to meet [our customers], learn about their needs, and interact with them personally as people, not a series of prepared statements. We look at success as inspiring people to interact with us, and they're doing that.          
While obviously [ad] performance matters, if our Twitter efforts were just driving transactions without true connections, we would view that as a failure, and that's certainly not the case."
Their strategy:
"When we launched the company, we immediately started personally responding to each and every Tweet, and our efforts really resonated with our followers. Now it's part of who we are as a company."
They expanded, saying: 
"You can't just place an ad and forget about it. Twitter is all about engagement, and not just with your customers but your haters, too. If you're not interacting, you're completely disengaged from what's a conversation-based platform."
Their results:
"We're generating more than 100,000 impressions daily with strong site traffic and conversion rates. Twitter far exceeds Facebook in customer engagement and we have also seen that our videos perform better on Twitter than on Instagram."
The engagement has also resulted in changes to the product:
"We expedited our a-la-carte purchasing plan based on Twitter feedback. We also introduced a variety pack of refill cartridges. We even changed the favorite song of one of our cleaners."
Their advice:
"As challenging as it can be to respond to people who may not be fans of what you do, it's important to engage them and explain yourself. Blocking someone is the easy way out."
To hear how other brands are using Twitter, follow @TwitterBusiness and check out Character Count, a series of audio success stories featuring some of the platform's most creative advertisers.
Additional reading:
Ready to advertise on Twitter?