Twitter Space playback: How to connect with what's happening using Twitter Ads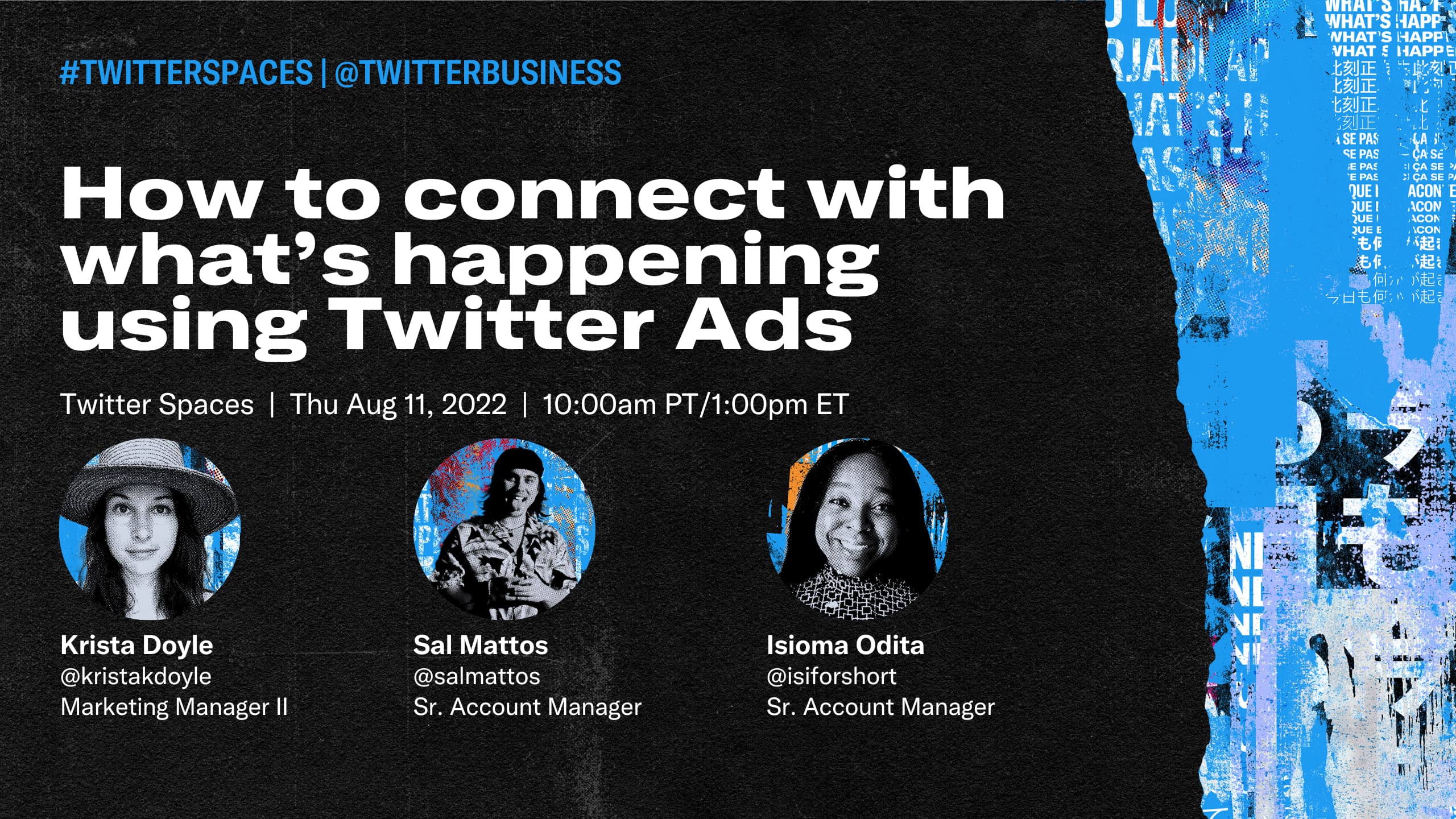 People come to Twitter to discover what's happening. To help brands connect and build cultural relevance @TwitterBusiness recently hosted our second Twitter Space. 
During the Space SMB Content Manager Krista Doyle spoke with Twitter Senior Account Managers Sal Mattos and Isioma Odita about how to connect with what's happening using Twitter Ads. 
You can listen to the audio recording of the Space below or read this blog for a recap on what was covered in the conversation.

Speakers:
Host: Krista Doyle (@kristakdoyle), Twitter SMB Content Manager
Guest Speaker: Sal Mattos (@salmattos), Sr. Account Manager 
Guest Speaker: Isioma Odita (@isiforshort), Sr. Account Manager 
In your opinion, how does being on Twitter benefit a brand?
Isioma started the discussion by stating that Twitter's "superpower has always been our active, leaned-in audience." Twitter connects brands with this valuable audience, when they're most receptive. Also, people spend 26% more time viewing ads on Twitter than on other leading platforms.
Brands find a lot of benefit from Twitter because Twitter is a more personable platform in which brands are able to connect with their audience and potential customers on a one-on-one, more lowkey basis.
What are some examples of companies that you think use Twitter really well in this way?
People on Twitter are highly receptive, but you need to have content that's relevant to them. This is a key difference when compared to other digital platforms; on Twitter you really want to join in where appropriate and interact with people where they're at. 
Connecting on Twitter means aligning your brand with conversations that are already happening on the platform. Holidays, major events, trending topics, and memes are great examples because they are all things people are already talking about. You want to insert your brand's voice into the conversation if it makes sense.

"For example, I worked on Pokemon Go's community day. One fun surprise was that the RuPaul's Drag Race account hopped in and started adding in videos from the queens talking about their favorite Pokemon," shared Sal. "This was a perfect example of how brands can get involved with the bigger conversation to help drive engagement and awareness!" 
Niantic/Pokemon Go utilized Trend Takeover for this campaign and this was one of the social interactions that naturally occurred. 
What are some easy ways a brand can jump into the conversation on Twitter?
Here are some of our top tips:
Be one step ahead and know what events or occasions are coming up.
Look into hashtags like #Emmys to get involved in the pre-convo already happening.
You can do things like Twitter Polls to get people's thoughts on an event. You can also hold a Twitter Space with different speakers.
For events that are annual, check out the top Tweets from the previous year's hashtag for inspiration.
The most important thing though is to have an idea of when certain events are coming up. We have a marketing calendar that you can bookmark!
For more tips check out this blog by Isioma on how to connect with major events on Twitter.
You don't always have to reinvent the wheel. Sometimes the wheel is invented and it's a matter of making it your own wheel like making it your own unique experience."
Can you talk about the ad solutions Twitter can provide a brand who wants to take their Twitter strategy a step further?
Some relevant ad solutions and products to get you started:
While here is how to target your audience to connect with what's happening. "Targeting is really essential to building campaigns and finding your audience. Work with a rep if you have one and they can help build recommendations for you to take on some of that heavy lifting. If you're working with a Twitter Ads rep be sure to connect because they will be able to get you plugged in to any beta opportunities that might be happening, can help make recommendations on any briefs you're building, can help with more unusual requests so really try to lean on them when in doubt," suggests Sal.
Looking for more targeting tips? Check out this blog on Twitter targeting options by Account Manager Annika.
What are your tips for brands looking to create ads that tie into big moments and events on Twitter?
One of the best ways to stand out from the crowd is to have unique visual assets. It's important to include visuals that are eye-catching and highlight your product or key message. Incorporating visuals that fit well with the event, occasion, or trend you're connecting to will help tie your campaign together.
"The sweet spot for our video creative is 6 to 15 seconds," shared Isioma. "Also, make sure to have a call to action or ask a question so the audience knows what you are trying to get them to do. During your campaign, we recommend using 3-12 unique creative assets to prevent creative wear-out with your audience."
What you wouldn't want is ad fatigue (when people get tired of seeing the same ad over and over again). To avoid this you definitely want to make sure you have different ads and different assets on hand that you can swap out during the duration of the campaign.
Another tip would be to feature the keywords or hashtags of the connect moment. Using one or two is sufficient – any more than that and you could negatively impact your Tweet copy.
The full list of best practices can be found in our Connect Playbook.


What are some best practices for connect campaigns? 
Sal broke down this question by providing the audience with his three best practices for connect campaigns:
"First, use the connect moment's hashtag so that people on Twitter who are following the event, occasion, or trend are more likely to come across your Tweets – they'll also be more likely to associate your brand with the moment.
Next, keep your Tweets short and to the point, between 50-100 characters. And if you want people to take action be sure to use a clear CTA, for example "click here, buy this, etc". 
Lastly, use eye-catching visuals that highlight your key message. Incorporating visuals that fit well with the event, occasion, or trend you're connecting to will help tie your campaign together. Really make sure that the visuals and the copy are working in tandem to tell your story. More so than on other platforms people really spend as much time on the copy as they do the media, and think of them as being one piece. And make sure to use captions!"
How can I get more leads for my B2B company on Twitter?
Isioma suggested, "Website Traffic campaigns are the best way. Even though you have a website card leading out to a landing page, you can also include image and video assets so it's still visually appealing as people are scrolling down the timeline and then they're still able to click out to it. Whenever they do get to the landing page, you want to make sure that you're offering something of value."
When should I start optimizing my campaign? 
We suggest not making changes within the first five days of ad campaigns to allow the system to efficiently calibrate your ads — this is known as the learning period. Then, replace any under-performing Tweets and targeting with fresh alternatives, pause or delete campaigns that are under-performing. 
For best results, make all desired changes at once, then let the campaign sit for another 3-4 days to understand the impact before making any additional changes. 
Want more insights and best practices from the Twitter Business team? Download the Connect Playbook to build cultural relevance and stay in the know with what's happening on Twitter.
Download the Connect Playbook