Six Twitter conversation trends driving March Madness

There are few events in the sports calendar like March Madness. The first round of the annual college basketball competition that captivates diehard and casual sports fans alike begins on March 14th and will once again take over Twitter timelines.
March Madness is not just a cultural phenomenon–it's also one of the biggest marketing events of the year, bringing with it a host of traditions that brands can leverage to join the conversation and connect with their audiences in meaningful and creative ways.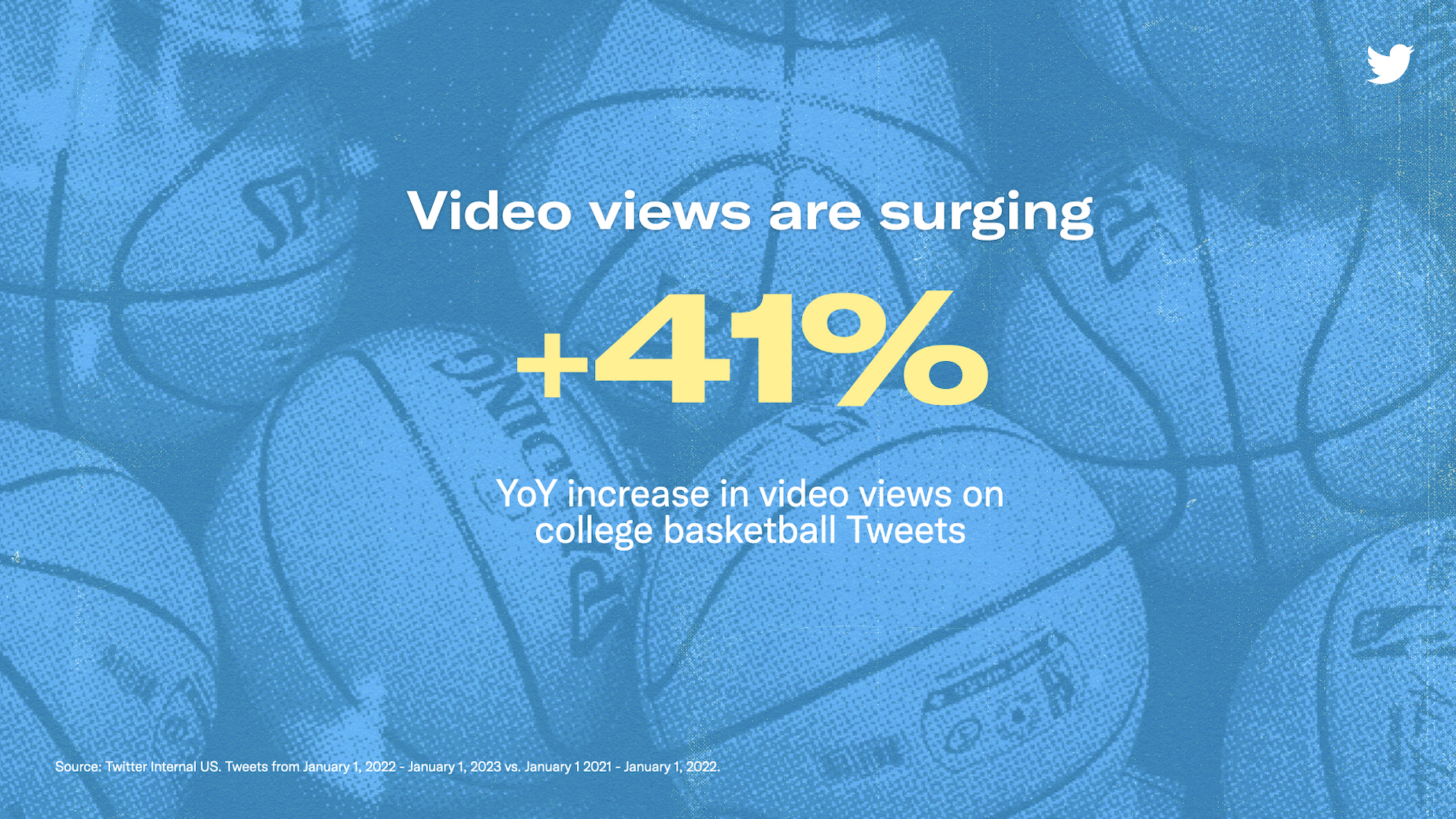 #SportsTwitter is where the conversation lives. We saw this with Super Bowl LVII – the biggest day of the year on Twitter 1 – and now brands are finalizing their plans for three straight weeks of action.
As brands prepare to activate, the timeline is poised for an upset. We've unpacked six of the biggest conversational insights around #MarchMadness2023 on Twitter to help your brand score big. 
Did someone say brackets? 
One of the biggest topics of conversation every year is the drama that unfolds around brackets. With 68 teams involved, brackets keep viewers invested and connected. Wendy's has successfully owned this space on Twitter in year's past, and our top tip to brands thinking of playing in the bracket space is "go big or go home".
Hashtags: the rally cry 
#StrutUp (St. Peters)2 currently holds the #2 spot for trending team hashtags. This team made a surprising run during last year's tournament, indicating that Cinderella teams gain and retain new fanbases. If you have an underdog strategy in the works, be sure to monitor spikes in conversation around each team as the tournament progresses.
Welcome back, casual fans. 
Very few major sporting events are as popular with casual fans as March Madness. In 2022, over half of #MarchMadness tweeters did not Tweet about college basketball during the regular season.3 When designing your content and campaigns, keep in mind that a wider pool of fans is engaged, and in the mix.
Timing is everything 
March Madness is an interactive experience on Twitter. Users live Tweet as the action takes place, with approximately 80% of #MarchMadness Tweets happening during gameplay in 2022.4 We recommend a mix of planned and live content for your campaign, to keep content fresh and demonstrate to fans that you're invested and along for the ride.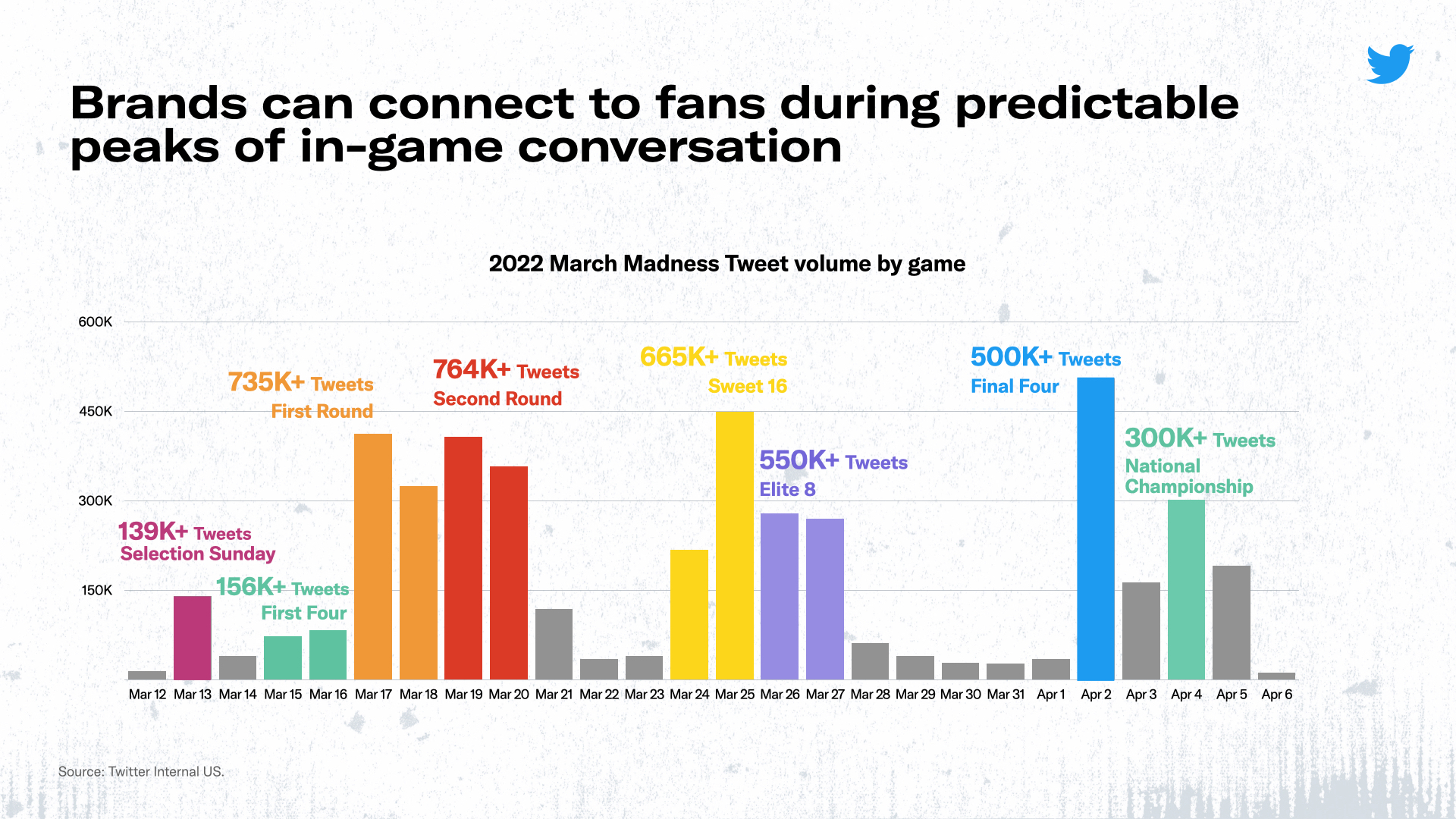 A language of its own 
We've observed trending keywords related to history and drama (upset, cinderella, buzzer-beater, historic) spike in the #MarchMadness conversation.* This is an opportunity for copywriters to evolve campaign language to reflect how real fans are talking about the tournament and the teams they're supporting. 
From bracket pools to sports betting
March Madness and betting have always gone hand in hand. Recently legalized, sports bettors are coming alive on Twitter as the newest theme during March Madness - with a +44% YoY growth in Tweets around this trending topic.5 For companies in this space, be sure to bring your A-game and offer a differentiated reason for new / casual bettors to place their bets with you. 
When college basketball is on, Twitter users are watching. Whether you're already in the game, or thinking about jumping off the sidelines, tap into the #SportsTwitter community to align your brand with the #MarchMadness conversation.
To learn more contact us here.

Source: Twitter Internal Data. February 2nd, 2020 - February 13th, 2023. US Only. (4 super Bowls)
Source: Twitter Internal Data. Feb 1st, 2022 - Apr 10th 2022. US Only.
Source: Twitter Internal Data. November 9th, 2021 - Apr 10th 2022. US Only. 56%+ of Twitter Users participating in the 2022 March Madness Conversation did not Tweet about College Basketball during the 2021-2022 regular season
Source: Twitter Internal Data (Big Query). US only. Tweets from March 15th 2022 - April 5th 2022.
Source: Twitter Internal Data. Feb 1st, 2022 - Apr 10th 2022. US Only.