How @SimonBooks brings a legacy brand to a new audience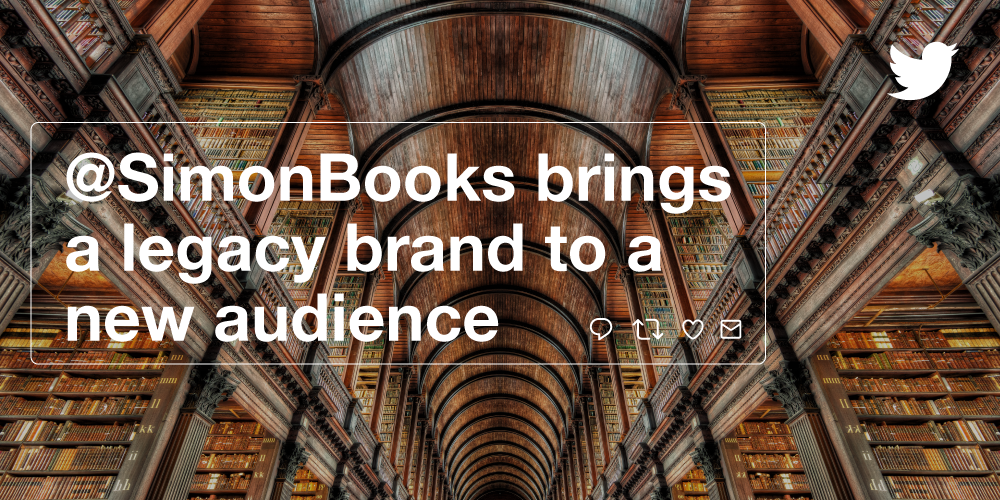 From the outside, Twitter looks like one big community — and to be fair, technically it is. The reach of a single Tweet knows no limits. From the inside, however, you'll see that Twitter is a collection of smaller, often overlapping sub-communities. These range from the widest of interests (dog Twitter) to the most obscure.
Of the brands who have successfully navigated these sub-communities, @SimonBooks is a standout. The company, which was literally founded before the internet — before computers even — has been able to find its audience (hello, book Twitter) and it's own place in the Twittersphere.
In this episode of Character Count, we sit down with the Director of Marketing for @SimonBooks to talk about how the company found their place, and what it's meant to the brand.
We talk networking:
"There are so many people who are also experts in the field that we want to connect with….It's become a great tool to really make an introduction."
Putting yourself out there:
"I think that there's always that voice in the back of your head, very similar to throwing a party, you wonder if anyone's going to show up…. But then people do start participating in the conversation — using the hashtag to ask a question or to join the conversation — and it's always a big sigh of relief and it ends up being a lot of fun and really rewarding."
And what makes it all work:
"Having a shared voice and a shared vision — and a shared interest — I found, more often than not, people are happy to strike up the conversation."
Listen to the full episode for tips on finding your corner of Twitter (and the Direct Message etiquette to use when you do.)
Subscribe to Character Count:
Ready to advertise on Twitter?