Real-time finance data on Twitter is money
It's finally here. We're expanding our $Cashtags feature to give you real-time prices for a broader range of stocks, crypto, and other assets by partnering with eToro (@eToro). With over 4.7 million $Cashtag searches happening every day and 744 million searches since the start of the year, this feature is perfect for the finance community on Twitter, aka #FinTwit.1
Previously, users only saw live price charts for a select few financial assets when they searched using a $Cashtag symbol or clicked on a $Cashtag in a Tweet. But now, the list of $Cashtags that produce live price charts has been significantly expanded. You can also click through to the eToro platform to get more information about the asset and even invest if you choose to.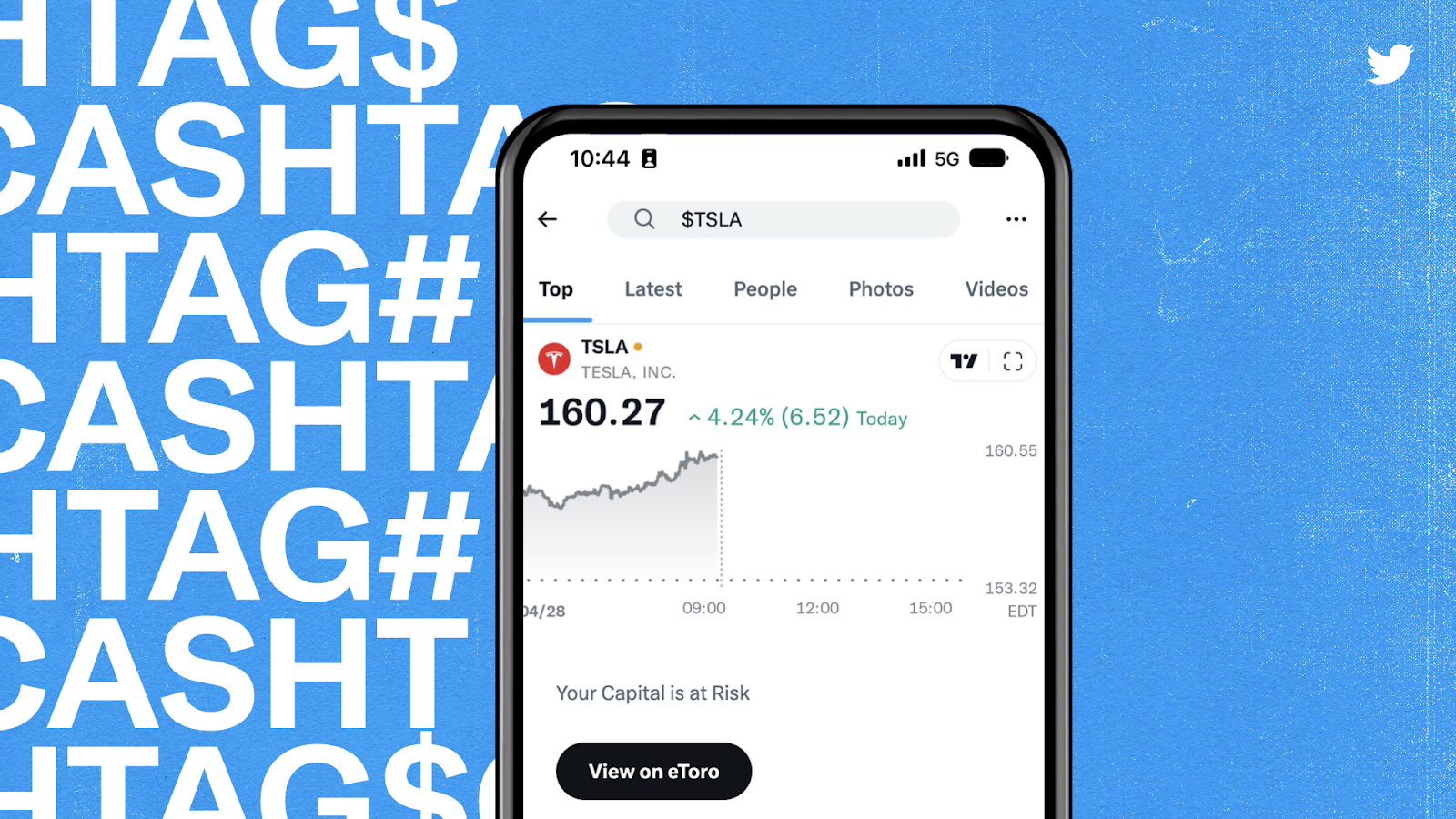 This expansion covers $Cashtags representing a wide range of instruments, from stocks and ETFs to crypto and commodities. This move is directly in service of the massive finance conversation on Twitter. There were over 498 million Tweets about business and finance worldwide in the first 90 days of 2023. And interestingly, 65% of these Tweets were from users aged 18-34.2 Young investors are engaging with finance on Twitter. 
Since we added pricing data for $Cashtags in December 2022, the feature has been embraced. Some of the most frequently used $Cashtag were $TSLA, $SPY, $BTC, and $BBBY.  When Apple ($AAPL) released its Q4 22 earnings on February 2nd of this year, $Cashtag searches skyrocketed to 8 million.1
We're excited to continue to expand the $Cashtags feature, providing our users with real-time pricing data for an even wider range of financial assets.3 As the conversation around finance and investing continues to grow on Twitter, we're committed to empowering our users with the tools and knowledge they need to make informed decisions. We look forward to seeing the impact of this partnership on the #FinTwit community and beyond.
Notes:
Twitter internal data, total searches containing query (cashtag), Jan 1, 2023 - May 14, 2023, Global data. 
Twitter internal data, Tweets containing keywords related to business and finance,  Jan 1, 2023 - April 1, 2023, Global data.
Pricing data is provided by Trading View, Inc. and is subject to its Terms of Use

. Pricing data displayed through the $Cashtag feature is provided for informational purposes only and should not be used as a basis for any financial decision. Certain data may be offered in real time, and other data may be delayed as specified by financial exchanges or other data providers. Twitter does not verify any data and disclaims any obligation to do so.