Top New Year hashtags and trending topics to start 2022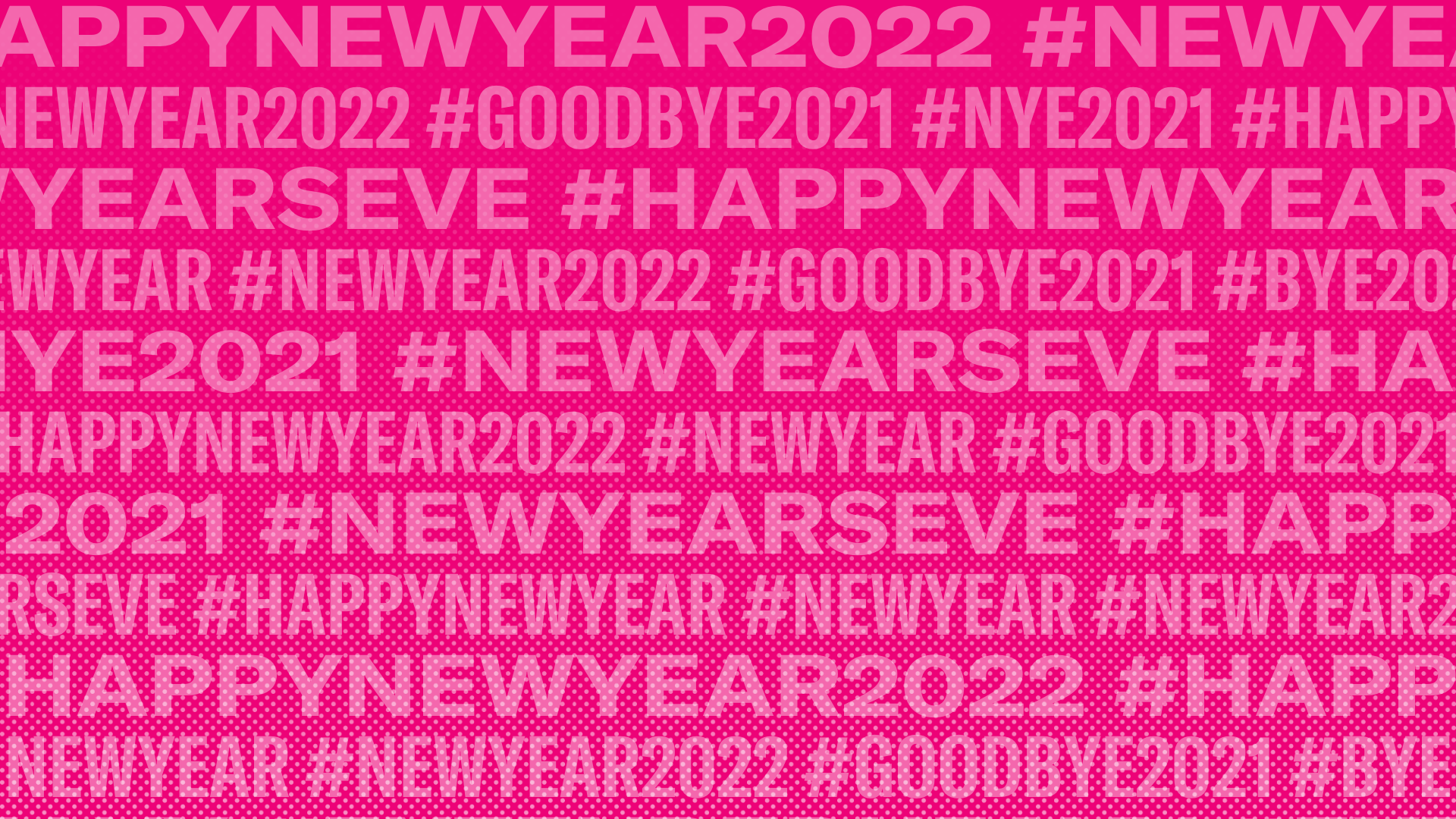 Last year there were 18 million New Year Tweets on Twitter1 — and that was just in the US. Using popular seasonal hashtags and tapping into New Year keywords and trends are simple ways to connect and expand your reach as we enter 2022.

To help you create impactful Tweets, we've collected the top keywords and hashtags to help your business start off the #NewYear strong.
Popular New Year hashtags on Twitter
Use the below hashtags for Tweet inspiration, and keep an eye on Twitter's Explore section to identify new hashtags and trending topics as they occur. 
Pro tip: Choose one to three of the above hashtags per Tweet to reach more people and engage with the New Year conversation on Twitter.  
New Year topics to Tweet about
The turn of the calendar year is one of the most globally relatable annual events. Understanding what keywords people are using will help you think of Tweet topics and craft timely content.
Looking at data leading up to the New Year period2, top-mentioned topics so far include classic trends like events, New Years Eve, holidays, New Year's Day, home and family, music and entertainment. COVID-19 also remains a trending topic, so be mindful of this when creating campaign copy and imagery. 
Other timely New Year keywords and topics to begin 2022 include:
Healthy body, and minds: After a trying year of ups and downs, position your New Year Tweets and campaigns around feeling good and messaging that promotes looking after your mental health. Topics include nutrition, mindfulness, the outdoors, and year-round gratitude. 
Self improvement: The new year is a classic time to take up a new hobby or learn a new skill. Think about how your brand can build an advertising strategy that is useful and informative for followers beyond new year. Topics could include how-to videos, tutorials, offers on courses, or learning apps.
Gaming: New year, new games. Hashtags like #NintendoSwitch

and

#AnimalCrossing were big in January 20213 and the volume of #GamingTwitter conversation is growing4. If you have a business or brand that aligns with the gaming industry use this time of year to engage with players. TV, movies, and streaming services are other big topics to connect with too.
Making life a little easier: Do you have a product, mobile app

, or tip that could help people sort out finances, be kinder to others, improve their careers or just make life a little more fun? Make it known and help people start 2022 with a sense of optimism.  
Some more classic New Year topics include parties (depending on local COVID-19 restrictions), fresh starts, resolutions, travel, new routines, and wishes for the year ahead. For more ideas on what to Tweet check out out blog on how to use the New Year to promote your business on Twitter.
Pro tip: While it's important to incorporate popular and trending topics into your content strategy, focus on creating content that's relevant to your target audience and authentic to your business.

Twitter Advertising New Year tips 
If you're looking to increase your reach even further, why not make it a resolution to test out one of the below Twitter advertising options. 
Carousel Ads. Carousels are a great way to share several products, tips or features with your followers. For example, the various benefits of your fitness app would work well as a Carousel Ad.

Keyword targeting. Promote your top-performing Tweets in a Twitter Ads campaign using words and phrases people recently Tweeted or searched for on Twitter. This allows you to reach them when your business is most relevant. For example, a food store could reach people looking for healthy recipes to start the year by targeting keywords and phrases such as "what to cook for 2022," or "healthy food ideas."

App installs or app re-engagements. If you would like to drive installs or traffic to your app in the New Year have a look out our MAP guide to help kick start your year.
Now you're ready to connect with the moment and reach new audiences. Try out these tips by creating Twitter Ads of your own. Create a Twitter Ads campaign today.
1Source: Twitter Internal Data (Semantic Core). Oct 1st, 2020 - Jan 2nd, 2021. US Only.
2Source: Twitter Internal Data, Nov 1 - Nov 30, global.
3Source: Twitter Internal Data Dec 31st - Jan 1st. US and UK data.
4Source: Twitter Internal Data (Big Query, KGO). Comparing Tweets from January 1st, 2019 - December 31st, 2019 vs January 1st, 2020 - December 31st, 2020. Global.
Ready to advertise on Twitter?