How it started, how it's going: Performance advertising on Twitter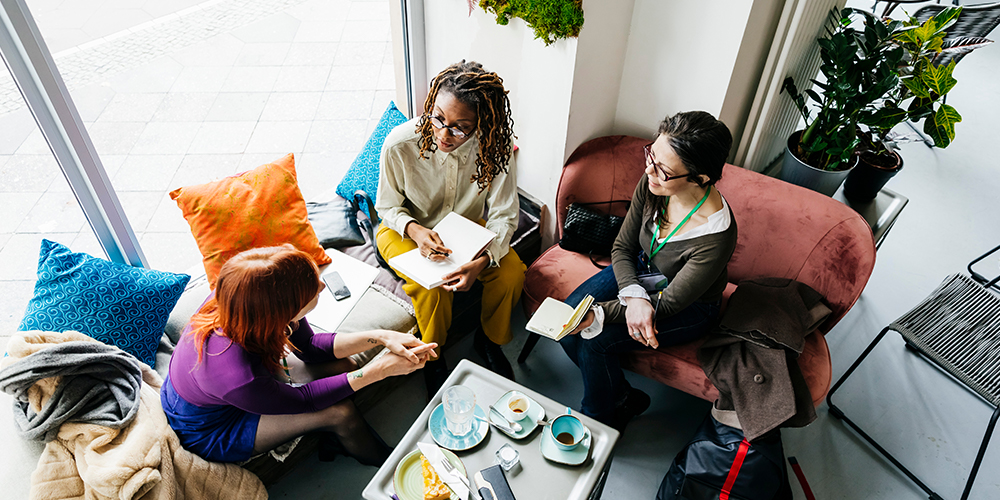 Editor's note: As of April 7, 2021, Website Cards and App Cards are now known and referred to as Image or Video Ads for Website Traffic and App Installs, respectively. Additionally, as of January 25, 2022, Website Click Campaigns are now known and referred to as Website Traffic Campaigns.
Last updated: August 16th, 2022
Scaling our performance advertising and measurement solutions for advertisers 
We're excited to share that the new and improved Twitter Pixel, Conversion API, and App Purchase Optimization are launching globally to all Twitter Advertisers. We've been hard at work since our last update, and have now hit an important milestone that creates value on top of the measurement and optimization solutions we launched earlier this year. 
Here's a closer look at what we've been up to: 
Our new and improved Twitter Pixel
The new Twitter Pixel is a new measurement solution that enables conversion tracking. Conversion tracking is the backbone of performance advertising - it enables advertisers to measure their return on ad spend by tracking the actions people take after viewing, clicking or engaging with ads on Twitter. 
What does the new Twitter Pixel do? 
Improved Web attribution: This new Pixel comes with additional functionality, such as allowing advertisers to measure more actions than before, such as when someone adds an item to their digital shopping cart. 

Easier measurement set-up and troubleshooting: We also simplified our event creation process, which helps advertisers more seamlessly set up their measurement solutions, and introduced updates to our Pixel Helper Chrome extension. This will help advertisers better understand the impact of their web campaigns and provide clearer support when checking to see if the Pixel is implemented properly.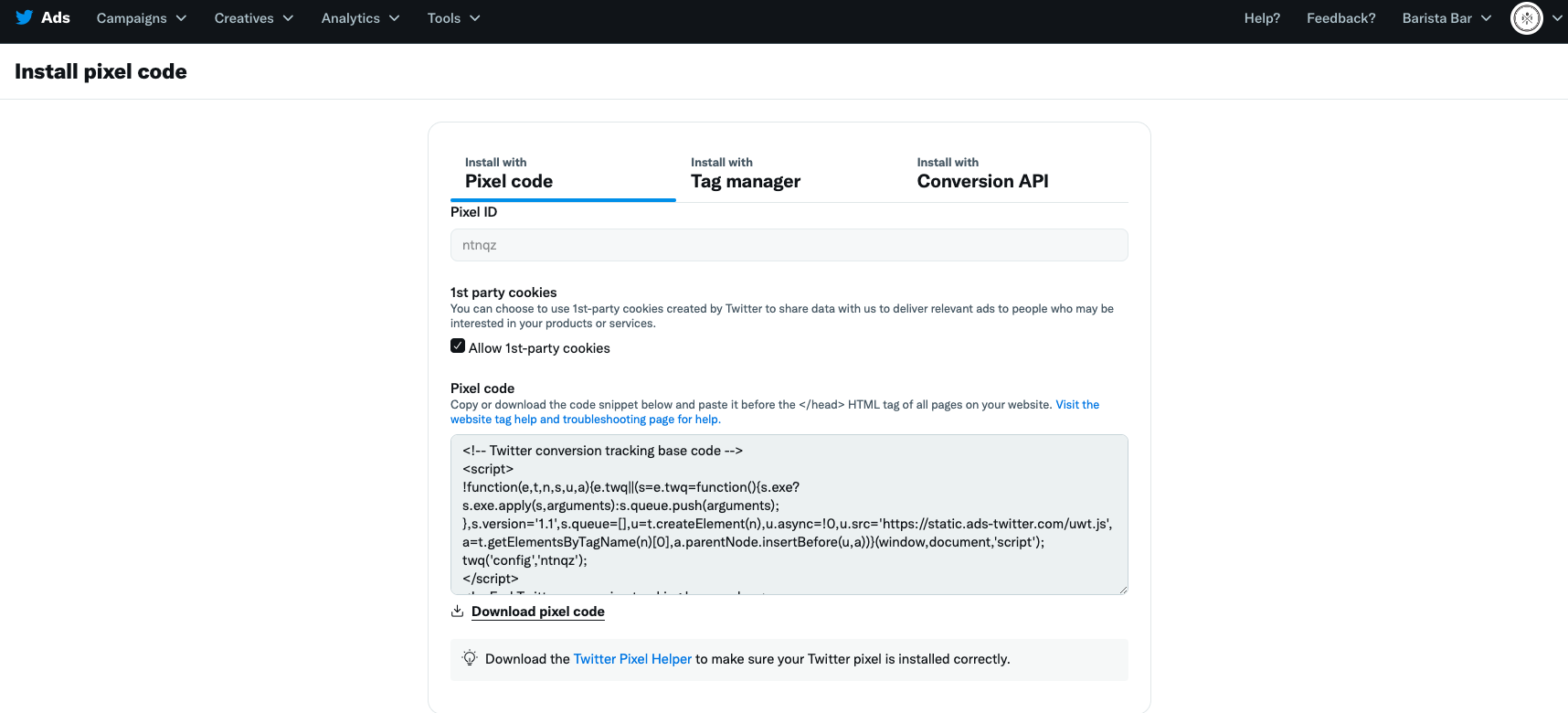 Introducing: Conversion API (CAPI) 
We are also introducing Conversion API (CAPI) to all advertisers. CAPI is a measurement solution that enables advertisers to connect to our API endpoint and send conversion events to Twitter from their servers without using third-party cookies. This launch is a part of our efforts to improve value for businesses while maintaining our privacy and security commitments by relying less on third-party cookies.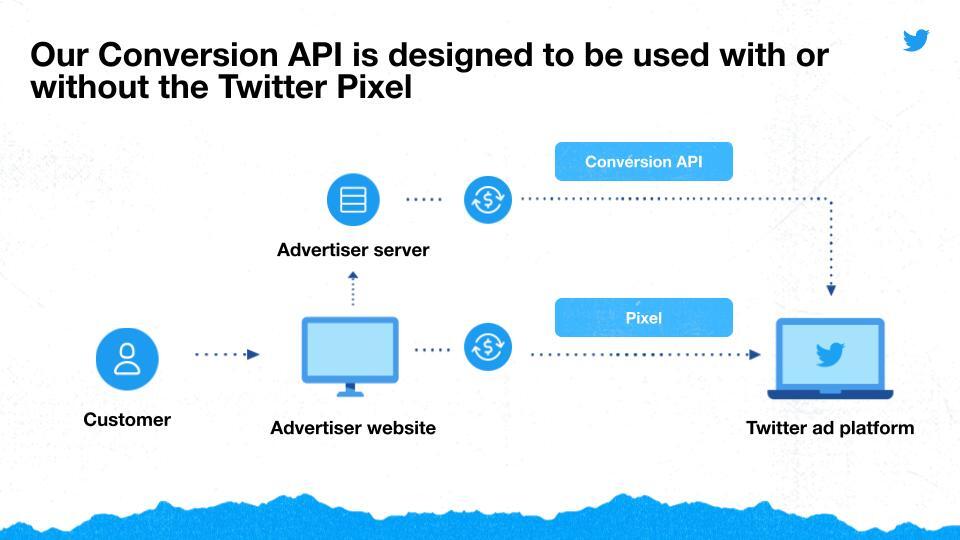 CAPI can also help improve optimization and ad targeting without the need for a Twitter Pixel, which is the first time an advertiser can finally connect data to see conversions without placing a tag on their site. Multiple data signals with Conversion API (CAPI) can be used—including Twitter Click ID or email addresses to send conversion events to the API endpoint and help advertisers further understand actions that people are taking as a result of their advertising. 
You can read more about how advertisers are tapping into CAPI in this success story, and more about the Twitter Pixel and Conversions API on the Twitter Ads Help Center. 
Introducing: App Purchase Optimization 
In the world of App ads, performance talks - and the performance that most app advertisers care about are not simply installs, but driving lower funnel actions such as purchases. We are taking the first step towards fulfilling our promise of making Twitter a great place for driving lower funnel outcomes for performance advertisers with App Purchase Optimization.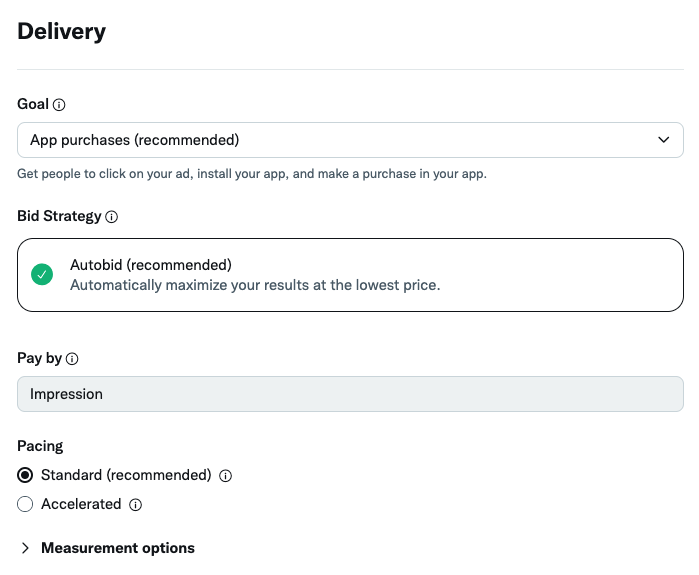 App Purchase Optimization enables advertisers to deliver ads to people most likely to install an app or make a purchase by using machine learning to identify audiences that are more likely to take an action. In early testing* we saw the following results: 
89% of advertisers saw a reduction in cost-per-purchase

A median 30.4% decrease in cost-per-purchase compared to Install Optimization, when using Click Billing and a median 12.8% decrease in cost-per-purchase compared to Install Optimization, when using Impressions Billing
This product is now currently available via Android for all advertisers, with an iOS launch to follow in the future. 
*Source: Data from internal Twitter testing in Q2 2022 comparing campaigns optimizing for Purchases vs. campaigns optimizing for Installs. 
If you need help setting up your campaign, connect with a Twitter Ads specialist.
Looking ahead 
To build a more effective performance advertising business, we are increasing our investment across various initiatives, including updates to our optimization models, conversion options, and measurement solutions. As we continue to build upon our performance roadmap, we're excited to continue to drive value for our customers with upcoming product launches, such as: 
Collection Ads: This new format will bring a new way for advertisers to storytell and showcase their products to consumers. Brands can display a primary hero image with smaller thumbnail visuals below. Each image can drive consumers to a different website or product landing page, driving various advertiser objectives. 

Web Conversion Optimization: We will be conducting a major rebuild of our Website Conversions optimization model that will help improve the way we reach people who are more likely to convert on a lower-funnel Website action, such as making a purchase or adding an item to their cart. 

Dynamic Product Ads: This is a new ad product that will dynamically deliver relevant products to the right person, at the right time, based on their activity both on and off Twitter, in order to help drive sales or conversions. 
The work continues and we are looking forward to sharing more along the way. Stay tuned! 
Your subscribe request was submitted successfully.
Improving Performance advertising and measurement at scale
To kick-off the year, we are launching three new products that improve performance for campaigns trying to drive traffic to a website, all while maintaining our commitment to people's privacy: Site Visit Optimization, Aggregated Measurement, and Events Manager.
Since we last shared an update, we've been hard at work and have now hit an important milestone that creates value on top of the measurement and optimization solutions launched in 2021.
Improving your ability to reach audiences most likely to visit your website 
The Website Clicks & Conversions objective has evolved since the objective was initially launched. Based on the expanded product offering and to better meet your expectations of the results you can achieve from this product, we are renaming this objective to Website Traffic. 
Site Visits Optimization is a new optimization goal under the Website Traffic objective dedicated to finding and serving your ads to audiences most likely to visit your website. By enabling the Twitter Website Tag, Twitter is able to track actions that audiences take on an advertiser's website and attribute them to their Twitter ads campaigns.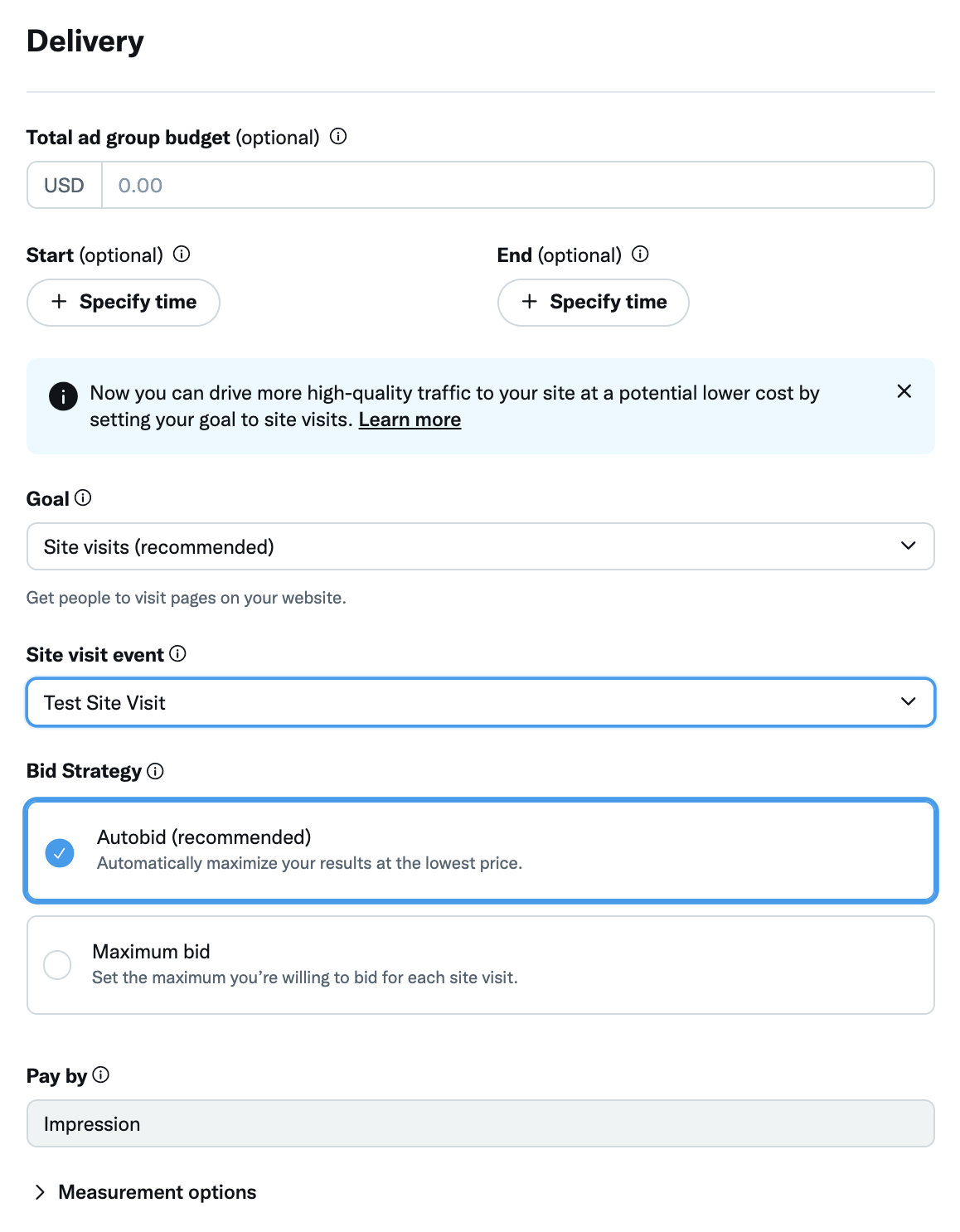 In testing with advertisers who had website traffic goals, Site Visits Optimization outperformed existing offerings and saw an average lower cost-per-site-visit of 31%.* 
Building off of the updates made to improve our mid-funnel offerings, our teams will be focused on the development of new product features that will expand on ad conversions (for example, adding items to a cart or driving purchases) to better help you drive your business outcomes. 
Find more information on Site Visits Optimization. 
*Source: Twitter funded advertiser tests conducted November through December 2021, comparing performance between 15 website campaigns using Site Visits Optimization and 15 website campaigns using Conversions Optimization and optimizing for a Site Visit event.
Introducing attribution with Aggregated Measurement
Since Apple's App Tracking Transparency launched last year, we have been working to evolve our products to improve value for businesses while maintaining our commitments to consumers. This is aimed at providing conversion metrics by counting events in aggregate for audiences who have opted out of tracking on iOS devices. 
How does this work? 
Within the Twitter Ads Manager Reporting you will be able to see an aggregated view of site metrics and conversion events, giving you a more complete view of your campaign results.
This is an exciting development and, though results may vary depending on the advertiser or the campaign details, we saw, on average, a 31% increase in attributable Site Visit Conversions** in Twitter Ads Manager, across advertiser campaigns.
This will be a potential improvement for advertisers who have seen a decrease in attribution across their campaigns after the implementation of Apple's new ATT App Tracking Transparency Framework. 
Find more Information on Aggregated Measurement.
**Source: Data was pulled through our backend attribution system from 12/17/2021-1/13/2022 across all advertiser campaigns, reporting on the attributable Site Visit conversions across all OS platforms (iOS, Desktop, Android, Other) with Aggregated Measurement enabled compared to not being enabled. Results may vary depending on the advertiser or the campaign details.
Introducing Events Manager 
As our performance solutions are built out and improved, we want to ensure that you are able to efficiently and effectively manage tracking your ad campaigns. 
Events Manager will become the centralized hub to manage your Twitter Website Tag and its associated web-based conversion events. This update includes the following foundational updates:
Streamlined interface that provides more clarity on setting up your Twitter Website Tag 

Clearer prompts to provide guidance on how to set up your conversion events 

Promptly see updates on the tracking status of your conversion events 

Throughout this year we will continue to provide enhancements to Events Manager to improve diagnostic capabilities, further streamline the interface, and integrate App-based events so this can become the central hub for advertisers to manage their website tag and conversion events.
Find more Information on Events Manager.
2022 will be a banner year for performance 
We see a lot of opportunities for us to continue to improve how businesses run advertising campaigns on Twitter, these are just three of the foundational updates we are excited to bring to market at the start of the year. In 2022, you can expect even more updates as we continue to make it easier for you to grow your business and understand the performance and impact of your ad campaigns.