How it started, how it's going: Performance advertising on Twitter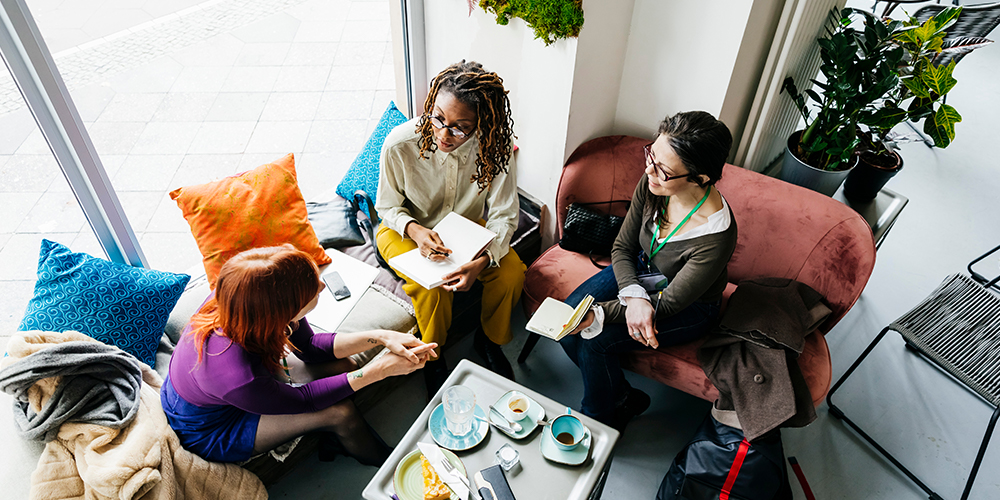 Editor's note: As of April 7, 2021, Website Cards and App Cards are now known and referred to as Image or Video Ads for Website Traffic and App Installs, respectively. Additionally, as of January 25, 2022, Website Click Campaigns are now known and referred to as Website Traffic Campaigns.
Last updated: August 16th, 2022
Scaling our performance advertising and measurement solutions for advertisers 
We're excited to share that the new and improved Twitter Pixel, Conversion API, and App Purchase Optimization are launching globally to all Twitter Advertisers. We've been hard at work since our last update, and have now hit an important milestone that creates value on top of the measurement and optimization solutions we launched earlier this year. 
Here's a closer look at what we've been up to: 
Our new and improved Twitter Pixel
The new Twitter Pixel is a new measurement solution that enables conversion tracking. Conversion tracking is the backbone of performance advertising - it enables advertisers to measure their return on ad spend by tracking the actions people take after viewing, clicking or engaging with ads on Twitter. 
What does the new Twitter Pixel do? 
Improved Web attribution: This new Pixel comes with additional functionality, such as allowing advertisers to measure more actions than before, such as when someone adds an item to their digital shopping cart. 

Easier measurement set-up and troubleshooting: We also simplified our event creation process, which helps advertisers more seamlessly set up their measurement solutions, and introduced updates to our Pixel Helper Chrome extension. This will help advertisers better understand the impact of their web campaigns and provide clearer support when checking to see if the Pixel is implemented properly.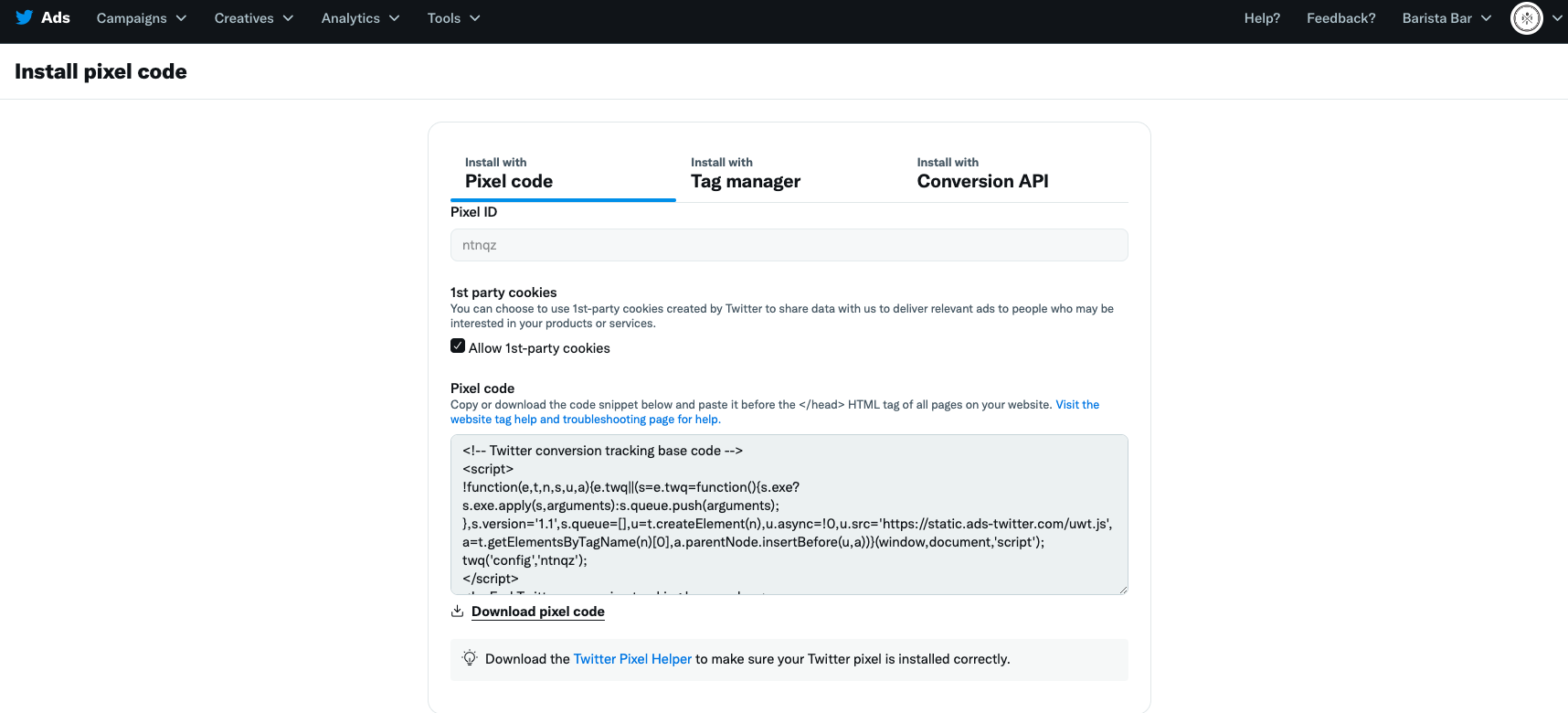 Introducing: Conversion API (CAPI) 
We are also introducing Conversion API (CAPI) to all advertisers. CAPI is a measurement solution that enables advertisers to connect to our API endpoint and send conversion events to Twitter from their servers without using third-party cookies. This launch is a part of our efforts to improve value for businesses while maintaining our privacy and security commitments by relying less on third-party cookies.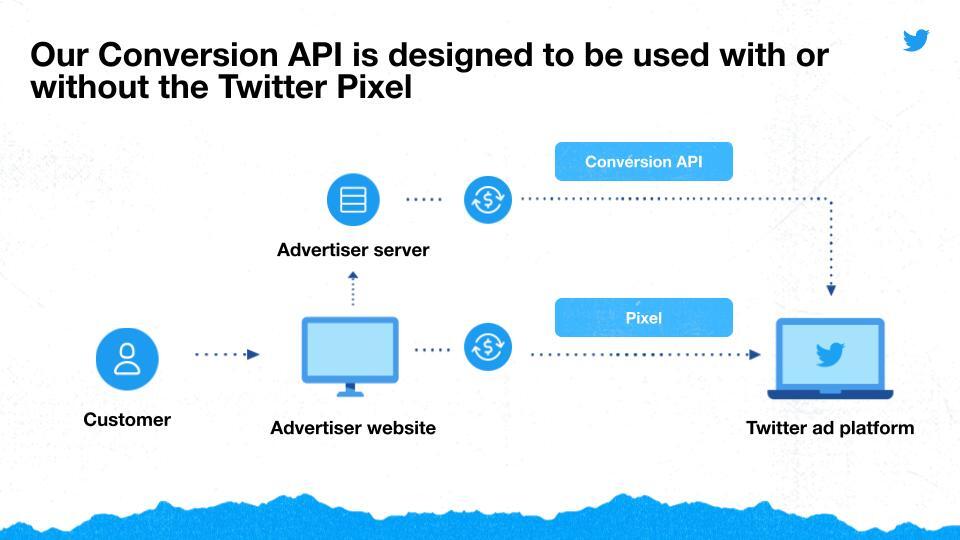 CAPI can also help improve optimization and ad targeting without the need for a Twitter Pixel, which is the first time an advertiser can finally connect data to see conversions without placing a tag on their site. Multiple data signals with Conversion API (CAPI) can be used—including Twitter Click ID or email addresses to send conversion events to the API endpoint and help advertisers further understand actions that people are taking as a result of their advertising. 
You can read more about how advertisers are tapping into CAPI in this success story, and more about the Twitter Pixel and Conversions API on the Twitter Ads Help Center. 
Introducing: App Purchase Optimization 
In the world of App ads, performance talks - and the performance that most app advertisers care about are not simply installs, but driving lower funnel actions such as purchases. We are taking the first step towards fulfilling our promise of making Twitter a great place for driving lower funnel outcomes for performance advertisers with App Purchase Optimization.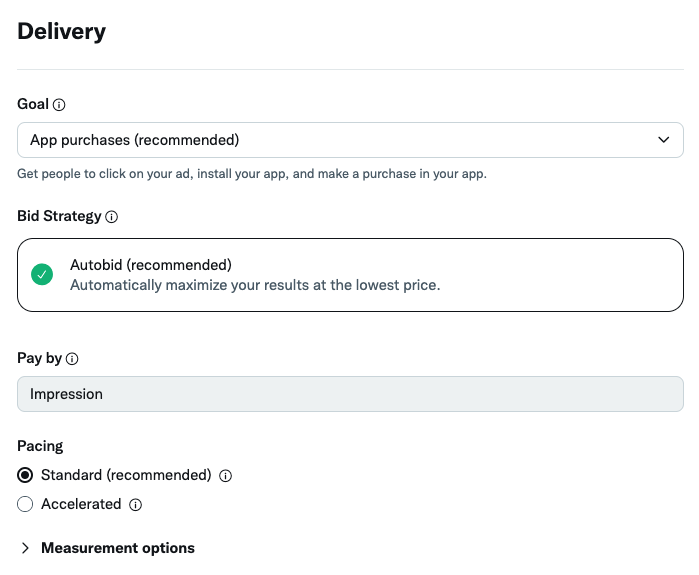 App Purchase Optimization enables advertisers to deliver ads to people most likely to install an app or make a purchase by using machine learning to identify audiences that are more likely to take an action. In early testing* we saw the following results: 
89% of advertisers saw a reduction in cost-per-purchase

A median 30.4% decrease in cost-per-purchase compared to Install Optimization, when using Click Billing and a median 12.8% decrease in cost-per-purchase compared to Install Optimization, when using Impressions Billing
This product is now currently available via Android for all advertisers, with an iOS launch to follow in the future. 
*Source: Data from internal Twitter testing in Q2 2022 comparing campaigns optimizing for Purchases vs. campaigns optimizing for Installs. 
If you need help setting up your campaign, connect with a Twitter Ads specialist.
Looking ahead 
To build a more effective performance advertising business, we are increasing our investment across various initiatives, including updates to our optimization models, conversion options, and measurement solutions. As we continue to build upon our performance roadmap, we're excited to continue to drive value for our customers with upcoming product launches, such as: 
Collection Ads: This new format will bring a new way for advertisers to storytell and showcase their products to consumers. Brands can display a primary hero image with smaller thumbnail visuals below. Each image can drive consumers to a different website or product landing page, driving various advertiser objectives. 

Web Conversion Optimization: We will be conducting a major rebuild of our Website Conversions optimization model that will help improve the way we reach people who are more likely to convert on a lower-funnel Website action, such as making a purchase or adding an item to their cart. 

Dynamic Product Ads: This is a new ad product that will dynamically deliver relevant products to the right person, at the right time, based on their activity both on and off Twitter, in order to help drive sales or conversions. 
The work continues and we are looking forward to sharing more along the way. Stay tuned! 
Your subscribe request was submitted successfully.
Improving Performance advertising and measurement at scale
To kick-off the year, we are launching three new products that improve performance for campaigns trying to drive traffic to a website, all while maintaining our commitment to people's privacy: Site Visit Optimization, Aggregated Measurement, and Events Manager.
Since we last shared an update, we've been hard at work and have now hit an important milestone that creates value on top of the measurement and optimization solutions launched in 2021.
Improving your ability to reach audiences most likely to visit your website 
The Website Clicks & Conversions objective has evolved since the objective was initially launched. Based on the expanded product offering and to better meet your expectations of the results you can achieve from this product, we are renaming this objective to Website Traffic. 
Site Visits Optimization is a new optimization goal under the Website Traffic objective dedicated to finding and serving your ads to audiences most likely to visit your website. By enabling the Twitter Website Tag, Twitter is able to track actions that audiences take on an advertiser's website and attribute them to their Twitter ads campaigns.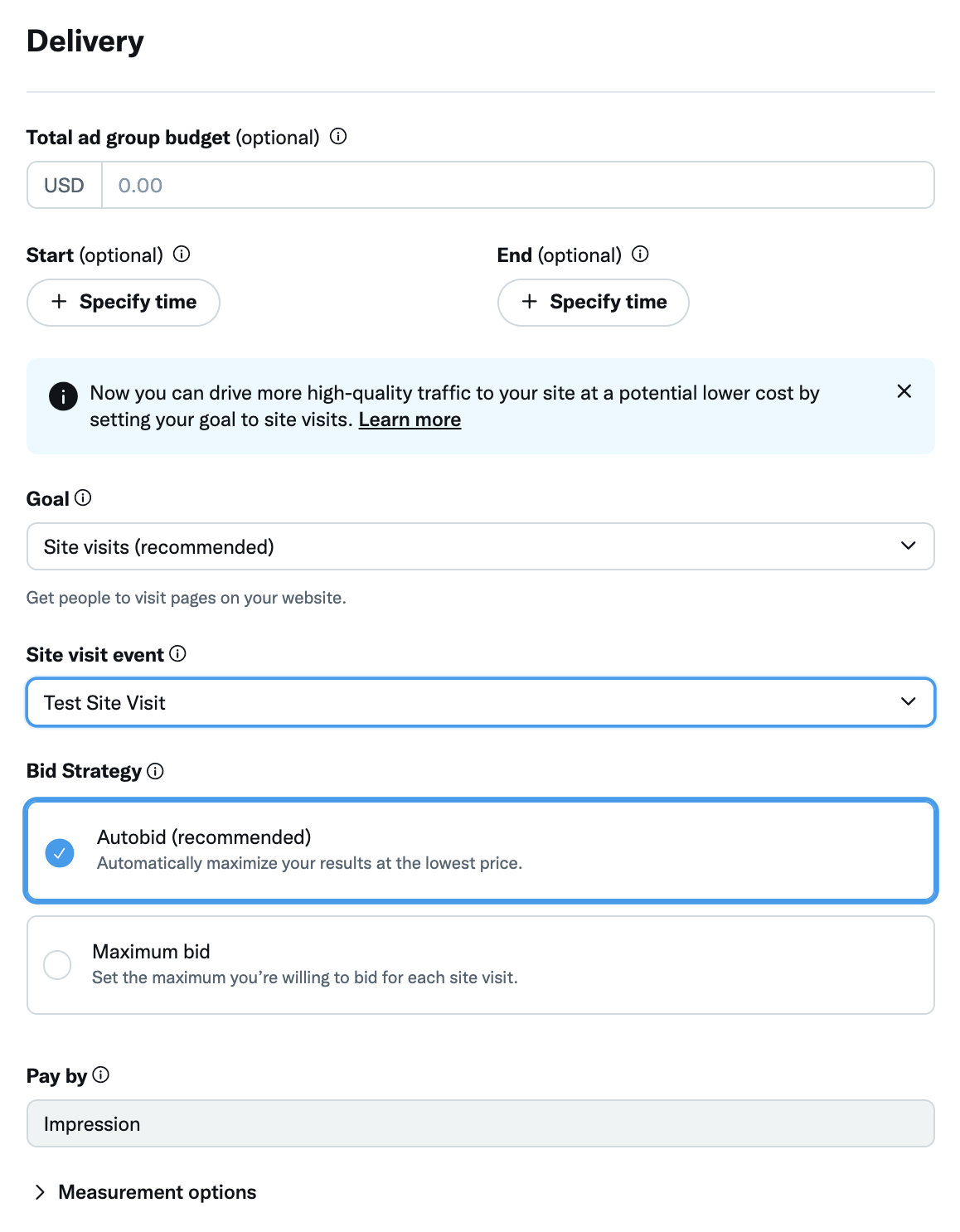 In testing with advertisers who had website traffic goals, Site Visits Optimization outperformed existing offerings and saw an average lower cost-per-site-visit of 31%.* 
Building off of the updates made to improve our mid-funnel offerings, our teams will be focused on the development of new product features that will expand on ad conversions (for example, adding items to a cart or driving purchases) to better help you drive your business outcomes. 
Find more information on Site Visits Optimization. 
*Source: Twitter funded advertiser tests conducted November through December 2021, comparing performance between 15 website campaigns using Site Visits Optimization and 15 website campaigns using Conversions Optimization and optimizing for a Site Visit event.
Introducing attribution with Aggregated Measurement
Since Apple's App Tracking Transparency launched last year, we have been working to evolve our products to improve value for businesses while maintaining our commitments to consumers. This is aimed at providing conversion metrics by counting events in aggregate for audiences who have opted out of tracking on iOS devices. 
How does this work? 
Within the Twitter Ads Manager Reporting you will be able to see an aggregated view of site metrics and conversion events, giving you a more complete view of your campaign results.
This is an exciting development and, though results may vary depending on the advertiser or the campaign details, we saw, on average, a 31% increase in attributable Site Visit Conversions** in Twitter Ads Manager, across advertiser campaigns.
This will be a potential improvement for advertisers who have seen a decrease in attribution across their campaigns after the implementation of Apple's new ATT App Tracking Transparency Framework. 
Find more Information on Aggregated Measurement.
**Source: Data was pulled through our backend attribution system from 12/17/2021-1/13/2022 across all advertiser campaigns, reporting on the attributable Site Visit conversions across all OS platforms (iOS, Desktop, Android, Other) with Aggregated Measurement enabled compared to not being enabled. Results may vary depending on the advertiser or the campaign details.
Introducing Events Manager 
As our performance solutions are built out and improved, we want to ensure that you are able to efficiently and effectively manage tracking your ad campaigns. 
Events Manager will become the centralized hub to manage your Twitter Website Tag and its associated web-based conversion events. This update includes the following foundational updates:
Streamlined interface that provides more clarity on setting up your Twitter Website Tag 

Clearer prompts to provide guidance on how to set up your conversion events 

Promptly see updates on the tracking status of your conversion events 

Throughout this year we will continue to provide enhancements to Events Manager to improve diagnostic capabilities, further streamline the interface, and integrate App-based events so this can become the central hub for advertisers to manage their website tag and conversion events.
Find more Information on Events Manager.
2022 will be a banner year for performance 
We see a lot of opportunities for us to continue to improve how businesses run advertising campaigns on Twitter, these are just three of the foundational updates we are excited to bring to market at the start of the year. In 2022, you can expect even more updates as we continue to make it easier for you to grow your business and understand the performance and impact of your ad campaigns. 
We have come a long way since we created this Performance hub as a way to be transparent about our efforts to help meet the needs of more marketers and their performance goals. Today, we're excited to share the latest progress we are making against our Performance ads product roadmap. We continue to work off the foundations we have rebuilt and are launching key App and Web products in-market. 
As part of our broader Performance advertising strategy, our first focus has been to drive app discovery for people, while supporting app developers in growing their user acquisition and increasing their return on investment. Our second area of focus is on driving action to websites: we are exploring the development of ad products that help people find relevant information and products, or guide them to take action on a website. These elements could unlock the ability for us to enable advertisers to drive discovery of goods and services, eventually supporting our broader commerce opportunities. 
We are no stranger to the new platform standards influencing digital advertising, such as Apple's App Tracking Transparency enforcement that began in April. These shifts in the industry are an opportunity for us to move quickly and help our partners navigate these changes as effectively as possible. We continue to build our products with these privacy-focused developments at the core of all we do.
App Installs: Building upon our progress
We made significant progress to delivering a performant App Installs objective, which helps advertisers drive installs to their app(s). With a privacy-led mindset, we heavily invested in supporting SKAdNetwork to enable post App Tracking Transparency user acquisition. Our work here allowed us to open up over 30%+ more inventory and scale on iOS after enabling privacy-preserved measurement. We then quickly launched support of view-through attribution and SK-campaign ID management features in Twitter Ads Manager, in addition to updated optimization models. 
Supporting our partners through these changes is not limited to investment in SKAdNetwork alone. We continued to iterate off of our rebuilt foundation, launching new Ad Format improvements to reduce download friction, releasing an updated Learning Period model aimed at driving more consistent campaign performance, and making additional improvements to campaign creation.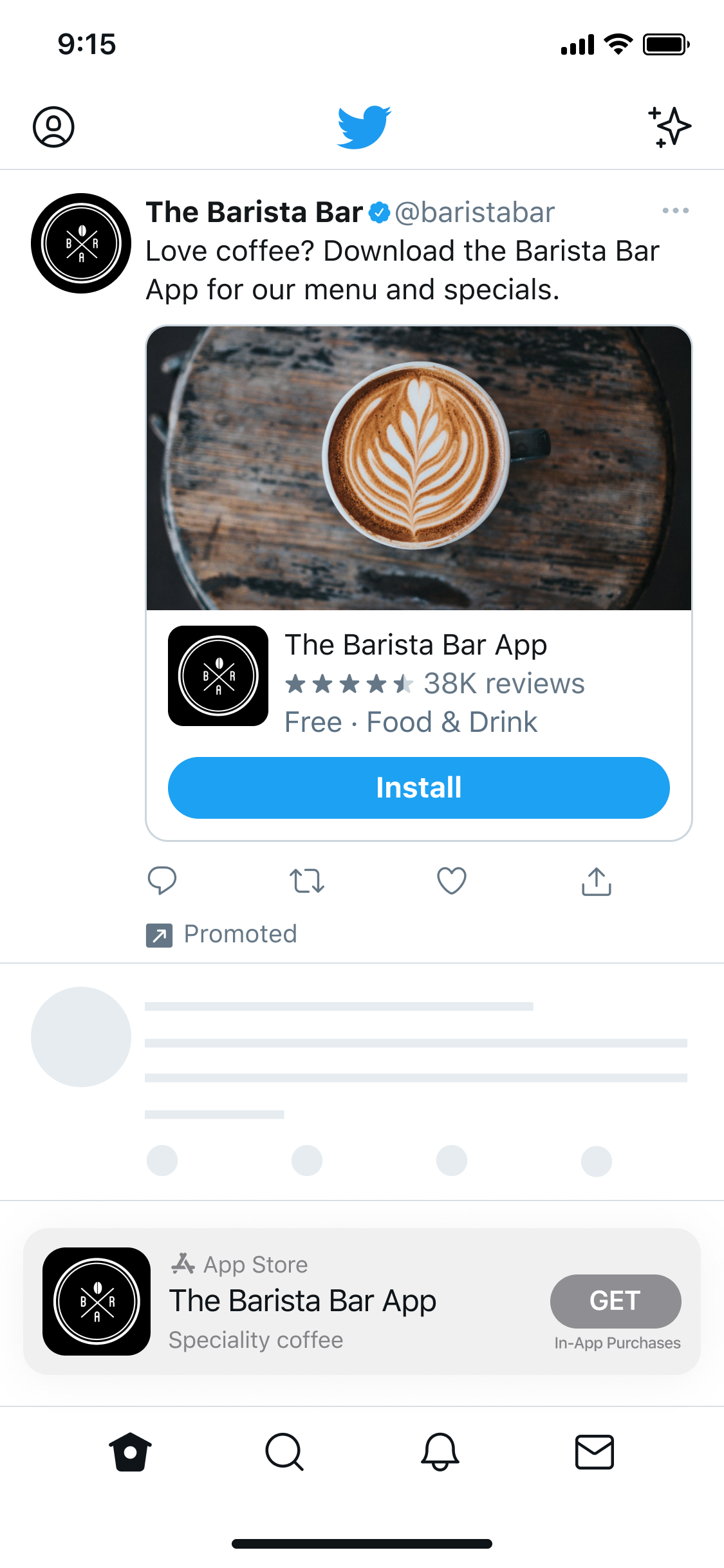 Image of an overlaid install action pops up in-feed, allowing people to immediately download the app.
We are also actively planning and testing for the next iteration of App Installs on Twitter. This will include: 
More unique formats to engage audiences

Updated optimization models

Development of new post-install products, such as In-App Purchase Optimization, which would allow advertisers to run campaigns focused on finding people more likely to make in-app purchases
 
Website Traffic: Introducing Multi-Destination Carousels
We also made progress on our Website Traffic product, which helps advertisers drive traffic to websites. Last year, we announced the launch of Carousel Ads. We are pleased to share that we are now launching multi-destination functionality for Carousels driving to a website. With Multi-Destination Carousels, advertisers can now customize headlines and landing pages to help drive the right actions for their audiences. 
Advertisers will have greater flexibility to diversify their message with unique headlines and URLs per Carousel Card. With just a swipe, people can engage with multiple images or videos, and click through to land on different destinations.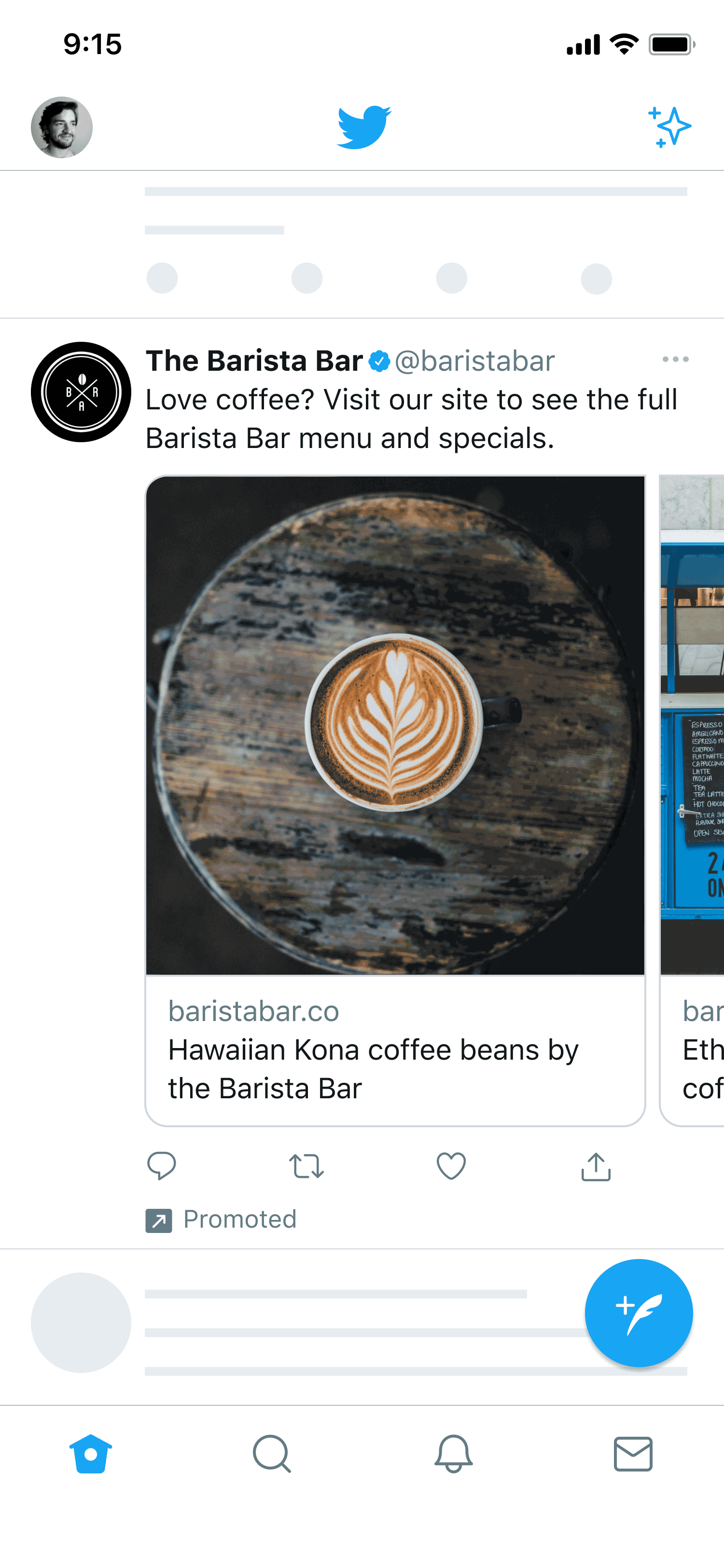 We are encouraged by the results we saw during our Beta testing of this new functionality. For Multi-Destination Website Carousels, we saw on average: 
~20% increase in click-through rate across all objectives, relative to single-asset ads*

~25% lift in click-through rate for campaigns that optimize for site visit conversions, relative to single-asset ads*
We are also testing additional key Website Traffic products, including: 

Site Visit Optimization, an improved buying model dedicated to finding and serving ads to audiences most likely to visit an advertiser's website.
Ad formats, identifying opportunities to improve ad engagement on Twitter. These tests include updates to usability, format details, and calls-to-action.
Measurement & Reporting, actively testing and building 1st party measurement and experimentation solutions for a privacy-preserved future for our Website ad products. 


Just getting started
We see our Performance advertising products as discovery tools. They should be able to help our partners bring people to the relevant goods and services that are important to them. If Twitter is to become a place for commerce, discovery will need to be effective and accessible. In order to make this all work, we also need to build the right organic tools and resources for businesses, which we are doing in our recent work for Twitter for Professionals.
All of these advances have put us in a strong position for the next phase of Performance advertising on Twitter. While this is an exciting milestone, it is still an early step. We have more work ahead of us, and are looking forward to continuing to share our progress.
*Source: Twitter internal data from Carousels while in Beta testing July - September 2021. Multi-Destination website Carousels compared to single-asset Website Cards. These numbers are averages across iOS and Android, across Image and Video assets. These numbers may change in general availability and may vary depending on format, region, or platform.
An update on our progress on Performance advertising
Updated February 8, 2021

New year, new blog post. Since we last shared an update, we've built on our recent Carousel Ads launch, and we concluded two crucial product milestones: the rebuilds of our App Installs and Website Traffic objectives.
These rebuilds are focused on getting our fundamentals right, and include improvements across five areas: Campaign management, Quality Supply, Ad Formats, Optimization, and Measurement. Our commitment to developing the critical tools that advertisers need to launch campaigns and drive customer acquisition is working - and we are excited to share more about the progress we have made. 
Completed the rebuild of our App Installs objective
We've rebuilt the foundation of our App Installs objective to help advertisers launch, manage, and measure app install campaigns even better than before. As part of this rebuild, we redesigned several of our most popular formats to drive higher engagement, increased mobile app impressions by 80%1, improved prediction and measurement, and developed a faster and more intuitive campaign creation experience. 
Here's a look at the changes we have made: 
Enhanced creative formats — In addition to our recent new and improved Carousels announcement, we also made improvements to Twitter App Cards, making them even more engaging than before by adding more context and information, such as app ratings, app price, and download details — all of which help us better serve up-and-coming apps by giving them more credibility. This has led to a +8.88% install per impression improvement2. 
Improved prediction and supply — We launched a combination of prediction, bid optimization, supply and supply quality improvements to deliver more stability and performance. We also upgraded our infrastructure and how our ad serving works within the Twitter timeline, which has resulted in a significant number of impressions that App Install advertisers are now winning in our auction.
Easier campaign setup and management — We improved aspects of the Ads Manager experience to be more intuitive. This includes a single tab Tweet creation experience for advertisers to build their entire creative in one go, reducing the amount of time and number of interfaces advertisers must navigate. We also updated our Ad Group Details page to simplify optimization and bidding combinations. 

Improved Measurement — Lastly, we implemented measurement solutions to help advertisers more accurately attribute installs and navigate iOS 14's upcoming app tracking transparency framework (ATT). You can read more about our approach specific to the ATT changes here. We also expanded our Advanced Mobile Measurement Program, allowing advertisers to enable advertisers to conduct LTV and ROAS measurement.
Introducing Twitter Click ID and improved conversion optimization
For advertisers focused on driving website outcomes, we've been hard at work improving formats, measurement, and optimization models to increase click-to-land rates and reduce reporting discrepancies between Twitter reporting and third-party reporting.
As the industry shifts away from using third-party cookies to determine if an ad resulted in a site visit, we improved the Twitter Website Tag (javascript version) by developing a first-party click ID parameter. Twitter Click ID provides a reliable method to measure the people who visited a site after clicking on a Twitter ad, and reduces measurement discrepancies, giving advertisers better data and a long-term measurement solution in a cookie-less advertising world. 
How it works
When someone clicks on a website ad, the Twitter Click ID's unique identifier will be appended automatically in the URL. When the person lands on the website and the Twitter pixel fires, this ID will be captured, sent to Twitter, and used to attribute the site visit to the click. Based on our test results, we have seen a 10X increase in Site Visits3 reported in Twitter Ads Manager. 
We also upgraded our conversion optimization model, improving campaigns that optimize for site visits. Our system is now better at identifying people who are more likely to visit your website. In recent testing, we observed a median increase in click-to-land rate of +26% and a significant decrease in cost per site visit4 in Twitter Ads Manager.
Additionally, we made improvements to the Website Card format - including better navigation to a full-screen browser, reduced loading time for websites, and improved usability of media controls - all of which resulted in a click-to-land rate improvement of +8%5. 
What's next
Our focus is on making it easier and more efficient  than ever to advertise on Twitter - helping advertisers reach a full-funnel marketing approach from the top-down.
These products can help marketers take their launches and campaigns and extend them into always-on media plans that may ultimately help marketers drive customer acquisition and reach their goals. We're so excited for what's next - stay tuned for more. 
Footnotes:
1Based on growth in on-platform MAP ad impressions in Q4 2020
2As compared to current production version of the card in an A/B experiment, Q4 2020
3As compared to the same set of campaigns without Click ID enabled, Q4 2020
4As compared to the same campaign without conversion optimization enabled, Q4 2020
5As compared to the control bucket in each experiment, Q4 2020
Introducing New and Improved Carousels
Updated November 2020 
We know there is an opportunity to better equip businesses on Twitter to run advertising campaigns that help them effectively reach their goals, whether that's driving people to websites or to download mobile apps. We have been hard at work on a roadmap that will help us deliver better performance at a greater scale and establish a more efficient performance-driven advertising business on Twitter. We've made a lot of progress in the last year, which include: 
Rebuilding our ad platform architecture, which improved the state of our systems and reinforced the foundation of Twitter's ad business.
Launching our Advanced Mobile Measurement (AMM) program, to give advertisers enhanced measurement of Lifetime value.
Releasing the new Tweet Composer to help enable faster creative development and iteration. 
Adding support of SKAdNetwork, Apple's attribution service, to attribute installs and provide campaign reporting for iOS 14.
Improving our advertising algorithms, such as the launch of Learning Period, which allows our prediction models to learn and optimize campaign delivery. 
This investment in performance advertising also includes expanding the capabilities of our ad formats to enable advertisers with more options to show and tell their brand story, while providing a more intuitive, engaging experience for people on Twitter. We recently redesigned the video controls on our Video Website Cards to make it easier for people to navigate, and launched improvements to our App Cards. 
And today, we're excited to share the global release of the new and improved Carousel ads, now available to all.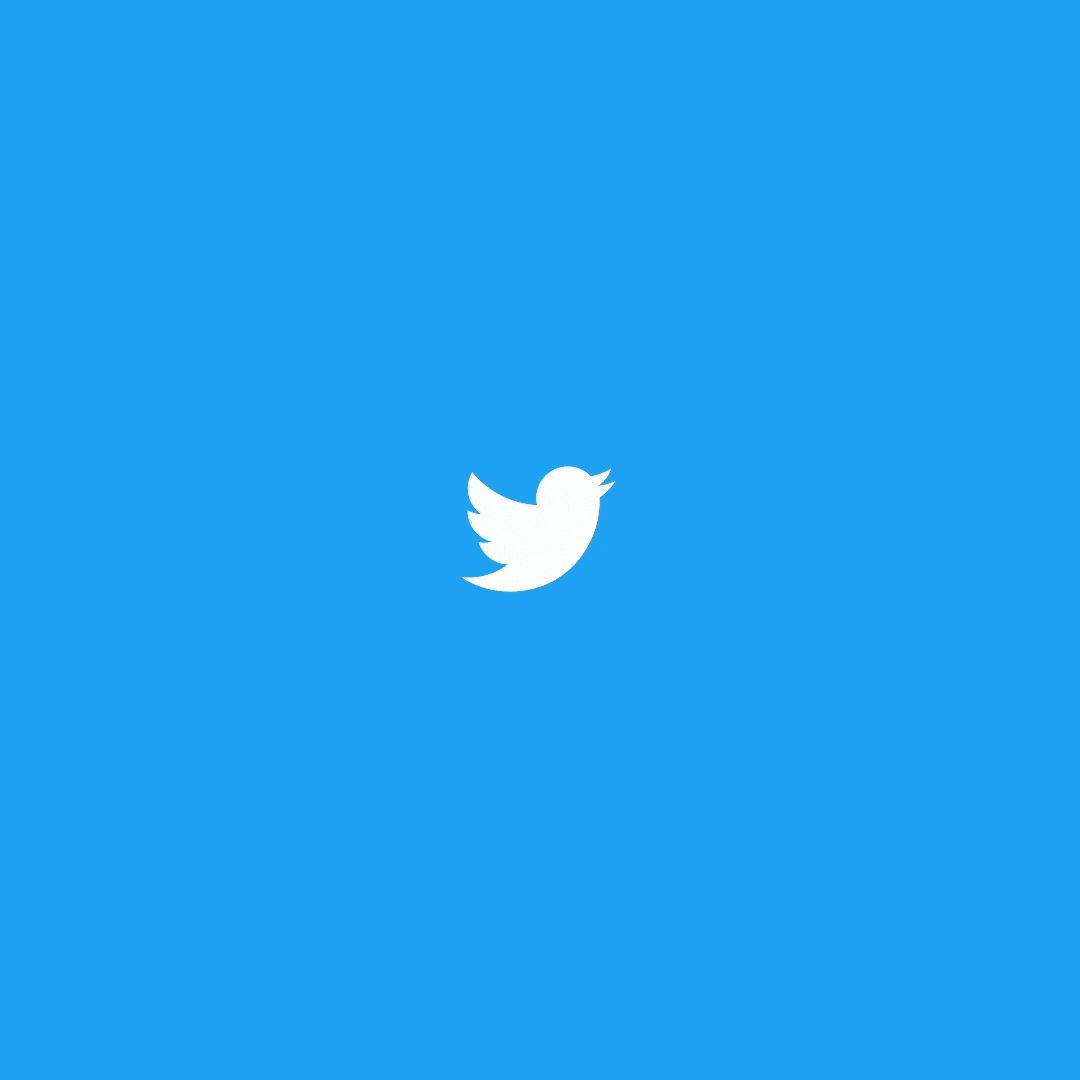 Carousel ads are designed to help drive better performance by providing a more immersive and interactive experience for consumers to engage with, as well as enable future opportunities within our Mobile App and Website performance objectives. We are excited to share that this ad format is now available to all advertisers, globally. 
Carousel ads are made up of two to six horizontally swipeable images or videos that drive people to an app or website. Any advertiser can create Carousel ads via Tweet Composer in Ads Manager or via the Ads API, and is able to use them either organically or promoted.
The Carousel ad format also includes an edge-to-edge design, 3rd party measurement reporting, accessibility support, and new reporting features, such as swipes within the Carousel and breakdowns to measure individual Carousel card performance. 
We are encouraged by the strong results we saw during our Beta testing: 
For Website Carousels, we saw on average, a ~15% increase in click-through rate relative to single-asset formats*.
And for App Carousels, we saw on average, a ~24% increase in installs per impression relative to single-asset formats*.
We expect these results to change in general availability, and to vary across different regions, platforms and industries, however it is a positive sign as we release this format globally and continue to invest in performance products. 
What's next? 
This is an early step in our journey. To build a more effective performance advertising business, we are increasing our investment across various initiatives, including updates to our Mobile App objectives, such as stronger bidding and optimization options, enhancements to the Twitter Website Tag that aim to drive up the accuracy of key advertiser campaign metrics, such as return on ad spend, and improved creative advertising formats. 
We know there's still a lot more for us to do, but we are encouraged by what we have accomplished thus far and the clear path ahead. We will be updating this page with all our performance-specific developments in the upcoming months, so be sure to check back in! 
More information
Learn more about Carousel Ads on Twitter. 
*Averages across Image & Video Carousels across iOS & Android compared to single-asset Cards. Website Carousels compared to single-asset Website Cards and App Carousels compared to single-asset App Cards. 
Ready to advertise on Twitter?