How @CowoftheDay1 grew over 100k followers organically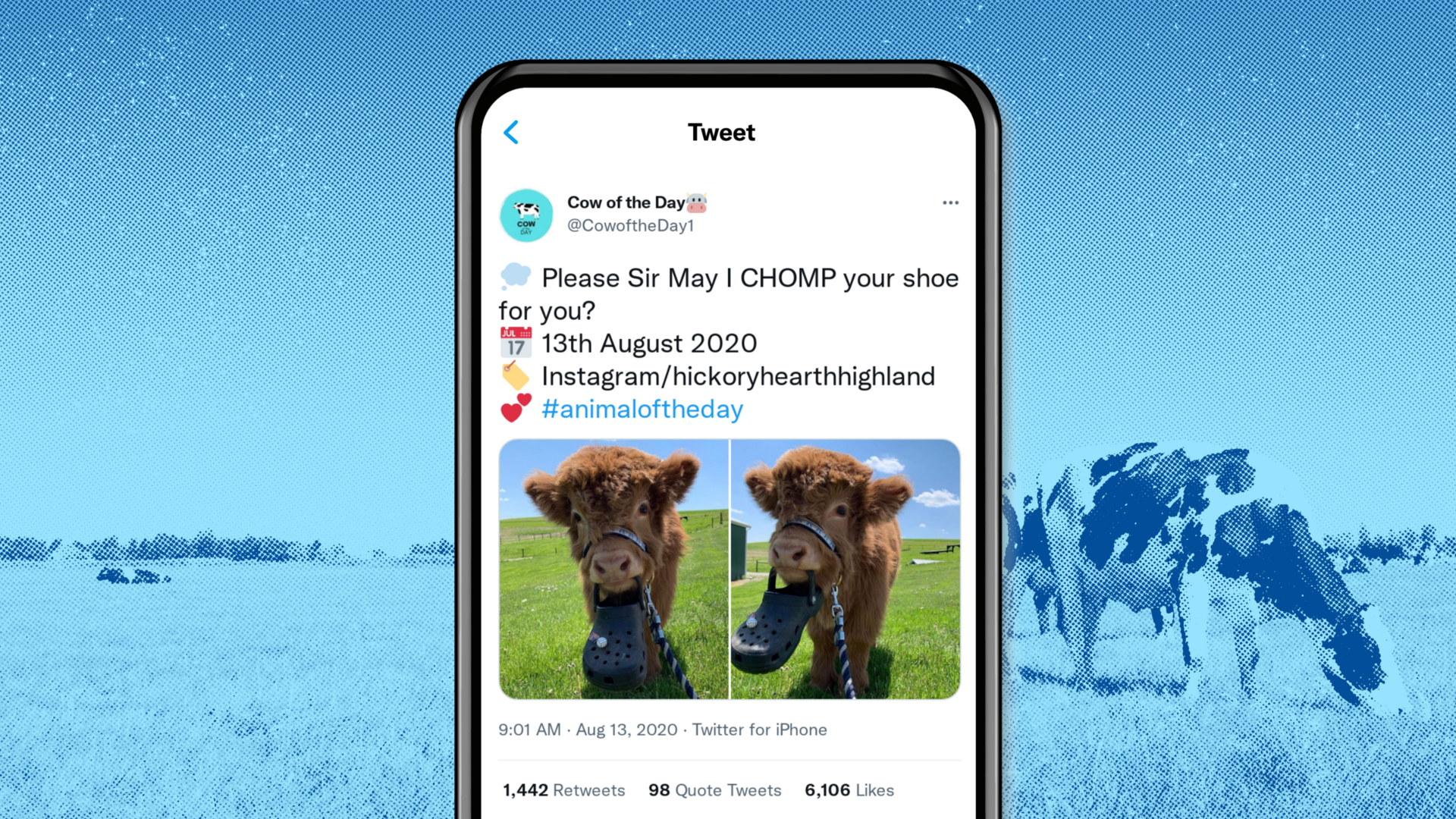 Twitter is our platform of choice because we can easily chat with our followers, which is key to our growing community.
As part of our Small Business Resources series, we spoke to Emer from the super popular Twitter account and e-commerce site Cow of the Day (@CowoftheDay1). 
Emer started Cow of the Day in 2019 and now has a loyal following of over 100K Twitter followers. It's full of creative inspiration and is a great example of a Twitter account that listens to it's followers — and grows because of it.
In this Q&A, Emer shares her business story, her Twitter marketing tips for small businesses and some great advice on how to not only grow your followers, but to increase engagement and loyalty too.
Tell us about your business on Twitter.
The idea behind Cow of the Day is simple, sharing a cow every day to spread a little joy to my Twitter follower's feeds. We encourage people to share images of their cows/cows they see along the way to us via Twitter DMs. 
We then use these suggestions as our content. The goal of Cow of the Day is to bring people together over a shared love of cows. 
Throughout the years we've brought together 124k people and counting. We also have an e-commerce store that sells Cow of the Day and other Animal of the Day merchandise.
Compared to other platforms, why does Twitter work for you and your account? 

Although I'm based in Ireland, our followers are from all over the world with the vast majority based in the US. Twitter is our platform of choice because we can easily chat and engage with our followers, which is key to our growing community. 
For example, I started Cow of the Day in March 2019, and before that, I had already started creating the Twitter Animal of the Day family with Rabbit of the Day (@rabbitoftheday). Which was our first Animal of the Day account in 2018. 
When I launched the account, I quickly realised that my idea of sharing an animal every day worked and I started getting 50+ submissions a week.  
How did we go from Rabbit to Cow? The way we grow our accounts is by listening to our audiences and asking them what they would like to see next. The answer at that time was cows!
Tweets and Creatives 
From your experience, what makes a good Tweet? 
A good Tweet needs a strong image, and for us that means a very cute cow. We have a strict structure to how we publish our content (using emojis and text) which allows us to clearly tag the source of the images we're featuring.
Any tips for creating good creative that gets good engagement?
My advice to other content creators or businesses on Twitter is to always listen to your audience. If your followers react positively to a certain type of content, that's a sign they want to see more of it! 
Do you use any tools to help you measure performance?
We use Twitter Analytics to keep an eye on our follower growth and to monitor what our most popular Tweet is, which we then use for our newsletter. Analytics also highlights if someone with a big following has followed us which is really useful.
Followers
You have over 100K followers which is pretty impressive, how did you grow your following and how long did it take?
We grew our audience organically through posting the best cows every single day, we never miss a day! We hit 100k followers just as the pandemic began in March 2020 so it took us a year to get to that point. 
Your engagement is great too, what do you put this down to?
We get good engagement because we do as we promise and we're a safe place for anyone who needs a break from bad news on their feeds. 
We have a lot of loyal followers that comment on our photos every day and seeing these comments makes me smile and lets me know I'm doing something right. 
Any tips for someone else struggling to grow their audience? 
If you're struggling to grow your followers on Twitter, take time to look at your audience and find out who they really are and what they love best. If you listen well enough and alter your content, your followers on Twitter will grow.
Sharing the love
As a small business with an e-commerce site, do you have any tips for other Twitter users trying to sell a product?
My advice for small businesses with an e-commerce site is to be generous, do competitions as often as you can and reward loyal followers! 
Your followers are like your family and despite them not knowing you personally, they're passionate about what you're doing and want to support you. Listen to them and keep going! 
If you're a small business on Twitter looking to grow check out our Small Business Resources. Follow us on Twitter too (@TwitterBusiness), where you can keep up to date with product updates and content designed to help you.
Ready to connect at scale?