Nonprofits Best Practices
Twitter's mission is to serve the public conversation, and it has bolstered the ability of millions of people to interact with one another as well as their public representatives, and for politicians and journalists to keep their finger on the pulse of the public opinion. It's also a great place for organizations and nonprofits to build campaign momentum, and inform and educate audiences on important issues.
A timely, well-crafted message on Twitter can resonate around the world. Each Tweet represents an opportunity to show your organization's voice and strengthen the relationship with your audience, but building a healthy, successful Twitter presence is about more than just how many Retweets you get.
To help you start changemaking on Twitter — whatever your nonprofit field — consider the following tips.
Tap into the conversation
News breaks on Twitter. This makes timing one of the most important elements when using the platform. It's often easier to join a conversation than it is to create one, so take a look at trending topics and what your community is talking about. Is there a new TV show or movie making a splash? Is there a holiday or event ongoing? How do these events connect to your mission or campaign? Where possible, try to engage in real time, rather than waiting until the moment has passed. Personality and authenticity are key to getting your message across. No matter how big or small your organization is, take the time to develop a brand voice. Born out of your brand purpose — a combination of vision, mission, and values — your voice and tone will help guide how you Tweet. Document your organization's voice (including recent Tweet examples) as a resource, if there are a number of members on your team who will be responsible for your Twitter feed. Let people see the work you do
For individuals and organizations, Twitter is an invaluable way to reach beyond press conferences and news releases to connect with people in a more intimate way. People love behind-the-scenes content; it brings them up close and personal with the campaigns they hear about but don't necessarily understand. Tweet out behind-the-scenes photos or videos, or use Twitter's new conversation settings to interview key figures on the work they do within your nonprofit. Engaging with your followers in conversation is one of the most rewarding aspects of Twitter. Broadcasting information is a key part of your work, but take time to listen to your audience, to learn from them, and to gain insights from them. It's not possible to reply to every Tweet, but consider liking, Retweeting, or Quote Tweeting some of your favorites, and asking questions or using polls to create moments of interaction with your audience. Stand out on the timeline
Twitter has a variety of options for you to engage with your followers. Get creative and use a mix of media — text, photo, video, live, polls, emojis, and Twitter Cards — to find novel ways of getting your message across and being part of the conversation. Using rich media content is proven to drive higher engagement, and makes your feed a lively, exciting place for people to visit. Be sure to add subtitles to videos and alt text to images, to ensure that your content is accessible. As a nonprofit sector worker, you don't need us to tell you that resources are often tight, budgets are constrained, and time is strapped. Taking the time to plan ahead — editorial calendars, prepping graphics in advance, and yes, scheduling Tweets — can be a significant time saver. You can schedule Tweets in advance using TweetDeck, Media Studio, or via twitter.com, freeing you up to engage in real time.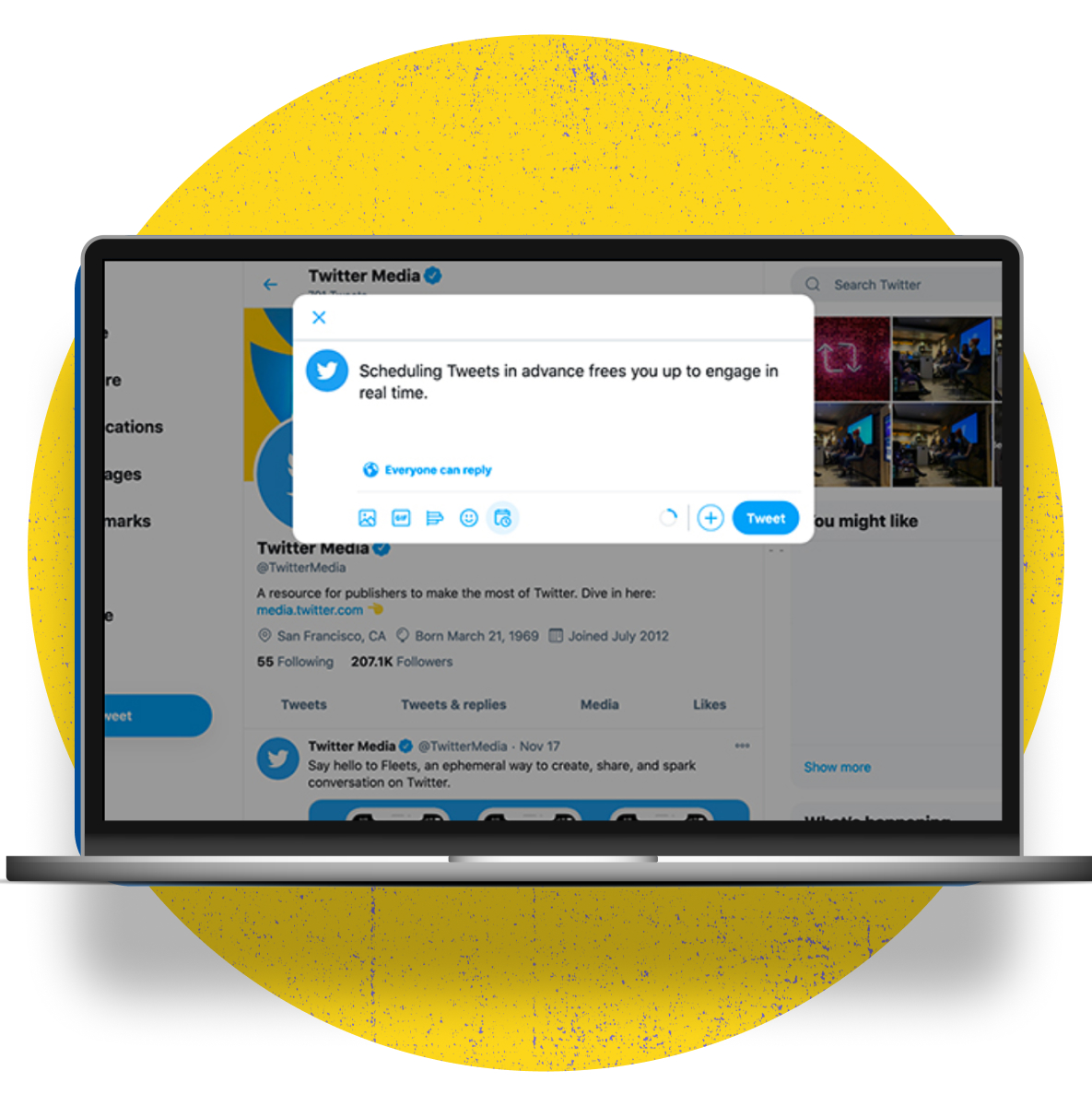 Sometimes you can drive engagement from a Tweet just by asking for it. When crafting a Tweet, especially if it's part of a campaign, be direct and ask your audience what action you want them to take. Examples of this include using a certain hashtag, watching a video, Retweeting your Tweet, or clicking through to your latest report or donations page. Using imagery — Tweeting a photo or video — is a great way to get your message noticed on the timeline, as are using Twitter Cards and interactive Tweet formats. Calls to action can make people feel like they are part of a movement, so don't shy away from adding one to your Tweets.