It all happens here: #NFLTwitter #AdTwitter are primed for Super Bowl LVII
One of the most iconic events on the American calendar is set to take place on February 12th: Super Bowl LVII. And, if recent Twitter conversation tells us one thing, this year's game will be the loudest yet. But, the Super Bowl on Twitter is about much more than who wins and loses; it's about the reactions, the takes, the commentary – and the ads. It all happens here.
Twitter is where sports lives
It feels like yesterday that the World Cup took over our feeds and real-world conversations, as fans turned to Twitter to follow, Tweet and watch every moment – generating 14 billion impressions in the US alone.1 If you think that's big, consider this: last year's Super Bowl drove 80% more impressions and double the video views of the recent World Cup Final.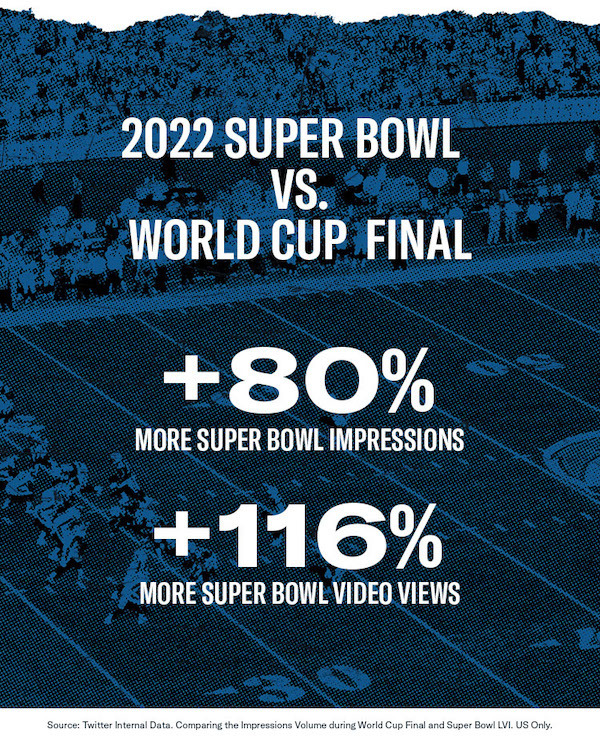 This season, #NFLTwitter is alive with a breadth and depth of conversation that has seen NFL video views, impressions and the big event's mentions all surge year over year.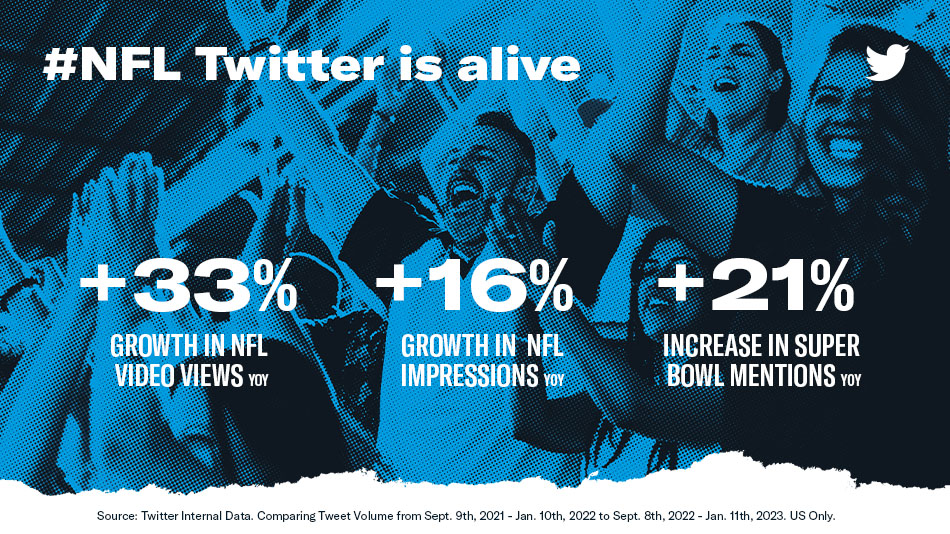 Sports fans turn to Twitter during the Super Bowl
This year, Twitter and the NFL have teamed up again to bring fans a unique second screen experience, including official real-time video highlights of the top moments during the game, interactive polls, live audio conversations on Twitter Spaces and more.
Every Sunday, millions of NFL fans go to Twitter to see epic highlights, talk about their favorite teams and players, and react to all the tweets, memes, and viral moments on #NFLTwitter. The volume of engagement on Twitter about the NFL has never been higher.
Across the world, businesses on Twitter will be participating in Super Bowl conversations. One powerful way for brands to create a more interactive and memorable video viewing experience for fans is through Twitter's premium video offering, Twitter Amplify, which enables brands to run pre-roll video against official, brand safe content from the NFL.

How brands can break through at Super Bowl LVII
We're excited to be welcoming back so many big brands for this year's game.
For brands considering whether to jump off the sidelines and join the conversation, let's take a look at some of the different strategies marketers can deploy to connect with their audiences.
Last year @Pepsi appealed to fans with NFT giveaways and behind-the-scenes exclusives that encouraged viewers to tweet their real-time game experience. Not only did this drive engagement but it also created organic 1-on-1 moments between the brand and their fans on Twitter.
2) Get creative, get subversive:
@MrPeanut redirected some of the most talked-about Big Game moments into a win for Planters. They created moment-to-moment responses in the Twitter feed – polling the audience for the best way to eat mixed nuts, and reacting to big plays and popular ads, redirecting attention back to #PlantersAllForOne.
Whether you have a TV spot or not, Promoted Video is a powerful way to connect with your audiences in the moments they're most receptive. Marvel Studios got the most views on a single video Tweet for their trailer for #DoctorStrange. After the TV teaser aired, Marvel fans flocked to Twitter to watch the full version of the trailer and discuss their favorite moments ahead of the May premiere.
DraftKings broke through on the most competitive betting day of the year with a high impact, full-funnel strategy. After offering 10,000 fans a free bet on the game, DraftKings amplified its promotion with Amplify Video, interactive ads and performance solutions. This campaign smashed cost-per-acquisition goals, and DraftKings is back this year with bigger and better plans for this year's big event.
5) Capitalize on viral game moments:
Bud Light's #BudLightCelly campaign lets fans vote on their favorite touchdown celebration during each week of the season, culminating at the Super Bowl. By leveraging these memorable pop culture moments on Twitter, Bud Light has been able to grab fans' attention and increase brand exposure.
It's almost game time. Who's in?
#NFLTwitter has never been bigger and #AdTwitter is waiting. And while only one team will take home the trophy, it's anyone's game to win on Twitter.
Twitter Internal Data. November 20th, 2021 - December 19th, 2022. US Only.
Twitter Internal Data. Comparing the Impressions Volume during World Cup Final and Super Bowl LVI. US Only. 
Twitter Internal Data. Comparing Tweet Volume from Sept. 9th, 2021 - Jan. 10th, 2022 to Sept. 8th, 2022 - Jan. 11th, 2023. US Only.