Testing, testing: Piloting new formats for Twitter's ad suite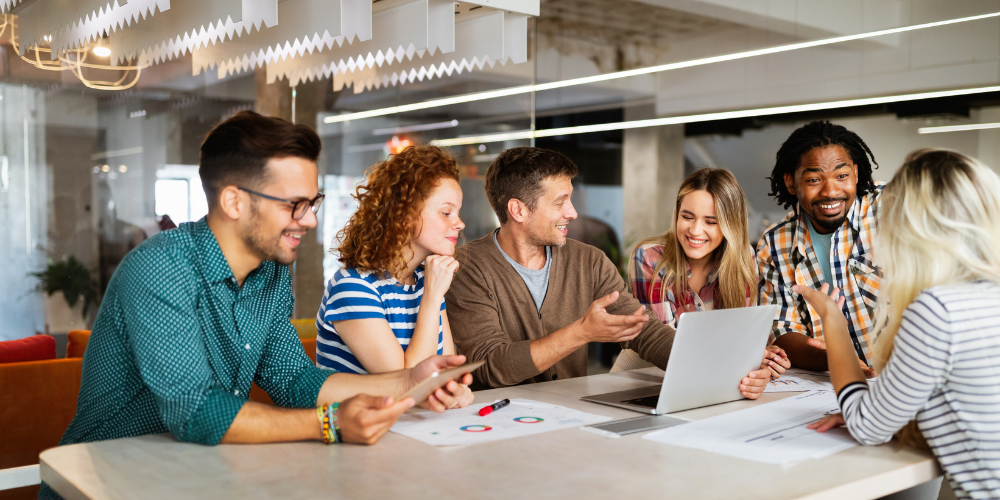 Over the past two years, we've been working hard to simplify our ad suite, make our products more performant and measurable, and give advertisers more options and new controls.
As we look ahead, we see untapped potential to develop more creative and innovative ad formats that ultimately deliver results and value not just for advertisers but also for consumers and creators. We see a future for Twitter ads where our products can:
Give advertisers opportunities for more creative storytelling and brand expression across every stage of the funnel

Offer consumers a more immersive, rewarding and interactive ad experience

Help advertisers further lean into and unlock Twitter's conversational power
You'll see us experiment with ad formats that help us explore how to work towards these goals and how to bring this ad vision to life on Twitter. Starting this week, we're launching pilot tests for three new formats: Interactive Text, Product Explorer, and Collection Ads.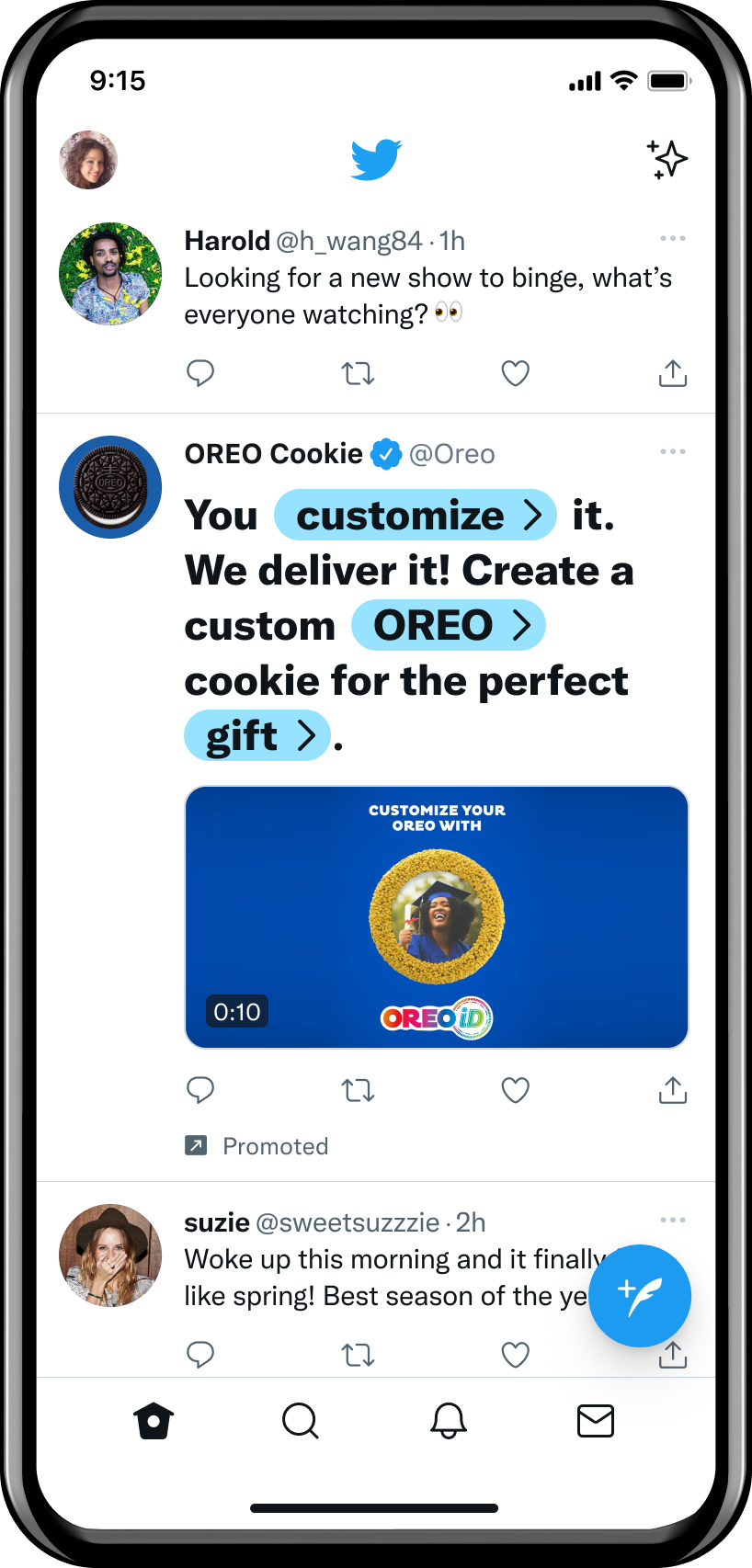 Interactive Text Ads
With Interactive Text, advertisers will get a brand new way to tap into text. These ads will appear with a larger, bolder typeface than the standard Twitter font in the timeline. Advertisers can highlight up to three words in their ad copy that, when clicked, will drive consumers to landing pages chosen by the brand. Brands can also choose from 10 highlight colors. 

Not only will it be easier for these ads to catch the eye as people scroll through their timeline, but the highlighted words will offer a new way for consumers to engage with ad copy. 

A handful of brands in the U.S. – including Oreo, Bud Light, and Wendy's – will be testing this format with us.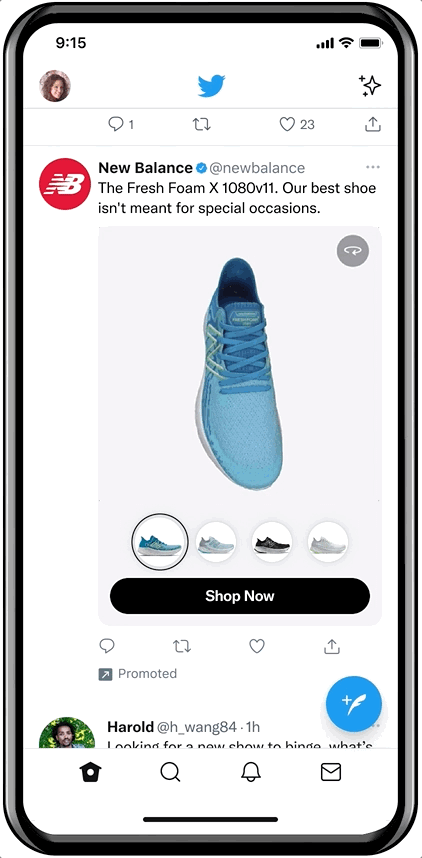 Product Explorer Ads
Product Explorer will give advertisers the chance to showcase their products in 3D for the first time on Twitter. Consumers will be able to swipe and rotate a brand's products to see them from different angles. When they're ready to learn more or purchase the products displayed, consumers can click directly on the ad's shop button and go to the advertiser's website.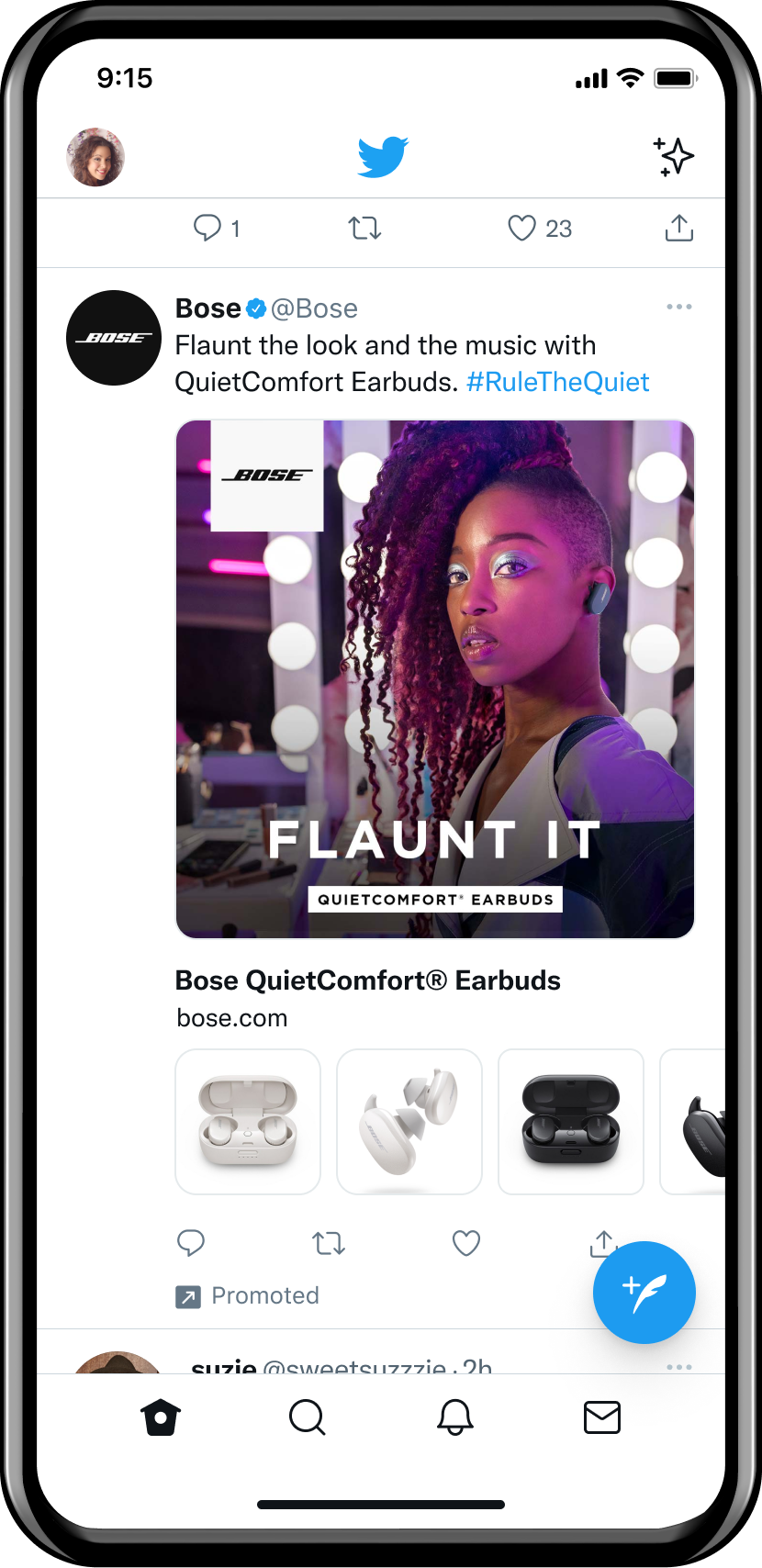 Collection Ads 
Collection Ads will bring a new way for advertisers to storytell and showcase products to consumers. Brands can display a primary hero image with up to five smaller thumbnail visuals below. The primary image remains static while consumers can browse through the thumbnails via a horizontal scrolling experience. Each of the images displayed can drive consumers to a different website or product landing page. 

New Balance, Lexus, Bose and a few other select brands in the U.S. will be piloting Product Explorer and Collection Ads with us.

All three ad formats will be visible to people in the U.S. on iOS devices, Android devices, and Web. As we kick off early experiments, we'll aim to understand how the new formats resonate with consumers and drive results for advertisers. We'll test, learn, and iterate based on performance and customer feedback.
Be sure to follow Twitter Business (@TwitterBusiness) for more updates.