A month of Tweet ideas for brands on Twitter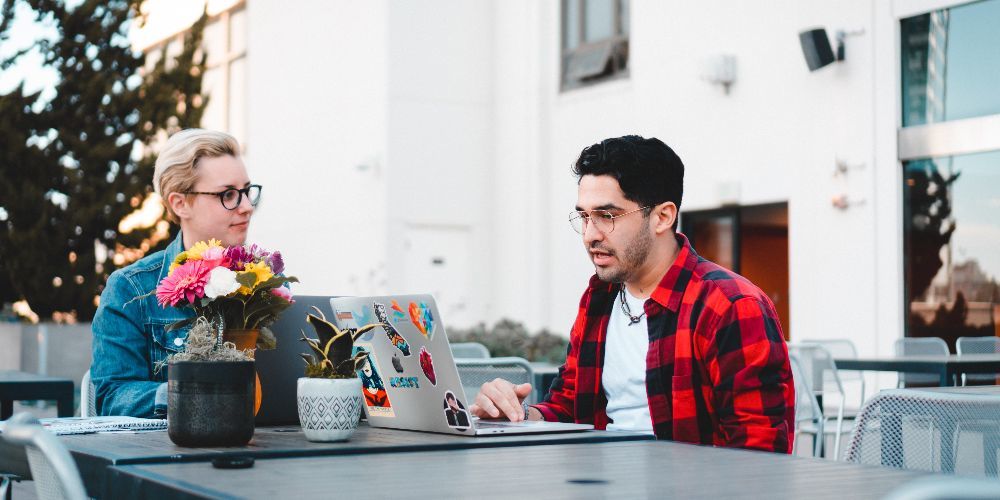 Planning your future Tweets? We've outlined a month's worth of weekday Tweet ideas to get you started. Throughout the month, pay attention to which Tweets get the most engagement. Do your followers engage most with the educational Tweets? Silly Tweets? Tweets asking a question?
Use these insights to shape your future content and overall Twitter voice.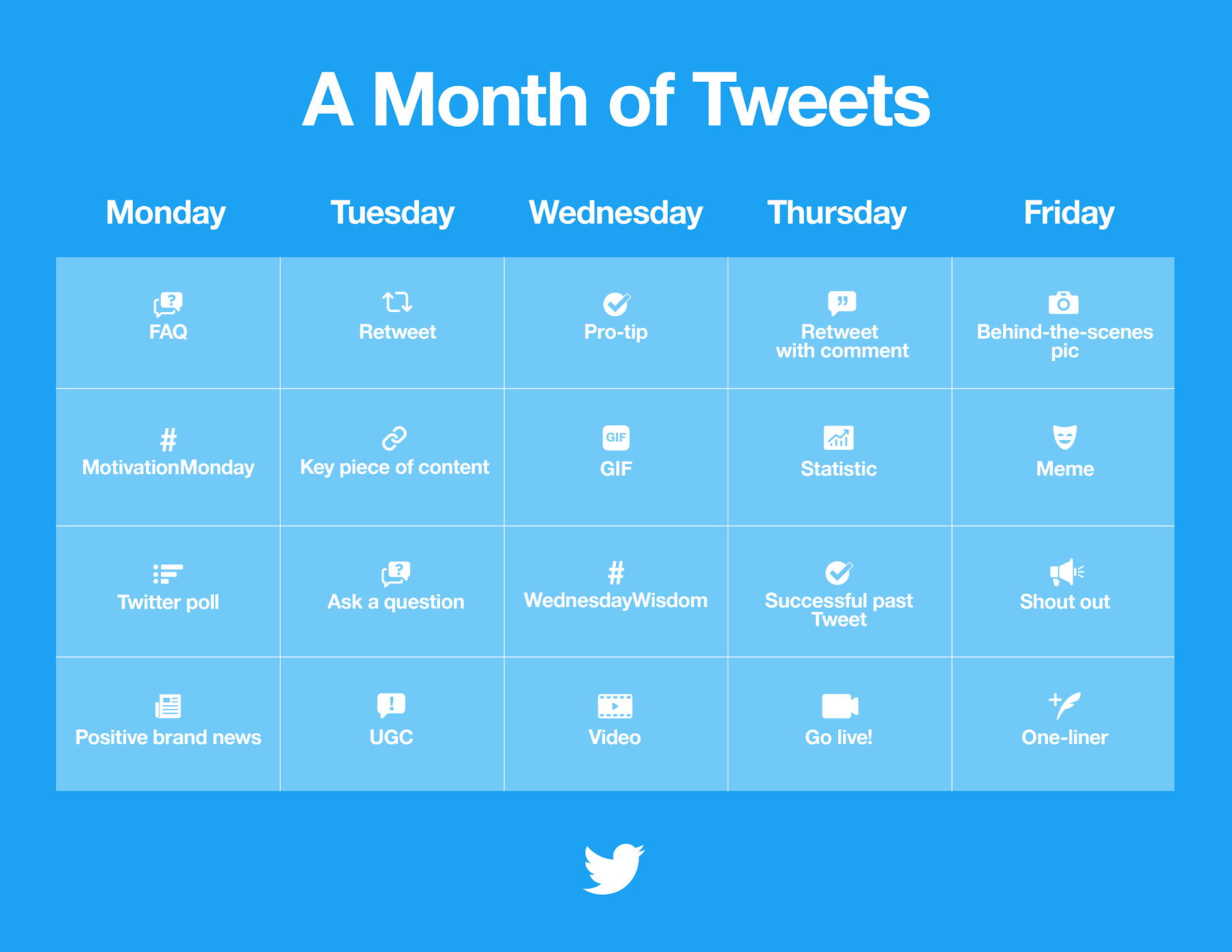 Looking to plan your Tweets for the month? Download our editable month of Tweets PDF. We've outlined some ideas to get you started — use the extra space to add your notes.
Tweet an answer to an FAQ about your business
Don't have any FAQs coming to mind? Check your @mentions and most-trafficked help pages to identify common points of confusion. 
Retweet
Retweeting an existing Tweet can be just as valuable as Tweeting something original. Not sure where to start? Look at Tweets from customers, partners, and thought leaders in your industry.

Pro tip: Create a Twitter List for each of these groups so you can easily browse their Tweets in the future.
Tweet a pro tip
Is there a feature or best practice that makes your product or service more efficient? More enjoyable? Let your followers in on the shared wisdom and benefits.
Retweet with comment

To get started, consider looking for @mentions where it makes sense to amplify your reply. Are you answering a question other followers could benefit from seeing? Is there a humorous element they would enjoy?  
Take your Twitter followers behind the scenes

Give your followers a look into the people and places behind the brand. This type of content is easy to create and instantly adds a human element to your Tweets.
Tweet a link to a key piece of content

Whether this is a landing page, a whitepaper or a downloadable guide, give an existing piece of content some love (and traffic).
When it comes to adding the link, consider using a Website Button. This streamlined ad feature displays a fully-clickable picture, headline, and CTA of your choice and, according to an internal study, saw 43% higher engagement than Tweets with links.
Tweet a GIF
GIFs are a great (and easy) way to infuse humor into your content mix. Start by thinking of a clever one-liner, or take the reverse course and look through the GIF library to see what inspires you.
For more inspiration, check out these 6 ways to use GIFs in your Twitter strategy.
Tweet a statistic

Look for data points that valuable to your audience, whether it's about your industry, your customers, or your brand in particular. Bonus: add a simple graphic to make it easily interpretable by even the fastest scrollers.
Tweet a meme

If you aren't familiar with the memes of the moment, take some time to look through Tweets from other accounts (fast food Twitter is a good place to start) to see what's popular. For more, check out this article on incorporating memes into your marketing strategy.
Tweet a question

Just like in real life, questions are a great way to start conversations on Twitter. After you Tweet one, continue to actively participate by engaging with replies.
Give your audience some food for thought. As you think about what to share, consider both practical, brand-specific tips and broader, more general words of motivation.
Tweet a Tweet that was successful in the past

One way to create a successful Tweet is to recreate it. Look through your profile or Twitter Analytics dashboard to identify evergreen Tweets that performed well in the past. Choose the one that feels most relevant and give the Tweet a second round of engagement.
Give a shoutout
Whether it's a standout customer, employee, or partner, turn the spotlight outward to recognize the one(s) who make it all possible.
Tweet about positive brand news
Let your customers share a recent 'win' by letting them know about the exciting things happening at the company level.
Tweet user-generated content

The best content about your business may not actually come your business — oftentimes, it can come from customers. Leverage user-generated content (UGC) to show the human side of your brand and fit in naturally with your followers timelines.
Tweet a video 

For a lighter lift, look for video you can repurpose (ideally, into a 6-15 second clip) or check out these ideas for creating video content with your phone.
Pro tip: keep in mind that most video views on Twitter occur on mobile devices, so make sure you have a "sound off" strategy.
Go live on Twitter
Engage with followers in real-time with live video. Some ideas: share an announcement, give a 'sneak peek', or do a Q&A with someone on your team.
Tweet a one-liner
Keep it simple with a text-only Tweet. This can be a statement, an observation, or a simple greeting like "Happy Friday everyone!" 
Plan your Tweets for the month with this editable PDF