Twitter Space: 2022 Marketing Trends with Sprout Social and Meltwater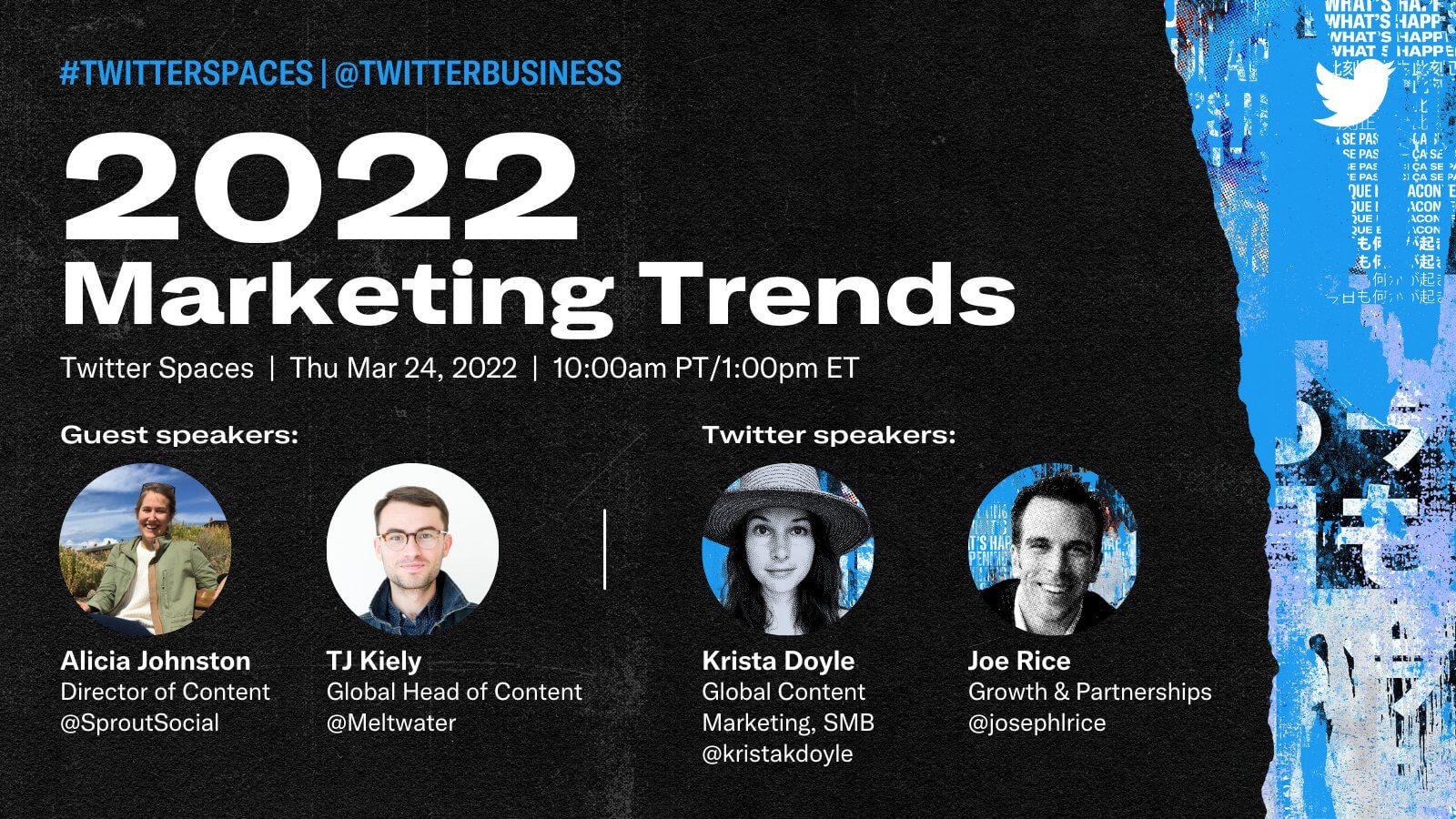 What marketing and social media trends have popped up so far in 2022?
Wasting no time getting to the good stuff, we jumped right into what Sprout Social and Meltwater have been observing these first three months of 2022.
"One thing I'm loving recently both in digital and out as I'm going into the office is brands are starting to invest really heavily in big bold awareness campaigns," Alicia responded. "It's obviously a departure from 2020 and 2021 when a lot of us were feeling a little more risk-averse."
She continued, "What I like to say is that 2022 really feels like the year of the brand. It's a time when brands are stepping up and communicating who they are and what they believe to their audiences."
An example of this, she says, is Twitter's very own #TweetItIntoExistence campaign that helped position it as a place where people can Tweet their hopes and dreams, then find a really positive community to help make those hopes and dreams a reality.
2022 really feels like the year of the brand.
"I completely agree that this year is the year of the brand," chimed in TJ. "I think that maybe [brand is] something that has been under-invested in when budget was diverted to more tactical efforts during 2020 and 2021." 
"Over the last two years with everything we've gone through from the pandemic to the death of George Floyd, we have taken a look introspectively as consumers and brands to figure out what's important to us," TJ says. "It's changed the way that consumers want to interact with brands and they expect to be communicated with, so I think that this year we're gonna continue to see brands saying 'here's our stance.'"
How can brands avoid the "sea of sameness" while following trends?
While trends can breathe new life into your brand's marketing strategies, they can also put you at risk of falling into the trap of sounding too much like every other brand hopping onto the same trends. We asked TJ and Alicia what companies can do to avoid this and stand out in a sea of sameness.
"What I think has to differentiate you is your values," TJ said. "Because, sure, maybe a lot of brands are agreeing on a certain issue or trend, but you still need your core brand values — that's what gonna differentiate you and attract consumers and talent."
Alicia agreed. "I think knowing what makes your brand different and special is critical to developing that voice and tone," she started. "We do hear a lot of similar voices out there, but if you can really hone your brand's persona and voice, it will help you stand out, as well as make decisions in the day-to-day operations of your business."
You still need your core brand values — that's what's gonna differentiate you and attract consumers.
Another important piece, Alicia mentioned, is DEI (Diversity, Equity, and Inclusion). Making sure you have a diverse team that is bringing in fresh perspectives can help you avoid falling into a voice or tone that is too similar to other brands.
What trends should have a bigger role in 2022?
After talking about what they've noticed, Alicia and TJ turned to what they hope to see brands implement into their strategies over the next several months of 2022. Alicia started us off by sharing her hopes for brands to tap into something that will likely be a huge focus for brands in the future: Creator marketing.
"One thing I'd love to see," says Alicia, "is brands tapping into the creator aspect of their own employee base."
"I think there's so much potential to not only revolutionize your external marketing efforts, but also to learn from what your employees are saying and re-learn the language of your brand as it's created by others who might be outside of the marketing team. I think that's so important for keeping a really strong perspective, but also [for utilizing] creators in general — creators are a huge piece of the future of brand marketing."
"Companies need to open up the gates and allow employees more access [to the brand]." TJ agreed. "At Meltwater, we often help employees create content to share on their channels because we recognize that the reach of the message can be greater if it's shared by employees instead of just the brand."
Adding a hot take of his own, TJ mentioned what he really wanted to see from brands this year is more audience targeting.
"Really understand who it is you're speaking to on the different platforms. I think this gets overlooked when you are so focused on churning out campaigns or communicating a new product release — who has time to really sit down and analyze your audience?" he said.
"It's so important and it's not often prioritized because there are bigger projects with deadlines that need to go out. Brands need to be very dynamic today and they need to make quick decisions. Understanding who your audience is and who you are as a brand will help facilitate [those decisions]."
Want more from Alicia and TJ?
If you're still craving more insights and hot takes from our Space, you can listen the whole conversation now — including our audience Q&A where Alicia and TJ answer questions about diversity & inclusion in tech, as well as how brands can keep track of upcoming trends.