Perspective
LGBTQ+ Creators share advice to brands on connecting during Pride Month

People on Twitter are passionate about culture and root for brands that engage in conversations that have meaning to their identities. According to a 2020 survey, 79% of people on Twitter believe brands have a real opportunity to make meaningful change through advertising on Twitter.1
As we embark on a celebration of Pride Month, marketers are eager to show support and make an impact. At the same time, conversations move quickly on Twitter, and authentically connecting with the community throughout the campaign process is essential. 

That's why we asked for the expertise of several LGBTQ+ Twitter Creators — Matt Bernstein (@mattxiv), Fran Tirado (@fransquishco), and Raquel Willis (@RaquelWillis_) — directly. They've shared their honest advice for brands that want to create campaigns and participate thoughtfully in the conversation.
Before you embark on any Pride initiative, start by remembering the history of the month. 
Raquel: "Technically, Pride Month is about celebrating the strides the LGBTQ+ community has made over the last 50+ years. But Pride Month, for me, should always be about honoring the Stonewall riots and the aims of all those who sparked it. The fight against transphobia, white supremacy, capitalism, police brutality, and state violence was all at the heart of that fight."
One of the key ways you can connect authentically with this community is by having a diverse team and hiring diverse Creators and voices from within the community.
Matt: "LGBTQ+ people — of all ages — who are savvy to the social media culture (which most of Twitter's users are) can tell when branded Pride content was created by LGBTQ+ people versus well-intentioned straight allies. Doing "the work" means letting the work be done by queer people and paying them. Hire queer creatives, marketers, copywriters, etc., for your campaigns."

Fran: "Too often the creative legwork of a Pride campaign is assigned or left over to one queer employee who will take on the task in addition to their other responsibilities. One person does not make a community. It's to your brand's power to seek outside opinions and consultants as lateral collaborators to help build your idea up and empower you to make bolder bets."

Raquel: "Brands should give back and donate to community organizers and grassroots organizations at the core of their social impact work. They also need to hire queer and trans people, not just for their Pride initiatives, but year-round."
We also heard from Creators that incorporating ways to drive action and donations are especially important. Visibility is great, but people are tracking your holistic efforts in terms of how you're making a difference.
Matt: "We love that queer people are being thought about by brands, but rainbow capitalist Pride campaigns with no action (i.e., donation) aren't acceptable. It's pretty clear to queer folk when a brand is interested in helping our community versus simply profiting off the moment. Additionally, relatively tiny donations by enormous companies shouldn't be the norm. A $10K donation to a queer charity by a company whose CEO is worth hundreds of millions (or billions) of dollars is not enough in 2021. People can and should expect more."

Fran: "The easiest way to invest in the community and evade negative sentiment is to make a substantive monetary contribution to queer/trans communities by way of proceeds, donation, or a thoughtful partnership. If launching a product, audiences want 100% of the proceeds to go to a meaningful organization like Trans Law Center or Immigration Equality, where money like that can make a difference (as opposed to NGO giants like the Human Rights Campaign). If not that, how can you partner with a nonprofit for a substantive, year-round commitment?"
Raquel: "Support to me looks like actually speaking up on injustices our communities face, like sports brands coming out against anti-trans sports bans."
Some of the most well-respected brands are ones that are open to criticism. They understand that no brand has it all figured out, and by listening and inviting feedback, they can improve and show they're truly interested in investing in this community.
Matt: "If you're a brand that's going to, in some way, profit off a marginalized community, expect some pushback and be ready to listen and do better. Nothing aggravates an already-frustrated audience more than a brand that acts like…well, a brand. Be willing to have public conversations with people who criticize you."
Embrace intersectionality
Fostering inclusion is important as part of the conversation, as people look to celebrate all aspects of their individuality. 
Fran: "As LGBTQ+ narratives number, a multiplicity of perspectives becomes a key part of effective representation. Where a decade or two ago, two white guys kissing would be a radical image (and still is in parts of the country and world), this unique cultural moment implores us to seek intersections beyond the ones that are over-represented. If casting or scripting for a Pride campaign, work hard to run the gamut of community members who are trans, Muslim, nonbinary, Black, brown, disabled, etc."

Pride Month is a popular time to engage with the LGBTQ+ community, but remember, people are looking for year-round support. Consider ways to incorporate queer voices and showing your support for the community on all-year-long. 
Matt: "Hire queer writers, creatives, engineers, community builders, recruiters, developers, and managers — especially trans people and queer POC. Democratizing hiring practices is one huge step companies need to take to make careers accessible to marginalized folk who are hardworking and capable enough for them- but may lack qualifications on paper (i.e., an expensive degree). Tell diverse queer stories and include us in your advertising beyond the month of June."
Raquel: "I think these months are important, but they give brands and people the idea that they can just show up on anniversaries and commemorative days rather than consistently. They should be regularly considering how they advocate and support communities on the margins and not just externally."

We hope these insights will inspire you to create, connect, and push the status quo for this month and beyond. We encourage you to lean in, do your own research, and diversify your own feed with LGBTQ+ Creators and activists to get more insights.
About the Creators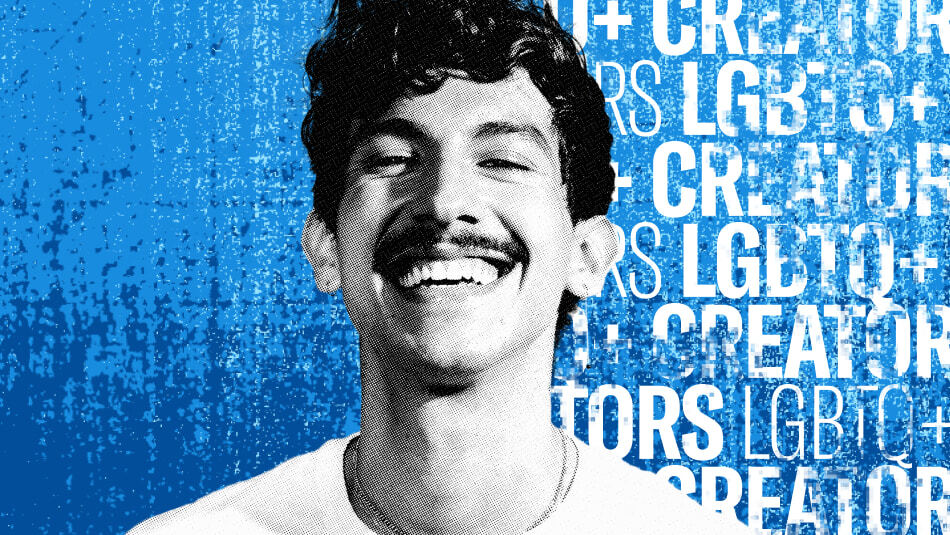 (he/they)
Fran is a writer, podcaster, and organizer whose work for LGBTQ+ communities has won them Brooklyn's 30 Under 30 and the Stonewall Foundation's Vision Award. Fran works on strategy for companies like Netflix, HBO, Instagram, Squarespace, Microsoft, Mailchimp, and Google and has spoken at institutions like Harvard, Yale, Juilliard, Northwestern, and NYU. Fran's work has been featured in places like Vogue, The Washington Post, USA Today, People, TIME, NBC, BBC, PBS, NPR, Newsweek, Buzzfeed, W, Interview, Elle, The Cut, Glamour, InStyle, Refinery29, GQ, Vox, VICE, AV Club, Adweek, and Good Morning America. The New York Times called them a "Queer Champion."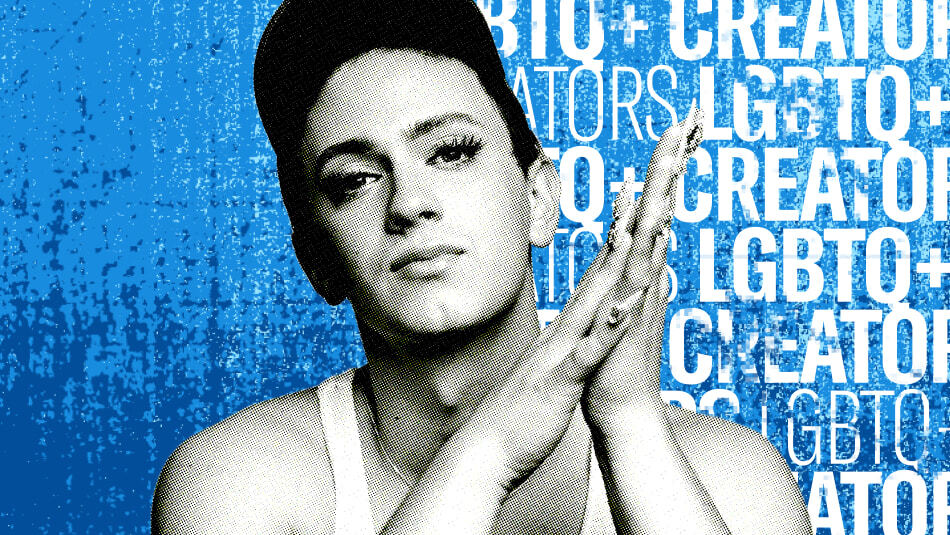 (he/they)
Matt Bernstein is a 21-year-old artist and digital creator who blends makeup with timely and poignant political messages. Currently a senior at New York University studying photography and journalism, Bernstein originally used his Instagram to showcase his stunning photography that centered around queer subjects and gatherings. Since then, he has shifted to incorporate his love for beauty and makeup while keeping the political influence he channeled in his photos. Bernstein wants to continue to celebrate, uplift and draw awareness to the LGBTQ+ community while showing the beauty within all of us.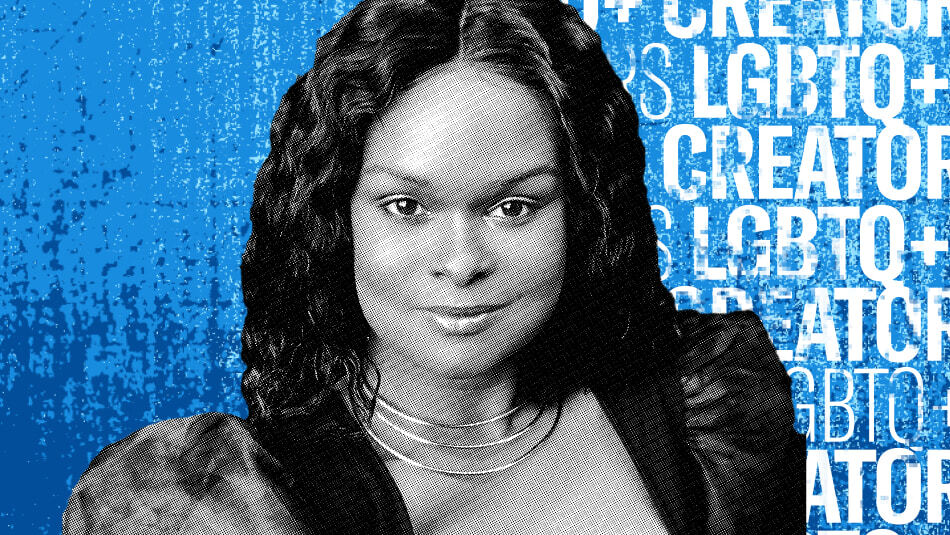 (she/her)
Raquel Willis is a Black transgender activist, writer, and media strategist dedicated to elevating the dignity of marginalized people, particularly Black transgender people. Throughout her career, Raquel has held impactful positions like Director of Communications for The Ms. Foundation, executive editor of Out magazine and a national organizer for Transgender Law Center (TLC).
In 2018, she founded Black Trans Circles, a project of TLC focused on developing the leadership of Black trans women in the South and Midwest by creating healing justice spaces to work through oppression-based trauma and incubating community organizing efforts to address anti-trans murder and violence. During her time at Out, she published the Trans Obituaries Project to highlight the epidemic of violence against trans women of color and developed a community-sourced 13-point framework to end the epidemic. This project won a GLAAD Media Award.

Raquel is a thought leader on gender, race, and intersectionality. She's experienced in online publications, organizing marginalized communities for social change, non-profit media strategy, and public speaking, while using digital activism as a major tool of resistance and liberation. (Photo courtesy of the Katz Company)

Source:
Firefish, The Numbers Lab & Twitter, Brand purpose, US Q: Thinking about brand purpose campaigns overall, how much do you agree or disagree with the following statements? Twitter users n=742, Twitter non-users n=834