Launching Campaign Planner: Forecast your campaigns on Twitter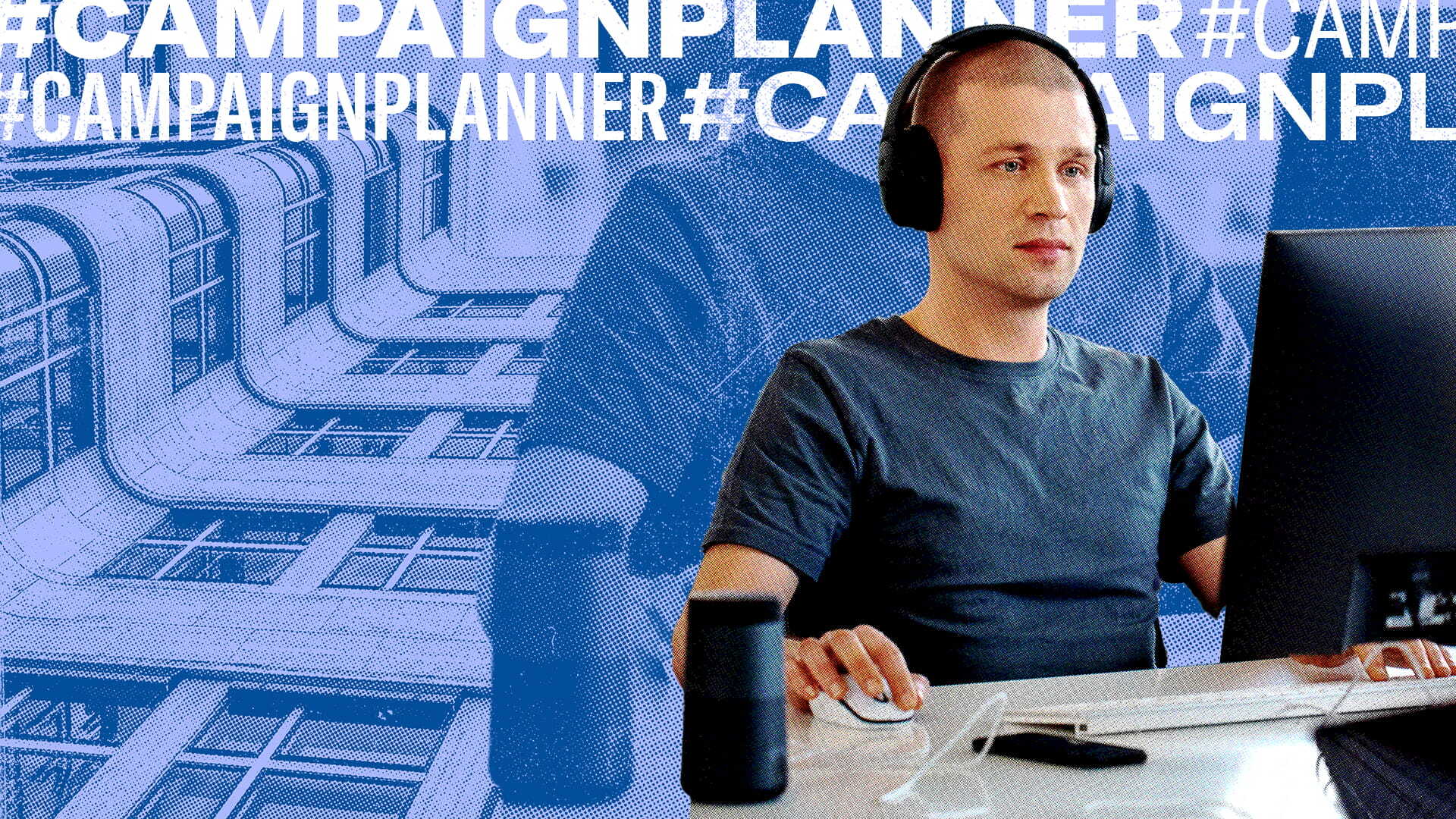 Last updated: October 25, 2022
Editor's note: In October 2022, we expanded the capabilities of the Campaign Planner forecasting tool. Initially only available in three markets, Campaign Planner is now available to advertisers in a total of 18 markets: Argentina, Australia, Brazil, Canada, France, Germany, India, Japan, Mexico, Philippines, Saudi Arabia, South Korea, Spain, Sweden, Thailand, Turkey, United Kingdom, and the United States. We've also added the ability to forecast your campaigns with the Video Views objective (previously, only the Reach objective was supported). Additionally, you can now use Campaign Planner to forecast Reach campaigns within the Replies placement.  
In December 2021, we started testing a new forecasting tool called Campaign Planner. Designed to make it even easier for our ad industry partners to make informed media investments on Twitter, Campaign Planner allows advertisers to forecast estimated results before they launch the campaign. 
Starting today, Campaign Planner is available to all managed advertisers in the United States, United Kingdom, and Japan. Managed partners can request access by contacting their designated Twitter Client Partner. 
So what exactly does Campaign Planner do and why are we so excited about bringing it to more advertisers? With this tool, advertisers can:
Forecast reach, impressions, average frequency, and CPM against a specific audience, campaign duration, frequency setting, and placement 

Budget for auction-based campaigns

Start and save a draft campaign directly from the tool
By creating this new layer of forecasting into the Twitter ad platform, we hope to empower our partners to better understand the size and cost of reaching a target audience during the planning process.
With Campaign Planner, our teams are better able to forecast campaign performance outcomes prior to going live, helping ensure our Twitter activations are set up for measurable success out of the gate. We appreciate Twitter's continued investment in making it easier to plan, forecast, purchase, and track media executions on its platform.
Access Campaign Planner from your Twitter Ads account. You'll be prompted to enter your plan details to begin building your forecast.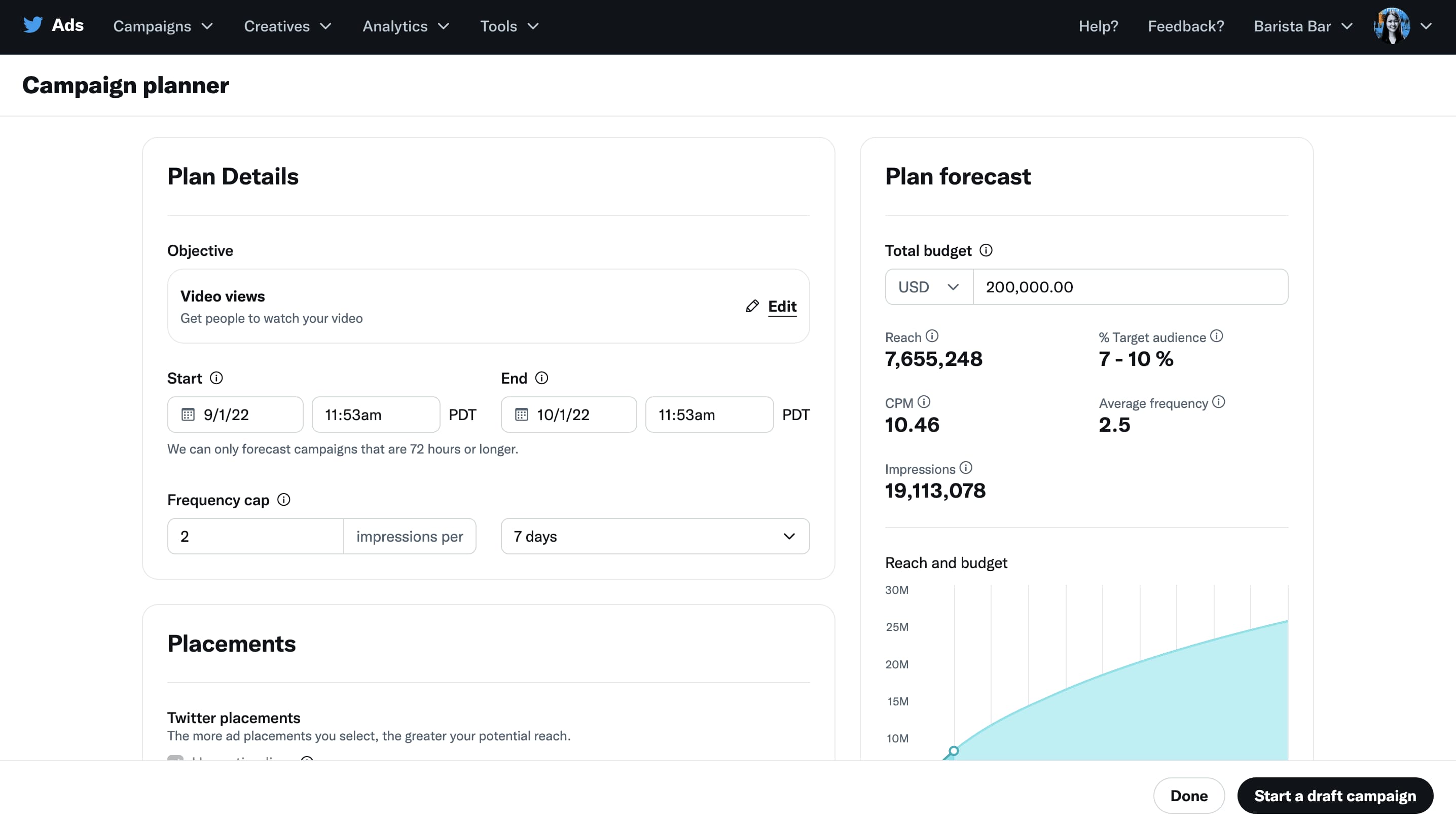 Campaign Planner also allows for starting draft campaigns; this makes copying over all plan settings into an actionable campaign easier than ever.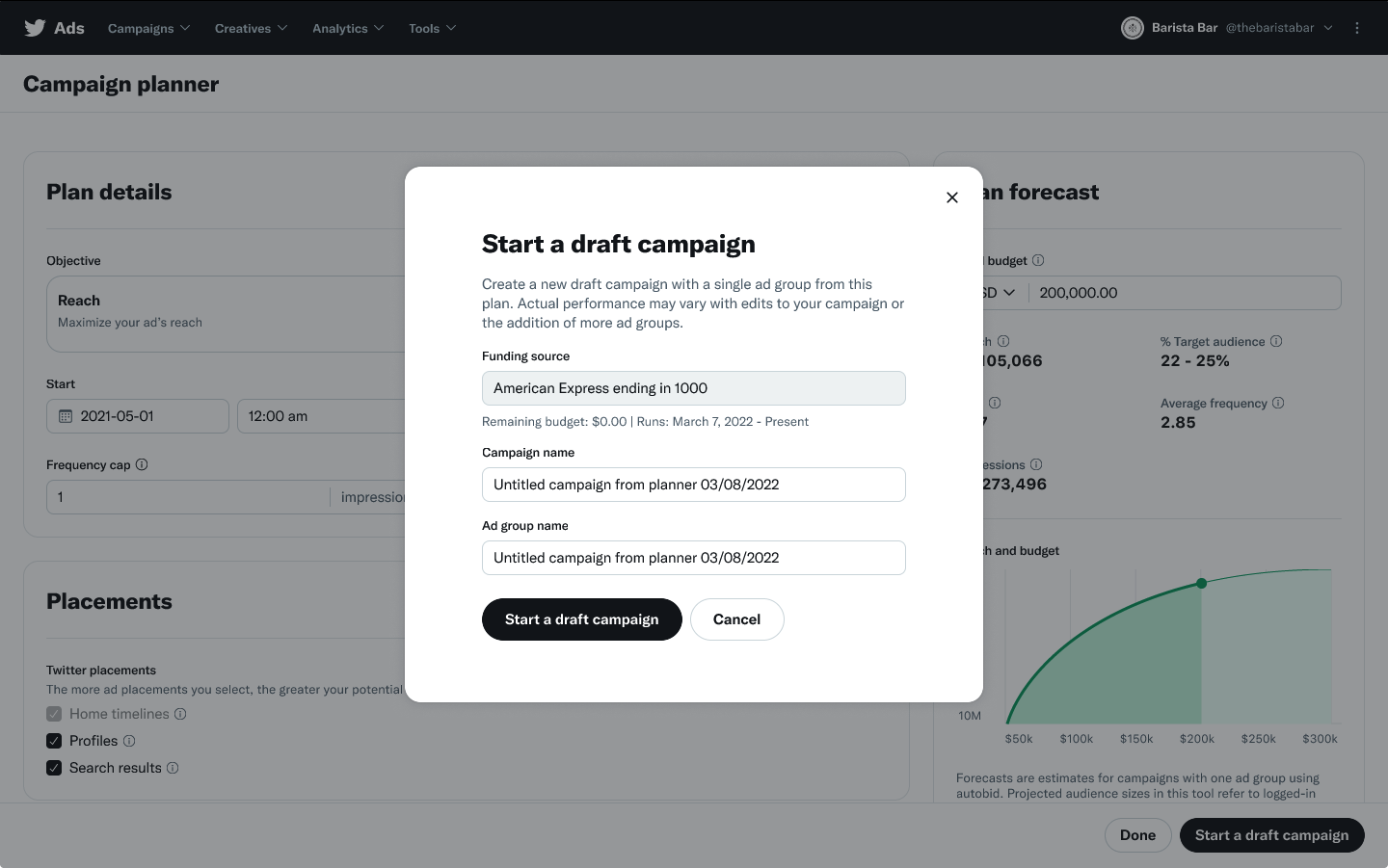 Setting up your campaigns for success
To get you started with using the Campaign Planner to utilize your ad campaign budgets most effectively, we've put together a set of recommendations – backed by research – on how to set up your media plan.1
Reach and frequency
The greater the budget of your Twitter campaigns, the more important it is to allocate it most efficiently in balancing for optimal reach and frequency. Once you determine your core target audience, consider using higher levels of weekly frequency to achieve better results. Multiple exposures at higher investment levels increase brand awareness compared to a single exposure.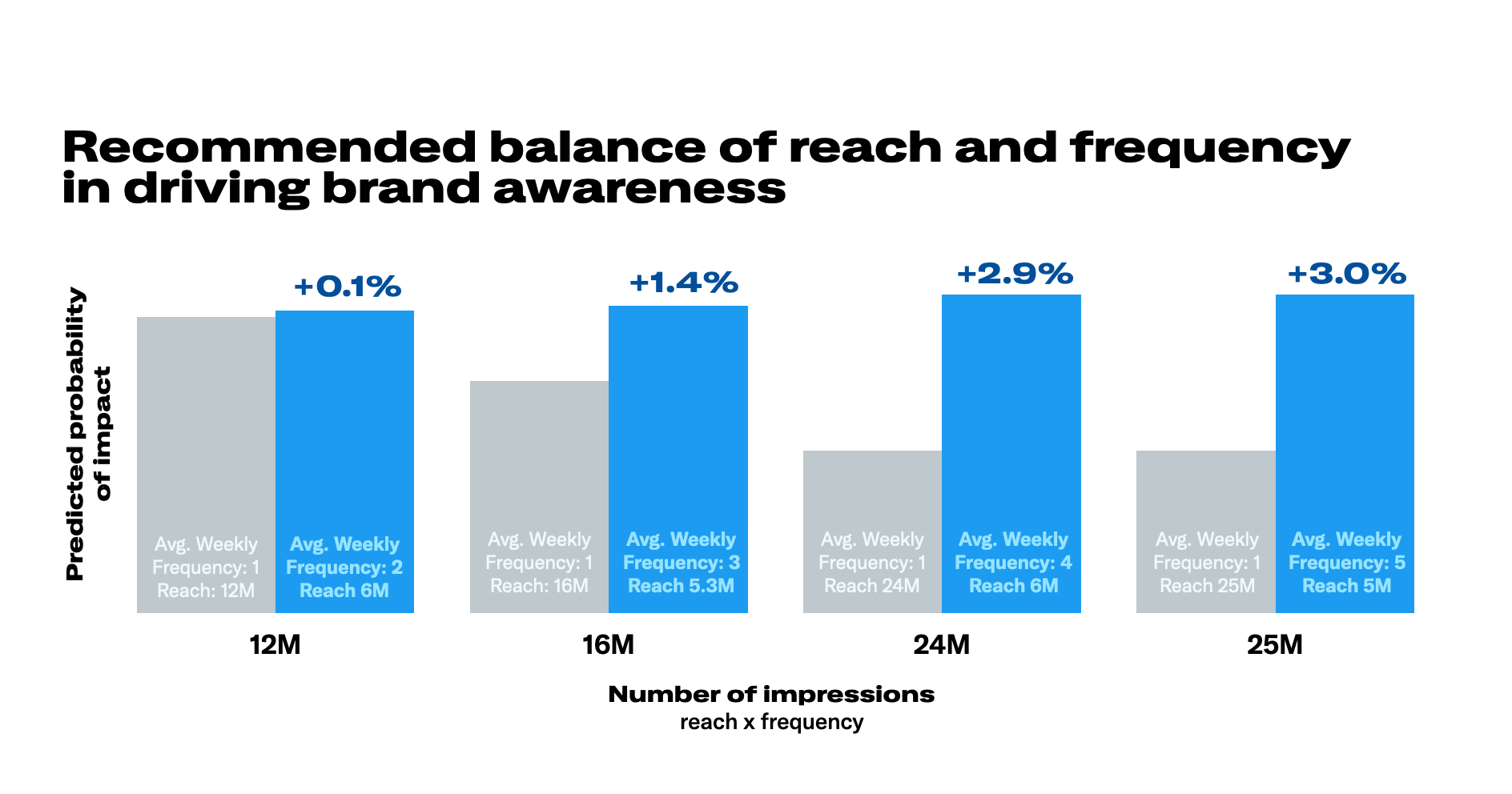 Campaign length
To drive higher awareness, it is important to not only increase the weekly frequency but also allow sufficient time for your brand to build recognition. Take the time to build brand awareness by having your campaign resonate over at least a 5-week flight and up to 13 weeks for your messaging to remain relevant and aligned with your audience.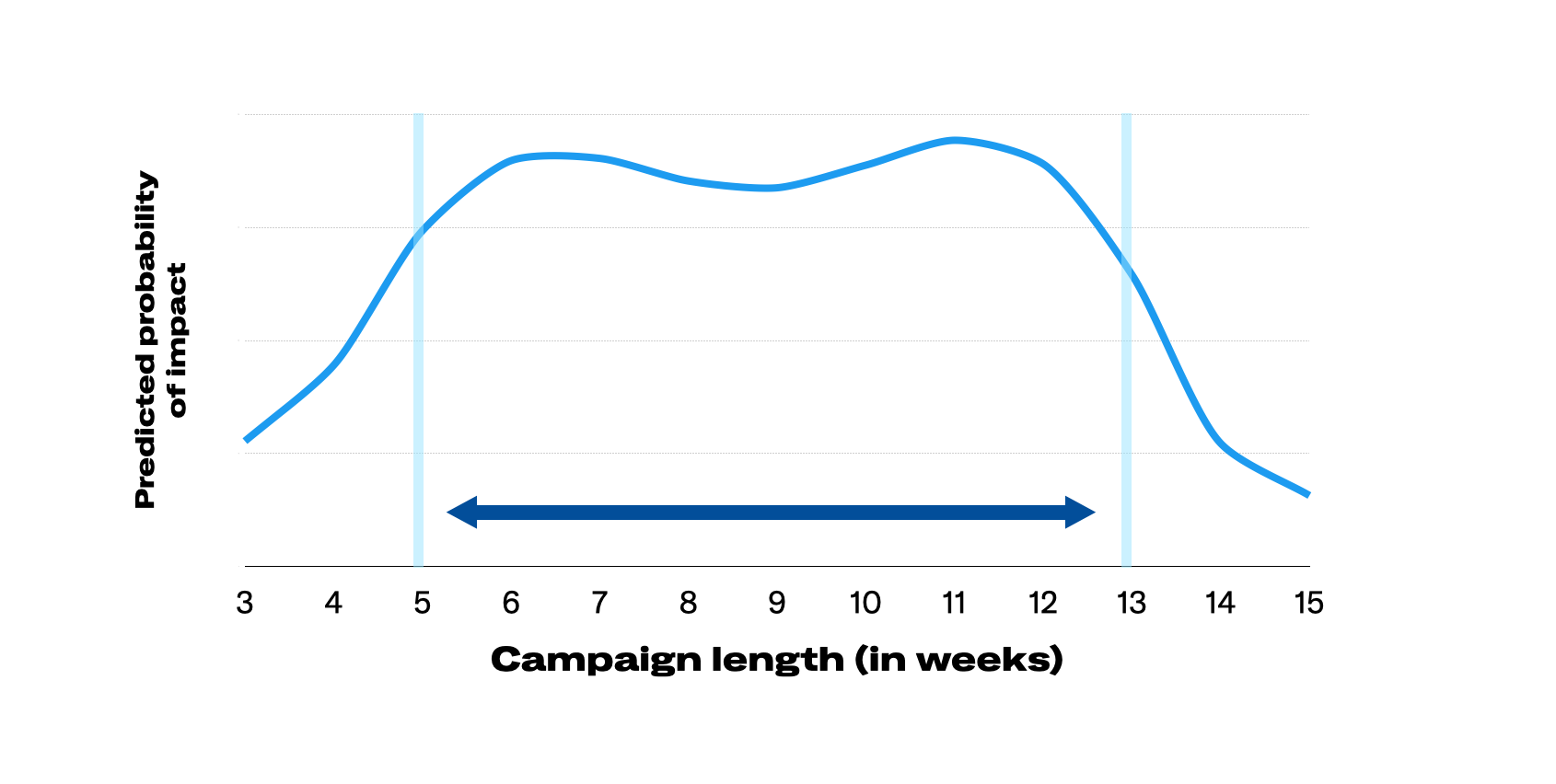 Campaign Planner unlocks more forecasting information than ever before and we're excited to continue to build toward the goal of making Twitter easier to buy for advertisers. 
Throughout the coming months, we will be expanding campaign planner to support more objectives and in more markets, and enable plan comparison to help evaluate the best campaign settings for your goals.
You can read more about using Campaign Planner over on our Help Center. Be sure to follow Twitter Business (@TwitterBusiness) for more updates.
Please note that this product is not available to all customers at this time. Managed clients can request access to Campaign Planner by contacting their Client Partner.
1. Methodology
Meta-analysis of all 352 Nielsen Brand Effect studies of US Twitter ad campaigns that started between January 2019 and December 2019. We built a support vector machine to find the right balance between the interaction of reach and average weekly frequency. In order to determine the campaign length recommendations, we applied a multi-level model, whereby Level 1 corresponds to individual respondents nested within Studies (Level 2). These models further control for relevant individual-, Tweet-, and campaign-level characteristics.    
Nielsen Brand Effect for Twitter measures the impact of Twitter ad campaigns on brand metrics including Brand Awareness. This is done through survey responses from "control" and "exposed" groups across multiple devices, whereby the control responses are collected from a randomized holdback group that matches the targeting criteria of the exposed group.
We recognize that every campaign is different and while these recommendations provide robust data-backed guidelines for driving brand awareness, they don't guarantee actual performance. There are other factors that contribute to the overall performance of an ad campaign and the results are thus also dependent on factors other than those highlighted above, such as creative asset quality and alignment with the primary goal of a campaign.
Ready to advertise on Twitter?