Mix it up: How launch and connect campaigns create memorable experiences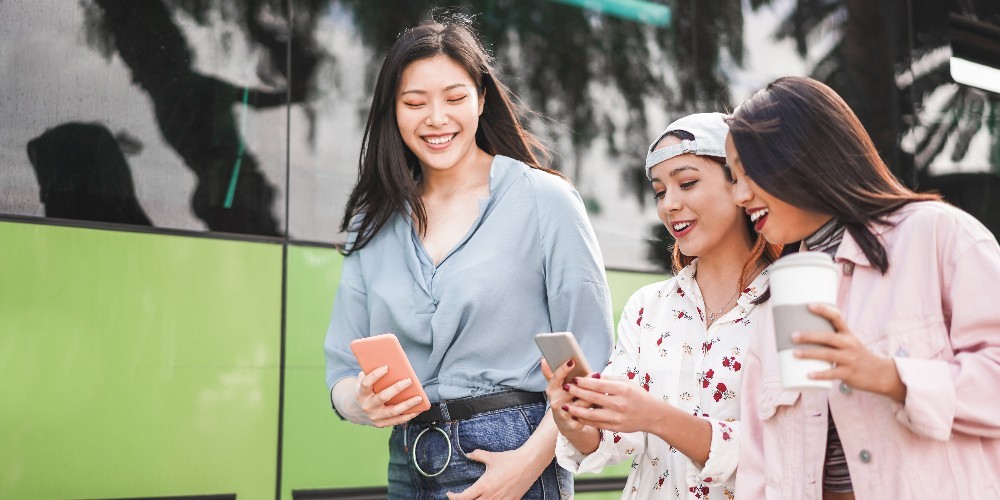 This article is the fourth and final part of a series on Twitter x MAGNA 'Mixing It Up: Diversifying Ad Formats to Achieve More' research. Read part one, part two, and part three here. 
Twitter worked with MAGNA Global (@MAGNAGLOBAL) and IPG Media Lab (@IPGLAB) to investigate how video ad formats can be used as a tool to achieve more — particularly if video ad format synergy is real and what impact that can have on brand KPIs.
This research helps demonstrate that the use of multiple ad formats helps brands better tell their stories and boost awareness, brand favorability, research intent, and purchase intent. The research tested the impact of different video ad formats, ad mixes, and video ad format order on brand metrics and tracked on-screen eye movements. The study focused primarily on Twitter video products, specifically Timeline Takeover, Amplify Pre-roll, and Video Ads across six industry verticals and 136 different ad scenarios.
Here, we're focusing on how Launch and Connect campaigns perform and drive results along the purchase funnel. Twitter is one of the best platforms to launch something new and connect to what's happening. Launch is defined as building awareness and interest for something new, and connect is defined as building relevance by being part of the conversation*. Our audience is receptive, influential, and engaged — and responds strongly to these key messaging pillars. Let's take a closer look.
Both Launch and Connect campaigns are proven to create memorable experiences on Twitter. Connect campaigns yield +57% aided ad recall, while launch campaigns performed similarly at +52% aided ad recall. When combined, they help drive consumers down the funnel by fostering higher brand favorability and driving research intent.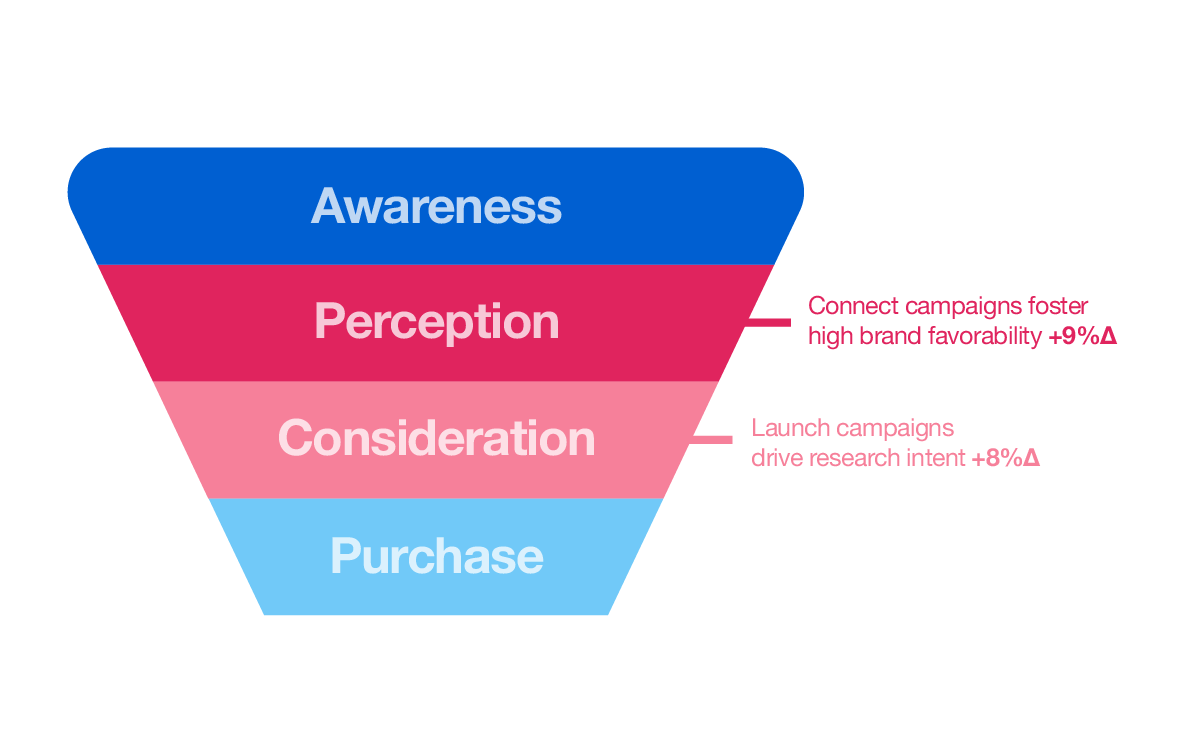 Connecting to what's happening and to cultural moments are key superpowers of Twitter. The findings of this study helped reinforce the idea that cultural associations in Connect campaigns tell compelling stories. Eleven percent (11%) of participants reported that Connect campaigns told a compelling story and 18% reported that they're relevant to culture. 
Interestingly, Connect campaigns are also incredibly effective at shifting perceptions among consumers that have pre-existing negative opinions about a brand. When people with pre-existing negative opinions of a brand were shown Connect-related ads from that brand, 51% reported that the ads were interesting, 46% reported trustworthiness, 33% reported relevancy, and 32% reported that the ads told a compelling story. 

Launch campaigns also boosted brand perception, but slightly less effective at 44% reported the ads as interesting, 32% reported trustworthiness, 24% reported relevancy, and 20% reported that the ads told a compelling story.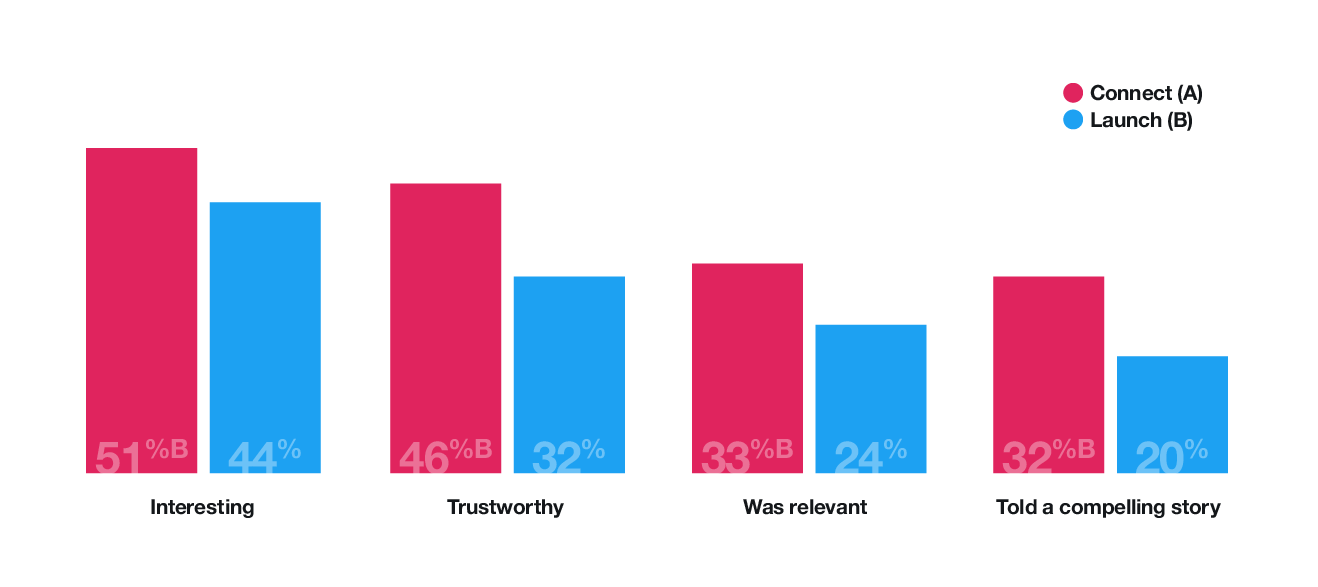 Tying back to the core focus of the study of diversifying ad formats, using a mix of formats in Connect campaigns drove persuasion even higher. Using multiple formats of Connect ads drove +11% cultural association, +8% brand favorability, +8% would recommend, and +7% purchase intent.
Similarly, using multiple formats in Launch campaigns when advertising new products drove +15% new product awareness, +6% brand favorability, +6% research intent, and +8% purchase intent. 6% of participants also reported that launch campaigns offered new information. 
Lastly, in conjunction with the findings on Timeline Takeover, the conclusions still held true in the context of Launch and Connect campaigns. Using Timeline Takeover first and following the same sequence (Timeline Takeover → Amplify → Video Ads) achieved strong results across the board. 

Capitalize on these strengths by bringing your next launch — big or small — to Twitter, and using our platform to connect with what's happening in the world. Our video ad products can help bring you one step closer to achieving your marketing goals.
Additional reading:

Source: MAGNA & Twitter "Mixing It Up: Diversifying Ad Formats to Achieve More", US, 2020.
*Additional launch definitions: awareness is the benefit of breaking through and being noticed; interest is the benefit of changing consumer perception; something new is an announcement shared with an audience. Additional connect definitions: connect means being part of something existing, building relevance is the benefit brands get from this job, conversation is a surge in what people are talking about in the world right now.

Ready to advertise on Twitter?