Research
A wealth of conversation: How Twitter connects those interested in finance and investment

Money talks or so the saying goes. On Twitter, people are certainly talking about money. In the wider buzz of conversation on Twitter in the past year, finance is a topic that has skyrocketed in scale. Throughout the pandemic, partly because people have had more time, more and more people have turned to Twitter to discuss and learn about investment, cryptocurrencies, fintech, and more. 
To better understand the nature of these conversations, Twitter partnered with Brandwatch and Sparkler to take a closer look at the finance conversations across the UK, Spain, France and Germany. Here's what we discovered.

In May 2021 alone, Twitter saw 1.3M conversations about finance across Europe, almost doubling from 690,000 conversations in January 2019. Many of these conversations spur action — 41% of people on Twitter say they see financial and business news on Twitter that can affect their investment decisions. 
One topic, in particular, has taken off in 2021, with a 42% increase in Tweets about cryptocurrency in the year after lockdown. In fact, 34% of the conversations around finance by European Twitter users now revolve around cryptocurrencies, with 47% relating to personal finance.

Stock ticker conversation has seen similar exponential growth to cryptocurrencies as a topic of discussion this year, although it still remains relatively small - comprising about 1% of finance-related conversations overall.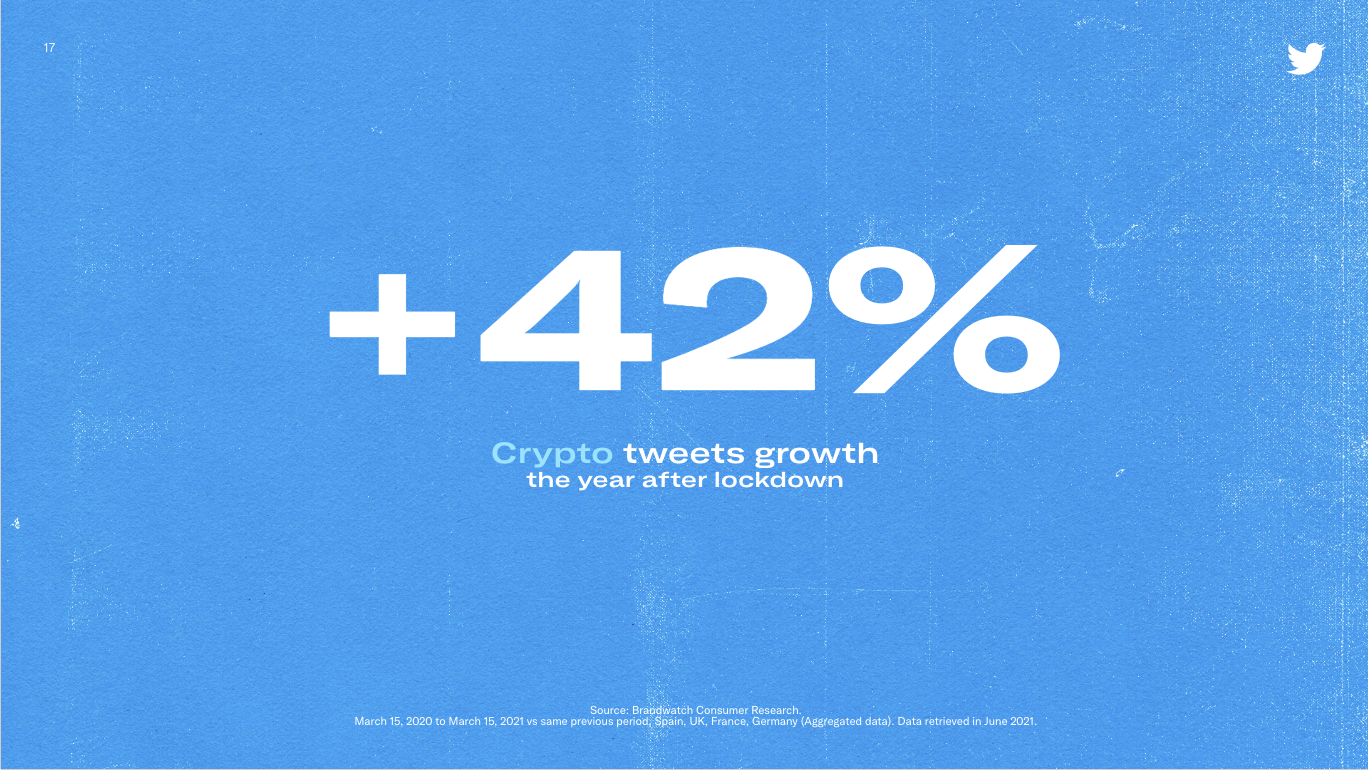 People on Twitter talk investing
Over the past year, the volume of Tweets about personal finance in Europe has grown by 12%, while 40% of these users follow people and accounts on Twitter that discuss investments. 
This is an investment-savvy group — 51% of Twitter users across Spain, France and Germany invest in stocks, bonds and funds, while 21% invest in commodities, compared with the 8% of non-Twitter users who do. 
Not only that, but 41% of those surveyed across the four markets said the overall value of their investments has grown during the pandemic. Overall, 53% say they have a lot of financial knowledge and experience, and a sizeable 40% say they don't mind taking risks with their money.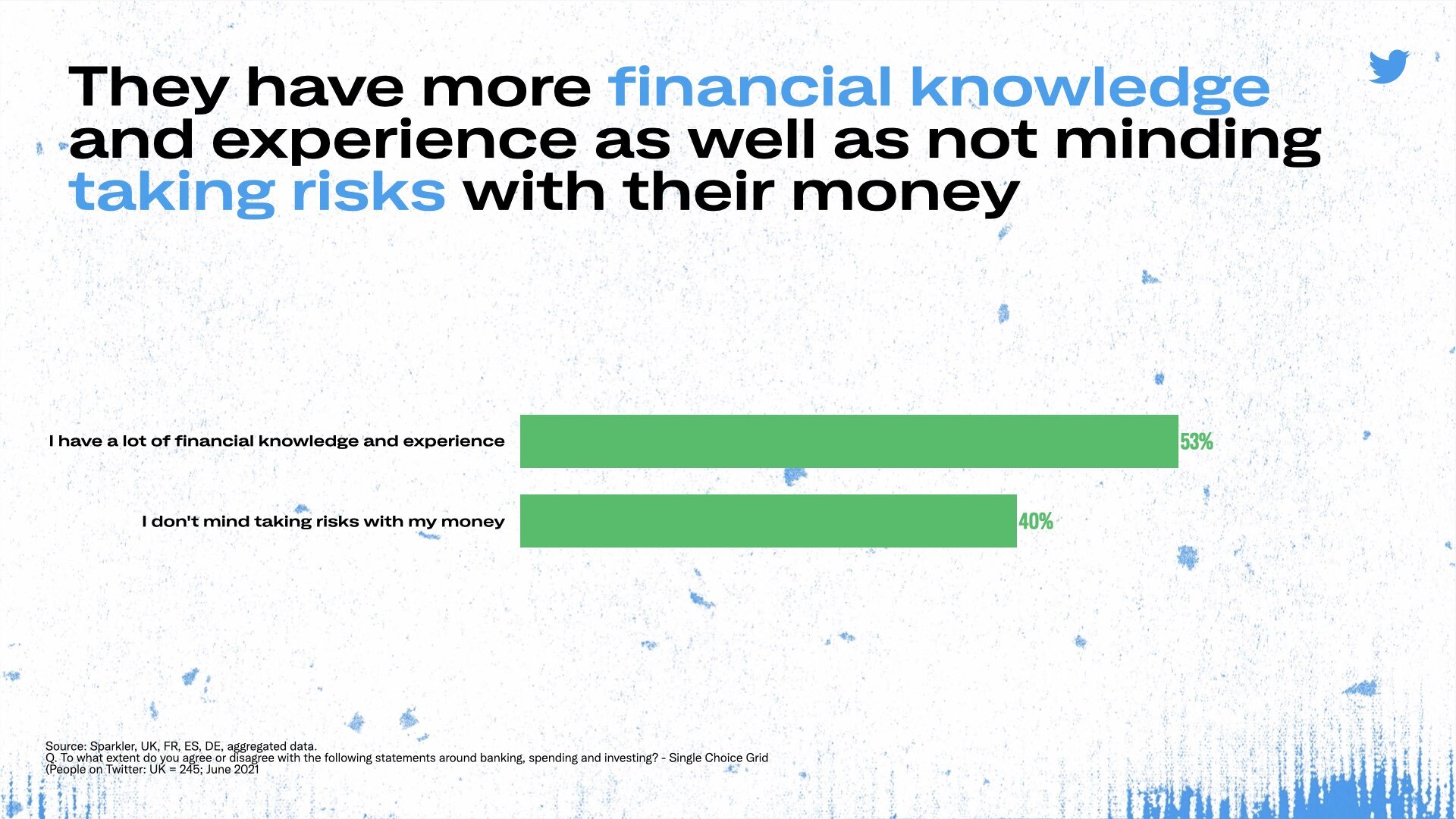 Interestingly, Twitter users were also more likely than non-Twitter users to have seen an increase in their overall income during the pandemic. They were even more likely to have increased their household spending on everyday purchases such as food over the past year. 
When it comes to hobbies and other interests, those involved in the Twitter finance conversation are much more likely than the overall online population to be interested in Esports, gadgets, and entrepreneurship.
More time during the pandemic to research investing
Of those who had invested recently, 46% said they had done so for the first time since the start of the pandemic, with 43% citing the fact that they had more time to research during the pandemic as the key reason for their investments.
When those who are not currently investing were asked, 40% said they were considering investing in the stock market in the next six months, with 37% thinking of opening a savings account and 22% considering a move into commodities.
Overall though, people are feeling cautious, with 36% of those surveyed saying that their top financial priority for the next 12 months was to save money for unexpected hardships.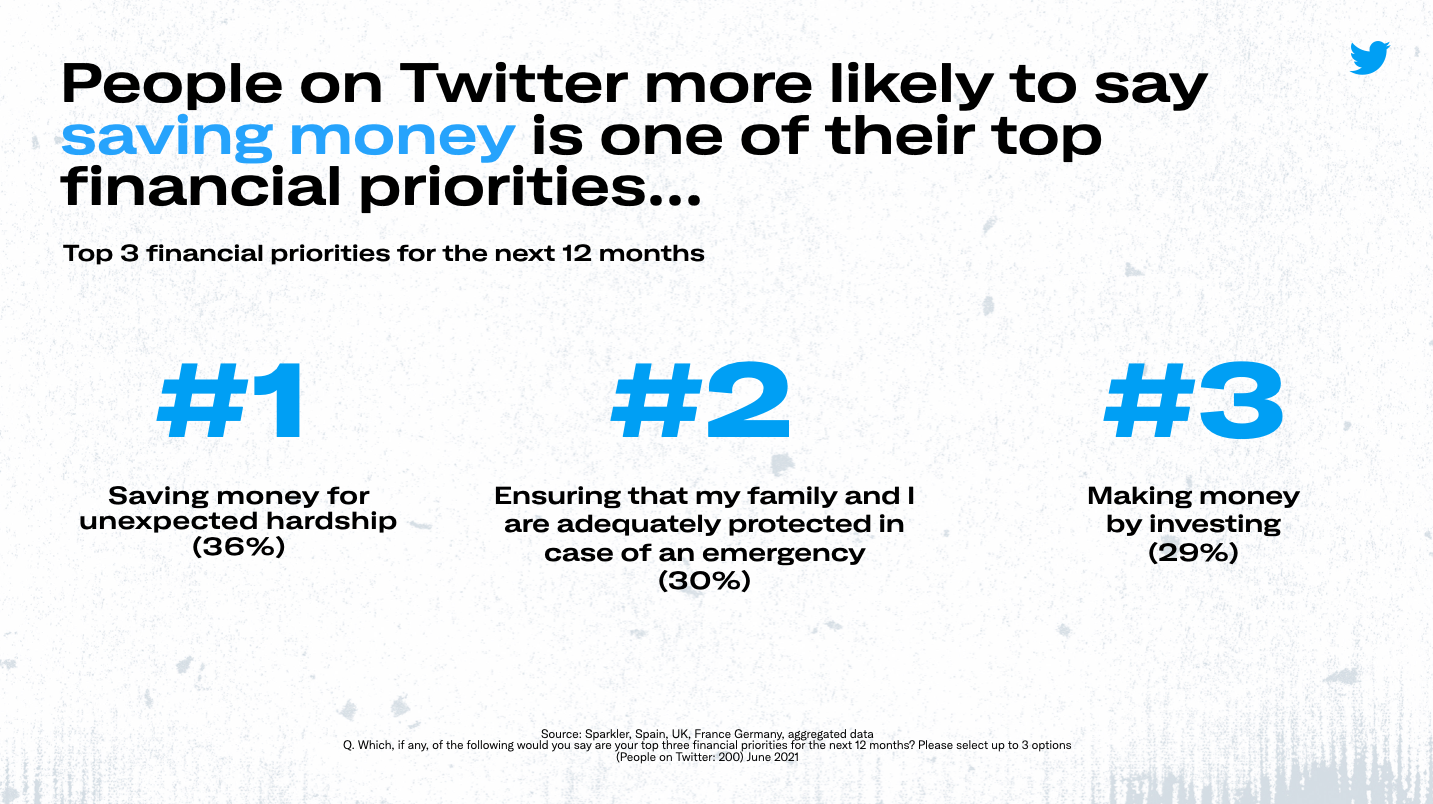 Fintech fans with rising crypto awareness
European Twitter users show a keen interest in new fintech and new forms of payment, saving, and investing. Knowledge of different cryptocurrencies and wallets is relatively high, with 87% knowing about Bitcoin, 38% aware of Dogecoin, and 41% familiar with Ethereum. Around 40% said they are aware of crypto wallets such as eToro and Coinbase. 
Of those who invest in cryptocurrency, 72% said they had invested more in it during the pandemic, while many of those who are not currently investing are more open to putting money into cryptocurrencies.
Overall, the Twitter population is confident in fintech, with 73% using contactless payments and 67% having used PayPal in the past month. Twitter users across the four markets surveyed are also 64% more likely to have used Apple Pay than people in those markets in general. 

Similarly, they are markedly more likely to open a fintech account than people in the general population, with 61% saying they would. Those who wouldn't use these banks pointed to customer service and interest rates as reasons, showcasing an opportunity for fintech banks to shape their messaging.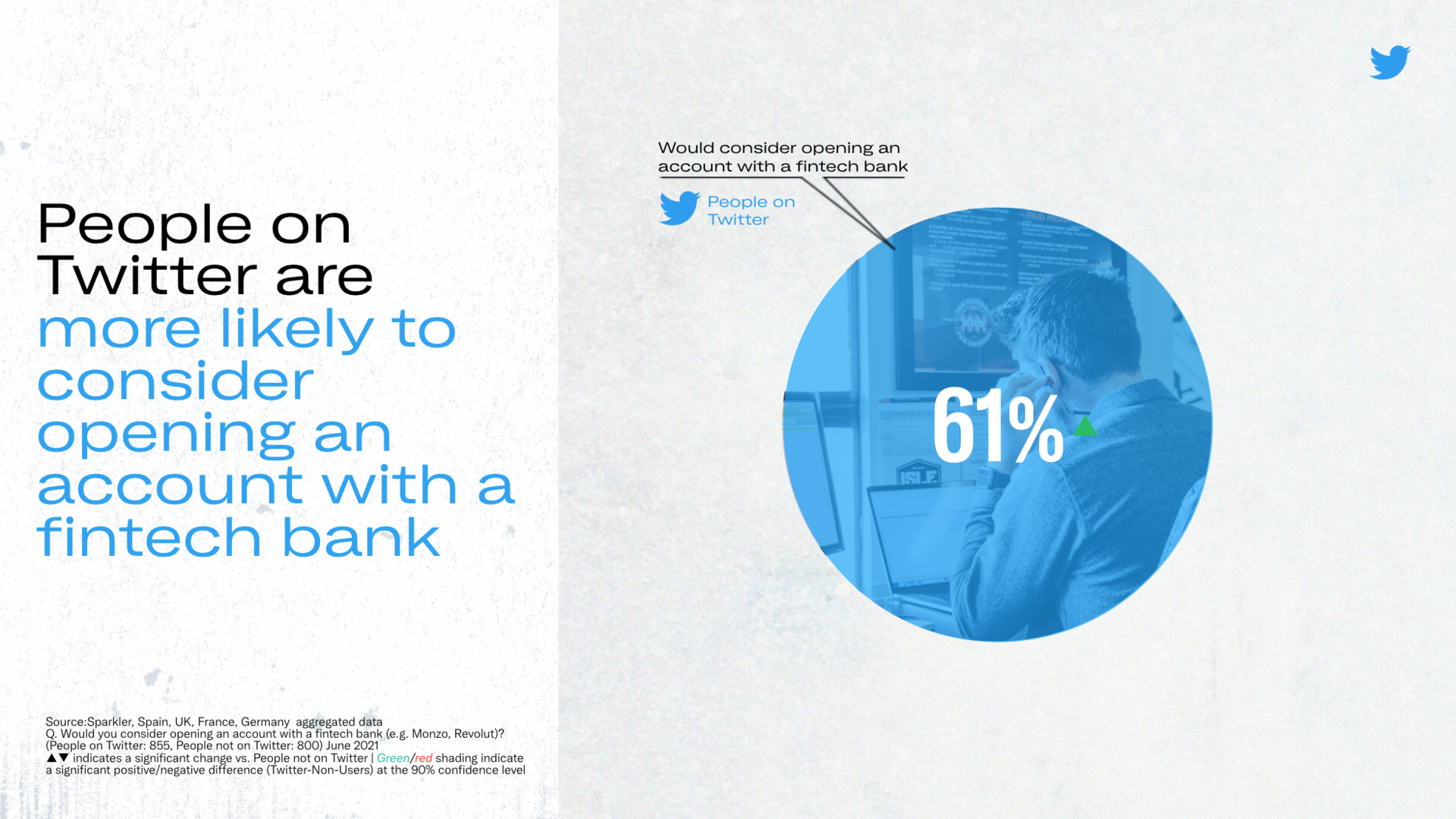 Asked which types of brands would be a good partnership fit for fintech banks, people on Twitter were much more likely than people, in general, to point to media, entertainment, and tech brands.
How finance brands are connecting to the conversation
With a wealth of conversation on Twitter, there is ample opportunity for finance brands to tap consumer interest.
As small businesses were hit by lockdown restrictions during 2020 and 2021, many brands have used Twitter to join the #ShopLocal conversation and rally around SMEs across  American Express UK (@AmexUK) recently launched its annual #ShopSmall campaign, showcasing small businesses and encouraging the public to get involved.
Lloyds Bank Business (@LloydsBankBiz) has been taking a closer look at the entrepreneurs and business owners working their way through the challenges of the last year. Through its #LockdownLearnings campaign, the brand has focused on the resilience of business owners, and provided thought leadership from influential figures in the business community in the UK.
From Bitcoin to Dogecoin, and everything in between, we've seen that crypto chat is buzzing on Twitter.  It's an incredibly fast moving space, so it's important for brands working in crypto to stay up to date with the latest developments. Etoro (@Etoro) taps into this conversation and drives app installs through engaging, topical Tweets.
Aside from talking about finance itself, there are many other opportunities for brands to connect themselves with the wider conversation on Twitter, and share their brand values. Mastercard (@MastercardDE) started a conversation about gender diversity and inclusive language to promote the #TrueName feature on its cards.
With such an active community fascinated by fintech, investment, and crypto, it's clear that Twitter is the smart place for finance and investment brands to connect with potential customers.
Sources:
1. Brandwatch, commissioned by Twitter, mentions of finance terms and keywords, January 1st 2019 to May 31st 2021, UK, France, Germany, Spain - aggregated data.
2. Sparkler/Twitter Insiders June 2021 - UK, France, Germany, Spain - aggregated data