Audio has entered the chat: How to use Twitter Spaces for your brand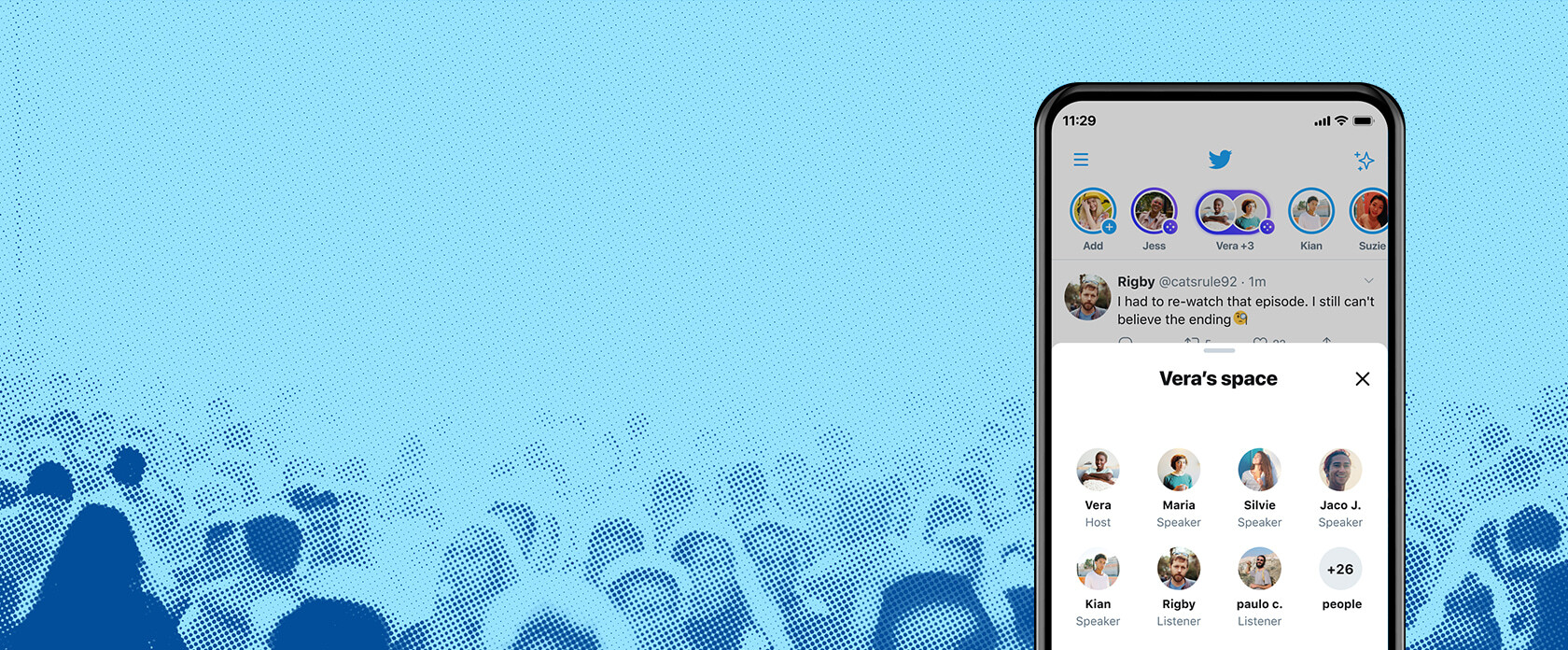 People come to Twitter to take part in the public conversation. So it's important your brand is part of these conversations and building authentic connections with your audience. 
Our research shows that just a 10% rise in conversation has led up to a 3% increase in sales volume.1 In other words, conversation drives results for brands. 

At Twitter, we're always innovating to find new and safe ways for brands and audiences to connect. Pull up a chair, Twitter Spaces. Spaces brings Twitter to life in a brand new way – through live audio conversations. And your brand can be a part of it. 
What is Twitter Spaces?
Spaces is a brand new way to amplify the power of the human voice on Twitter – by creating a space for people and brands to engage in real-time, audio conversations together. 
Twitter Spaces is open, authentic, and happening now. It offers audiences the unique opportunity to interact with your brand, industry leaders and experts, influencers and celebrities. 
How can I use Twitter Spaces for my brand?
No matter what your marketing objectives are, Twitter Spaces can help your brand:
Engage authentically with fans and followers
Connect during cultural moments
Elevate historically underrepresented voices
Get inspired in real-time 

 
Is Twitter Spaces safe for my brand?

Ensuring people feel safe is a key component to supporting healthy conversation. When you host a Space, you control who can speak and when. If needed, you can mute, remove, report, or block participants. Hosts can remove any pinned Tweets in their Spaces, and Speakers can take down their own shared Tweets. These features aim to ensure the conversation stays dynamic and brand-safe.
How can I promote my Space?

To help you get the right people and audience, you can schedule your Space in advance, and then remind your attendees that your Space is happening with push and in-app notifications. Once you've scheduled a Space, you can also promote the link to that upcoming Space via your own image card in a Promoted Tweet. You can also share your Space details directly to your Home Timeline. Once your Space begins, a "Live Now" card will generate and can also be promoted and shared.   
Here are just a few examples of brands using Twitter Spaces for inspiration:
Build buzz around a brand moment or launch
Launching a new film, music, product, or simply want to share some news? Use Spaces to create momentum, expand your reach, make your brand's voice heard, and speak to your fans or customers on a personal level.
Blockbuster F9 was released this summer. Ahead of the release, @TheFastSaga held a Space with director @JustinLin and some of the cast to connect with fans and continue the conversation around the movie's launch.
Create a pre or post-event destination 
Use Spaces before an event to build awareness and reach. Create a Space afterward to keep the conversation going, allow more time for audience questions, amplify your key points, and share any content that didn't fit into the main event.
Customer relationship management solution company @salesforce used Spaces to host a post-conference event with special guests for added value and insights. 
Elevate your brand's thought leaders
Thought leaders showcase your company's various expertise, and they help build brand authority. Brand authority builds trust and a sense of affinity. Spaces offers the perfect opportunity for your customers to directly connect with your brand's thought leaders.
Financial technology company @Cowrywise hosted a Space with one of their company leads to discuss how he manages his team and creates a happy work culture through his expertise in people management.
Amplify diverse voices and meaningful conversations 
If being a part of significant cultural conversations is important to your brand, Twitter is the place to be, and Spaces is the perfect tool. One great way to do this is to invite creators, influencers, activists, and educators to host meaningful, topical conversations.
Organization @blackbodyhealth hosted a Space about the HIV epidemic with influential guest speakers to broaden the cultural fluency of the conversation.
Have some good old fashioned fun
A great aspect of Spaces is the sense of fun and unparalleled access it can offer. Show off your brand's personality and share some joy with your audience – you never know where the conversation could end up...
 1. Twitter Meta Analysis: Measuring the impact of Earned Conversation, Neustar MMM (2019), US.)
Ready to advertise on Twitter?