How newsrooms are using Spaces
Spaces is a new way to have live audio conversations on Twitter. Twitter serves the public conversation, and at its core, conversation is made up of voices. The emergence of social audio represents an opportunity for newsrooms and journalists to have an open and authentic conversation with all audiences about what's happening in the world. 
Here are some examples of how newsrooms and journalists have been using Spaces:
Interviews are a perfect format for Spaces. NPR All Things Considered host Audie Cornish recently hosted a live interview with US Surgeon General Vivek Murthy, where she asked him questions about vaccines and post-pandemic life. NPR recorded this conversation and re-aired highlights on the radio and in their podcasts.
Interviews on Spaces have the potential to reach a whole new audience who might not be as engaged on other platforms but go to Twitter regularly for their news. To promote further interest in the conversation, you might also consider Tweeting highlights or newsworthy quotes during and after the interview.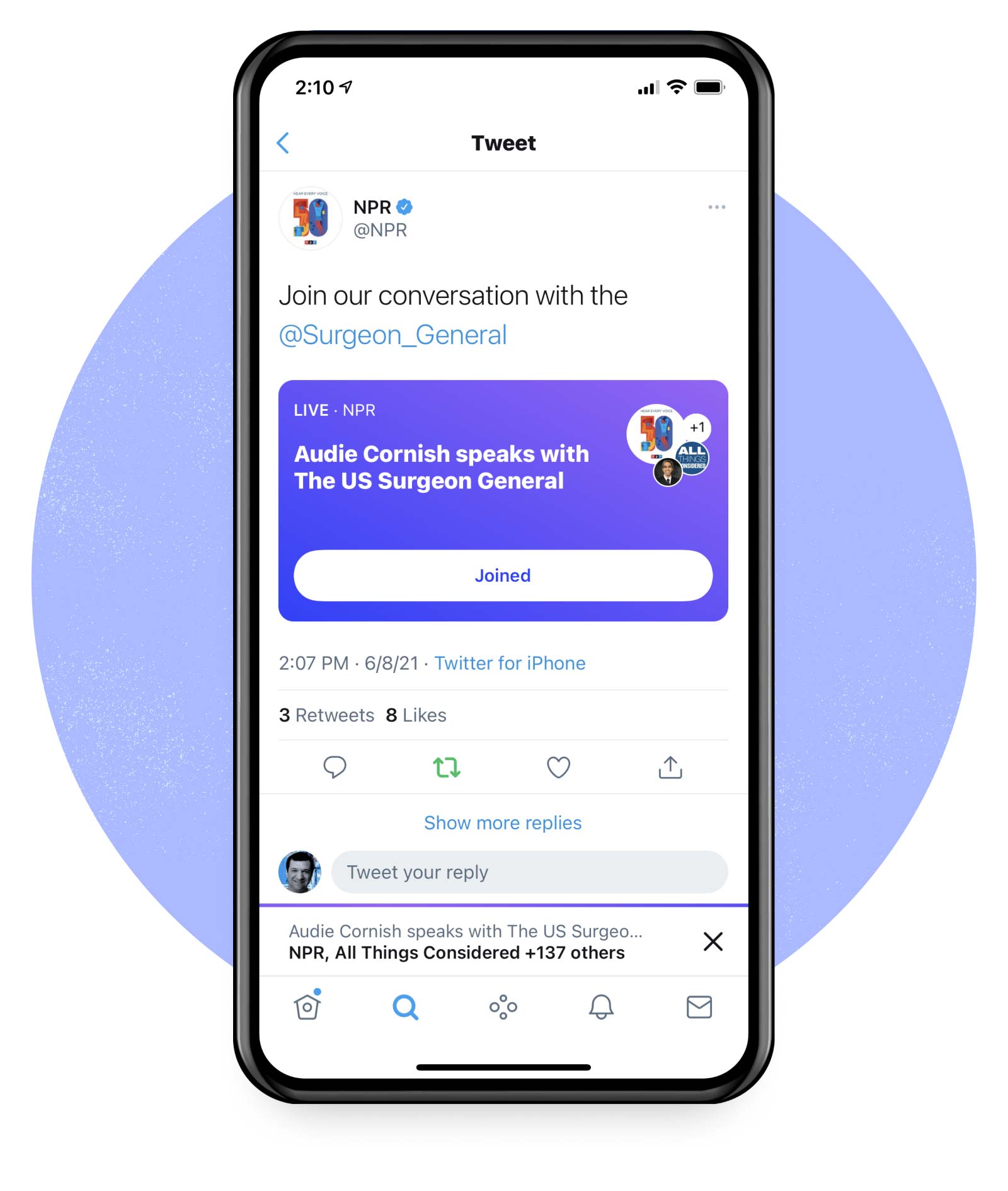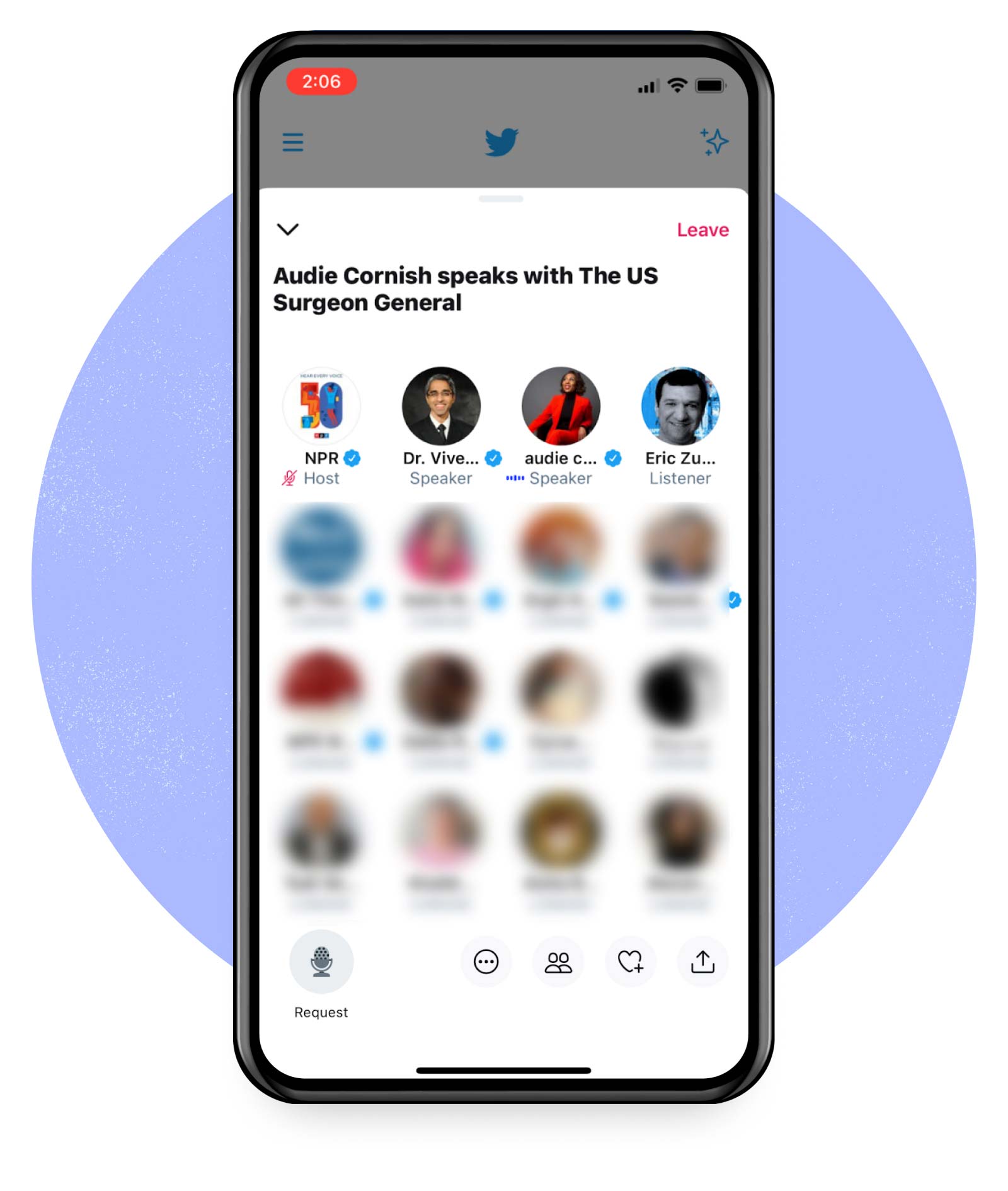 AMAs on Twitter Spaces are a way for journalists to engage directly — and to perhaps share a glimpse of their own personal lives and interests — with their readers or viewers. These types of sessions can feel exclusive, fun, and provide access that people don't feel like they get from an article, radio show, or even podcast.
Jim Cramer, host of CNBC's Mad Money, was one of the first news personalities to host a Twitter Space. He stayed in the Space for more than an hour listening to and chatting with people about whatever was on anyone's mind, money-related or otherwise.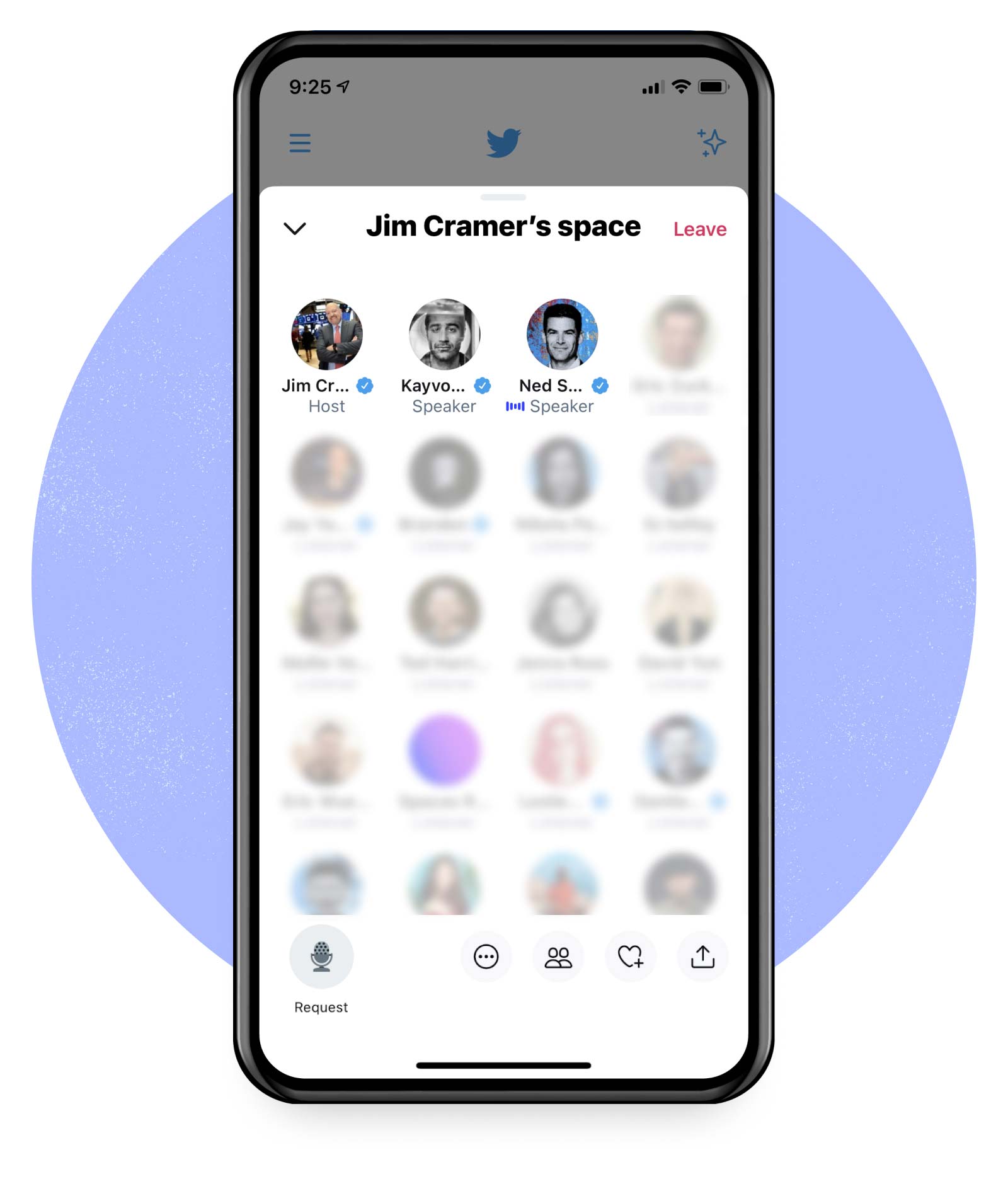 After a story, scoop, podcast, or show drops
Publishing a new article? Got the big scoop? Dropping a new podcast or launching a new show? Twitter Spaces gives journalists a chance to preview the piece, break it all down, or go into greater depth than what is typically able to fit into the assigned column inches or word count. After Mississippi Today published an article about water relief efforts following a historic storm in Jackson, Mississippi, HuffPost's Philip Lewis hosted a conversation with local reporters on the ground to discuss the story in greater depths with curious readers-turned-listeners.
On the eve before CNBC launched its new show, @CNBCTechCheck, the hosts gathered in a Space to answer viewers' questions about the show and talk through the week's biggest technology and Wall Street stories.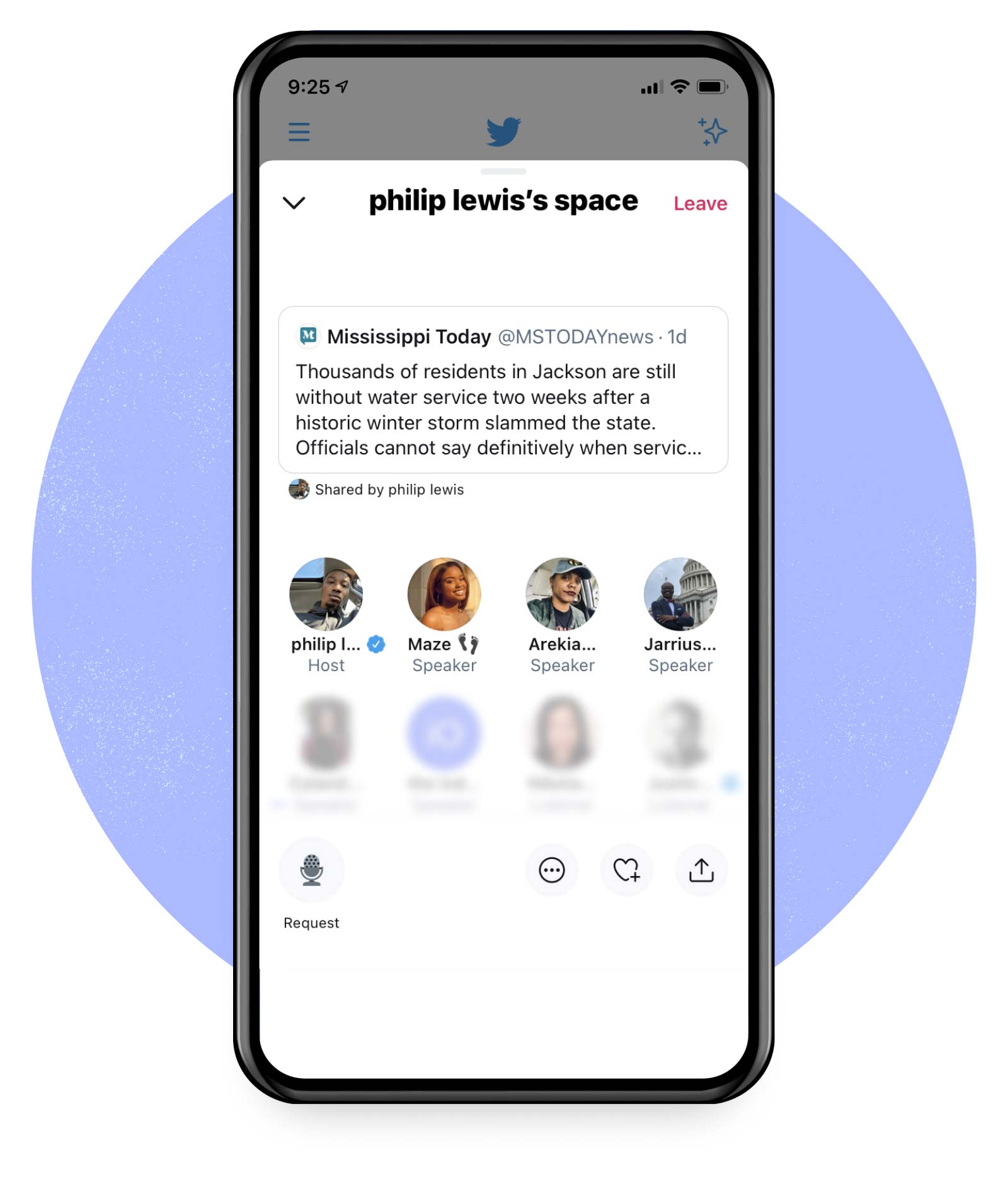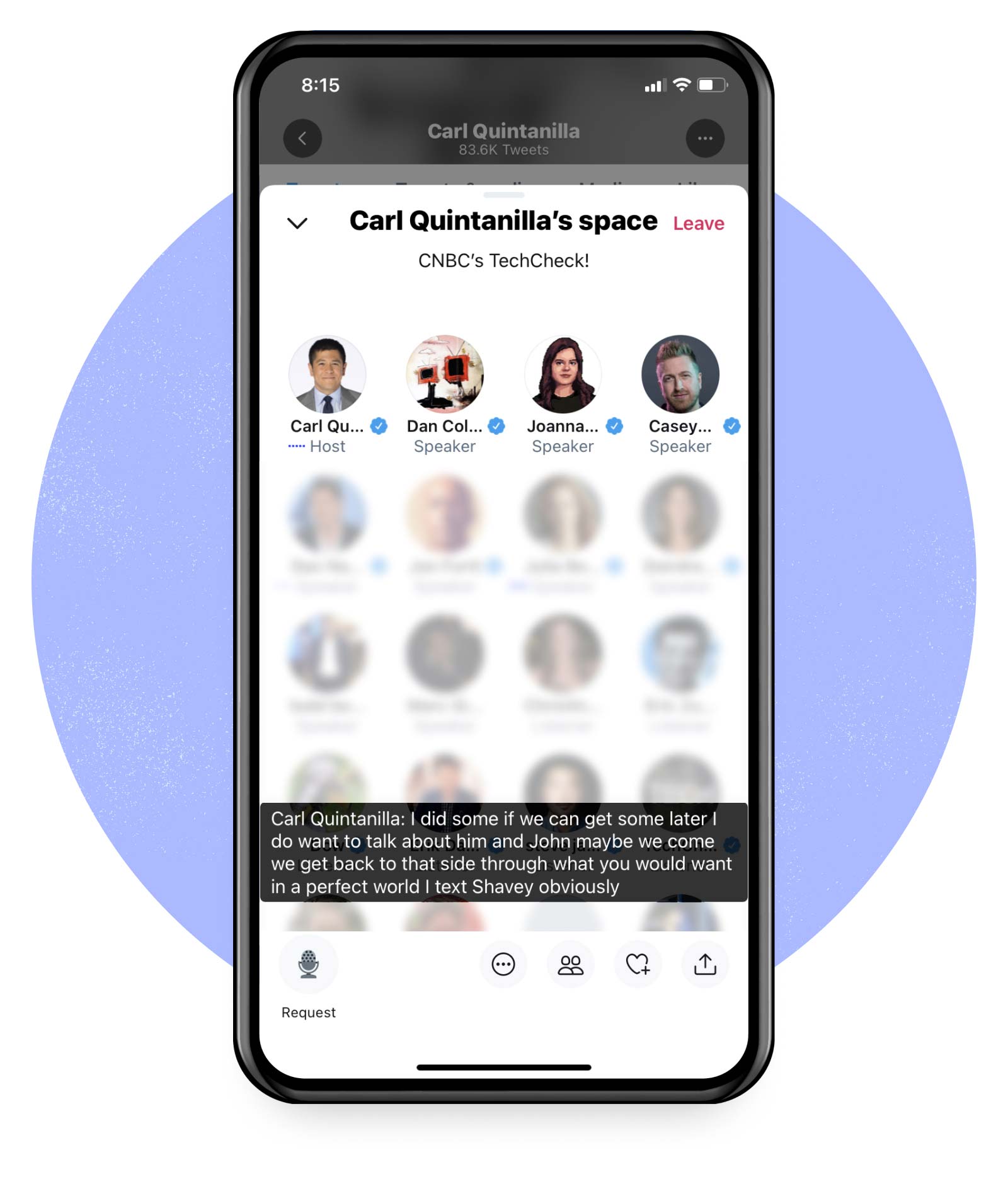 Dispatches from the field
Reporters covering news stories on location can use Spaces to do live audio dispatches from their iOS or Android devices without the need for a satellite truck, or waiting to get back to the newsroom or studio. During the Derek Chauvin trial in Minneapolis, many newsrooms — from @Politico to @NPR to @USATODAY — used Twitter Spaces to update listeners about the latest developments in the story that was captivating the nation.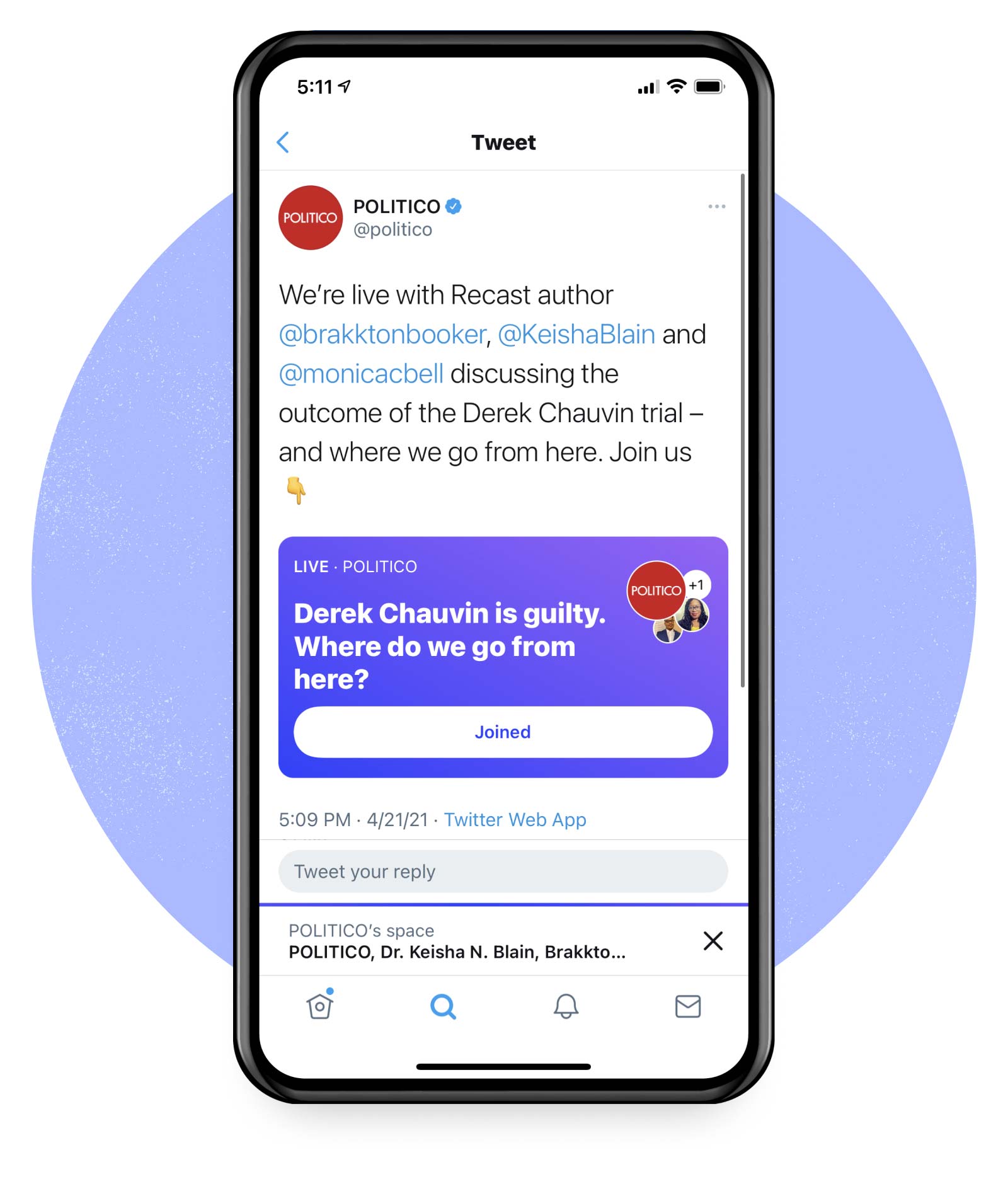 On the day President Biden was set to deliver his first joint address to Congress, @NPR's political team hosted a Q&A session with their listeners. They discussed the president's first 100 days in office, and what they expected to hear that night in his speech to Congress. Q&A Spaces allows for a direct line between journalists and subject matter experts to their followers — providing a platform for delivering answers to the questions that are at the top of everyone's minds.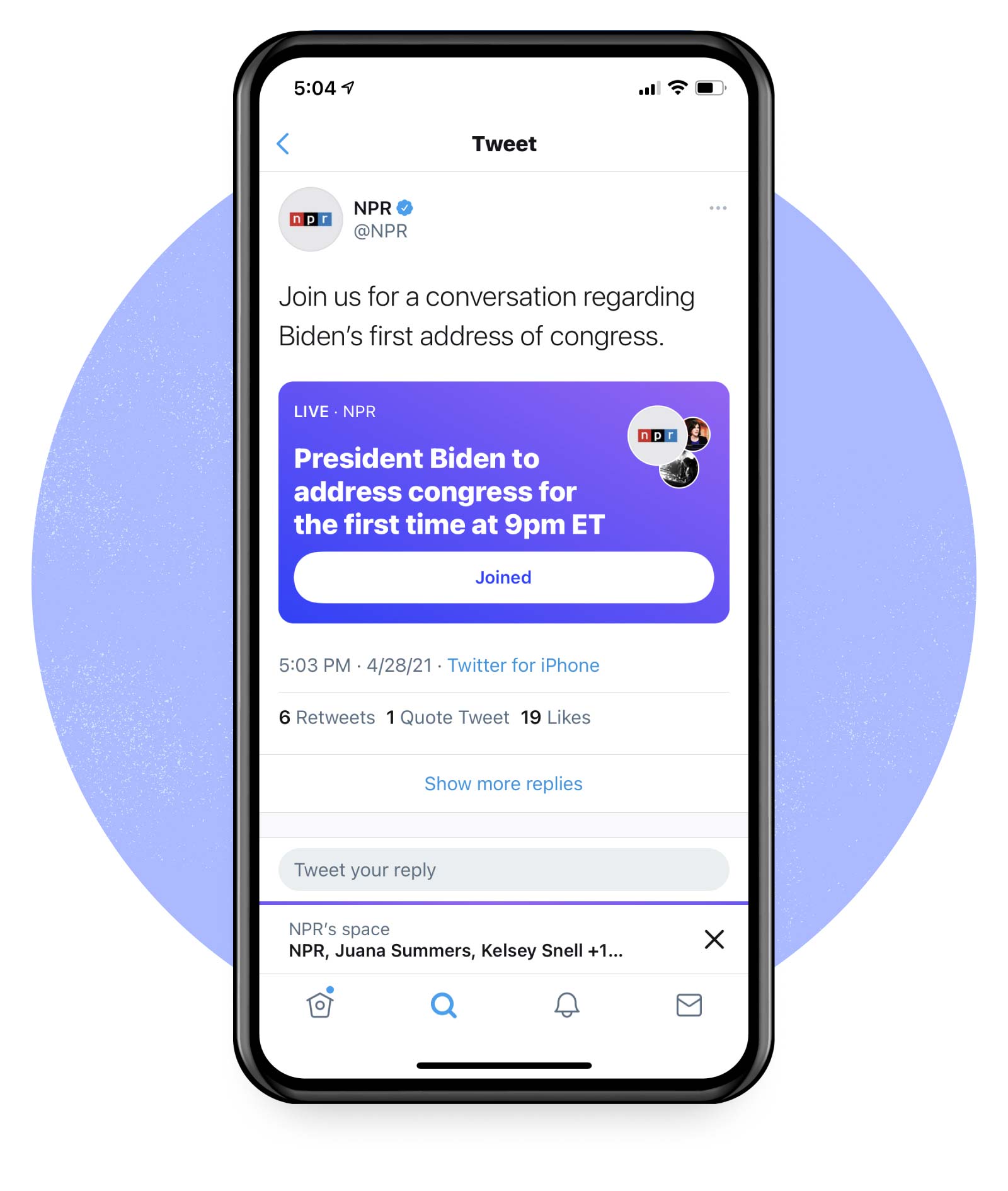 Spaces is also ideal for launching a regularly scheduled show exclusively for your Twitter audience. New York Magazine editor at large, podcast host, and New York Times contributor Kara Swisher hosts a weekly show with Platformer's Casey Newton. They go live on Twitter Spaces every Thursday to talk about the week's biggest stories. It's a space for listeners interested in technology, media, and business news to engage with and discuss what's happening in the news.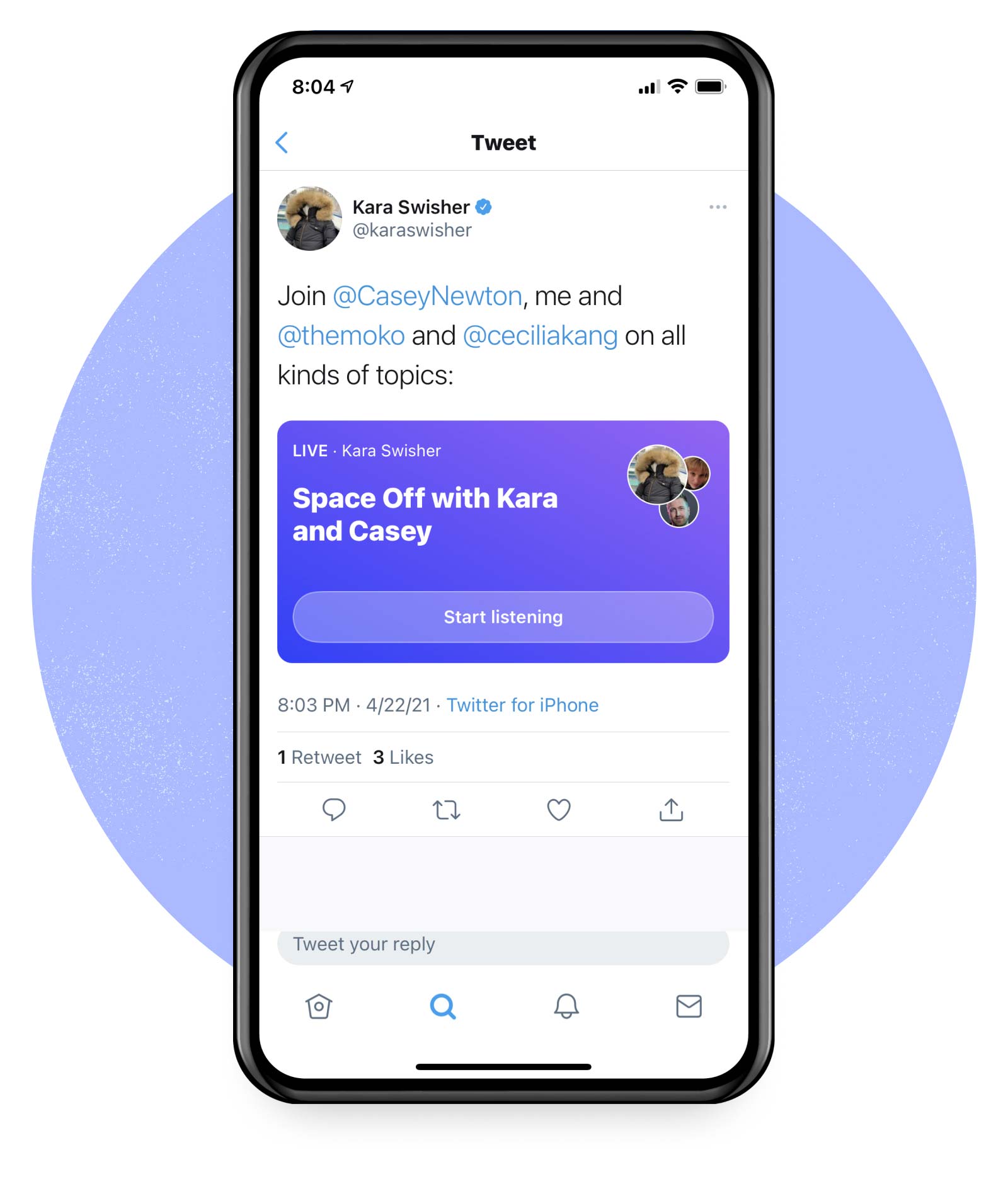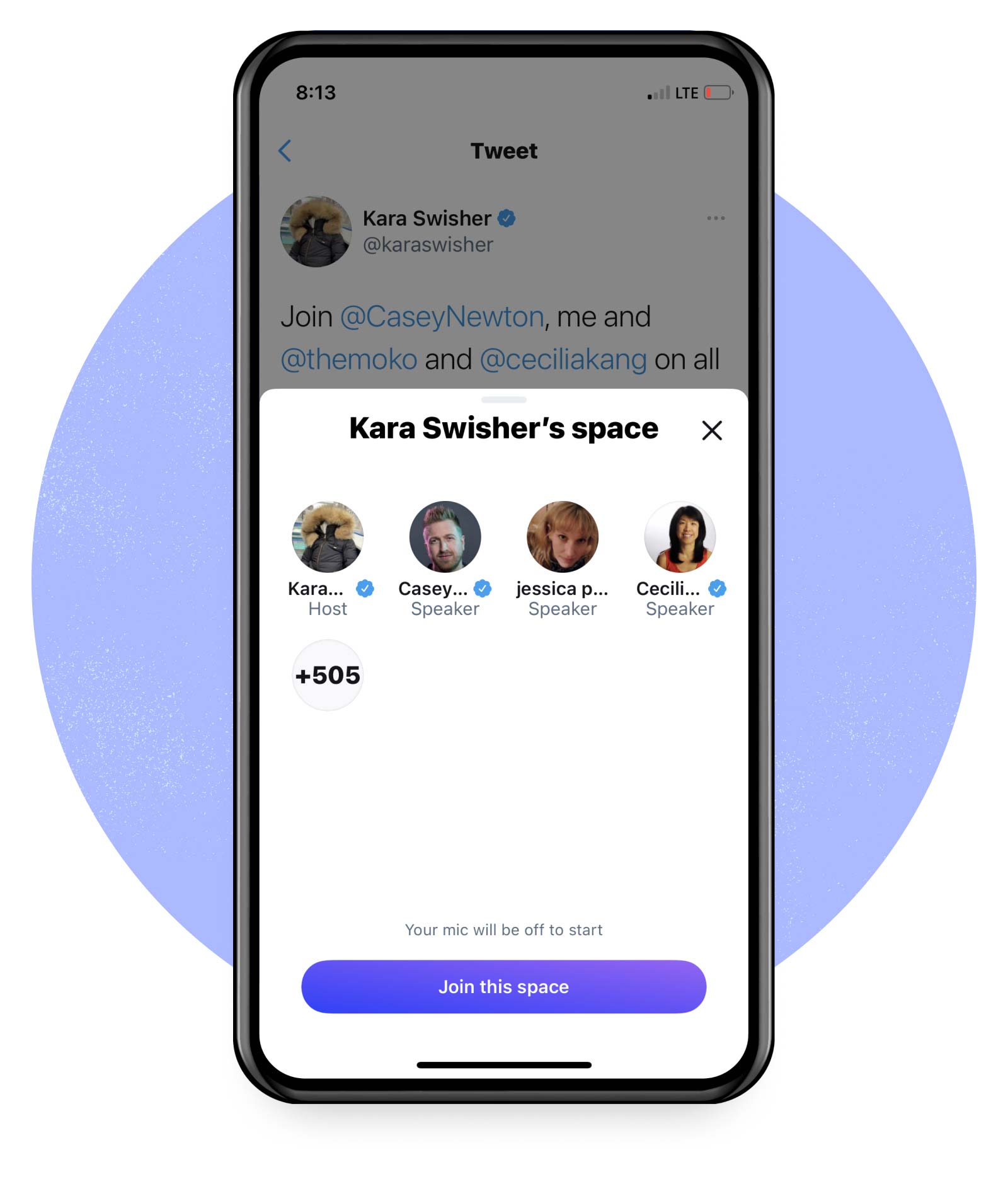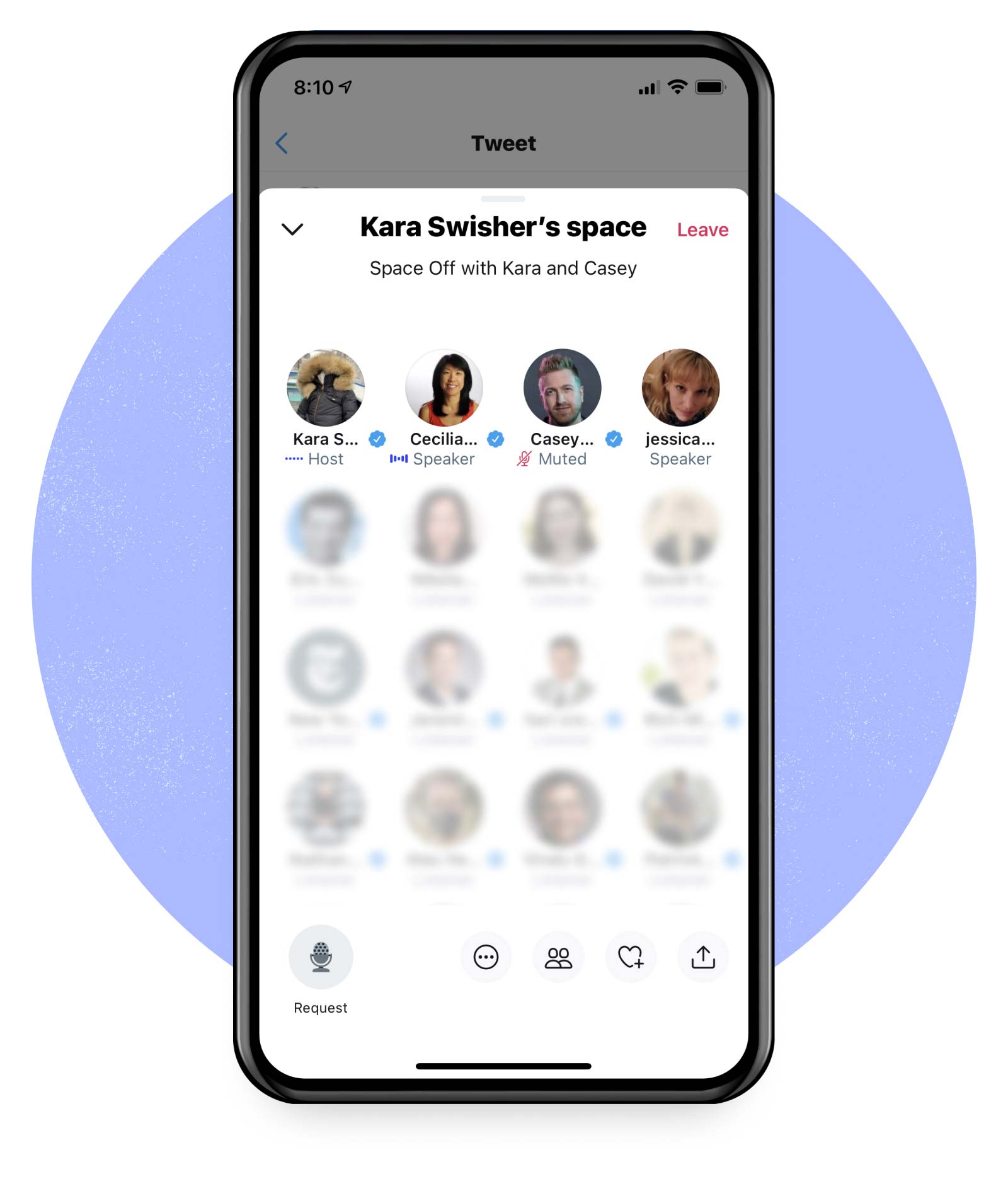 Finally, use the format to experiment and have fun. Some news organizations — such as @USATODAY and @thisisinsider — use Twitter Spaces to host trivia games with their followers. It's an amusing way to interact with your audience and discuss the week's news.
Whether it's an interview, roundtable, Q&A, or trivia game, hosting Twitter Spaces helps newsrooms and journalists grow and engage with their most loyal audiences.