Gen Z is a generation known for their creativity and doing things their way, and they are reshaping the world of social media as we know it. Their experience of Twitter is curated to become a place they not only love but where they can fully express themselves and connect with like-minded others. 
Platforms often change over time, sometimes not successfully, as they push against their audience, while Twitter has always tried to move with those who use it.
We analysed thousands of Tweets over a one/two-year period to get to the heart of the generation born between 1997 and 2010. Many of that generation are now coming into adulthood.
Who are Gen Z?
A lot of Gen Z are on Twitter. The platform reaches 70% (1) of 18-25-year-olds. Gen Z spends time on various social media platforms, but their voices on Twitter are loud, proud, unfiltered, and genuine. That's why Twitter's also one of the most valuable places for brands to connect with them.
They are ambitious but not like previous generations
How people face life and work defines them, and that is true for Gen Z. Unlike previous generations, Gen Z is taking a different approach. Work is not the be-all and end-all. A vast majority or 87% ( 2) of Twitter Gen Z users believe that the way the next generation lives and works will be fundamentally different to those who came before them. 
Maybe because of that different outlook, only 23% (3) of Gen Z Twitter users believe success is best measured by wealth. 
Why Gen Z comes to Twitter
Twitter more than anything is what's happening, and that is one of the main reasons they come to the platform. Almost two-thirds (61%) say they visit Twitter for that reason. They want to be connected and learn about everything happening in the world around them – from news to pop culture to Internet trends – and to connect with the communities and interest groups that matter to them. 
For them, Twitter is like a global newspaper that gives them a window to the world, which is just how one person puts it.
Gen Z is vocal about their passions
When it comes to the most pressing issues in the world today, Gen Z is at the heart of those conversations on Twitter. Think about when you first heard of Greta Thunberg. Since her voice grew and became globally recognised, she has been joined by a growing army of influential Gen Z activists. They are making their voices heard at the highest levels on subjects ranging from the environment to feminism, gender and race.
They use Twitter to unwind and see all sides

For Gen Z Twitter is a place where they can see all sides, explore out loud, grow in public, stir things up, and of course, have a bit of a joke.
Gen Z want to go beyond headlines to see the account of the person inside the story. They value the first-person perspective and hearing people tell their stories themselves. Twitter enables everyone to do this, and the immediacy and human-centricity of the platform are a key benefit for Gen Z.
England and Manchester United footballer @MarcusRashford has become a powerful voice off the field and has used his celebrity to drive change around child poverty and the Free School Meals campaign. He is a prime example of the kind of voice that Gen Z engages with on Twitter. So no surprise that 72% (4) of Marcus Rashford's Retweets come from Gen Z.
Another example is Kwajo Tweneboa (@KwajoHousing). He sparked serious debate on Twitter and beyond this year since he began documenting the poor social housing standards across the UK. He shared videos of the conditions in which families are being forced to live and made it his mission to show these atrocious conditions via his Twitter account.
Watching and listening out loud

From music to movies to TV and gaming, Twitter grows strong fan communities. This activity on Twitter grows empathy, builds stronger fan communities, and allows Gen Z to express more about the connection between their real lives and the media they love. For brands tapping into these moments and communities, Twitter helps open up a new level of relationship between brand and fan that you can't tap into anywhere else.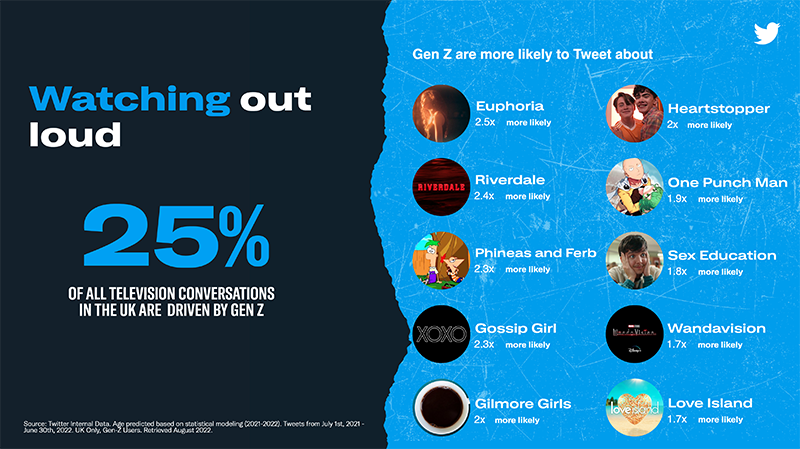 Twitter is a spiderweb for Gen Z
Gen Z uses Twitter as a launch pad or hub when exploring their interests. Often they begin their journey on Twitter and then spider their way to other platforms and services. They engage heavily with links on the platform that show what they are interested in, from Music to Gaming and Sports.
Stir things up

Gen Z's no-holds-barred approach to exploring a topic creates an open, communal discussion. It's not exclusive or elitist; their humour invites and involves people from more places in the debate and can even mobilise the excluded. A great example is the @CelebJets Twitter account. This tracks and posts the flight paths of the private jets of celebrities and holds celebrities up for scrutiny in the fight against climate change. Gen Z wants powerful entities to take genuine accountability for their unsustainable choices and change their ways.
What that means for brands
Gen Z pays +48 more attention on Twitter to the people and brands they see in their feeds than the next best performing platform (8). When brands show up authentically on Twitter, you simply can't put a price on the kind of exposure it generates.
Two examples here where brands got it right, and Gen Z responded. @weetabix created this horrendous-looking concoction that caught fire and sparked a massive brand pile-on, which lit up Twitter, and 52% (6) of Retweets came from Gen Z accounts.  
@AldiUK, which has an excellent track record for tongue-in-cheek Tweets, struck gold as it poked fun at Marks & Spencer.
We found that Aldi UK's Tweet from last year was one of Gen Z's most Retweeted posts of the year, with 79% (6) of the RTs attributed to them. It is also worth noting that Gen Z made up less than 10% of Aldi UK's total followers. Entertaining content like this engages those that follow the account and those that don't and is a perfect example of a strong content strategy.
Brand activism

Gen Z is willing to understand and support businesses that aren't perfect but are striving for progress. Honesty and openness are essential to showing people you're trying to do the right thing and taking them along on your journey.
Yorkshire Tea's (@YorkshireTea) response to a Tweeter who had mentioned them to thank them for not "getting involved" with the #BlackLivesMatter movement because she'd have to boycott their product if they did, understand this perfectly. 
It wasn't finished, polished, or fully formed, but it clarified where they stand and how they worked it through.
Those are just some of the ways that brands can connect with Gen Z on Twitter. 
Sources
For this project, we've undertaken an ambitious multi-disciplinary research project to identify the distinct roles that Twitter plays for Gen Z. It included in-depth semiotics research with OI (a specialist in semiotic analysis) covering over 2 years of UK Tweets and other data; a large scale quantitative study conducted with Hall & Partners; and our own internal analysis of Twitter data.
1. Source: 1 comscore, total digital population, UK, Jun 2022. 2. GWI, UK, Q1 2022 "How often do you visit or use these services?" (More than once daily / Daily / Weekly / Monthly)
2. Source:YouGov, UK, Gen Z Twitter MAUs, Statements agreed with, Profiles+, 14/08/2022. Data retrieved 17/08/2022.
3. Source:¹GWI, UK, Gen Z Twitter MAUs, Q2 2021 - Q1 2022 "Which of the following do you feel describes you?", retrieved 11/08/2022
4. YouGov, UK, Gen Z Twitter MAUs, Statements agreed with, Profiles+, 14/08/2022. Data retrieved 17/08/2022.
5. Source: Twitter internal, Top UK Tweets retweeted by Gen Z from Jan 1, 2021 - Dec 31 2022, UK Only.
6. Source: Twitter Internal Data (BizInsights). Age predicted based on statistical modeling (2021-2022). Tweets from July 1st, 2021 - June 30th, 2022. UK Only, Gen-Z Users. Retrieved August 2022.
7. Source: Twitter internal, Top UK Tweets retweeted by Gen Z from Jan 1, 2021 - Dec 31 2022, UK Only.
8. Source: Twitter Internal Data. Age predicted based on statistical modeling (2021-2022). Content most viewed by Gen Z by topic, Jan 1st, 2021 - Dec 31st, 2021. UK Only, Gen-Z Users. Retrieved September 2022.
9. Source: Source: Amplified Intelligence, Attention In The Feed, commissioned by Twitter & OMD, fieldwork conducted Dec 2021, UK, France, Canada, Mexico, aged 18-24 only.)