Character Count: How agencies use Twitter for their clients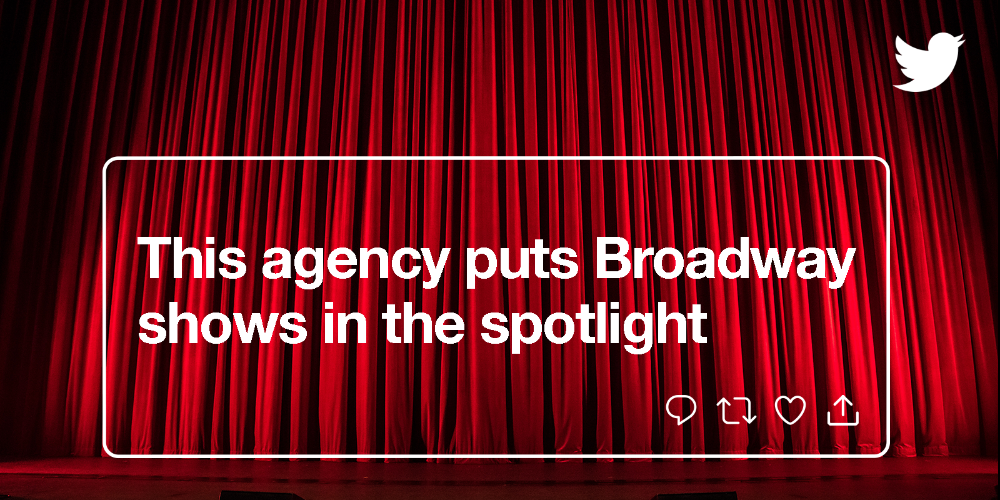 Agencies push themselves and their clients to be on the cutting edge. They value campaigns that are fresh, energetic, and effective. This makes their work a perfect pairing for Twitter — especially when they want to launch something new or connect to a cultural moment. 
Many businesses hire an agency to run their marketing on Twitter. (So many that we've published resources for agencies, like the Agency Playbook and our agency resources page.) We knew we had to talk about how agencies work with their clients on Character Count! But it can be difficult to tell if a business employs an agency or does the work themselves, or a mix of the two. If done well, the work an agency does for a business is so true to their brand story that it could've come internally. Agencies often cover their footsteps.
Then, I met Kyle Fox. He's the Associate Director of Media at SpotCo, an agency that specializes in marketing some of the biggest shows on Broadway (Cats, Beetlejuice, Kinky Boots, The Book of Mormon, Mean Girls, Hello, Dolly!, Tootsie, etc). They've had over 450 clients, including many Tony and Pulitzer Prize winners.
SpotCo has an edge in other ways as well. By working with such vivid properties, they have a huge base of passionate fans to engage. And because Twitter is the platform for connecting to a passionate audience, SpotCo's Twitter techniques for encouraging conversation are best in class.
Kyle and I discuss how agencies can strike a perfect balance with their clients. We also cover:
running several, completely different accounts
generating excitement when teasing out a new show (for you, the "show" may be a product, ad campaign, piece of content, etc.)
stoking that sweet, sweet user-generated content
There are also several musical theatre references that, frankly, I didn't get at all — but will be delicious for the more theatrically aware.
Because Kyle's advice was so tactical and specific, I brought Twitter Ads expert Sam Hawks on to explain some of the nuts and bolts behind campaigns. And this episode continues our new, Hot Takes section where we ask YOU for your tips. This episode's question is live @TwitterBusiness. Go check it out and weigh in.
Subscribe to Character Count (on Apple Podcasts or wherever you like to listen) and you'll be the first to know whenever a new episode is available. Thanks for listening!
Ready to advertise on Twitter?