Twitter Space playback: Holiday planning on Twitter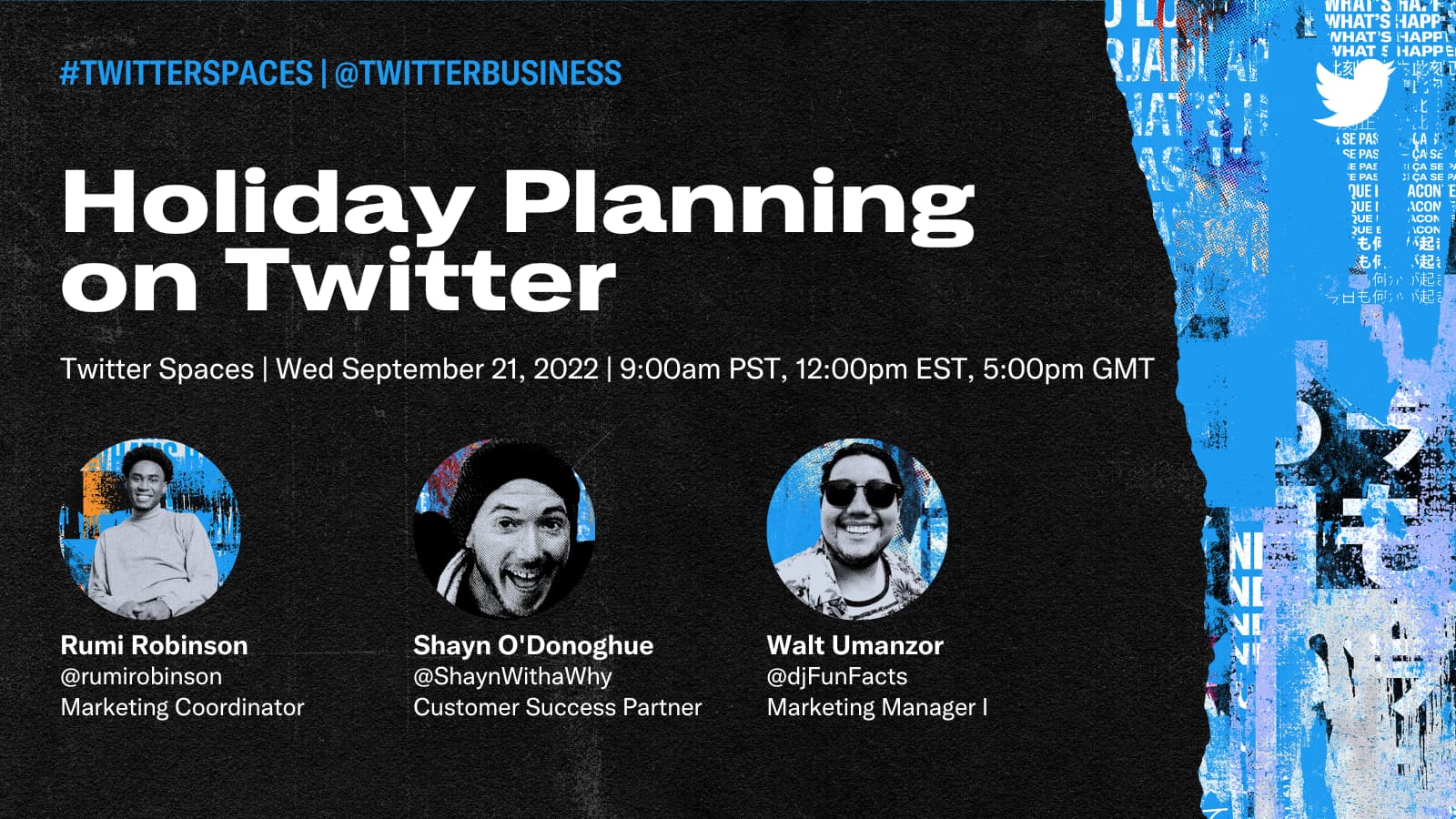 'Tis the season... the holidays are just around the corner! Although the festive season is still a couple of months away, we wanted to share our best practices and advice for holiday planning on Twitter.
In this Twitter Space, Rumi Robinson chatted with Shayn O'Donoghue and Walt Umanzor about how to use Twitter for Black Friday, Christmas, New Years, and everything in between.

Speakers:
Host: Rumi Robinson (@rumirobinson), Marketing Coordinator
Guest Speaker: Shayn O'Donoghue (@ShaynWithaWhy), Customer Success Partner
Guest Speaker: Walt Umanzor (@djFunFacts), Marketing Manager I
You can listen to the audio recording of the Space below or read this blog for a recap of what was covered in the conversation.
Looking for campaign support? Check out the Twitter holiday hub and fill out our contact form to register your interest.
What's the value of planning ahead at this time of year?
The key is to start planning early – people are talking about holidays and the festive season earlier than ever before! In 2021, the holiday conversation in August was up 61% vs the previous year.1
You want to have your ads in front of your desired audience early so your content can stand out from the competition. You don't want to start planning your content when everyone else has started running theirs.
Ideally, you want your campaigns to be matured by the time the holidays come along. This will lead to better performance overall because the campaign's targeting is better auto-optimized. If needed, there is time for a retargeting opportunity as well.
What are some of your favorite holiday campaigns?
Shayn said he really liked the #WeBelieve Christmas campaign by Irish food retailer SuperValu (@SuperValuIRL). They treated shoppers around Ireland to a new seasonal ad, and to help them 'Share the Magic' with their nearest and 'dearest.' Throughout this campaign they used both a Trend Takeover and Timeline Takeover to spread the message on Twitter, in addition to live Tweeting.
Walt mentioned a holiday campaign by Holiday Inn. The company played with their brand name and asked people about their #GiftFace to promote their 20% off annual sale. They had a clear call-to-action for their audience to Tweet their facial reaction when given a gift, and many kids and families participated. They used Takeover Ads to get the word out about it on Twitter.
How can people utilize Twitter Shopping during this time?
Social shopping is exploding and that shift is real on Twitter. A recent Twitter survey revealed that 76% of people agree that conversations on Twitter result in a product purchase.2
With the launch of Twitter Shopping in the US, you can place your products in the conversation, leveraging your community and connections to drive sales. During our Twitter Space, Walt focused on Shop Spotlight, one of the four modules within Twitter Shopping. Shop Spotlight is a swipeable showcase of your top products.

Shop Spotlight is in a Carousel Ad format so people can swipe left and right. They can see the top products that you are interested in promoting. And the biggest thing is that when you select on those items, you will use Twitter's in browser feature, which means that they never leave Twitter!
What Twitter products can I use to make a bigger impact?
How early is too early to talk about Christmas?
You don't want to start planning your content when your competitors have already been running theirs. 
Based on stats, anytime before October, BUT it doesn't mean you can't start prepping now for when October starts so you don't fall behind.
How can you stand out from the pack when everyone is talking about the holidays?
Our main tip: Connect with what's happening and build cultural relevance.

Cultural relevance is huge, and the importance of it should not be underestimated. At Twitter we have done research and learned that "cultural relevance can account for 23% of the consumer decision-making process,"3 stated Shayn.
When it comes to standing out of the pack during this holiday season, Walt suggested focusing on the quality of your creative assets. "When it comes to standing out, the best thing you can do is focus on making sure that your creative is getting the point across and has clear branding," Walt added.
Do you have different campaign strategy recommendations per holiday?
Walt advised "if you have a smaller budget, I would say focus on the one holiday that has the biggest impact for your business." 
This comes down to your brand, service, and/or industry. Know which ad product is optimized toward the goal you have per holiday.
If you want to drive sales, Website traffic and Twitter Shopping focus on getting people to your website to make a purchase. If you want to drive association to the holiday, focus on awareness products and Pre-Roll so you can connect with the same audience from your larger competitors.
How can I set up my campaigns for success with the added element of the World Cup this year?
With the help of Twitter's ad targeting features, you can identify the audience that you're trying to reach. Yes, the World Cup will be happening in Q4, but there's going to be a lot of people who are talking about the festive season at the same time. Shayn advsied, "we can make sure we are serving to the right audience and only that audience."
Source: Internal Twitter Data (8/1/20 - 1/4/21) and (8/1/21 - 1/4/22). Data retrieved May 2022. US only.
Twitter Shopper Behavior Survey, Sept. 2021. Agree/Somewhat Agree with the statement: "Conversations about products on Twitter result in my purchasing a product."
Source: MAGNA & Twitter "The Impact of Culture" research, commissioned by Twitter 2019, US/CA/BR/UK
Get festive and start campaign planning