See how to Tweet about gift giving holidays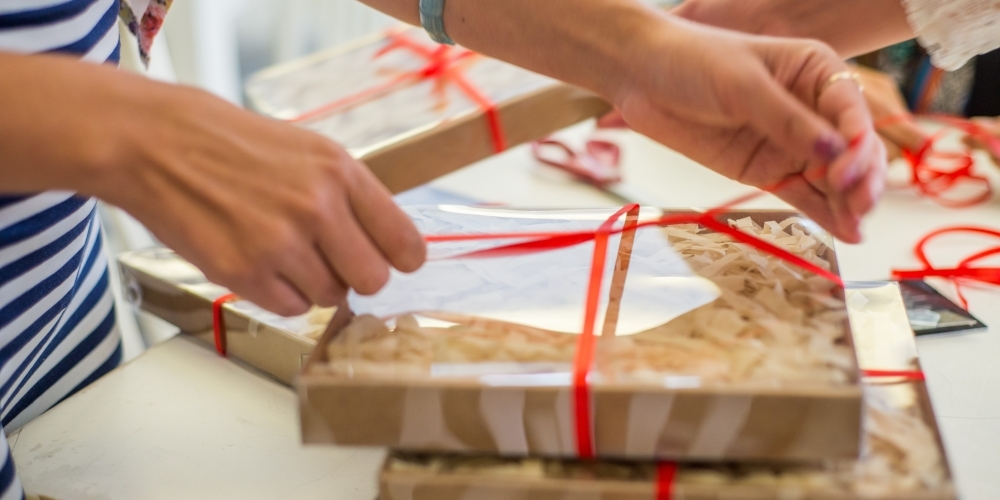 It's called "The Season of Giving" for a reason. In winter, there's a merry boost in charitable donations, friendly gathering, and present sharing.
See our examples for how to use this spirit of the season to connect customers to your most gift-able products. 
Focus on the presents
With gifts, it's not just about finding the right thing. People have to find the right thing, with-in the right time frame, and deliver it to their intended. Stand out by making the logistics of gift-giving easier for your customers. Consider offering rush or free shipping. Offer gift wrapping, or let customers know exactly when items can be delivered. Create copy that empathizes with the rush your customers are in.
Last year, @SocialPS  Tweeted reminders for the last days international and US customers could buy something from them and receive it by Christmas. This also creates a sense of urgency that may encourage impulse buyers who don't want to miss out.

@BritandCo offers their followers free, printable wrapping paper — a generous resource at just the right time.
A lot of people are simply wondering what to get those on their list. Tweet gift ideas for what folks can buy their aunt, coworkers, nephew, neighbors, or local congresswoman. If you offer a niche product, show of your specificity to find your desired audience or people who are buying for them.
@GF_Centre uses health food hashtags to get on the good list with gluten free people and vegans.
Add presents, wrapping paper, ribbon, or stockings to your marketing materials to show that you sell gift-able products. The biggest gift giving holidays of the season are religious. If you want to market during the season but want to avoid ideological comment then skip greens, red, and blues, for gold and silver, or an entirely different palette, like your company colors. Gold and silver are also the colors of New Year's Eve, so you can get some extra mileage out of them. 
Hanukkah
Tweet an update each night of your steadily brighter menorah. Remind your followers about the significance of candle each as it is lit. Share a tips for how to cut down on latke or sufganiyot grease splatters. Show off any the menorahs or dreidels your store offers. Add blue, white, and the Star of David to your marketing. Broadcast a tour of your office's seasonal decor. Tweet old pictures of your employees enjoying Hanukkah as children. If your business offers solutions for decorating, hosting, storage, home repair, cooking, or travel — highlight those products with specific pitches.

@pickettspress adds blue and white to their materials to hint at Hanukkah.
Christmas
Periscope the lighting of your tree. Tweet a playlist of the Christmas music that's jingling in your store. Take an advent calendar approach and share a new, countdown GIF everyday. Add Christmas tree ornaments, lights, red, green, santa, and elves to your website or Twitter profile. If you're a baking supply company, share cookie recipes that require your tools. If you're a HVAC company, Tweet tips for how to save on energy costs when your house is brimming with merry guests. Just like Hanukkah, if your business offers solutions for decorating, hosting, storage, home repair, cooking, or travel — highlight those products with specific pitches.

Real estate company @FLACG1 shares their holiday travel tips.
@CraftInvaders shows off their Christmas decor.
Try out these tips by creating Twitter Ads of your own. Create a campaign today.
Ready to advertise on Twitter?