Getting started on Twitter: A 101 guide for brands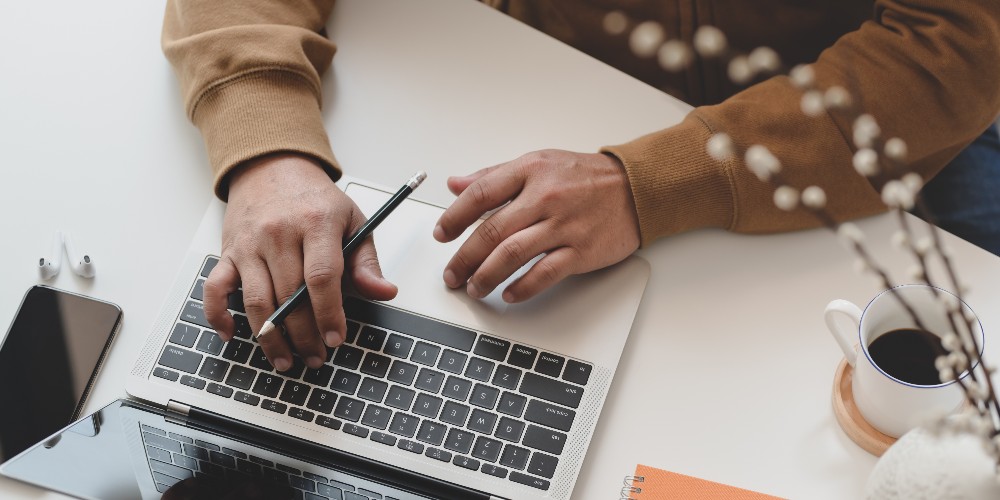 If you're looking to create a professional Twitter account for your business or organization, you've come to the right place.
Twitter is the perfect platform to make a great first impression on potential customers and clients. It's also a network where you can generate brand awareness and develop customer loyalty with millions of people around the world.
The best part is that getting started on Twitter is easy. Read on to learn how brands can create a professional Twitter profile, along with pro tips on using Twitter organically for your brand.
Set up your profile
Creating a Twitter account for your business is the first step, which includes a profile photo and header photo, display name and account @name, your bio, and your pinned Tweet. 
Profile photo and header photo: Choose a profile photo that represents your brand, typically your logo. The profile photo doesn't just appear on your profile — it's the icon associated with every Tweet you post. The recommended dimensions are 400x400 pixels.

Think of your Twitter header photo as the landing page visual that audiences will remember when they leave. Ensure this photo is highly visual and eye-catching. It can be a branded image, a new product launch or campaign, or even a photo of your employees. Recommended dimensions are 1500x500 pixels.

Check out @alexmillny, for example: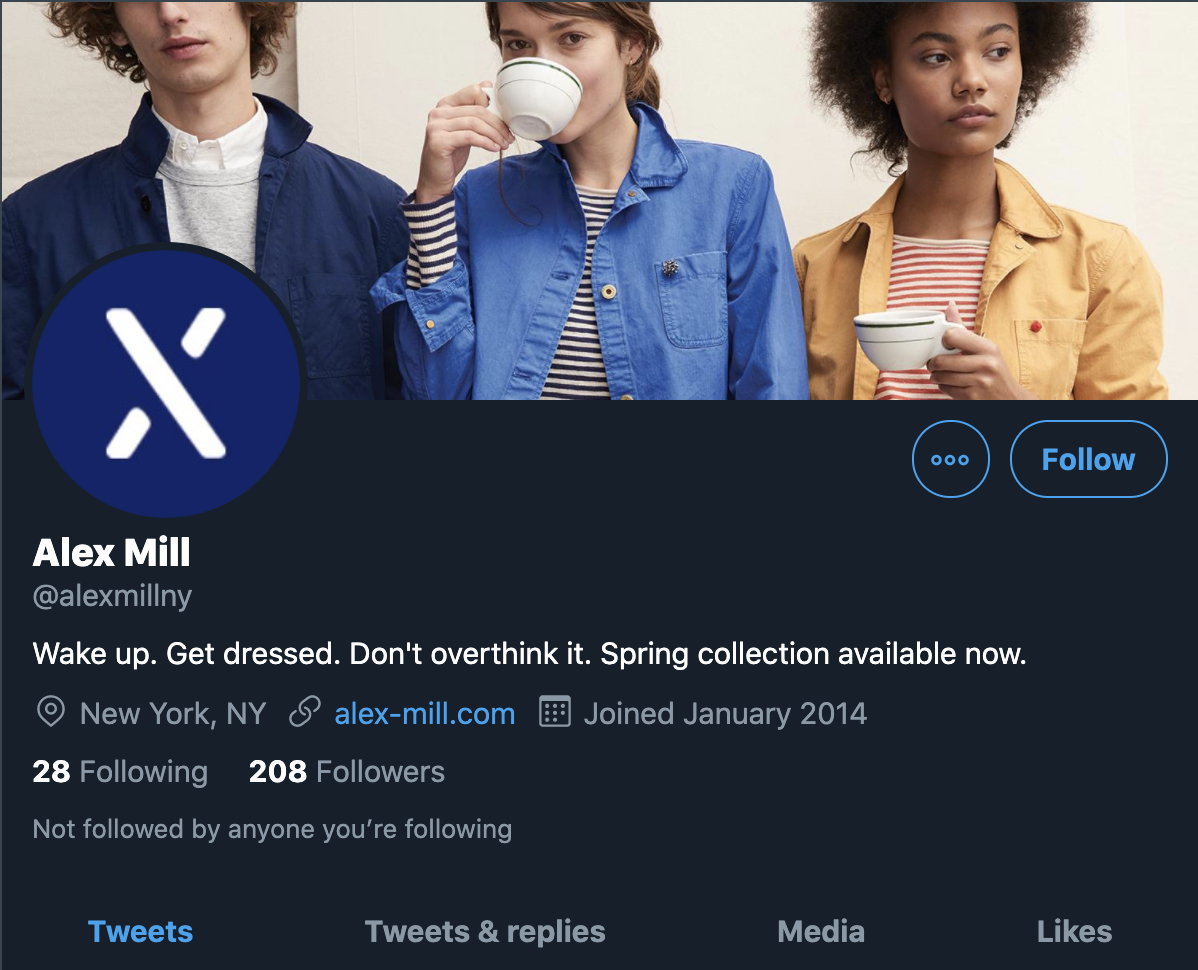 Display name and account @name: Your brand's Twitter account @name is unique to your brand, appears in your profile URL, and is tied to everything you do on Twitter and Twitter-related content. The Twitter account @name may contain up to 15 characters and should be creatively tied to your business.

Your display name appears right above your @name and can be changed at any time. A best practice is to have this be the name of your brand or business, but you can also change it temporarily to promote a campaign or special cause. The Twitter display name may contain up to 50 characters.
Brand bio: Your bio is your brand's opportunity to explain what your business does and what you're all about in 160 characters or less. This is the perfect chance to craft your value proposition and entice audiences to either read more or click on your profile URL.

Be sure to add a direct link to your website, such as your "About" page, and include a unique link or Google UTM to track visitors to your website from Twitter. Then, add your location, even if your presence is purely online. Finally, if you have a brick-and-mortar store, include your current hours so that audiences have everything they need to find you.
Pinned Tweet: Your pinned Tweet is the content that you want visitors to your website to see most. This should be your best current piece of content that represents your brand.

The pinned Tweet is what audiences will focus on first and foremost. It's completely alright if you have the same pinned Tweet for several months in a row, but you should rotate the content periodically in order to maximize engagement with returning visitors to your profile.
Create organic content on Twitter
Creating a steady stream of engaging organic content on Twitter is no easy task, but it's completely within reach for brands and businesses of all sizes. The most successful brands on Twitter have a strategy, including implementing the following tactics.
Creating rich visual content: Creative images, GIFs, and videos can help dramatically improve Twitter results. For example, beauty brand @lumin_skin uses video content to encourage their audience to interact with them on social media.
Engaging with the community: Consider your own social media experience. Audiences are much more likely to promote and engage with brands that actively interact on Twitter. Even if it means taking care of your customers when they provide negative feedback about their experience, such as this example from @HubSpotSupport.
Tapping into your existing customer base. Upload your email contacts and let your customers know you're ready to have a conversation by following them on Twitter.
Capitalizing on trending topics: Discover keywords and hashtags on Twitter's "Explore" tab that relates to your brand, industry, or audience — and create content around them. Home decor brand @Ruggable consistently creates content around major holidays and product launches.
Curating Retweets: Retweeting relevant content is a great way to keep your Twitter profile full of engaging content. Bonus points if you Retweet content from your happy customers. Makeup brand gear company @UomaBeauty is constantly showcasing the artistry of their most engaged audience members.
When it comes to the actual Tweet itself, here are a few more quick tips you can implement in all of your organic Twitter content:
Keep your message concise and clear

Limit hashtags to one or two per Tweet

Avoid writing copy in all-caps

Keep a conversational tone, even if the content is serious

For example, @DiffAgency used #CanadaDay to share a little bit about their organization while also tapping into a trending hashtag.
Planning and scheduling your Twitter content
Tweeting consistently is one of the key reasons why brands find success on Twitter. It's important to have a regular cadence of content that your audience engages with. One easy way to publish consistently great content is to create a simple content calendar.
Avoid missing any key Twitter opportunities by looking ahead to see what events you want to engage with. The extra time will allow you to focus on quality, get any necessary approvals, and avoid last-minute content creation.
Good content planning includes:
Using a content calendar to plan ahead

Creating Tweets ahead of big events, campaigns, and promotions

Scheduling Tweets to help with coverage
Developing a brand voice and tone
Twitter is the best place to be brave and let your personality shine through for audiences and businesses alike. But many brands stick to the same content and the same brand voice on Twitter that they've always done. 
Ask yourself:
Do your Tweets read like they come from your brand?

Or, are they a somewhat disjointed collection of communications, reflecting the tone of various authors?

Would you engage with your own brand's Tweets?
Test your creativity and take your Twitter content to the next level by taking risks and being bold. Pretend as though you are texting or chatting with a close friend or family member. Experiment with a more conversational tone, and you'll likely see better organic results.
For more tips on getting started on Twitter:
Ready to advertise on Twitter?