Insights
There's Gen Z. Then there's Gen Z on Twitter.

And they're bringing something to the experience that no other generation can bring.
Gen Z spends time on a variety of social media platforms, but their voices on Twitter are loud, proud, unfiltered, and totally genuine. That's why Twitter's also one of the most valuable places for brands to connect with them.
Gen Z is driving the most popular conversations on Twitter
Gen Z comes to Twitter to learn about everything happening in the world around them – from news, to pop culture, to Internet trends – and to connect with the communities and interest groups that matter to them. In fact, Gen Z is especially leaned in on Twitter; nearly half of all Tweets sent over the course of the year in the US came from Twitter users aged 16 to 24.1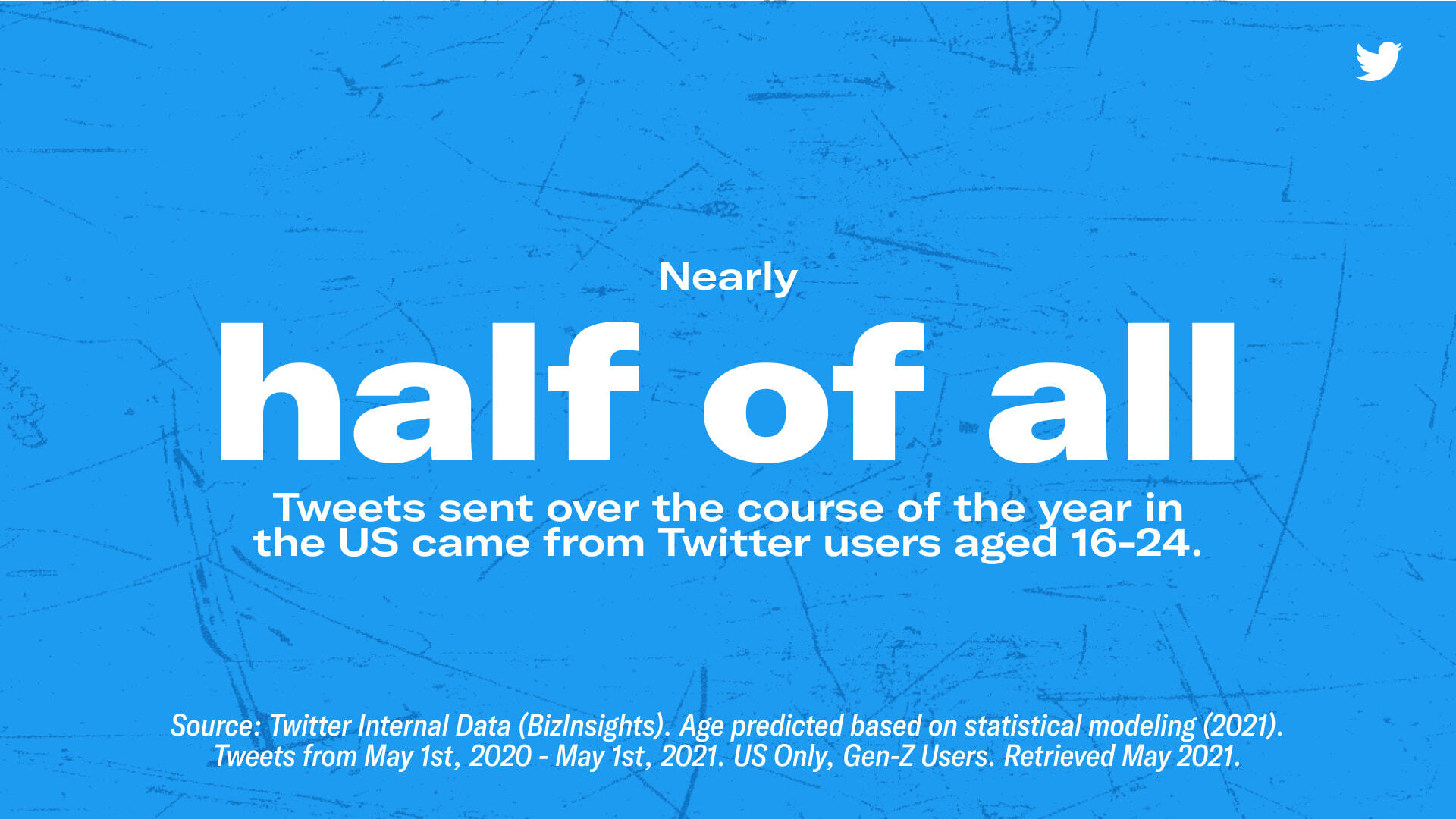 They've become so influential that when we look across some of the most popular conversation topics on Twitter – from movies, to gaming, to food, and more – we find that Gen Z is actually the majority driver of those conversations.2 They're the ones starting the trends and keeping the memes flowing.
Gen Z is clearly making waves on Twitter, and their influence on the platform is something brands can be tapping into.
For Gen Z, brands are a natural extension of their Twitter experience
We all know Gen Z loves social media. But while they may use other platforms for things like escapism and entertainment, they come to Twitter to engage with the world around them, including brands.
In a recent Twitter survey, 70% of Gen Z respondents said that they use Twitter to learn about new product drops.3  And they're not just coming to observe. The vast majority of Gen Z we surveyed say they come to Twitter to share their opinions about the products and services they see.4

Just as important, Twitter is where Gen Z comes to gauge whether brands are keeping up with the cultural and societal conversations happening around us, with many saying they use the platform to comment on how brands are connecting with social issues they care about.
According to our research, Gen Z's leaned-in, engaged mindset on the platform appears to translate into greater receptivity to advertising.5 What's more, a recent study commissioned by Twitter suggests that Gen Z may be more likely than other generations to engage with your campaign conversation.
Gen Z will join the conversation...if it's the right conversation
We've seen that when brands reach Gen Z with the right content, this generation explodes out of the gate to join the conversation. In a study of four major campaigns on Twitter, Gen Z Tweeted more than any other generation in three of the four campaigns.6 They were especially engaged when there was an element of the campaign they could riff on – something meme-worthy. In one campaign, in particular, Gen Z dominated engagement, sending half of all campaign-related Tweets.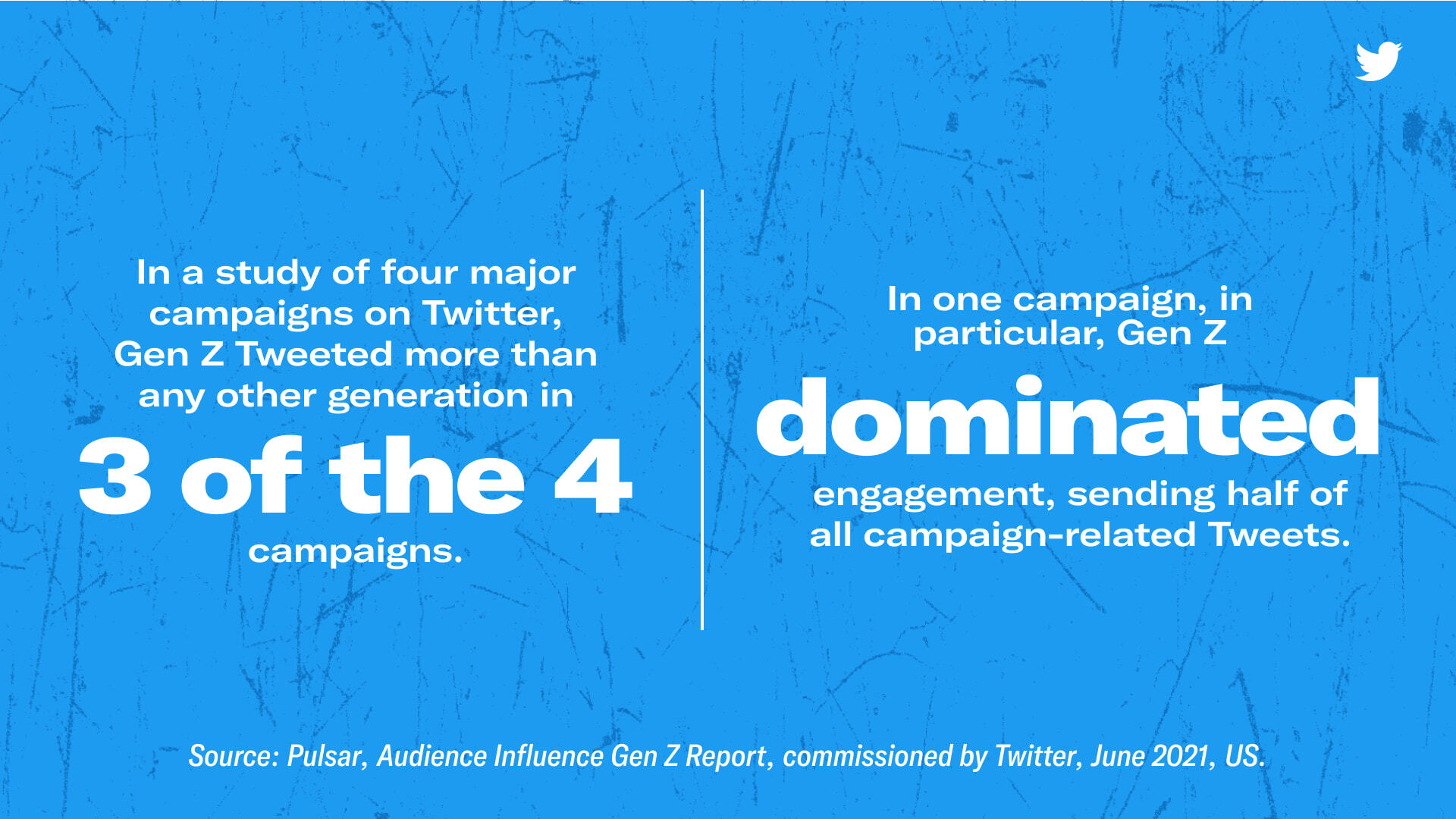 Here's how brands can connect with Gen Z on Twitter
Embrace the power of the meme. 
In a recent survey, we learned that 38% of Gen Z come to Twitter to see what the latest memes and viral internet trends are.8 And in our campaign research, we found that when Gen Z sustained conversation, it happened because they were connecting with a meme-worthy moment in the campaign conversation, or to what their peers were talking about organically. This creates an opportunity for brands to create content with high "reply-with-meme" potential to sustain the conversation. So meme responsibly.
Take over with takeovers. 
Our research showed that Gen Z is especially psyched to join campaign conversations from the get-go. So, capture this enthusiasm by going big at launch with Takeover (TKO) Products that fuel excitement. Whether it's through a Timeline Takeover that puts your brand at the top of the conversation as the first ad of the day, a Trend Takeover that aligns your brand with what's trending at the moment, or even a live activation, a Twitter study showed that, on average, campaigns that leverage a TKO increase conversation by almost 2x than campaigns that do not.9
Stay committed to the conversation. 
Gen Z is savvy when it comes to brand engagement, and they'll instantly recognize when you're being a fair weather brand. So, don't disappear on them. Sustain the conversation and connect with them whenever the opportunity calls for it. Twitter Amplify is one way to do that by delivering relevant content to them across their multitude of interests including sports, gaming, movies, music, or whatever's happening right now.
Book some talent.
Talent is a great way to inspire conversation with Gen Z.10 And, as a brand, it's time to leverage that. Using influencers for a campaign launch can get fans paying attention to your brand and, through association, establish trust and familiarity. In the case of tech company Alienware, they connected with a new generation of gamers by enlisting two NBA and WNBA stars, who were also gamers themselves, to interact with Twitter's premium gaming audience via livestreams.
With these strategies in mind, now is the time for brands to be engaging Gen Z on Twitter. Because there's clearly something special about them when they're on the platform. On Twitter, Gen Z is a big, influential presence, and their openness to brands is translating to greater receptivity and continuing the conversations that you start.
Rob Pietsch (@rjpietsch) is Managing Director for the Tech, Telco, and Automotive verticals at Twitter. In his role, he is dedicated to building lasting partnerships and generating revenue across sectors ranging from gaming to consumer technology to automobiles. Rob is a graduate of California Polytechnic University in San Luis Obispo, California. He sits on the Board of Directors of My Red Shoes, a non-profit organization that helps Bay Area homeless children put their best foot forward at school. Robert lives in San Carlos, CA with his wife, Heather, and their two daughters.

Sources
1 Twitter Internal Data (BizInsights). Age predicted based on statistical modeling (2021). Tweets from May 1st, 2020 - May 1st, 2021. US Only, Gen-Z Users. Retrieved May 2021.
2 Twitter Internal Data (BizInsights). Age predicted based on statistical modeling (2021). Tweets from May 1st, 2020 - May 1st, 2021. US Only, Gen-Z Users. Retrieved May 2021.
3 Bovitz, Conversation as a Superpower Study, commissioned by Twitter, 2021, US
4 Bovitz, Conversation as a Superpower Study, commissioned by Twitter, 2021, US
5 Twitter Internal Data references US Brand Effect norms among the Gen Z audience. Data indicates that The Gen Z audience is particularly receptive among Pre-Roll viewers, where on average, they generate a +5 ppt lift in Message Association (compared to +2.5 ppt lift across all of Twitter) and a +6 ppt lift in Brand Awareness (compared to +4.4 ppt lift across all of Twitter).
6 Pulsar, Audience Influence Gen Z Report, commissioned by Twitter, June 2021, US
7  Twitter Internal Data, April 2020 - April 2021, Global (US/UK/BR/JP/MX/TH) Campaign duration ( <1 week N = 61, 1-4 weeks N = 30, 4-8 weeks N = 25, 8+ weeks N = 9) The comparison references the % efficiency increase for Base CPM vs. Effective CPM. Base CPM - (the Campaign Spend/Paid Impressions) * 1000.
8 sparks & honey, GWI, Twitter Internal, 2021
9 Twitter Internal Data, April 2020 - April 2021, Global (US/UK/BR/JP/MX/TH) (TKO N = 89, Non TKO N = 36)
10. Twitter Internal Data (BizInsights). Age predicted based on statistical modeling (2021). Tweets from May 1st, 2020 - May 1st, 2021. US Only, Gen-Z Users. "54% of the celebrities conversation on Twitter in the US is driven by Gen Z"