Frequency Caps: Updates on how to make the most of your Twitter Ads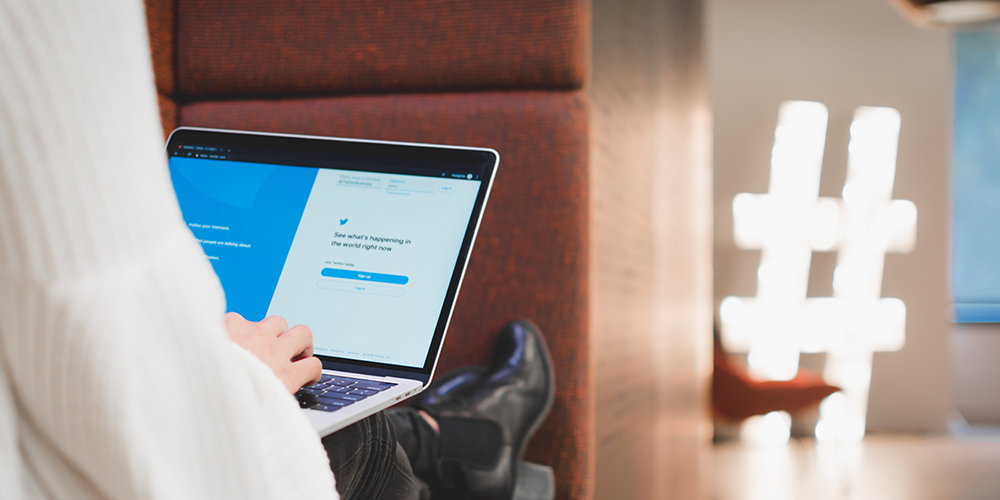 Marketers know one key component of campaign success is effective audience reach. That's why we are introducing frequency caps for ads on Twitter globally. Whether it's brand lift or offline sales impact, frequency caps allow advertisers to optimize campaigns to deliver efficient business outcomes through better control over impression delivery & audience reach over extended periods of time. 
Starting today, frequency caps will be available within ad group details for our Reach, Engagement, Video Views, and Pre-Roll Views objectives by default.  

Why it matters: 
Maximize audience reach: Frequency caps allow you to maximize reach by redistributing impressions to new users

Confidence in ad delivery: Frequency caps allow you to control how many times a person sees your ad throughout the duration of your campaigns

Enhanced campaign outcomes: Frequency caps give you more control over your media delivery so you can further optimize for the outcomes that matter most 
"We've been leveraging frequency caps on Twitter across our portfolio of brands. This functionality has helped us optimize for ROI by improving campaign performance and decreasing costs. We're constantly looking at new ways to prove the value of our media plans and frequency caps have been a great asset to have in our media strategy on the platform."
— Ray Amati, Media Director, Mars Wrigley US
To help our customers achieve outcomes at scale on Twitter, we researched optimal frequency settings & campaign duration, starting with Ad Recall, Brand Awareness & Campaign Awareness.
Findings1
Optimal Frequency 
Weekly frequency of exposure has an effect on driving upper-funnel brand metrics. From our research, we found that up to 80% of the overall potential impact on Ad Recall and Brand Awareness occurs within the first 2 exposures per week of a campaign.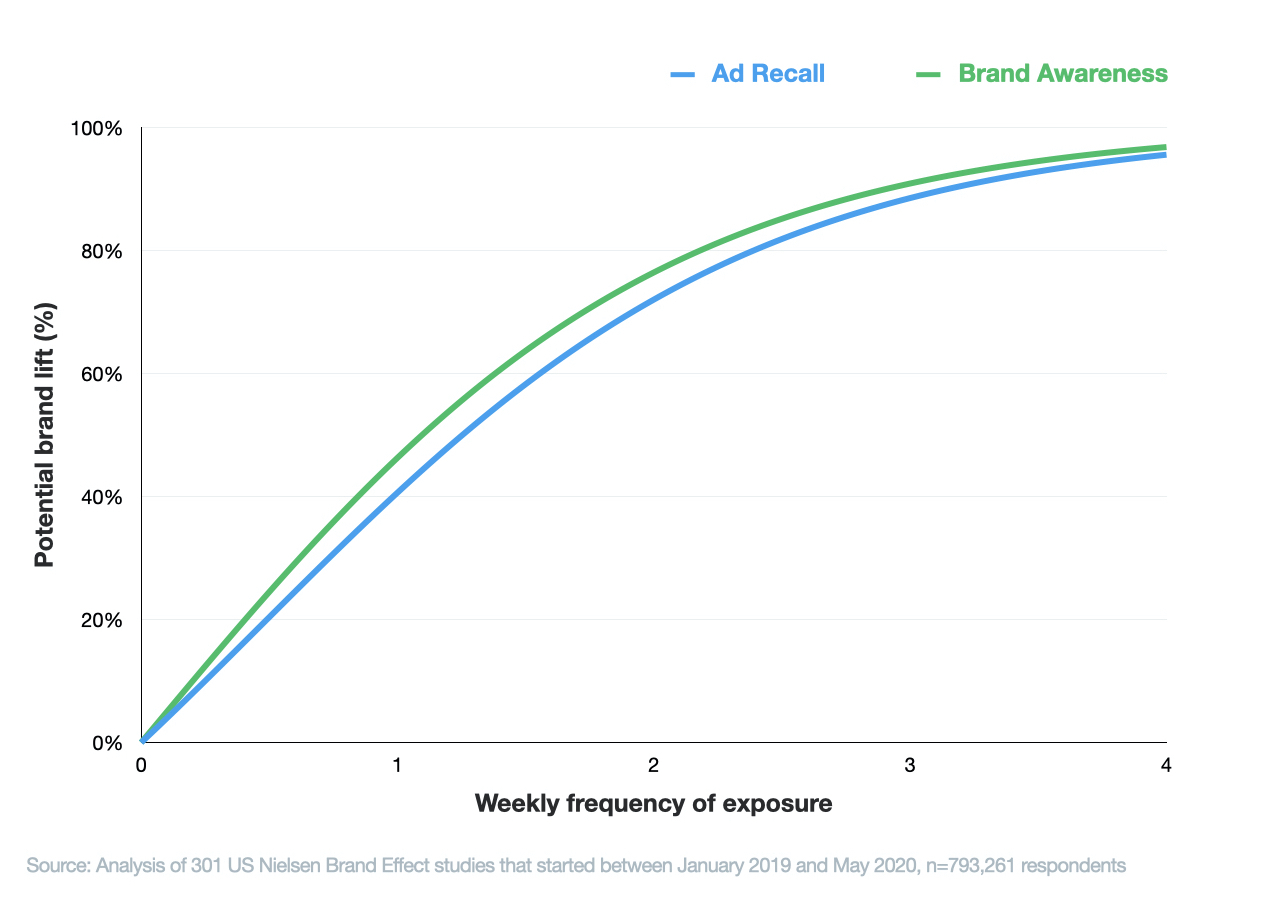 As we move down the funnel, a slightly higher frequency is needed to drive lift. This relationship can be seen in our analysis of Campaign Awareness, whereby more exposures per week are needed to achieve 80% of the overall potential impact.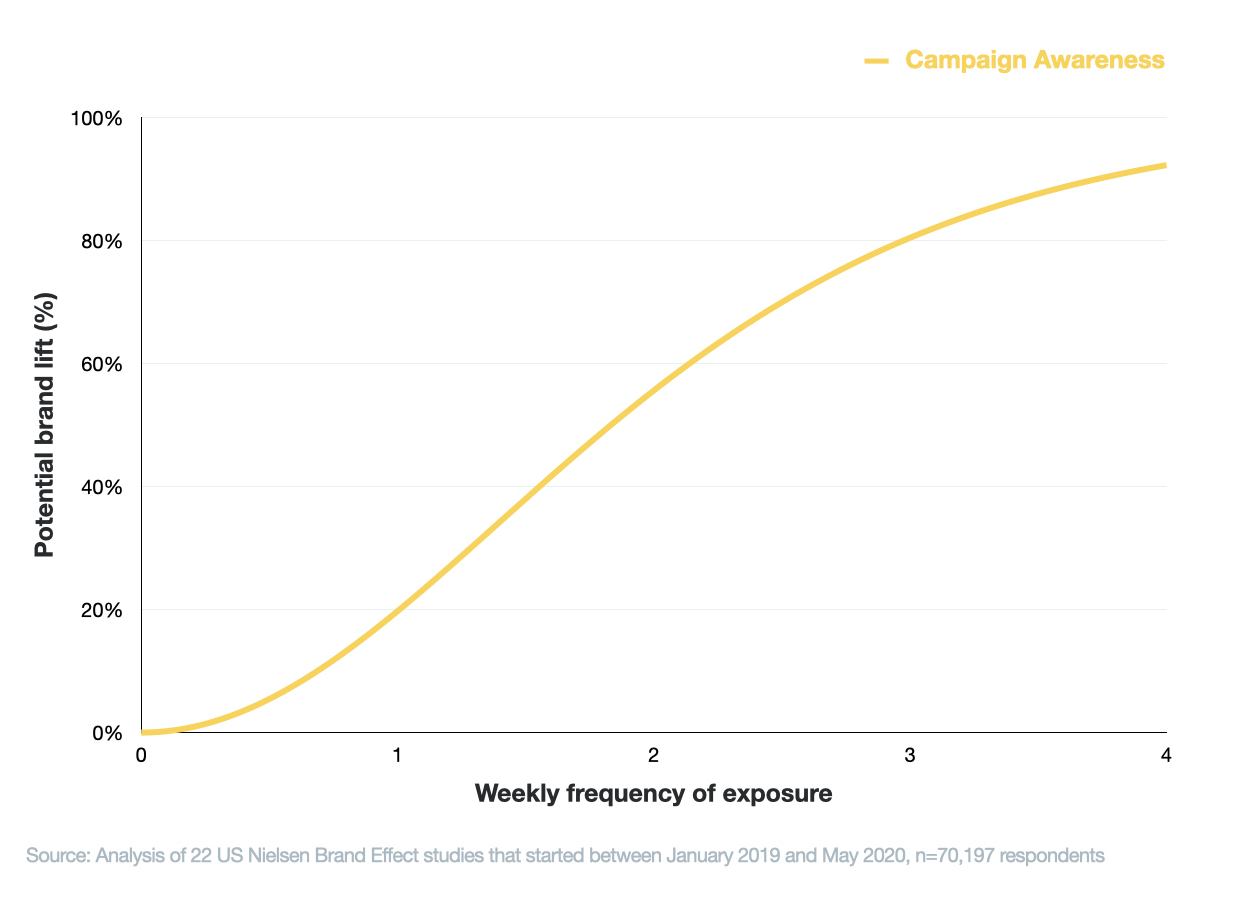 While further value can be attained with increased weekly frequency, the impact of each added weekly exposure diminishes relative to the first impressions. With a fixed campaign budget, increasing the weekly frequency of exposure has a trade-off on the size of the audience reach. 
Optimal Campaign Length

The length of the Twitter ad campaign is important in driving upper-funnel brand metrics, whereby campaigns with a duration of between 4 and 12 weeks see higher lifts in Recall (+5%), Brand Awareness (+18%), and Campaign Awareness (+14%) than those with flights under 4 weeks at 4 exposures per week.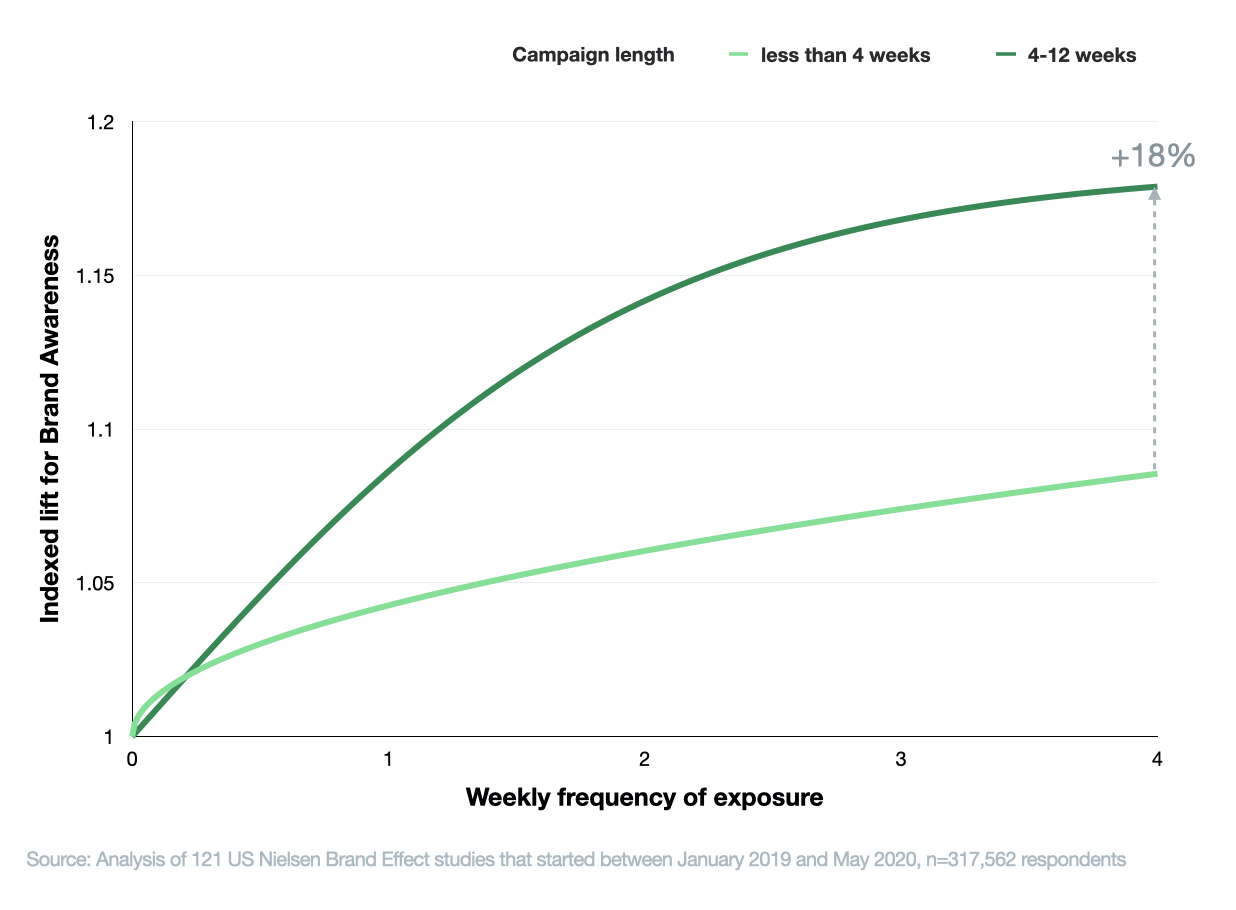 Introducing tools such as Frequency Caps are just one of the many ways we're working to scale the impact of your campaigns. For more information on Frequency Caps, please contact your Twitter Client Partner. 
Methodology1
Meta-analysis of all 301 Nielsen Brand Effect studies of US Twitter ad campaigns that started between January 2019 and May 2020. The relationship between exposure frequency and its impact on driving upper-funnel Brand Metrics was estimated through multi-level (individual and study level) random-effects logistic regression. All considered models, which included a variety of functional forms and confounding variables, were built on a training subset of the overall sample. The most parsimonious model with the highest performance in the testing phase was then selected to represent this relationship.    
Nielsen Brand Effect for Twitter measures the impact of Twitter ad campaigns on brand metrics including Ad Recall, Brand Awareness, and Campaign Awareness. This is done through survey responses from "control" and "exposed" groups across multiple devices, whereby the control responses are collected from a randomized holdback group that matches the targeting criteria of the exposed group.
Acknowledgments

Thank you to Dr. Maria Holcekova, Data Scientist on our Marketing Insights & Analytics team, for her contributions to this research and the writing of this blog post. 
Ready to advertise on Twitter?