Insights
The Beat: 5 financial trends that are worth taking stock of

Here's one tip — invest some time reading our data-backed Twitter trends to get ready for 2022. 
Over the course of the last year, a lot has happened to the financial landscape. People upsized from city rentals to homes in the suburbs. Some started new jobs. Some had kids. Some started new jobs and had kids. Many spent money on retail therapy, while others saved money and sought out real therapy.
One thing was for certain: Our relationship with money evolved in 2021. For brands, the way they reach out to these consumers should reflect these changes by evolving, too. 
The finance conversation on Twitter is massive — in fact, it's the fastest growing conversation topic on the platform, based on new research.1  Considering the wealth of insight available, we searched for a deeper understanding on how the pandemic has impacted the financial outlook of everyday people by asking 657 individuals who use Twitter versus 506 who don't. 2   Through their unfiltered responses, we were able to refine their answers into five major trends for brands to be aware of in the coming year. 
Here's what people are talking about on Twitter when it comes to finances.
People on Twitter are driving the digital-first revolution 
Who wants to do things IRL when you can do it digitally? Among the total population surveyed, there's a real propensity for digital-first tools and specifically, digital-first banks. This is being driven by the younger generation on Twitter who rely on their smartphones for every facet of their lives, whether it's dating, shopping, or ordering food. 
And as this dependency essentially grows, so does their need to get even more things done on their devices — like their finances. Our survey tells us that the people on Twitter were 27% more likely to consider a digital-first bank in the next half year than the non-users, and 71% of the group considering a digital bank still haven't committed to one.3  Brands should make this opportunity their business, particularly connecting with the digital savvy Gen Z. 
Life pressed on during the pandemic
Even though it felt anything but normal, we did our best to maintain a semblance of normalcy this year. Through perseverance, people on Twitter are bouncing back by feeling stable enough to spend more or by making financial decisions that impact their futures, like buying their first home. 
Just because big life moments have passed, doesn't mean financial services have missed their window of opportunity. Our research tells us that people on Twitter are more receptive to evaluating their providers versus non-users. Among those who responded to the survey, 47% more people on Twitter said they've spent more in the last six months than non-users. Additionally, 75% of Twitter users were more likely to change banks, 57% were more likely to change auto insurance, and 50% were more likely to change mortgage lenders than non-users.4
These are decisions we make when we're feeling better about what's coming … so here's to a brighter future.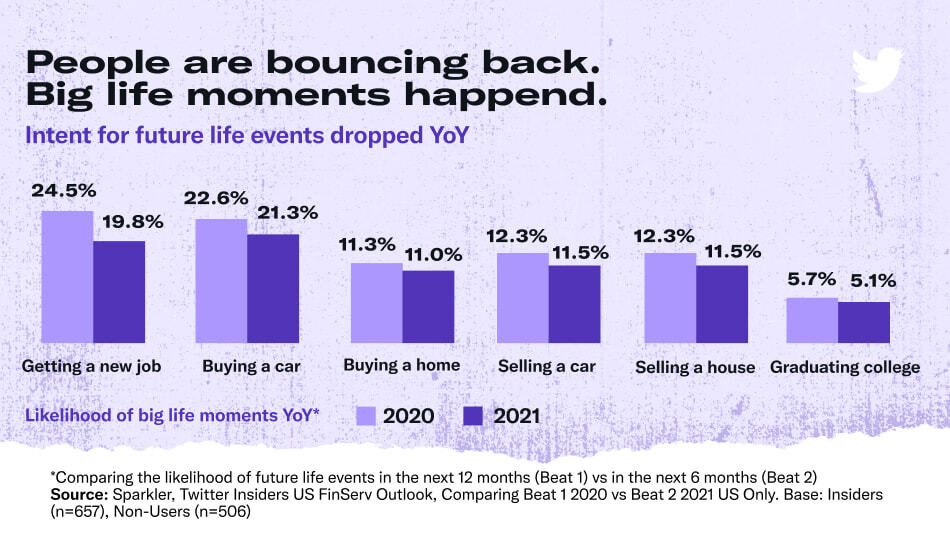 The pandemic affected women's finances disproportionately
The last six months in particular have posed a tough financial time for women, with 28% of those included in this study more likely to admit that they were hurt financially because of the pandemic and that they were 32% more likely to dip into their savings than men.5
The good news is that women aged 18 to 34 on Twitter are showing signs of a faster recovery, are more optimistic about their financial futures, and are 3.1x more likely to expect their income to increase in the next six months compared to women over 45.6  Brands need to do their part in empowering women and providing them with the necessary resources and tools they need to find financial security. 
Gen Z puts their finances first
They may be at the end of the alphabet, but when it comes to educating themselves on financial trends, Gen Z is getting straight A's. Based on our research, we're seeing a money-minded, financially-literate generation that's on the lookout for investment opportunities. 
Like cryptocurrency, for example, with Gen Z on Twitter 1.6x more likely than Gen Z non-users to consider investing in the new currency.7  Because of this digital and financial savviness, brands should take Gen Z seriously as the investors of tomorrow. Just make sure not to refer to your investment tips as "lit."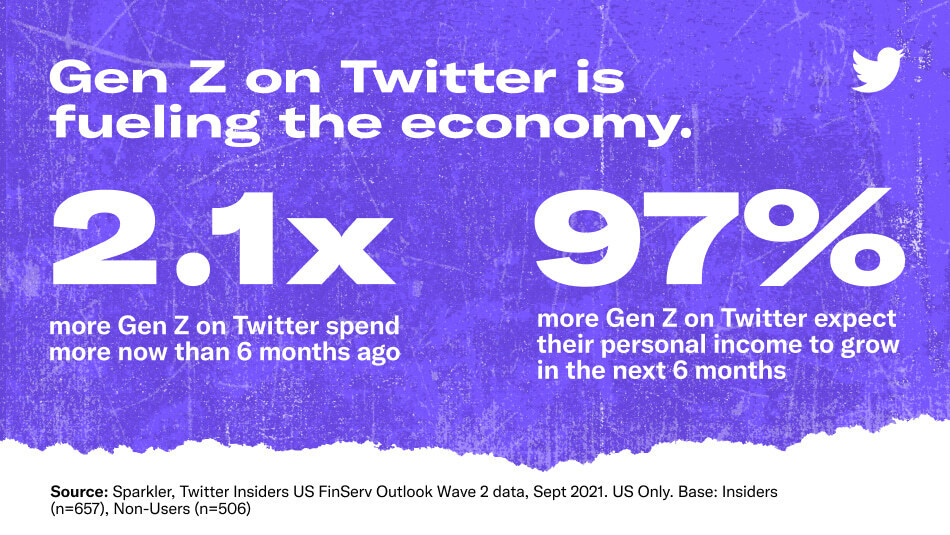 The crypto craze booms amid the pandemic
It's hard enough to navigate the already well established stock market. It's quite another feat to figure out your dogecoin from your bitcoin. Based on our research, we're witnessing an upswell of passionate crypto-enthusiasts with people on Twitter 3.2x more likely to consider investing in crypto than those not on Twitter.8
Now's the time for brands to lean in and recommend ways for breaking into crypto investing. In fact, people on Twitter are also 3.3x more likely to engage with branded content around crypto-centric financial advice than non-users which makes this a natural entry point for organic engagement.9
People are evolving. Brands need to evolve, too
The pandemic forced many of us to think hard on our relationship with money. And for many, this recontextualization was a good thing. Because of this, the landscape has changed and some new trends have emerged along with it. Brands should keep this in mind when reaching out and making a connection with these evolved consumers.
And those things to consider? When engaging people on Twitter, employ more sophisticated language, highlight digital-first capabilities, and shift focus from big life moments to everyday investing. Most importantly, sometimes a brand needs to listen first and respond to the needs expressed in order to evolve. It's been an unpredictable two years, but we're beginning to bounce back. Be the brand that ushers in that recovery. 
Jeff Melei (@jmelei) leads Financial Services partnerships at Twitter in the US. In his role Jeff and his team help Fortune 500 companies achieve their business objectives by utilizing Twitter's suite of full-funnel marketing solutions.
Sources
1  Twitter Internal. Global Data. Comparing tweet volume from January 1, 2020 - December 1, 2020 
2 Sparkler, Twitter Insiders US FinServ Outlook Wave 2 data, Sept 2021. US Only. Base: Insiders (n=657), Non-Users (n=506), wave 1: Surveyed 693 people who used Twitter, 504 who did not, October 23 to November 2, 2020. Wave 2: Surveyed 657 people who used Twitter, 506 who did not, September 8 to September 16, 2021
3 Sparkler, Twitter Insiders US FinServ Outlook Wave 2 data, Sept 2021. US Only. Base: Insiders (n=657), Non-Users (n=506)
4 Sparkler, Twitter Insiders US FinServ Outlook Wave 2 data, Sept 2021. US Only. Base: Insiders (n=657), Non-Users (n=506)
5 Twitter Insiders US FinServ Outlook Wave 2 data, Sept 2021. US Only. Base: Insiders (n=657), Non-Users (n=506)
6 Sparkler, Twitter Insiders US FinServ Outlook Wave 2 data, Sept 2021. US Only. Base: Insiders (n=657), Non-Users (n=506)
7 Sparkler, Twitter Insiders US FinServ Outlook Wave 2 data, Sept 2021. US Only. Base: Insiders (n=657), Non-Users (n=506)
8 Sparkler, Twitter Insiders US FinServ Outlook Wave 2 data, Sept 2021. US Only. Base: Insiders (n=657), Non-Users (n=506)
9 Sparkler, Twitter Insiders US FinServ Outlook Wave 2 data, Sept 2021. US Only. Base: Insiders (n=657), Non-Users (n=506)