Perspective
Experiences of Twitter are different for Everybody: here's what we found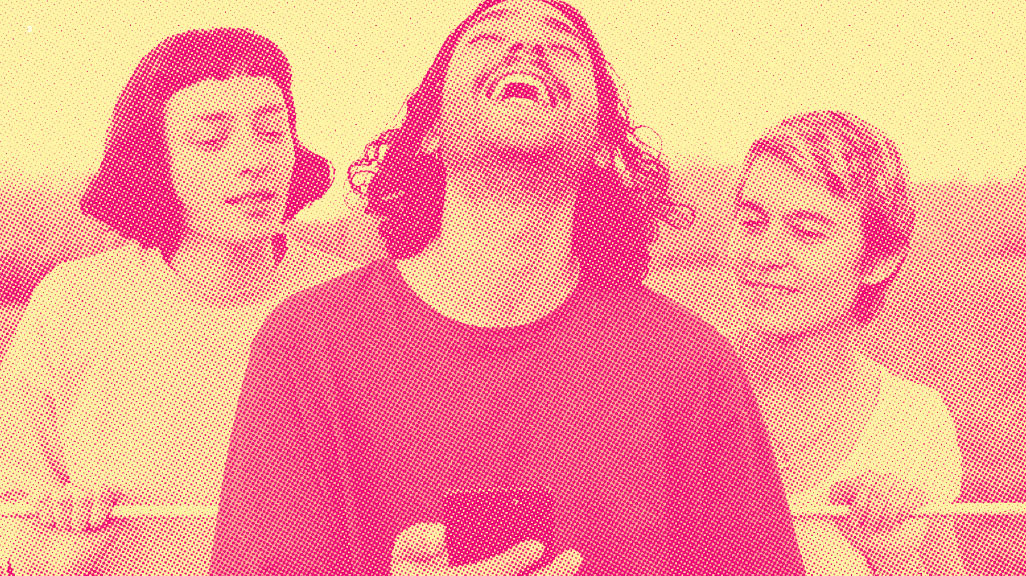 Twitter is… often misunderstood
We know that perceptions of Twitter are highly subjective and influenced by a range of factors. If you're on Twitter, then your experience will reflect the accounts you follow. For some people, this could be quite focussed and closely matched to their interests, such as only football or only gaming. 
Whether you're on Twitter or not (but particularly if you are not), then your perception is affected by what you hear elsewhere. This is typically focussed on news and politics.
So we wanted to take a step back and try to find a more objective and comprehensive understanding of what Twitter really is.
Twitter is… made up of different experiences. 
To do this, we conducted research that looked at the different Experiences that happen on Twitter.
Analysing Experiences is a new way of looking at Twitter. It goes beyond Tweets, interests, conversations, or engagement to try to understand how people experience their Twitter feeds. Essentially, Experiences are what you see, think, and feel when you go on Twitter.
We worked with research agency OI to identify the Experiences and looked at verbal and non-verbal communication or semiotic analysis. This helped in our aim of understanding its meaning beyond a literal interpretation.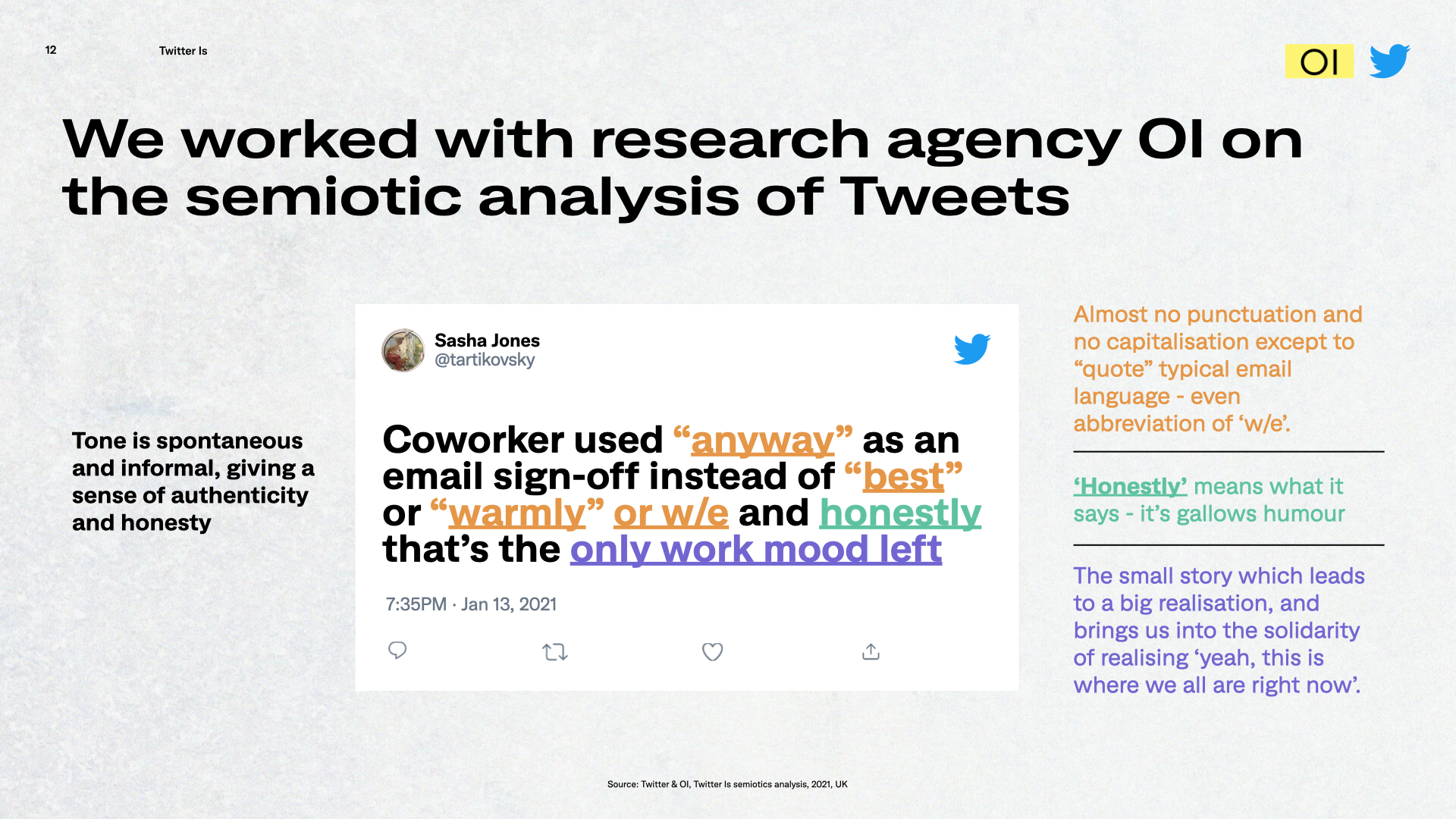 Once we had a list of Experiences, we wanted to stress test it against hard data. For this, we worked with an advanced analytics agency called Quilt.ai. It used machine learning to analyse and match hundreds of thousands of Tweets to the Experiences we had identified.
This allowed us to quantify, analyse, and compare the Experiences to each other.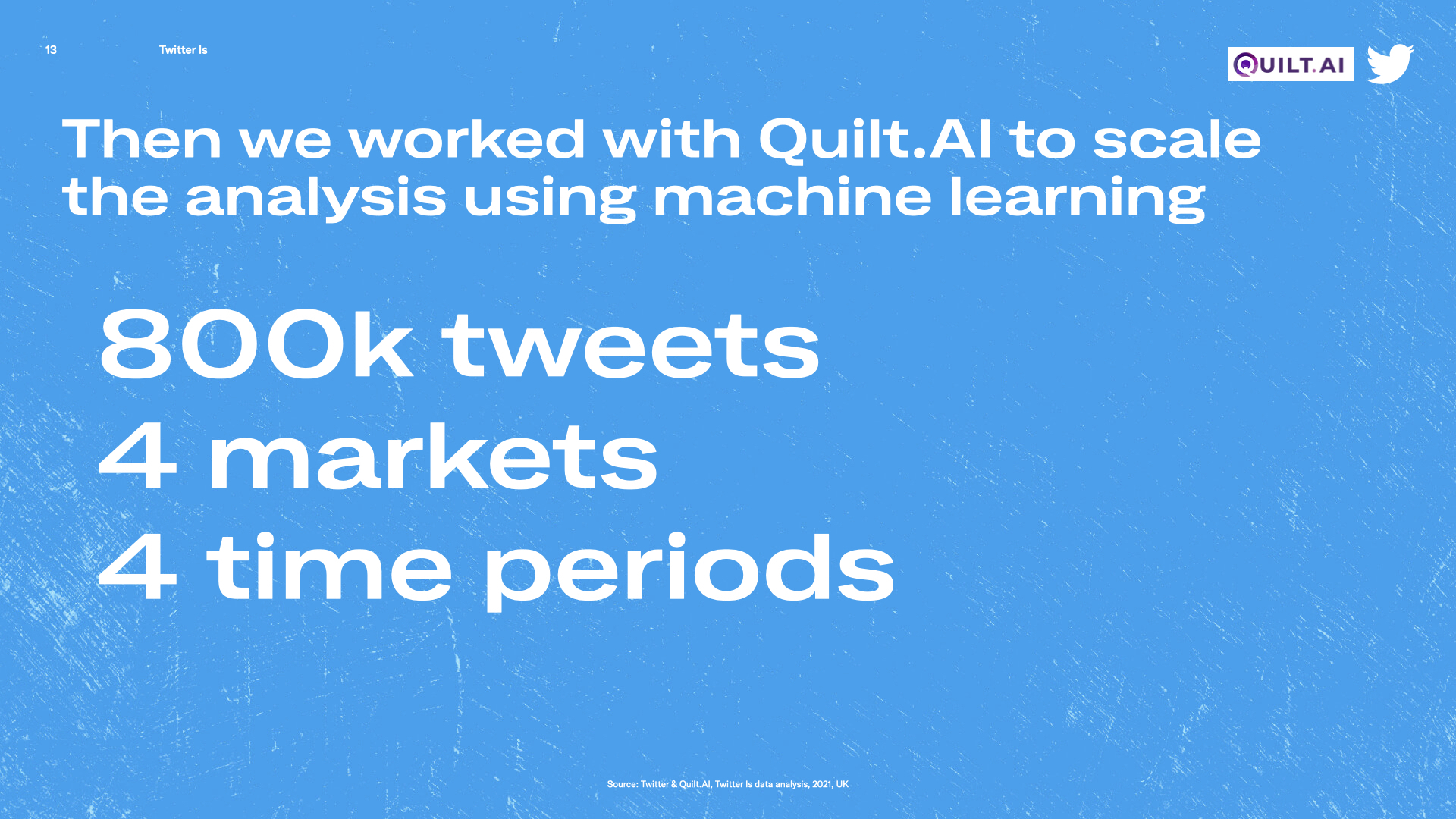 Twitter is… broad and nuanced. 
Our analysis uncovered 23 different Experiences on Twitter, which can be clustered into eight groups.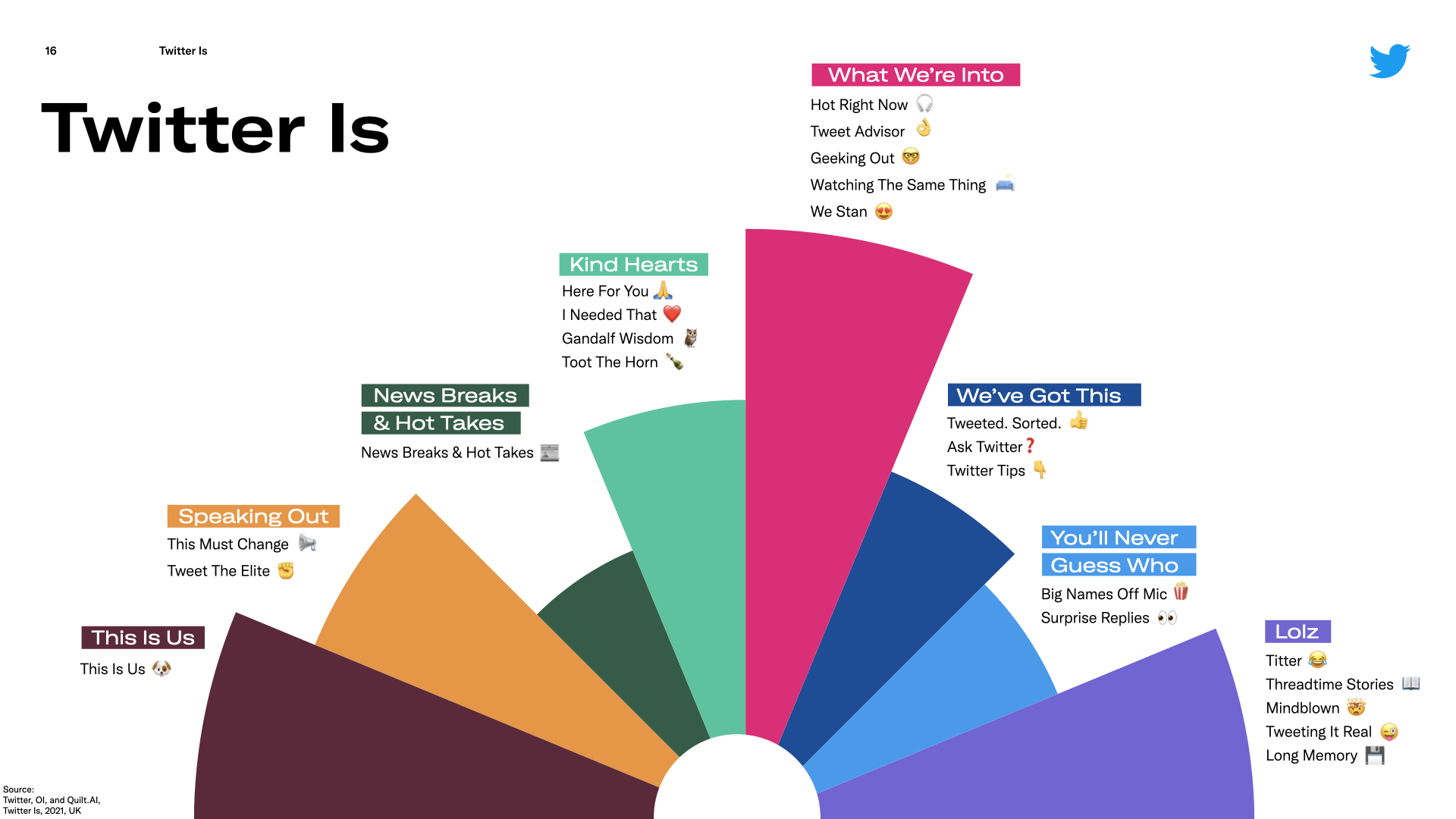 One obvious question is how big are the different Experiences? The simple answer is we get different results depending on which metrics we look at. "This Is Us" has the highest Tweet volume, "I Needed That" gets the most engagement, and "This Must Change" sees the most Retweets.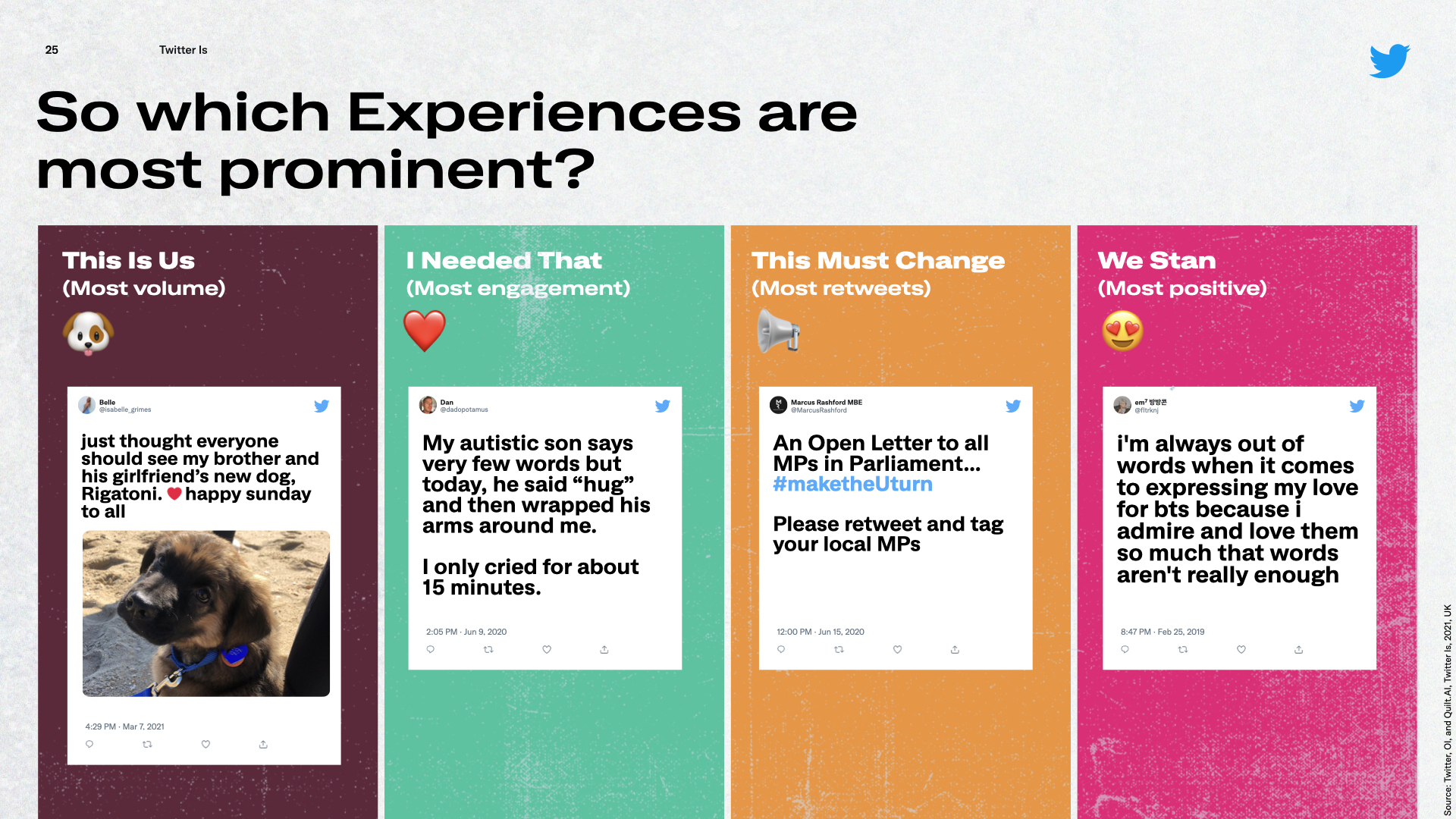 So we created a Prominence Ranking which combines multiple metrics into one, including Tweet volume, follower counts, and number of Retweets.
This allowed us to compare different Experiences using a consistent and common metric, which reflected the prominence of the experience on Twitter.
The eight clusters, ranked in order of prominence, are:
What We're Into - all about passions and pop culture

This Is Us - holidays, baking, pets, etc.

Speaking Out - activism and accountability

Lolz - storytelling, humour, and laughs

Kind Hearts - the comfort and support of strangers

News Breaks & Hot Takes - seeing different views and opinions

We've Got This - practical help, hints, and tricks

You'll Never Guess Who - big names getting involved in unexpected ways
What we learned:
Twitter is… a (mostly) good place. 
One of the most striking things highlighted in this research is how prominent positive experiences are on Twitter. We make friends, have fun, lift each other up, and support each other.  Experiences like Here For You, I Needed That, and Ask Twitter demonstrate the positivity to be found through everyday experiences and conversations on Twitter. 
Twitter is…hilarious. 
People on Twitter are consistently hilarious. This comes through strongly in Experiences such as Titter, ThreadTime Stories, Watching The Same Thing, and Mind Blown. 
Twitter is… passionate.  
Activism came through as a strong theme too, with Experiences such as Tweet The Elite and This Must Change appearing prominently.
Twitter is… unique. 
There's a lot of social media for people to choose from, but our analysis identified just how unique some of these Experiences are to Twitter — Surprise Replies, Tweeting It Real, Twitter Tips, and Big Names Off Mic being just some of the examples.
Twitter is...for brands.
We also found that many great Tweets and campaigns from brands fit into the Experiences that the research uncovered. For example, brands such as @walkers_crisps and @Innocent tap into Experiences like Titter to really make us chuckle:
An excellent example of 'Kind Hearts' came from @CadburyUK with its 'Donate Your Words' campaign in partnership with @ageuk.
And this 'Surprise Reply' from @pizzahutuk in response to a Leeds United Tweet couldn't have happened anywhere but Twitter. 
As part of the #McSpicyDebate campaign, @McDonaldsUK promoted this poll on Twitter to 'Ask Twitter' how people felt about the new flavour.  

Ready to dive into the 'Twitter Is' report? Get it here.
Source: Twitter, OI, and Quilt.AI, "Twitter Is", 2021, UK