Character Count: How cause marketing can benefit your business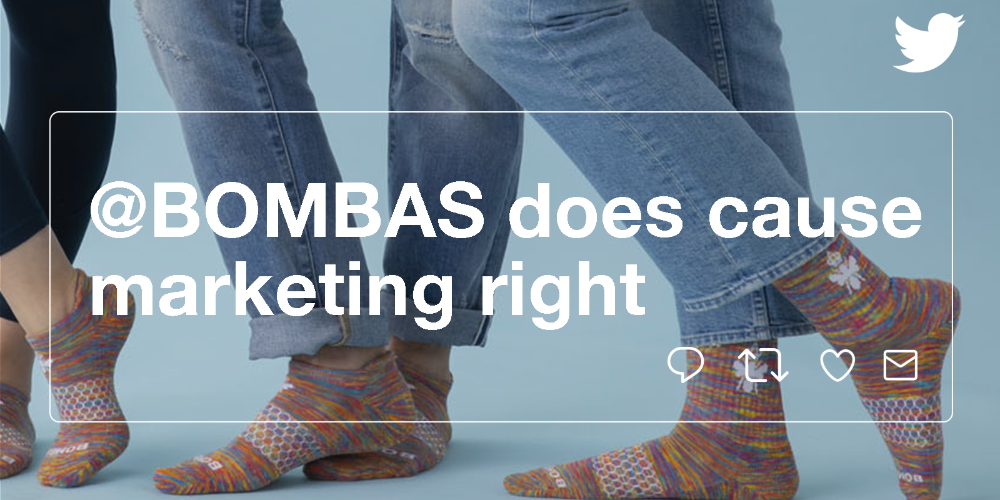 Brands want to connect to cultural moments. Twitter moves quickly and is the vessel for cultural conversation — so it's the best place for brands to connect to their customers through culture. However, with each Women's History Month or climate change awareness or Pride (etc, etc.) campaign that is done well — there is another cause-based campaign that falls flat and creates negative attention for a business, instead of the good will they were hoping to produce.
But it's worth a brand's time to figure out cause or "belief-driven" marketing. As an Edelman study shows, "Fifty-seven percent of consumers around the world will buy or boycott a brand solely because of its position on a social or political issue." And that group of consumers has grown in each of Edelman's proceeding studies.
So it's in a brand's interest to take a stance on something. And then incorporate support of that cause into their business model. But how strong of a stance? And how much should be given? Modern cause marketing is still an evolving ground but a few companies are doing an exemplary job.
Enter, @Bombas.
I'd seen Bombas before. My friends love them — won't take them off. And, personally, I remember any company that has a bee in their logo. But in June I was targeted with this Tweet:
Brands so frequently market to the LGBTQIA+ community without meaningful follow-up that it's developed its own term: pink washing.
But not Bombas. Their Pride campaign isn't centered around themselves or their products, but around an important and jarring stat: "LGBTQIA+ youth comprise up to 40% of the total homeless youth population across the US." That stat is followed by a meaningful contribution: 40% of their donation socks will be sent to LGBTQIA+ youth experiencing homelessness.
This campaign raises awareness about a specific issue affecting the LGBTQIA+ communities. Then it implements real support for that group. It's a perfect pairing of cause and company. Which is why I had to have Jessica McGlory (the Director of Paid Social Media Marketing at Bombas) on Character Count. To share the story of how it all came about and how other businesses could follow her lead. Jessica is smart, thoughtful, and savvy. She gave enough insight that we could've produced a separate series.
And with Jessica's comments on cause-marketing, I thought of Stacy Minero, the director of Twitter's @ArtHouse. Stacy has perspective on the global marketing landscape and I think of her as THE expert for how a business can connect to a cultural moment. 
The conversation will be extremely helpful to anyone curious about cause-based marketing. I am so excited to bring you another episode of Character Count and thrilled that this one is so filled with immediately actionable marketing advice.

This episode also has a new, Hot Takes section where we ask you for your opinions on cause marketing. You can reply to the Tweet @TwitterBusiness.

Subscribe to Character Count (on Apple Podcasts or wherever you like to listen) and you'll be the first to know whenever a new episode is available. Thanks for listening!
Subscribe to Character Count:
Ready to advertise on Twitter?