How @OneMinuteBriefs built a community of over 38K creatives on Twitter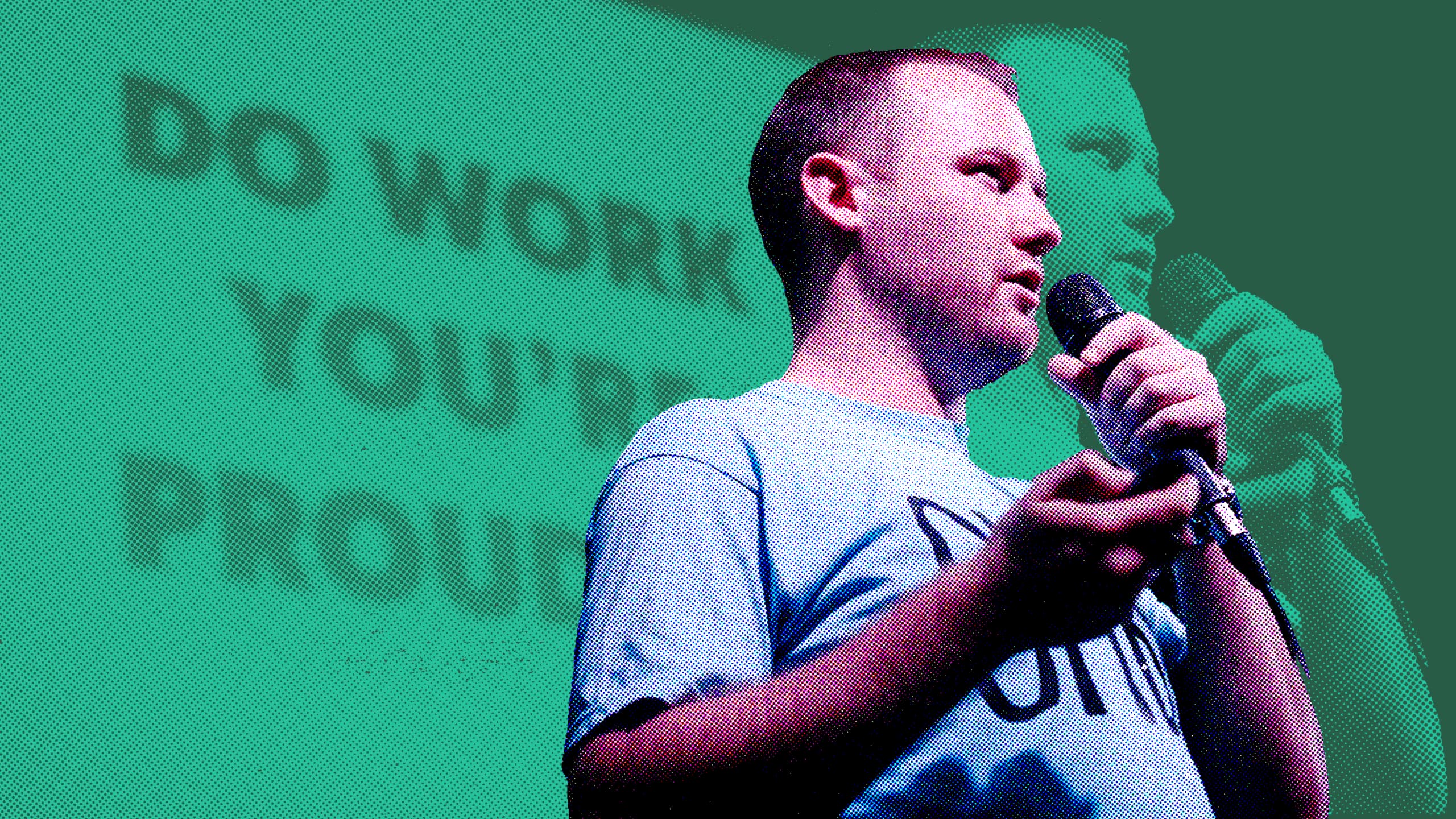 Tweet people as you wish to be Tweeted.
One Minute Briefs (@OneMinuteBriefs) strives on the quick, conversational nature of Twitter. The idea is simple — a one minute creative brief is Tweeted out daily. People from all over the world Tweet their ideas, and the winner is then announced on the @OneMinuteBriefs handle. 
Started in 2012, One Minute Briefs began as a side project and is now a full time job for founder Nick. It's also an active and uber supportive community of creatives. 
In this interview we talk to Nick about growing a community of almost 40,000 people, collaborating with household brands, what makes a great ad, and how to lean in and enjoy social media. 
Your business
Tell us about One Minute Briefs: a few lines is perfect.
We promote brands and causes by challenging our creative community on Twitter to respond with instinctive ideas to daily advertising briefs and then reward the best entries. 

All submissions are Retweeted to our 38,800+ followers, which generates millions in reach every single day. This helps brands interact with huge audiences in an engaging, cost-effective way whilst creating quality content. 
One Minute Briefs (OMB) serves as a diverse and inclusive network for the creative industry across the world and we host regular workshops, talks and events for our followers, otherwise known as the 'OMBLES'.
Twitter thread showing people's submissions and how OMB has helped them
Can you tell us about your role within the business?
I founded One Minute Briefs in 2011 and created the Twitter account in 2012 — we have just celebrated a decade on this brilliant platform. I ran the feed alongside my day job as a creative before becoming a creative director at age 26 in 2015. 
Initially it was just a fun place for creatives around the world. The Twitter community was then integral in an NHS (the UK's National Health Service) campaign that saw the NHS get to number one in the UK music charts at Christmas. This was particularly powerful for me as they saved my life that year when I had a heart attack. 
Tweet from @LoveYourNHS, a Twitter account set up specifically for the campaign.
It was then that I really saw the power of the 'OMBLES' and we began to partner with more brands and charities. Our community in turn helped amplify other big campaigns, such as the viral film we created for Neuroblastoma sufferer, Isabella in 2017.
Collaborating with so many brands and having such an engaged, growing following meant that I left my role as a Creative Director to concentrate on One Minute Briefs in 2018. I still get involved in other projects but my day-to-day role consists of creating partnerships, social media management, judging submissions and giving away prizes to our winners. 
How do you utilize Twitter to connect with creatives?
When I started on Twitter, I had no idea what I was doing. It's been a constant learning curve. We initially used it as a gallery for our 'One Minute' ideas. We then opened it up to post a 'One Minute Brief of the Day' just for fun and we got one or two submissions in that first week. 
But we persevered, getting a few more entries here and there. We run a brief every weekday, meaning that people have the opportunity to improve their creativity, connections and confidence around 270 times a year. 
They can also win prizes like holidays, experiences, cash, vouchers and merch. We encourage people to tweet their OMB stories, OMB merchandise pics, GIFs and comments to have a constant wave of positivity across our community. 
This helps people feel welcomed from their very first submission. It's free-to-enter and is accessible to everyone, anywhere — which puts people on a level playing field, from student to CEO.
I think our Twitter account is one of the most inclusive creative platforms around, which is something we are incredibly proud of. Our OMB-assadors help with encouraging Tweets and keep a look out across the feed so we can keep things positive and grow the feed in the best way possible.
Tweet with GIF asking people to comment about how OMB has helped them
Compared to other platforms, why does Twitter work for you and your business? 
Twitter is our main platform because it is what's happening right now. It allows us to be reactive to current trends and respond in real-time. Being able to share information quickly across our community and beyond through Retweets has been key to our growth. 
The way people can respond by mentioning us whilst sharing with their own followers means we can get trending quickly. The #WorldWithoutNature campaign for non-profit WWF, which began in 2019 and reached half a billion people (@WWF), is a good example of this. 
Brands were able to take the nature out of their logos and share it quickly. They only had to do one small post each…but collectively that had a massive impact and created a discussion worldwide on World Wildlife Day. You just couldn't achieve that level of shareability and virility on any other platform.
Followers
You have almost 40K followers, how did you grow your following and generate interest in One Minute Briefs? 
The following grew through repetition. We have never changed the one key thing about OMB — sharing a simple brief in one pinned Tweet every weekday. We have been able to add better prizes, bigger events and more opportunities for people along the way, which has helped us to grow even further. 
The beauty of it is that when people respond to the brief, they are also sharing it with their own followers. This has helped the community to grow all over the world.
There have been certain landmark moments where the community have gone viral with ads for the NHS, KitKat and Guinness and these help us reach a wider audience too. 
Outside of Twitter, I do talks for brands, conferences and education. We also collaborate with the likes of The Drum, PunHub and VeryBritishProblems on fun briefs, have a long term partnership with Canva and have been able to turn Tweets into billboards around the world with our Clear Channel (@clearchanneluk) partnership.
One Minute Briefs example with @coopuk
Likewise each OMB generates an impressive number of entries and reach, what do you put this down to?
We get hundreds of submissions a day because it is so easy to enter. We ask for a 'poster' which can be a design or scribble that can be easily Tweeted. As it's a One Minute Brief you've got the excuse that it only took a minute and the simple ones always win. 
It's all about the ideas and OMB gives our followers a safe space to share their ideas without fear or judgment. We Retweet every submission and the entrants have their own reach too as they are Tweeting to us and their own followers. The way it works achieves a viral effect. 
The community interacts with each other's Tweets, which adds to the overall interactivity too. Above all, OMB is a fun place for our community to return to each day. If I've not posted a brief by 10am I get the Mr Bean 'waiting' GIF!
Tweet interacting with a OMB submission
You've also worked with some big name brands — how did those collaborations come about?
A lot of our collaborations are in-bound. This is a lot to do with how visibly successful our other brand collaborations are. We also utilize DMs to get in touch with brands and charities and ask our followers to tag brands they'd love to see us run OMBs with. 
We do our best to keep everything in the one platform where possible. It's also nice to have such great testimonials from brands we've worked with and we often receive recommendations from them to their industry contacts.
Any tips for communities on Twitter struggling to grow their audience? 
I would say to always make it fun for you to run. OMB was a side project for several years and it was rewarding to see people enjoy themselves with some instinctive creativity. This brought its own opportunities for myself and the community as a whole.
Try to have a point of difference between yourself and your potential competition — make your community easy to interact with with polls, questions and images. Your Tweets should make people want to share or respond too 
Also, don't expect to go viral immediately. Building a following takes hard work. Do it for the right reasons. I started OMB having no idea that it would be a worldwide community. I started it to share some fun, quickly-made ads. If you think too big at the start, it won't ever become anything. 
Don't be afraid to fail either. I've started with some other feeds and they've not caught on. So I deleted them. One of my other account @AgencyQuotes grew because, again, it was very simple and is easy for people to share their own #ThingsYouHearInAgencies.
Tweets and Creatives 
From your experience, what makes a good Tweet? 
A good Tweet is something that puts a smile on your face. Either because the content is an amazing idea or a comment/GIF simply makes you laugh.
Tell us about the kind of creative that gets the best reaction from the One Minute Brief community.
The best ideas are ALWAYS the simplest. That's why One Minute Briefs works so well as it's all about the key idea, headline or visual. When scrolling through feeds, you need something that's going to make you stop and look. 
When judging the entries, I have hundreds to get through and I give them a split second just as I would walking past a billboard in the street. If it gets my attention, I look at it even more and take it in. This nearly always correlates with the most Retweeted and liked submissions.
What would be your top tips for creatives looking to create impactful ads on Twitter? 
The people who consistently win OMBs are those who have done it the longest. It's a form of brain training. Learning from the other winners and implementing that simplicity of thought into your own submissions is key. 
Context is important too. It's great having an idea, but make sure it communicates the message required in the brief. And I always tell our followers to put their Twitter handle in the corner of your entry too! Just in case they go viral.
Do you use any tools to help you Tweet/measure performance/create imagery or video?
I like to Tweet organically and have never sent a scheduled Tweet. I feel it's important to feel like there's a human behind the feed and react accordingly. Too often, brands miss a trick here.
We use Twitter Analytics to measure the overall reach we have and to see the top Tweets each month. We always try to use GIFs or imagery within our Tweets and find that sharing our winners are often the most engaged with Tweets.
Sharing the love
Any other businesses or agencies on Twitter you'd like to give a shout out to?
Our biggest partnership ever is with Canva (@Canva). Their creative support of our community has been massive for us this year. We love The Drum (@TheDrum) for their support of the community with collaborative briefs and events. 
We do live briefs during events throughout the year with Don't Panic Events (@DontPanicEvents) and encourage attendees to post their sketched posters on Twitter. Finally, we are proud ambassadors for The Robin Cancer Trust (@RCTCharity), NABS (@NABS_UK) and The Cybersmile Foundation (@CybersmileHQ).
If you could give just one piece of advice to another business on Twitter, what would it be?
Have fun with it. Look at all the best brands on Twitter. They are enjoying it and being themselves.
If you're a interested in learning more about Twitter's creative tools and best practices check out the Twitter Flight School Twitter for Creatives free course. Follow us on Twitter too (@TwitterBusiness), where you can keep up to date with product updates and content designed to help you.
Enjoyed this? You might like these too: