Monetizing your video content begins here
This one-stop guide will take you through the steps you need to get started with Amplify Pre-Roll, a low-friction way to monetize video content on Twitter.
Handle setup
Earnings
Brand safety
FAQ
Welcome to the Amplify Publisher Program!
Before you can start monetizing your videos, you'll need to agree to the Amplify Publisher Program's Terms of Use. These should come up the first time you click the "Account Info" option under "Monetization." Please note, if you're under 18, a parent or legal guardian needs to accept on your behalf.
Once the Terms of Use have been accepted, you'll want to input account, payment, and tax details. You can start opting videos into the program at this point, but Twitter will not be able to pay you without these details.
Completing this step will require a few documents:
Contact details exactly as they appear on relevant bank records

Bank account information

Completed tax form
How to add an account into the program:
Visit studio.twitter.com and make sure you're logged into the Twitter account you'll be publishing video from.

Click on the Monetization tab.

Click Account info to add account, payment and tax details.

Note: To streamline your video publishing workflow, Twitter allows you to set defaults for both content tags and advertiser preferences. These options are located in "Settings" under the "Monetization" tab. Once defaults are in place, those settings will automatically pass through to newly uploaded videos. Please note that these will not apply to videos published through third parties.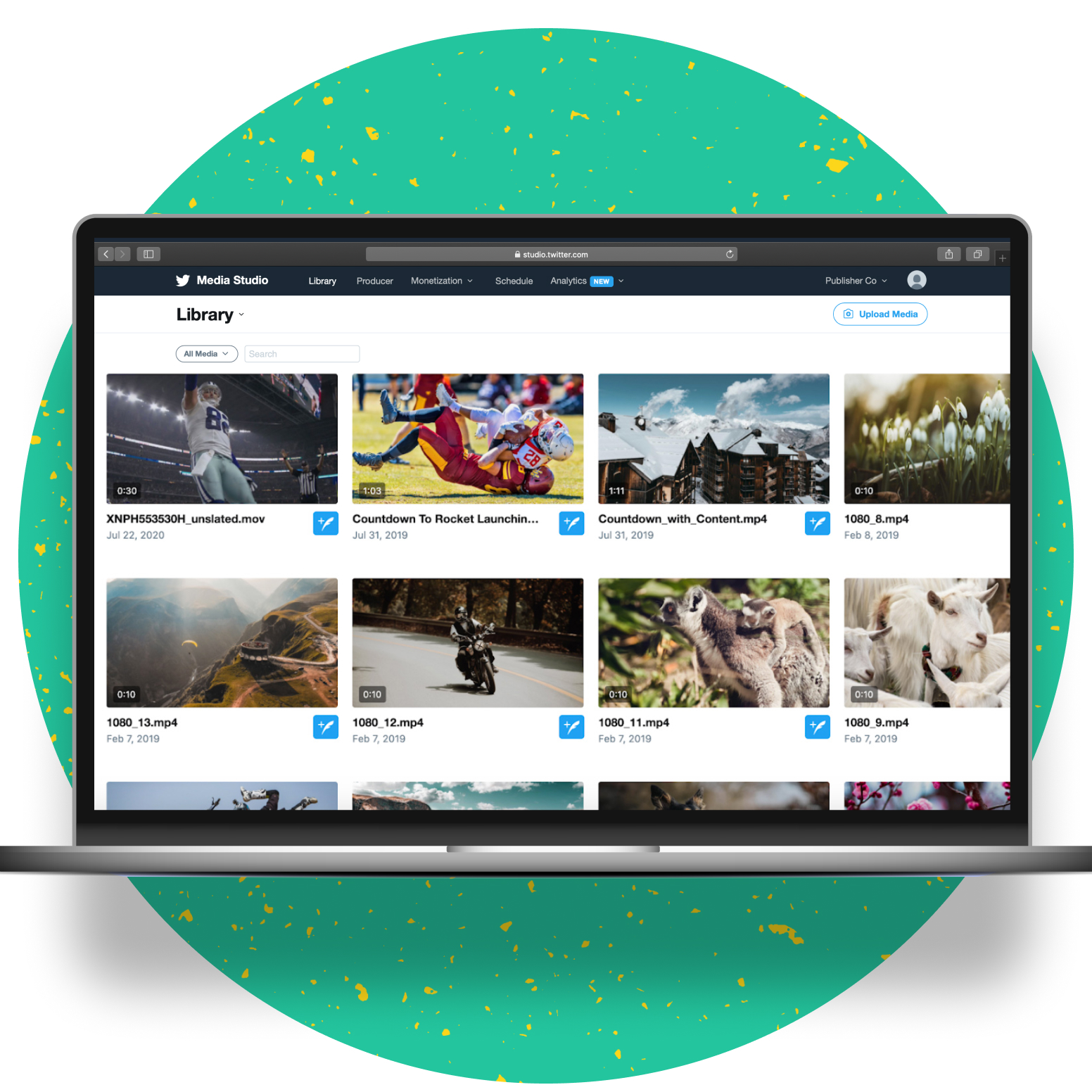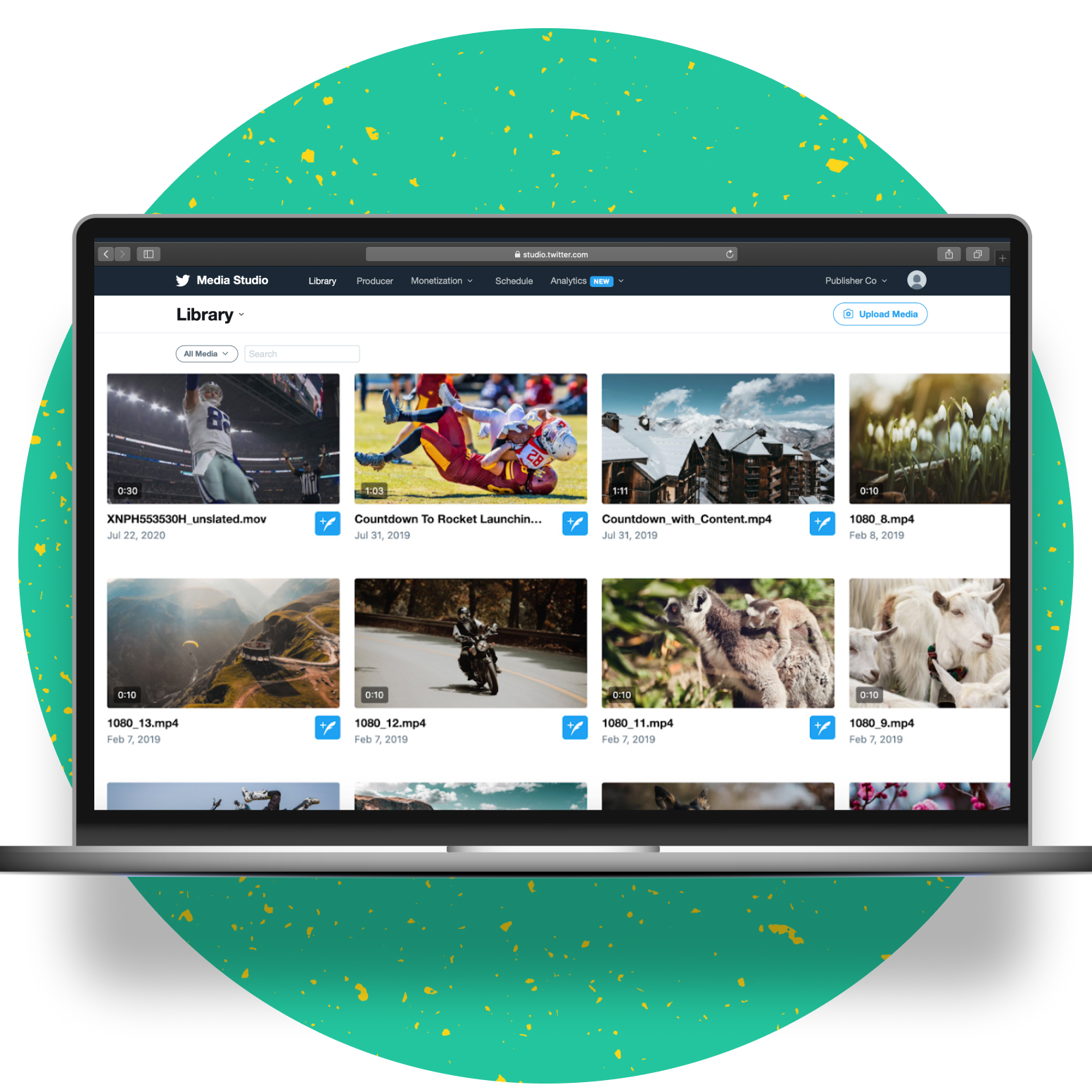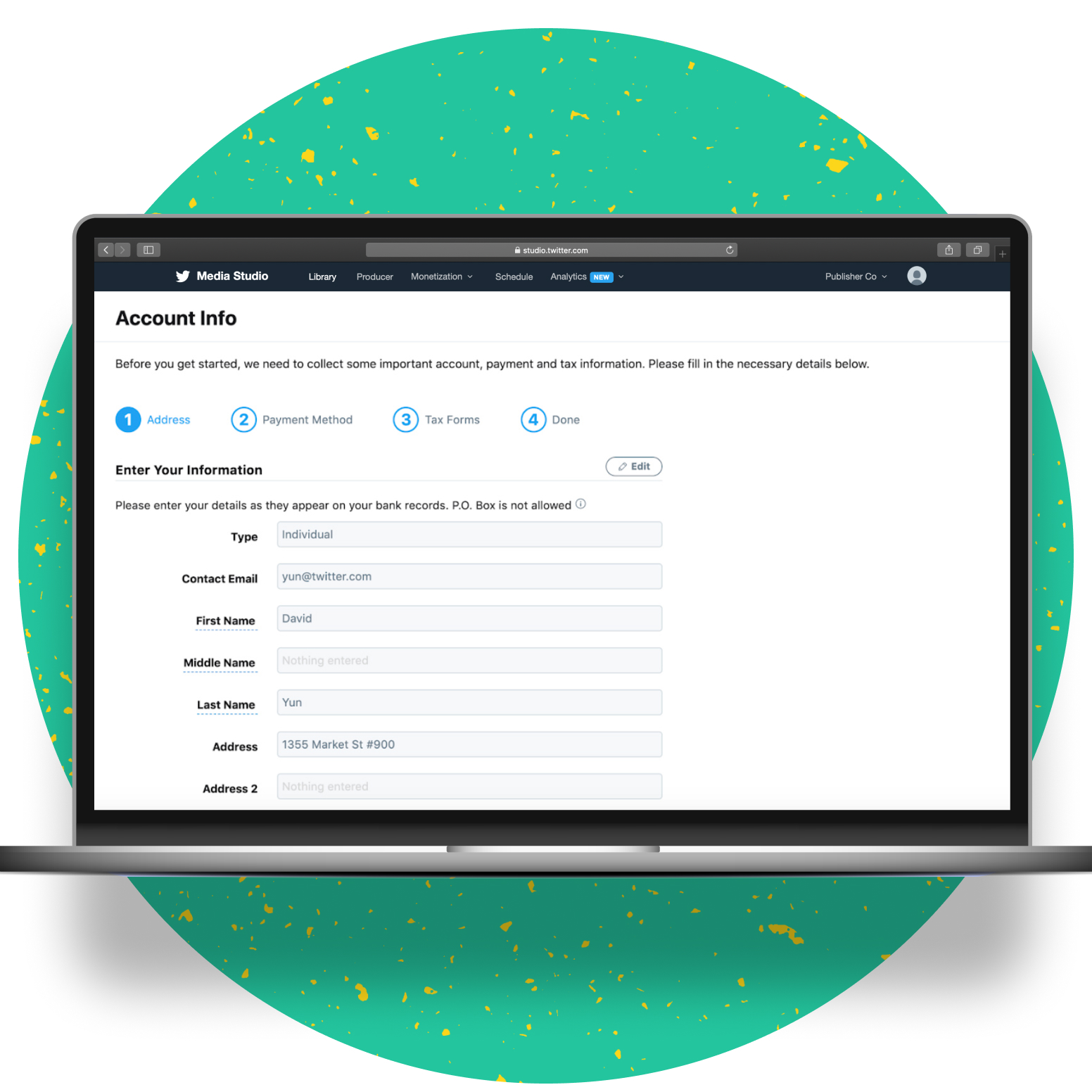 Estimated earnings will appear in your video analytics dashboard 48 hours after the content was posted. When logged into your handle on web, visit analytics.twitter.com, select the "More" tab on the top left, and scroll to select "Videos." There, you will be able to observe and compare video performance and estimated earnings.
Payout confirmations will appear in Studio once a payment has been made. Go to Monetization and select Earnings to see these confirmations. We pay out on a net-60 basis and only when earnings have reached a $100 USD or equivalent threshold.
How to opt a video into the program:
Upload your video as you normally would on Media Studio.


Compose a Tweet for the video you just uploaded.


Click the Monetization tab and Edit Media Settings to open monetization options.

Scroll down and select In-Stream Video Ads from the Amplify program dropdown menu.

Tag your content for advertisers to target with relevant pre-roll. You can also exclude specific tags and/or pre-roll from specific advertisers.

Click Save to save your monetization settings.

Publish your Tweet to begin monetizing.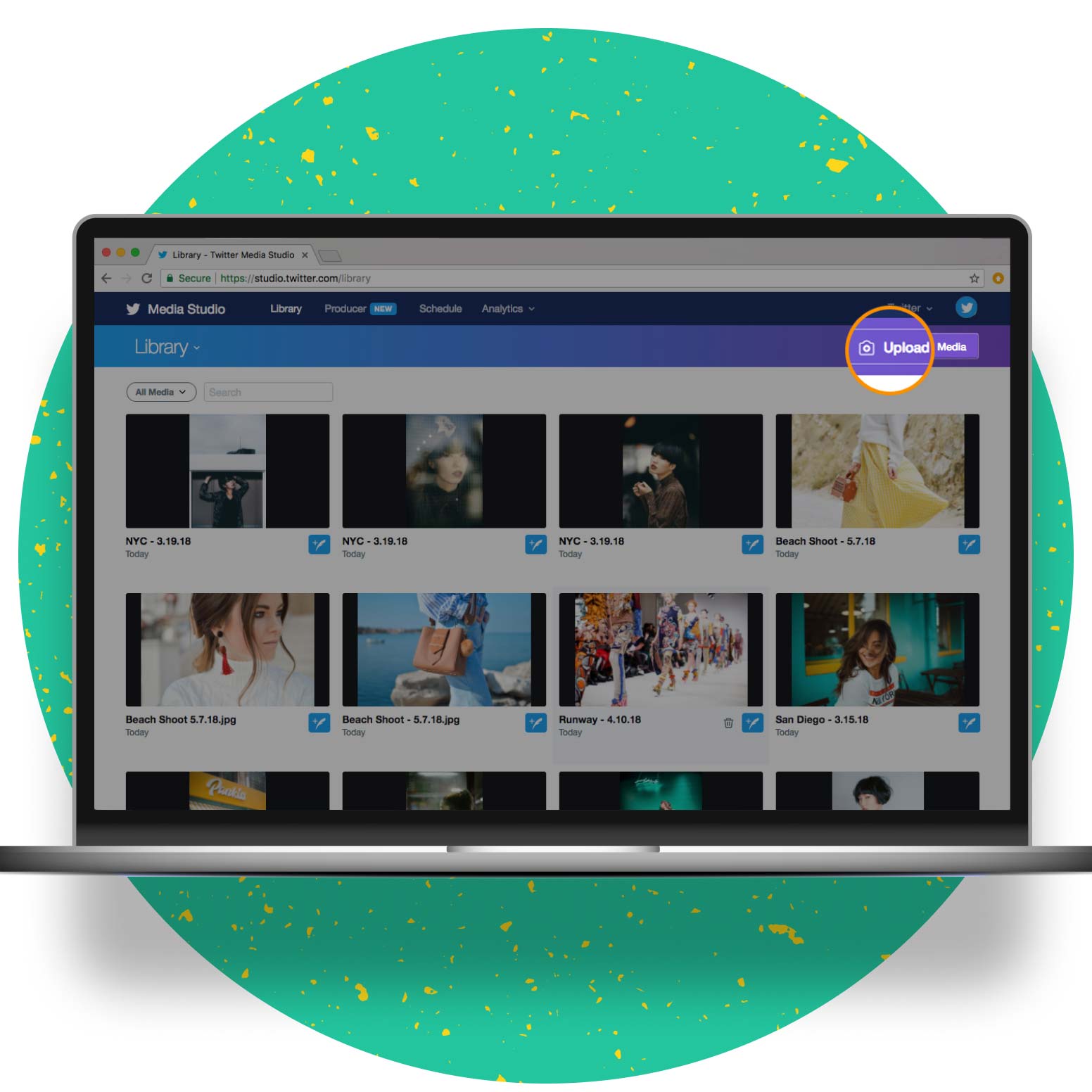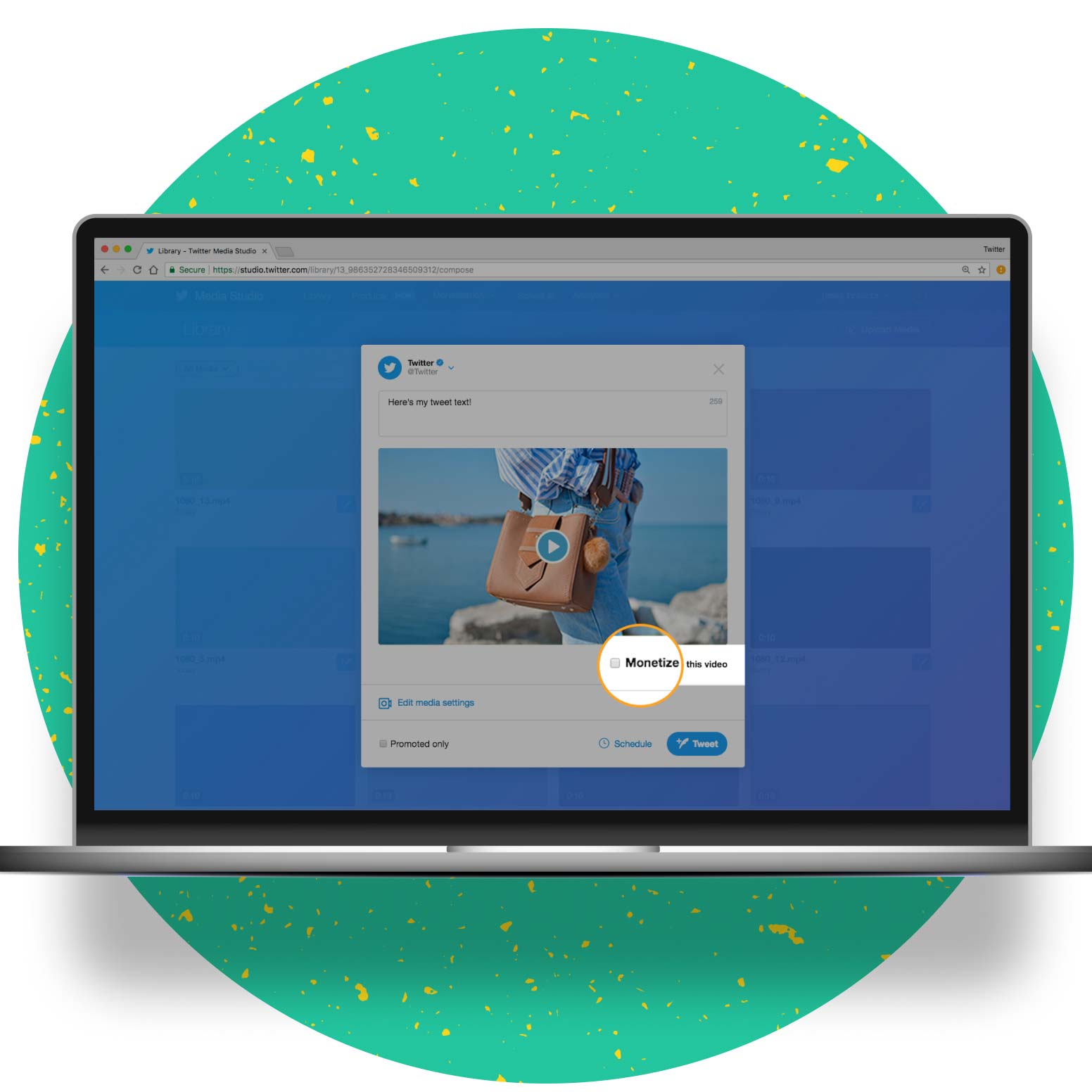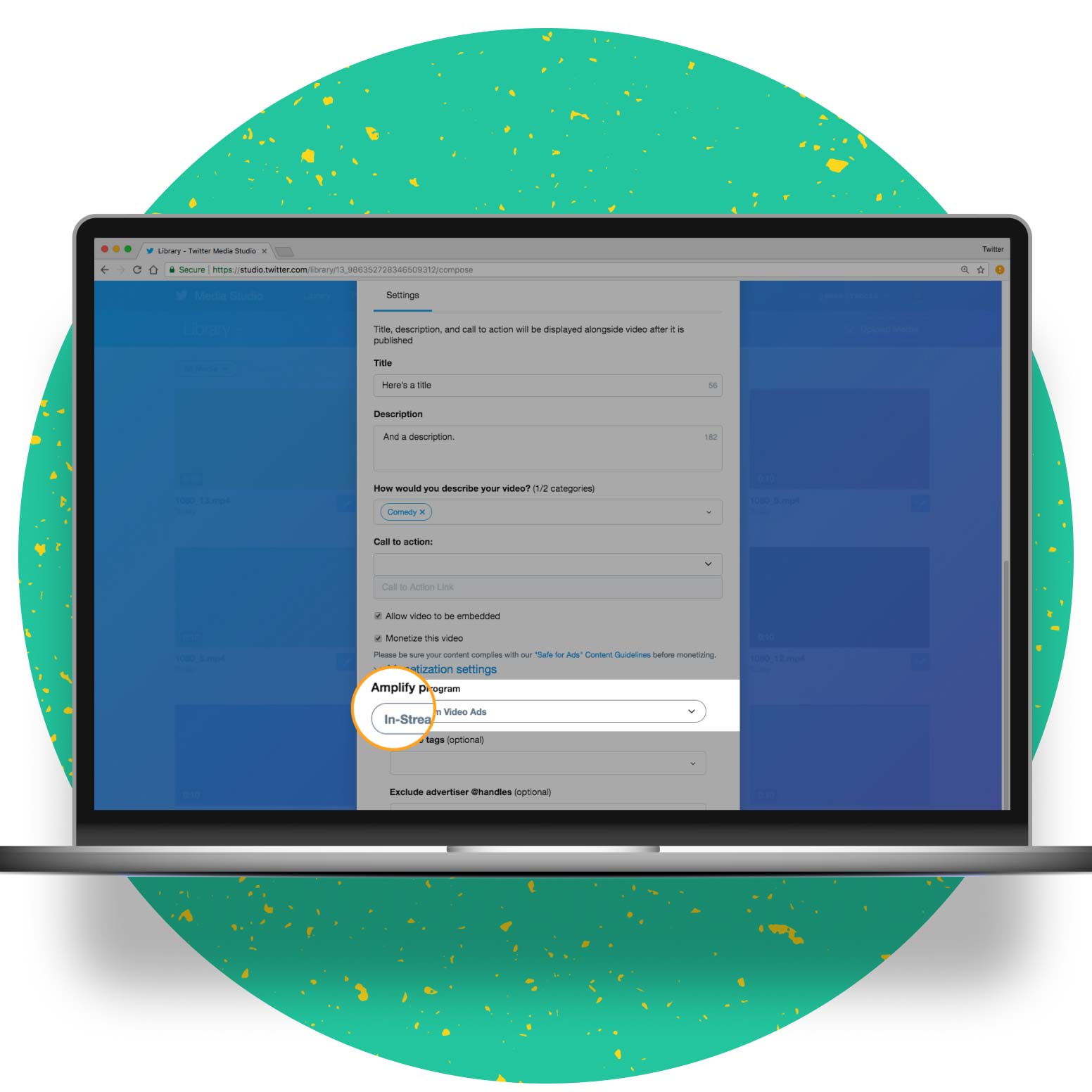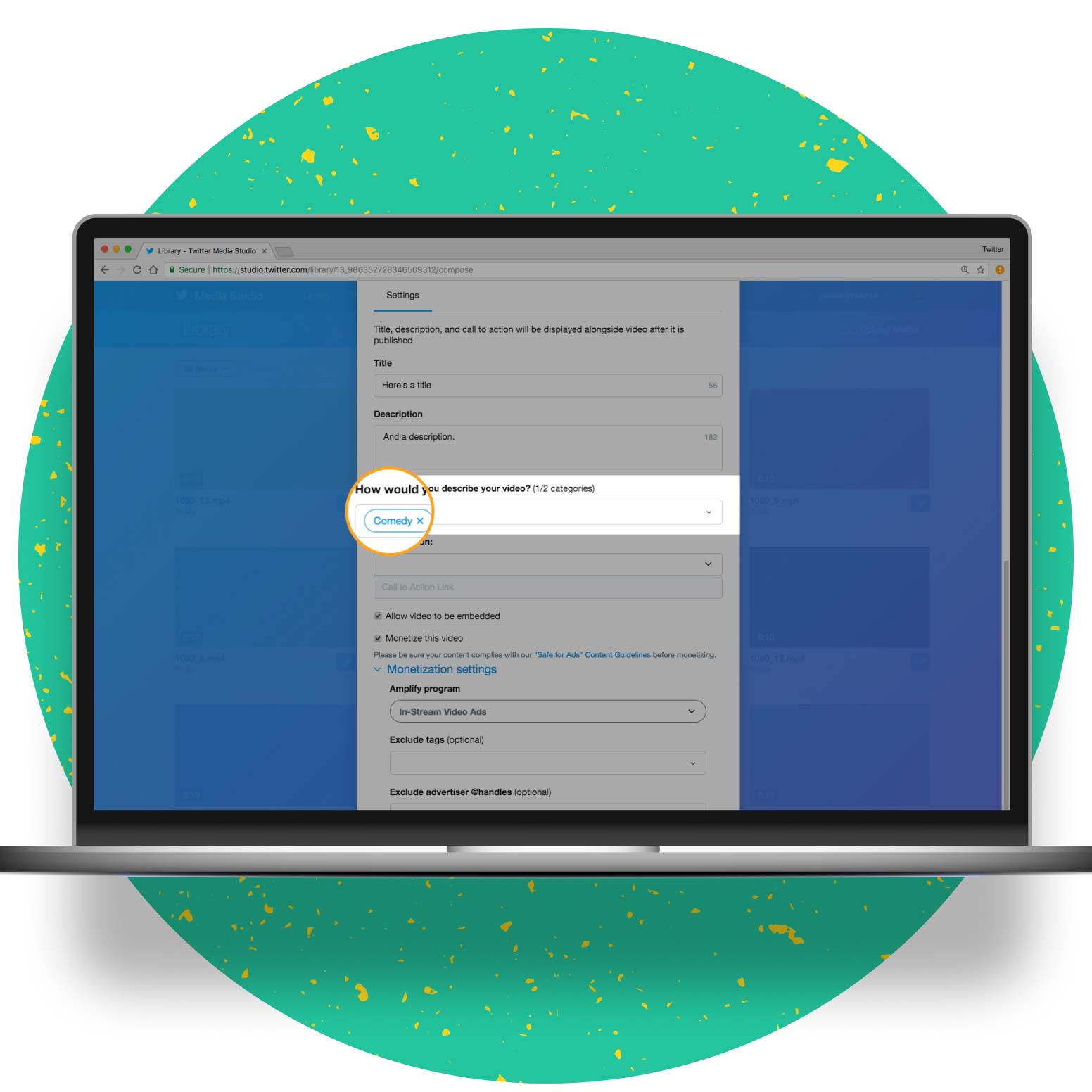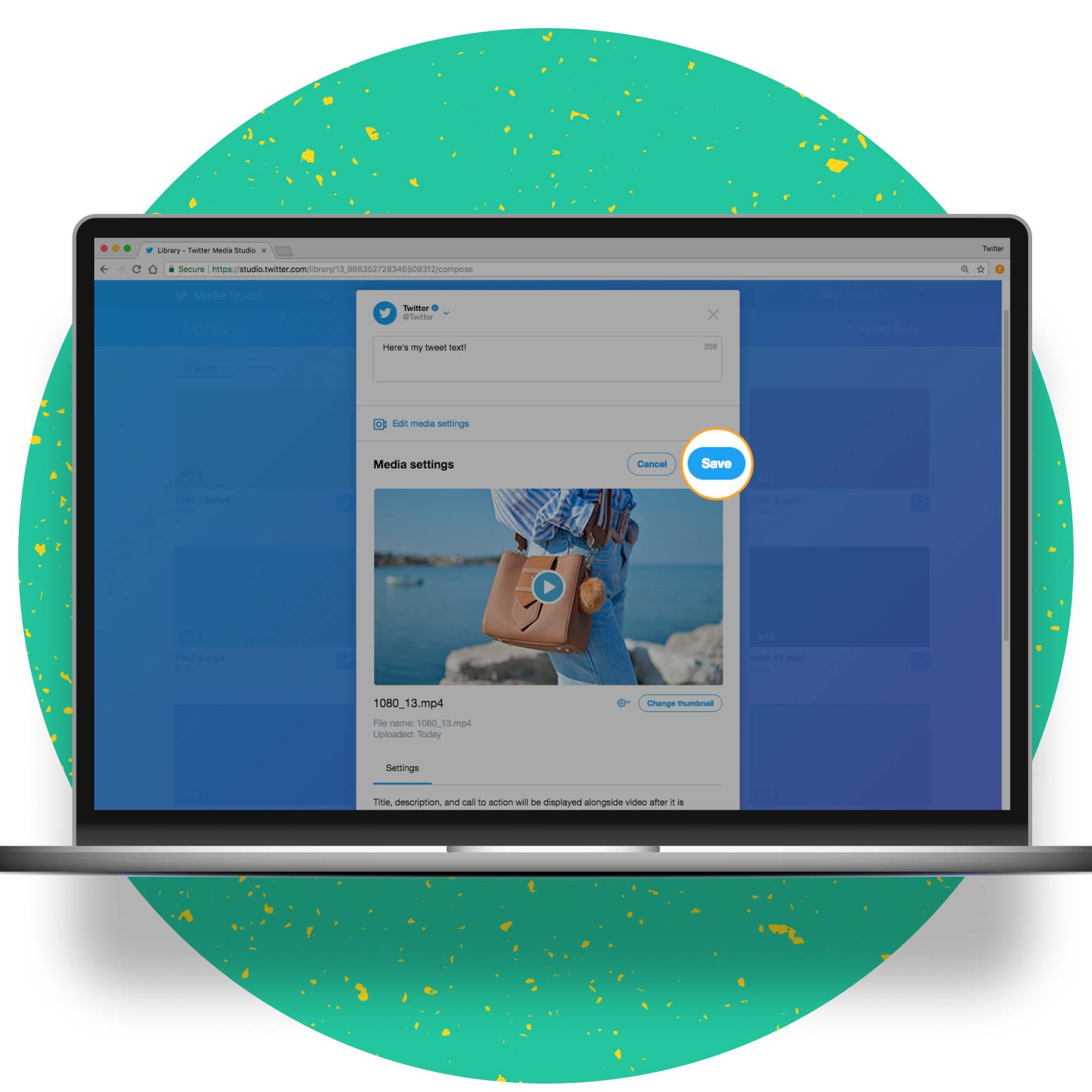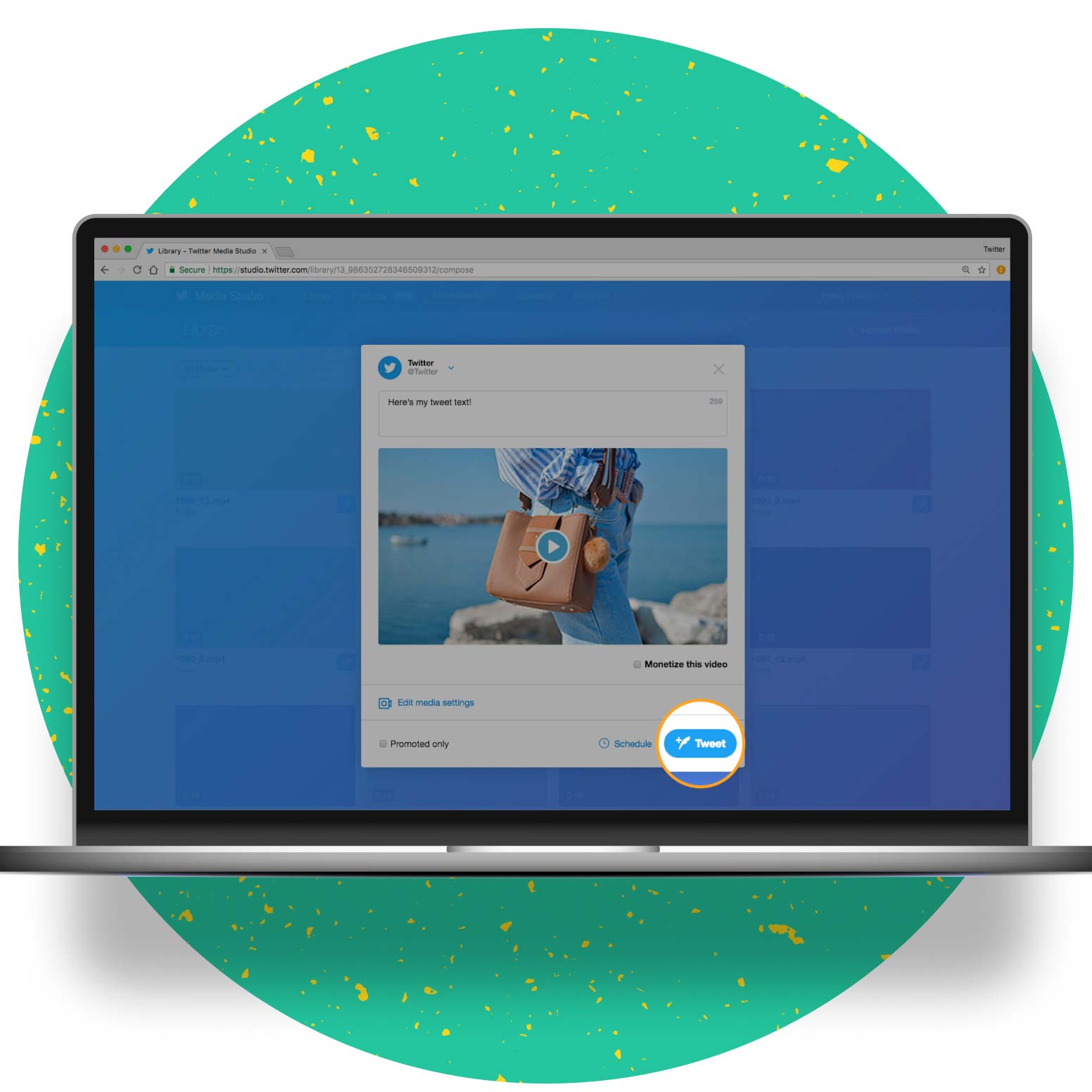 The Brand Safety Review tab is where you can view violations of our Safe for Ads Content Guidelines. In the tab you will be able to view the violation (and whether it is a demonetization or a strike) along with the reason for the violation.
Only the content monetized through Amplify Pre-roll program is subject to Brand Safety review.
Strikes are issued for more severe violations of the Safe for Ads Content Guidelines and could carry a penalty while demonetizations carry no penalty and are issued for content that might be unsuitable for some advertisers. Please refer to the Brand Safety Review tab for more information.
Yes, you can appeal strikes directly in the Brand Safety Review tab under Strikes > Request Review. Once clicked, a pop-up box will appear where you will be asked to give details into why you are requesting review of a strike. Once submitted, please give our team at least a week to review.
Currently, no. However if you are noticing a trend of demonetizations and would like more information, please contact your partner manager.
Publishers will be notified by their partner manager of their acceptance and will see a new "Monetization" tab in Media Studio. The program's Terms of Use will be displayed the next time the publisher logs into studio.twitter.com. These terms are non-negotiable.
Twitter will pay publishers sixty (60) days after the last day of the calendar month in which earnings occur. For example, June earnings will be paid at the end of August. Payments are sent automatically and an email notification is sent to the contact name in the payment details.
Invoices are not sent, but publishers receive an email when payments are issued. These emails include the publisher account ID, the earnings amount, and the invoice date. The earnings can also be found under the "Monetization" tab in Media Studio once they are processed.
The publisher's "estimated earnings" are shown in the analytics tab. They are displayed on a two-day delay. All figures are estimates, and there can be deltas between the estimates and the final payment amounts. Please see the partner terms for additional details.
Each handle needs to be set up as its own payee. In Media Studio, publishers can assign an admin to the account, who can then use their own credentials to access that handle.
There is a $100 USD (or your market's equivalent) earnings threshold for processing payments. Once a publisher hits this threshold, the payments will be sent.
If you have any questions regarding the status of any of your open payments, please contact us at contentpaymentsupport@twitter.com.
During the video upload workflow, publishers will have the option to select the "Monetize video" checkbox to opt a video into the program.
No, it's the publisher's choice as to what videos are opted into the program. This selection can be made on a video-by-video basis, or set as defaults in the account "Settings" area under "Monetization."
Yes, mobile videos can be uploaded and opted into the Amplify Publisher Program on both iOS and Android.
Yes, publishers have the ability to block at both the individual handle level and the advertiser category level. Advertisers have the same ability to block publishers by handle or category.
Yes, but it does depend on the service. Please reach out to your account representative to confirm that they have integrated with our API.