Amping up Amplify: Evolving pre-roll on Twitter to meet advertiser needs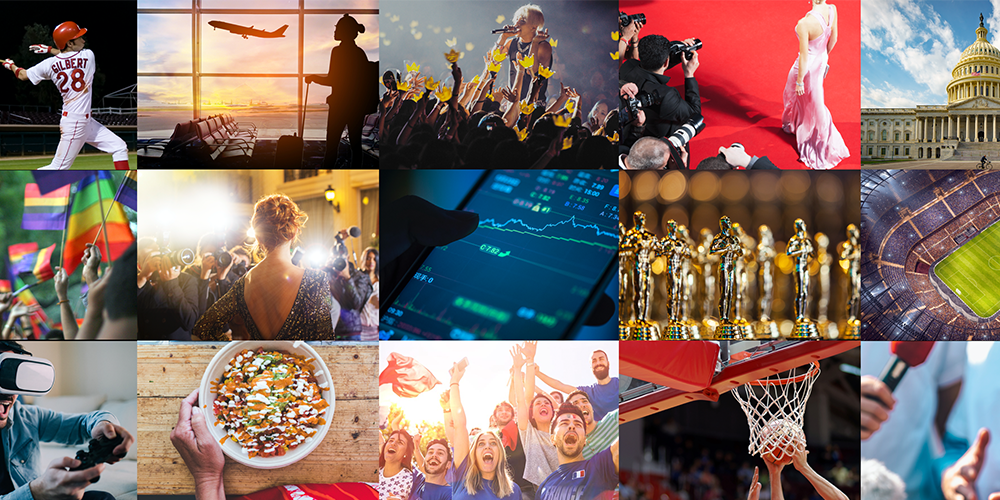 We're announcing the latest updates to pre-roll on Twitter, including the launch of Curated Categories, to better serve our advertisers.
Twitter is where people come to find out what's happening and share their reactions in real time. Our content partnerships with publishers like FOX Sports, NBCUniversal, Buzzfeed, and Hearst help us to deliver premium video content that reflects what our audience is already passionately talking about and generates new buzz. 
With Twitter Amplify, we put brand ads right next to this video content through pre-roll and sponsorship opportunities served in-feed — and it works. We've found that ads paired with premium video served in-feed deliver 2.2X brand favorability and 1.7X purchase intent compared to the same ads in a non-feed environment1.
Over the years, we've expanded and deepened our content partnerships, collaborating with 200+ publishers to bring more engaging content to people's timelines.  Now, here's how we're stepping up to match this momentum with exciting updates to our Twitter Amplify ad offerings:
Curated Categories
Against the backdrop of the turbulent events of 2020, we heard from advertisers that they wanted to reach their audiences by aligning with feel-good video content that was bringing much-needed levity and entertainment to the Twitter timeline. It inspired us to reimagine how we could make our content pairing opportunities more dynamic and more flexible to suit advertisers' changing needs. So, we developed a new, custom 'light-hearted content' category for Amplify Pre-roll and we've been testing and learning with a handful of new categories ever since.
We're excited to now be formally launching this concept at scale. Starting this week, we're expanding upon the 15 industry (and IAB) standard video content categories that we currently offer and are giving advertisers more choice over the types of premium video content they run their ads against.
Meet Curated Categories – Twitter-curated sets of publishers that are bundled together around specific themes. Our Curated Categories package niche topics like light-hearted content, football, basketball, soccer, or gaming personalities and allow advertisers to run their pre-roll exclusively against video content from publishers covering the topic of choice. The publishers included in each of our Curated Categories are always hand-selected by Twitter teams for their relevance and conversation driving ability within their category's topic, ensuring a deeper level of contextual alignment for brands.
We're rolling out Curated Categories across all Amplify Pre-roll campaigns for advertisers in the US, UK, Brazil, and MENA. More markets and more categories to come!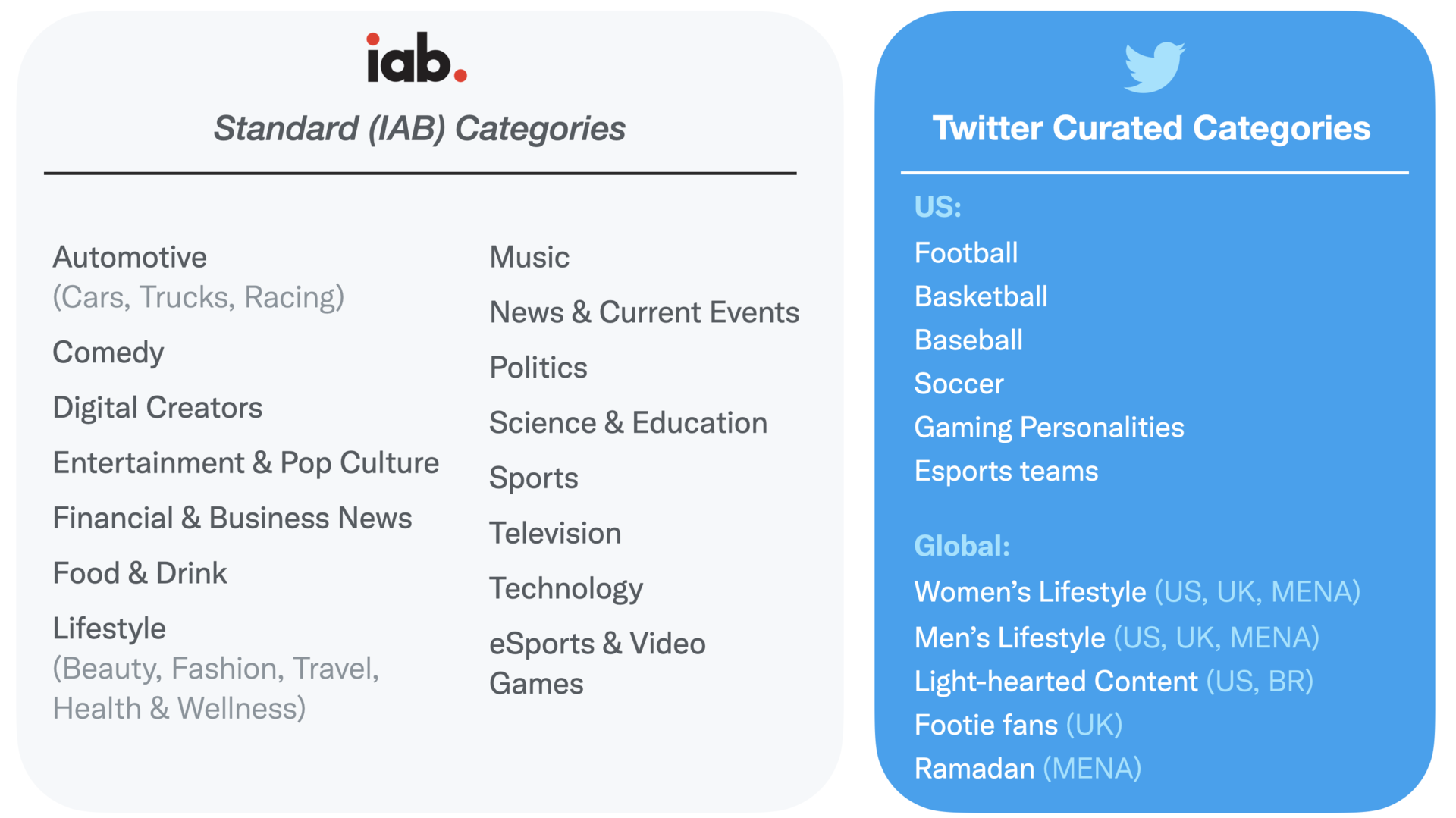 Redesigns and revamps
We're also making some changes to how people see pre-roll ads in the timeline and what advertisers see when they're setting up their campaigns.

We've launched a clearer, more performant design and viewer experience for pre-roll ads across all Twitter Amplify offerings. The enhancements include prominently featuring advertisers' brand logo throughout the duration of the ad and offering additional labeling to improve clarity and drive better brand metrics. Our testing with these subtle upgrades showed an increase in ad recall by 10% and brand favorability by 7%, compared to our previous pre-roll design2.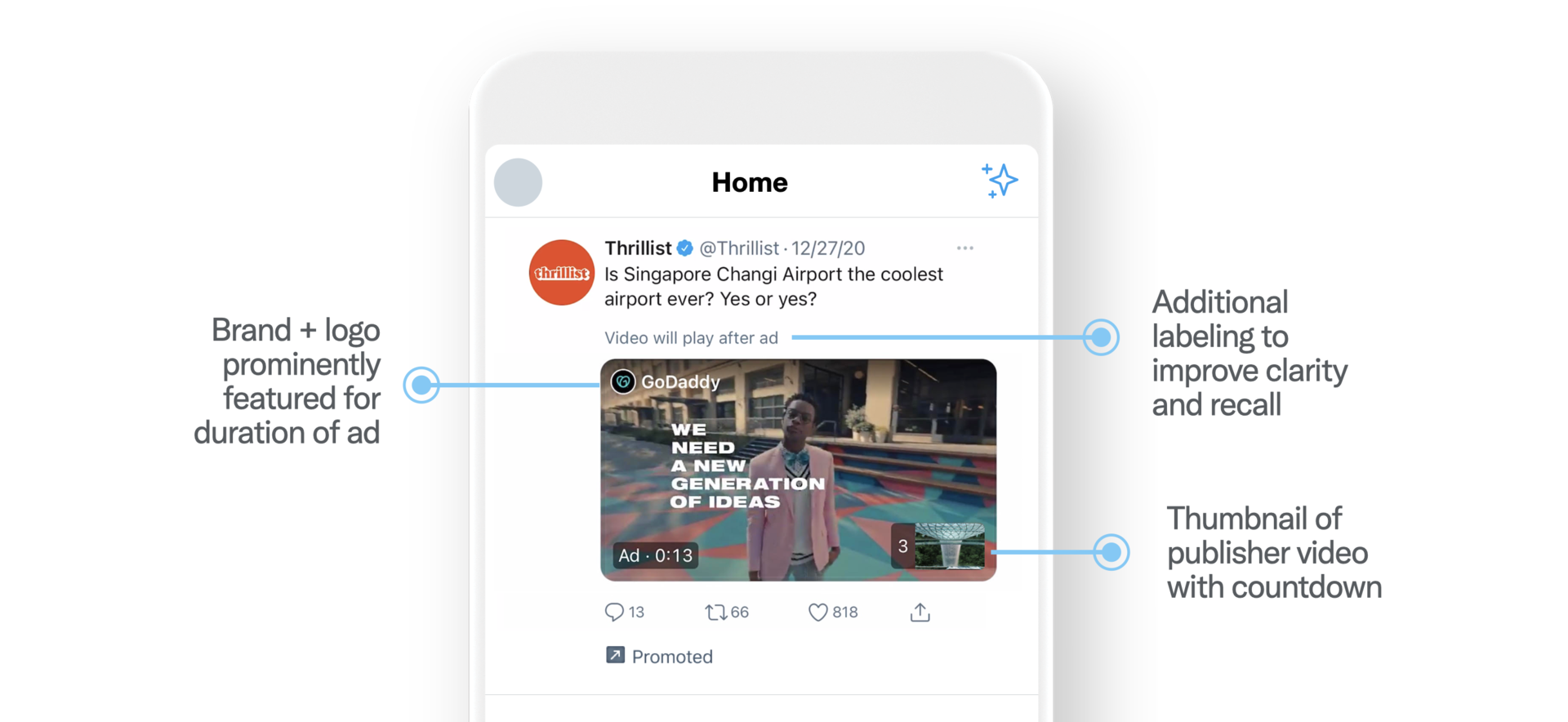 Next, we're unveiling a brand new campaign set-up experience for advertisers using the Pre-roll Views objective to make publisher pairing selection easier and more intuitive than ever. Advertisers will be able to see our full library of publisher content category offerings (including Curated Categories where they're available) when they select their targeting, so they can easily make the best pairing decision for their brand.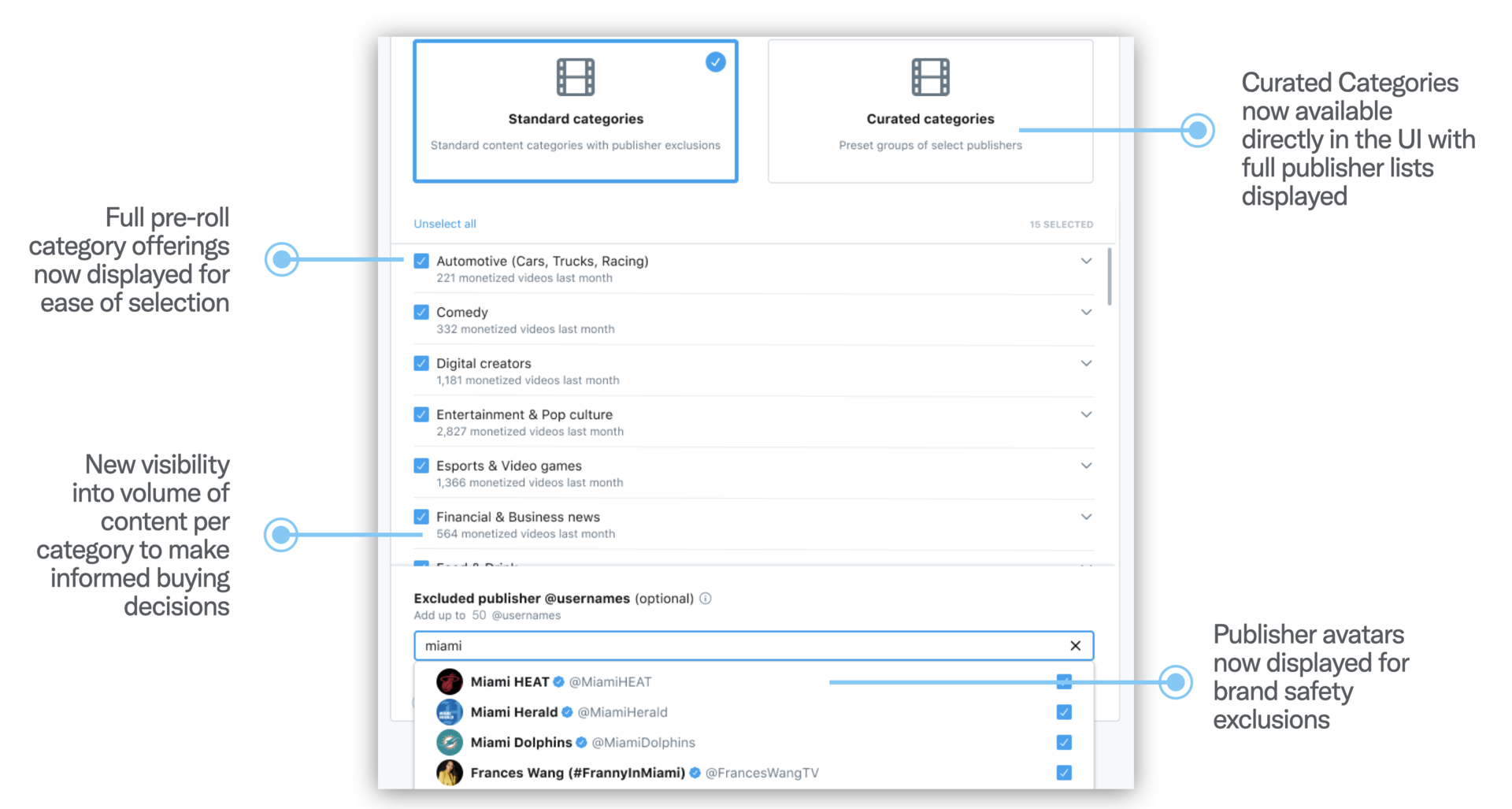 With watch time for videos on Twitter steadily increasing, we're excited to continue to find ways to make our engaging and brand safe video formats even more effective for our advertisers. Tweet @TwitterBusiness to let us know what you think!
Source information:
1Magna & Twitter, 'The Value of Premium' Study, 2020
2EyeSee & Twitter Internal Study, 2020
Ready to advertise on Twitter?