Ad formats we love for businesses: Twitter Amplify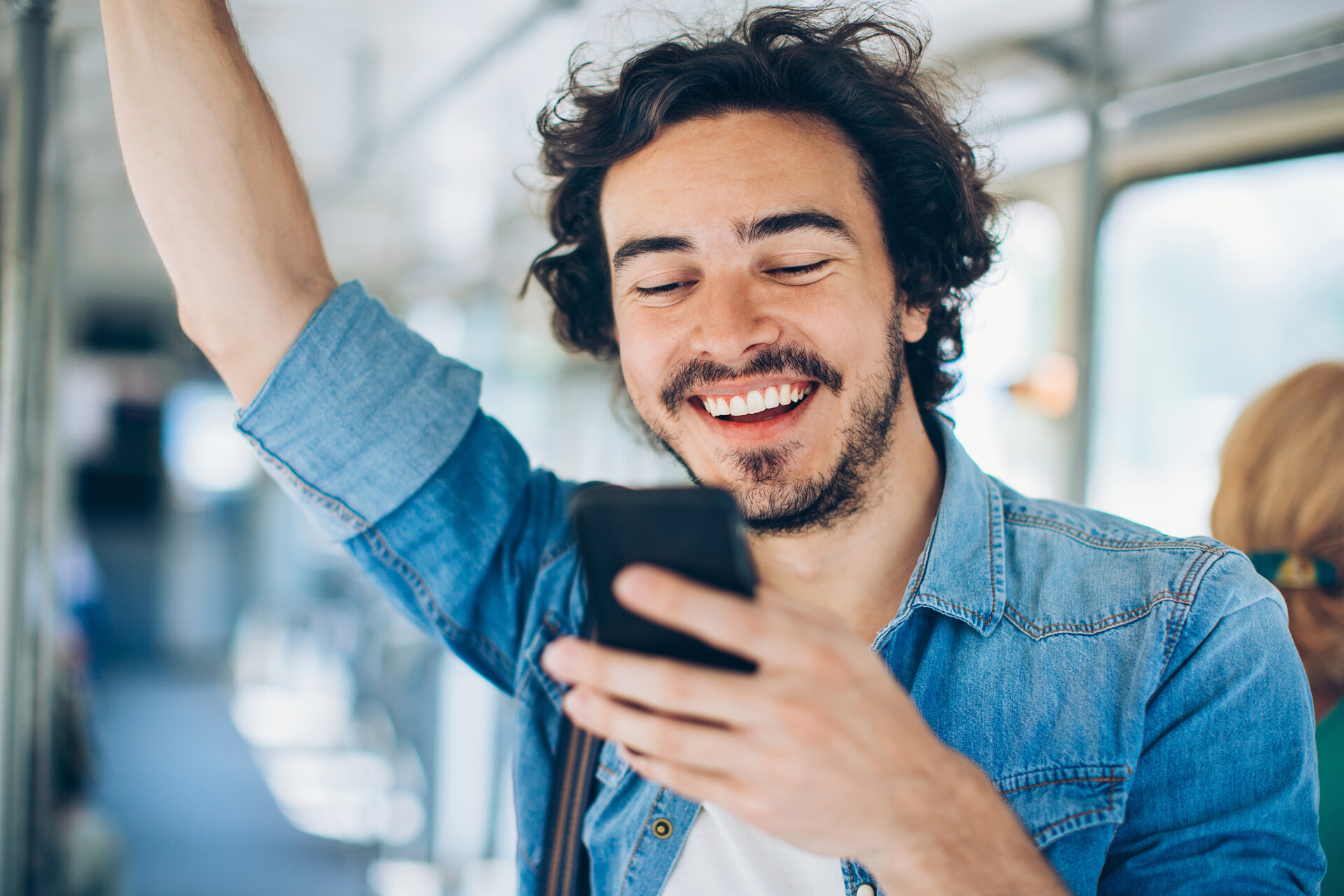 We know that people come to Twitter for big moments and to connect with what's happening in the world and that they spend 26% more time viewing ads on Twitter than on other leading platforms1. We also know Twitter sees 3.5 billion video views per day2 – so, how can your brand connect with this highly engaged audience? Enter, Twitter Amplify.
What is Amplify?
Amplify is a Twitter advertising solution that pairs brands with premium, timely publisher videos and the audiences coming to Twitter to view them. 
Amplify enables your brand to align with culturally relevant videos that your target audience is already watching – meaning they are receptive and leaned-in. Your video ad will play as pre-roll at the start of premium videos across categories you select.
Why is Amplify valuable for brands?
Amplify extends your reach - all while aligning your brand with premium video, events, expertise, and topics. We've found that ads paired with in-feed premium video deliver 2.2X brand favorability and 1.7X purchase intent when compared to the same ads in a non-feed environment3.
Based on U.S. Nielsen Brand Effect data, people who saw pre-roll ads on Twitter were 70% more likely to recall the brand's ad – versus those not exposed to Video Ads4.
What are the Amplify ad formats available?
Amplify Pre-roll
Amplify Pre-roll connects you with premium video content at scale, shared by Twitter's network of over 200 hand-selected, brand-safe publishers.
Our publishers all fall within 15 standard content categories, with plenty of options for different industries and verticals. These content categories include automotive, comedy, entertainment and pop culture, financial and business, sports, lifestyle, gaming, and technology. In select markets, we also offer Curated Categories which provide more niche content pairing opportunities like 'parents' or 'light-hearted content.'
We have manually curated all of these categories based on the conversation-driving ability of the publisher. As a result, we've seen strong results from Amplify Pre-roll campaigns.
How does it work? 
Your video ad will play within the Tweet of the publisher partner we've matched your video to, and it will have your brand logo and avatar placed on the top left to help drive brand recall. 
A thumbnail of the partner's premium video will appear in the bottom right corner, with a countdown of your ad's length in the bottom left. If your video is longer than six seconds, a 'tap to skip' button will appear at 0:06 and replace the partner's video thumbnail. Learn more about how to create a pre-roll views campaign.
When should you use Amplify Pre-roll?
Best use cases include pre and post-event brand alignment, and always-on awareness and reach campaigns.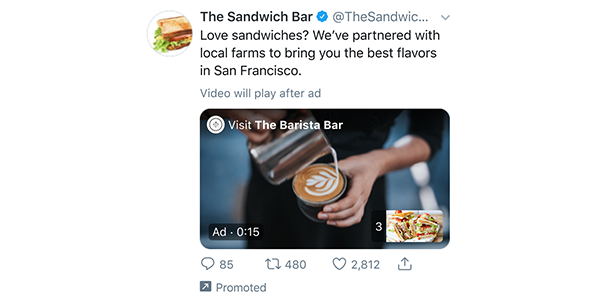 Amplify Sponsorships
Amplify Sponsorships differ in that they allow you to connect with a single premium publisher of your choosing, through a custom 1:1 alignment with Tweet-level control for the duration of your campaign. 
When you connect your brand with the best of what's happening through alignment with premium video content you're opening your brand to a receptive and engaged audience – viewers of our premium publisher content spend +28% more minutes per day on Twitter, and are 2x more likely to use Twitter multiple times a day.5
How does it work? 
To run an Amplify Sponsorship you need to join Twitter's Amplify Publisher Program and develop a content package with Twitter. The sponsorship is then brought to life with your chosen advertising partner. If you want to kick-off an Amplify Sponsorship campaign, speak to your dedicated client partner at Twitter to help you get set up.
When should you use Amplify Sponsorships?
Best use cases include 1:1 alignment with a specific partner, event, or theme. For example, pairing your sports brand's ad about your new football boots with one of our premium partner's coverage of a big football final.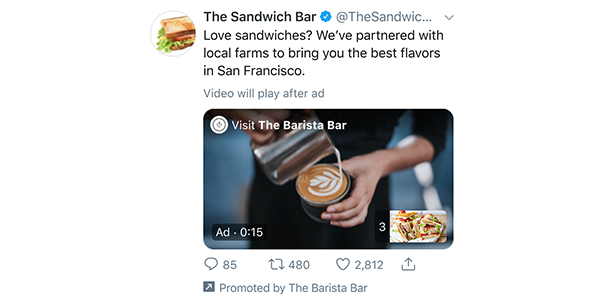 Amplify Sponsorship brand example
LG UK (@LGUK) ran an Amplify Sponsorship campaign to increase the reach of their ads highlighting their products. They created 6s ads to play as Pre-roll during the campaign. 
The ads played before premium publisher content during a major soccer competition - therefore reaching a large, receptive audience.  
LG UK followed Twitter best practice guidelines for their ads — copy that's short and to the point, two emojis or less per Tweet, two hashtags or less per Tweet, clear branding in their video, and eye-catching visuals.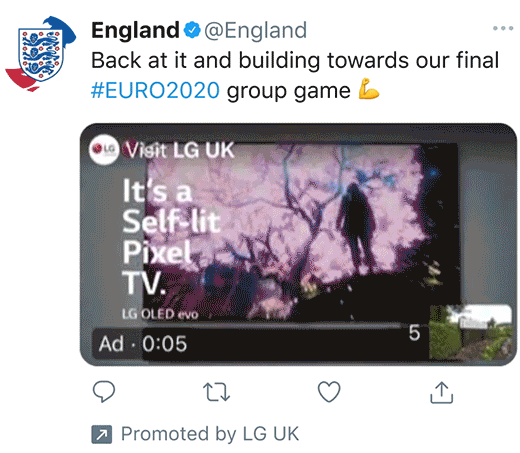 Best Practices for Twitter Amplify campaigns 
Keep your videos short. 15 seconds or less is best practice. 

Get straight to the point. You need to make a big impact quickly if you want your audience to pay attention. Choose one main objective and create your video in a way that ensures that is the main takeaway message. 

Target the content category that best aligns with your brand. Then create a highly targeted and relevant ad to fit this. 

Be clear with your branding. Prominent logo placement helps focus your audience on your brand and message. Include your logo in your ad's first few frames and continue to showcase it throughout the video for optimum recall. 

Use a sound-off strategy. Lots of people watch videos on their mobiles with the sound off, so make sure your messaging doesn't need audio to hit home. Again, include clear branding, use direct visuals, and include closed captions

.

Use multiple ad formats. Using 3+ ad formats can increase campaign awareness by 20% and purchase intent by 7%, according to a Nielsen Brand Effect study which compared using three formats versus just one6.

Depending on your campaign objective, Amplify will work well in tandem with other ad formats. For instance, if your objective is awareness or reach, Amplify Pre-roll would work hand-in-hand with Website Buttons and Conversation Buttons. 
How does Twitter aim to ensure brand safety with Amplify? 
We use a combination of technology, in-person checks, and serving controls with the goal of ensuring that brands are only matched with publisher content that's in compliance with our strict brand safety guidelines. 
We're proud that OpenSlate provided an independent assessment of Twitter Amplify content in 2021 and found that of the more than 455,000 Monetized Twitter Amplify videos analyzed, 100% fell above the industry-standard Global Alliance for Responsible Media (GARM) Brand Safety levels. GARM unites marketers, media agencies and platforms, and industry associations to safeguard digital media by reducing the availability and monetization of harmful or unsafe content online.
Our brand safety measures include:

Close partnerships with publishers to educate them on our Safe for Ads Content Guidelines, along with brand safety and suitability best practices

Proactive education for our publishers about brand suitability

A manual review of every publisher video in our Amplify video marketplace 

Selection of premium content only, and strict enforcement of Twitter's brand-safe content guidelines.
On your side, you can opt-out of specific content categories that you don't want your ads to pair with, and/or you can exclude individual publishers you don't want your videos to be paired with. 

Your audience is on Twitter and waiting to engage with your video ads - if you're ready to start an Amplify Pre-roll campaign, get started here. 

If you want to kick-off an Amplify Sponsorship campaign, speak to your dedicated client partner at Twitter to help you get set up. If you don't yet have a client partner or account manager at Twitter, contact one of our Twitter Ads specialists to get started and check if you qualify to join Twitter's Amplify Publisher Program.
1. Source: OMG + Twitter, Receptivity with Neuro-Insight, October 2018; US, BR, JP
2. Source: Source: Twitter internal, January 2021, global. Data reflects 2020 yearly average
3. Source: Magna & Twitter, 'The Value of Premium' Study, 2020
4. Source: Nielsen Brand Effect data for in-stream video ads, US, November 2017-April 2018 https://blog.twitter.com/en_us/topics/product/2018/expanding-in-stream-video-ads-to-more-advertisers-globally
5. Source: Twitter + Kantar GCP Video Consumption Survey + Embee Passive App Behavior, 2019, n= 1,441 (GCP:.429, non-GCP: 1,012).
6. Source: Nielsen Brand Effect (US/UK/JP/CA), Q3 2015 - Q3 2018 Connect campaigns. Comparison is v. 1 ad format alone.
Ready to advertise on Twitter?