5 ways to find and hone your brand voice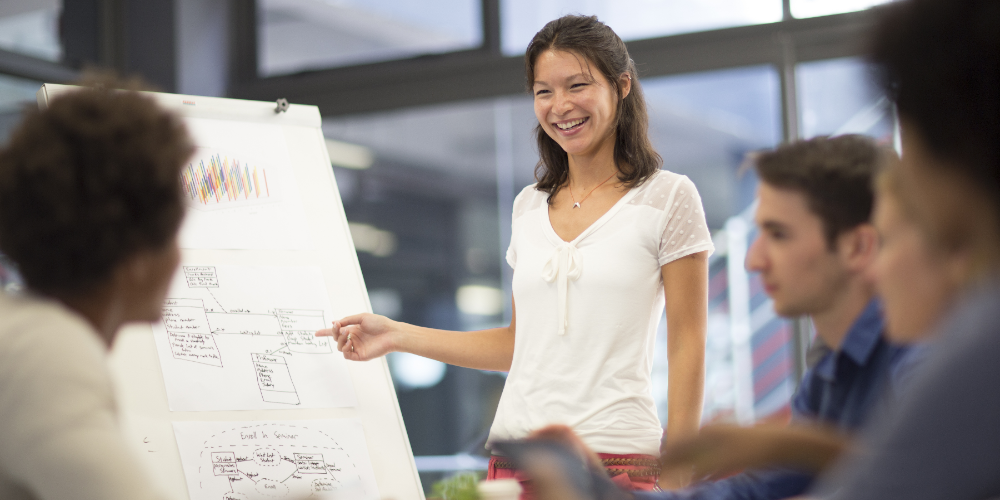 How can you create a well-defined brand voice? Katy French from creative agency @columnfive shares her insights. 

Finding your brand voice can seem intimidating, but it's not a chore. It's not even a hunt. Your brand voice already exists —  you just have to identify, articulate, and share it with the world. But how do you uncover it, and where do you start?
There are plenty of suggestions out there. Some involve a lengthy, drawn-out process. Some require a talking stick and a group therapy session. While those may work for some people, most brands don't have to dig that deep to find their voice. In fact, the process can be positive and, dare we say, fun.
You might not come to a consensus in your first brainstorm, but you can make the process of finding your voice a lot easier with a few helpful shortcuts and exercises that we've personally put to the test.
First, start with your core identity
Before you try to define your brand voice, you need to be clear on who you really are. Whether you're starting from scratch or rebranding, you must have your core identity articulated (aka your vision, mission, and values). This helps you understand who you are, what you do, and why you exist. Only then can you think about how to communicate this identity via your brand voice.
If you haven't already done this as part of your brand strategy, define your core identity now:
Vision: Why your company exists
Mission: What your company does
Values: How you do what you do
Once you've completed this exercise, you can start to explore your voice.
You'll want to gather your brand team and any other relevant stakeholders for your early brainstorms so that you know you're on track from the get-go. There will likely be strong opinions, but these tips and exercises can help you guide the conversation and steer you toward a consensus.
Build your personas
Different groups of people communicate differently. A tween doesn't speak the way a baby boomer speaks. A yogurt brand doesn't speak the way a muscle car brand speaks. If you're trying to find your voice, consider who you're speaking to.
Your brand should always be genuine and authentic, but it needs to communicate in a way that connects with your target customers. 
We recommend starting with three personas, although you can do more if you like. Consider how these people talk, the words they use, the challenges they face, how they express themselves. What publications do they read? What do their Twitter feeds look like? What's their sense of humor? Your job isn't to regurgitate what they do, but to help you find a voice that they can relate to.
Some prompts that can help:
After people interact with our brand, they should feel ___________.
Three words I think of when I think of that feeling are___________, ___________, and___________.
A brand that makes me feel that way is___________.
That brand's tone is___________.
Become a celebrity
One helpful way to start the brand voice conversation is to describe your brand as a person that most people are familiar with (a celebrity), then use additional terms to qualify it. For example, you might describe your brand of whiskey as George Clooney (e.g., debonair and distinguished), then dive into personality traits and tone (e.g., intelligent, witty, worldly).
Quiz your team
Ask as many people as possible to choose five adjectives to describe your brand — including everyone from your junior-level accountant to the company founder. When you get the results back, look for common descriptors or themes.
This exercise is also helpful because it will identify both the commonalities in your brand perception and the discrepancies. Large discrepancies in opinion indicate a larger branding problem: Your employees don't understand who you are, why you're here, or what you're doing.
Review your own content
Sometimes we think too hard about who we want to be when we should just focus on who we are. Take a deep dive into the content you've created to examine the way you currently communicate.
Look at your last 20 Tweets, your last few blog posts, your sales materials, newsletters, etc. When you view your content as a whole, you're likely to identify a few common threads.
Look for certain words, phrases, or descriptions that jump out. Are your newsletter subject lines a little edgy, just like your tweets? Do your blogs provide helpful tips? These through-lines may hold helpful clues to help you crystallize your voice.
Try a generator
If you're feeling tired or creatively stuck, try Portent's brand voice generator, an interactive tool to help you hone in on your voice. Simply answer a series of questions and they'll guide you to your "voice," and even offer up examples of copy that captures that type of voice.
You shouldn't necessarily take this as the final word on what your brand voice is. But it's a good way to start a conversation about it — or identify what you most definitely aren't.
Document your verbal identity
Once you've decided on your brand voice, include your verbal identity in your brand guidelines. (This will help employees and any freelancers or agencies understand the brand voice and how to apply it.) What you add is up to you, but some of the more common elements include:
Voice
Tone
Brand persona (just like your audience persona—but for your brand)
Vocabulary (language guidelines for words you do and do not use)
Messaging architecture (your total messaging, including positioning, value prop, tagline, and brand stories)
Additional reading:
This article originally appeared in Column Five. This article was written by Katy French from Business2Community and was legally licensed through the NewsCred publisher network. Please direct all licensing questions to legal@newscred.com.
Ready to advertise on Twitter?