2019 Twitter marketing calendar: Download your essential Twitter marketing resource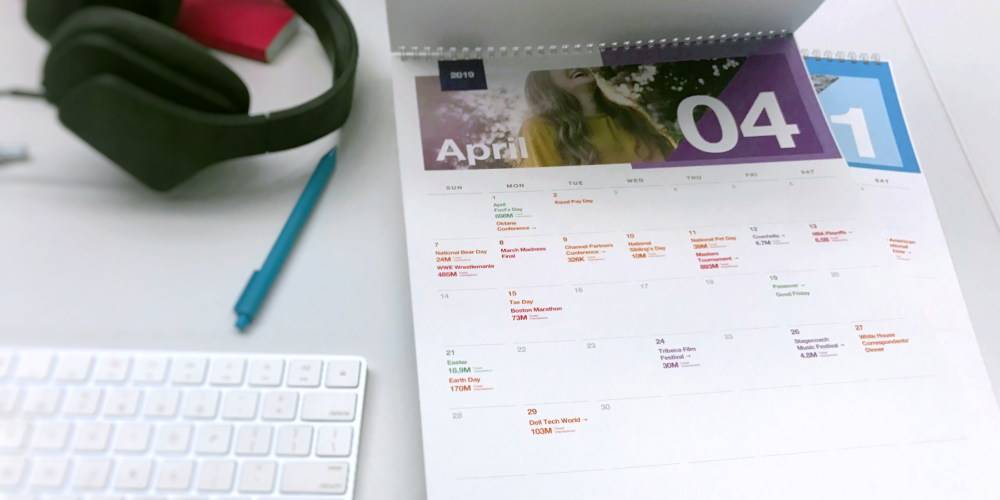 If you've missed National Puppy Day, wondered how many people are Tweeting about Earth Day, or were curious about the number of Tweet impressions that happen during the Grammy Awards, we're here to help. 

We are excited to announce the launch of our 2019 Twitter marketing calendar, a must-have resource for brands, businesses, and agencies on Twitter. We used internal Tweet data to identify 2019's most-anticipated events that will unfold on Twitter — from the obvious to the niche — along with the number of Tweet impressions they're expected to reach. Print out this calendar and keep it on your desk for Tweet inspiration throughout the year.
To get you started, here are some of our favorite events (that you might've never heard of):
February 9th, National Pizza Day: 34M Tweet Impressions
March 8th, International Women's Day: 838M Tweet Impressions
April 10th, National Sibling Day: 10M Tweet Impressions
Download our 2019 Twitter marketing calendar for year-round campaign inspiration and start tapping into conversations that start on Twitter.

Are you based outside of the U.S. or Canada? 

Ready to advertise on Twitter?