The Kpop girl group, BLACKPINK has come back with a new song, "How You Like That" and their #TwitterBlueroom live session became a hot topic among global fans on Twitter, drawing in more than 2.2 million viewers from around the world.
This session was arranged to officially mark the comeback of BLACKPINK and the opening of their official Twitter account. Since opening a Twitter account, members of BLACKPINK have been communicating actively with BLINK (their fan group) worldwide, which drew a lot of attention from fans even before the live stream. BLACKPINK has also been using new features on Twitter such as voice Tweets and Fleets in their communication with fans. The group's "See you soon! @BLACKPINK" voice Tweet recorded more than 949,000 views, 207,000 likes, and 60,000 Retweets. The live stream offered a chance for fans to get a glimpse of a softer and lovely side of the group members, unlike the charismatic vibe members of BLACKPINK send out on stage! Fans also got hints as to what they can look forward to in the future.
Both before and after the #TwitterBlueroom live stream, BLACKPINK has been breaking numerous #TwitterBlueroom records. As soon as the live stream started many fans logged in to participate in the conversation. Both during and after the live stream, the #BLACKPINK hashtag trended at number one worldwide on Twitter. BLACKPINK opened their official Twitter account at the same time as unveiling their new song, #HowYouLikeThat on June 26, 2020, leading to over five million Tweets within 12 hours, from around the world. Hashtags such as #BLACKPINK and #HowYouLikeThat ranked top among trending subjects on Twitter worldwide – a true testament to the global popularity that BLACKPINK garners. Twitter launched five special emojis including four emojis that were drawn by the members themselves and special emojis to commemorate the official opening of BLACKPINK's Twitter account and the comeback single release. The emojis that take on the shape of BLACKPINK's heart logo are automatically applied when the hashtags #BLACKPINK, #블랙핑크, or #HowYouLikeThat are used. The emojis that were drawn by members of BLACKPINK are automatically applied when the names of the members of BLACKPINK are written either in Korean or English, with the hashtag, as in #JENNIE, #제니, #JISOO, #지수, #LISA, #리사, #ROSÉ, and #로제. The special emojis drawn by members of BLACKPINK can only be found on Twitter. Before the Q&A session started in earnest, the members of BLACKPINK prepared gifts for their fans asking the questions. Each gift was an album cover made with various stickers by the members. The members decorated the album covers in great detail, and delighted their fans by telling them it was "great fun" and that they would like to "do it again". The album covers created by members of BLACKPINK, with each member adding their unique touch, were given to fans selected through a raffle who asked #TwitterBlueroom questions. Members of BLACKPINK introduced the Twitter emojis they designed themselves, on #TwitterBlueroom live, as well as how to draw them and what went behind the scenes. They also gave cute nicknames to the emojis they created. Rosé named her emoji 'Rosie', while Jisoo named hers 'Angshu (Angry Shumon)', by slightly changing the name of the character she always enjoys drawing, 'Shumon'. Jennie introduced her emoji that takes on the form of a dumpling and named it 'Mandeuki'. Her explanation also drew a burst of laughter as she noted, "Many people take it as an onion, but it's not an onion. This is a mandoo (dumpling)!"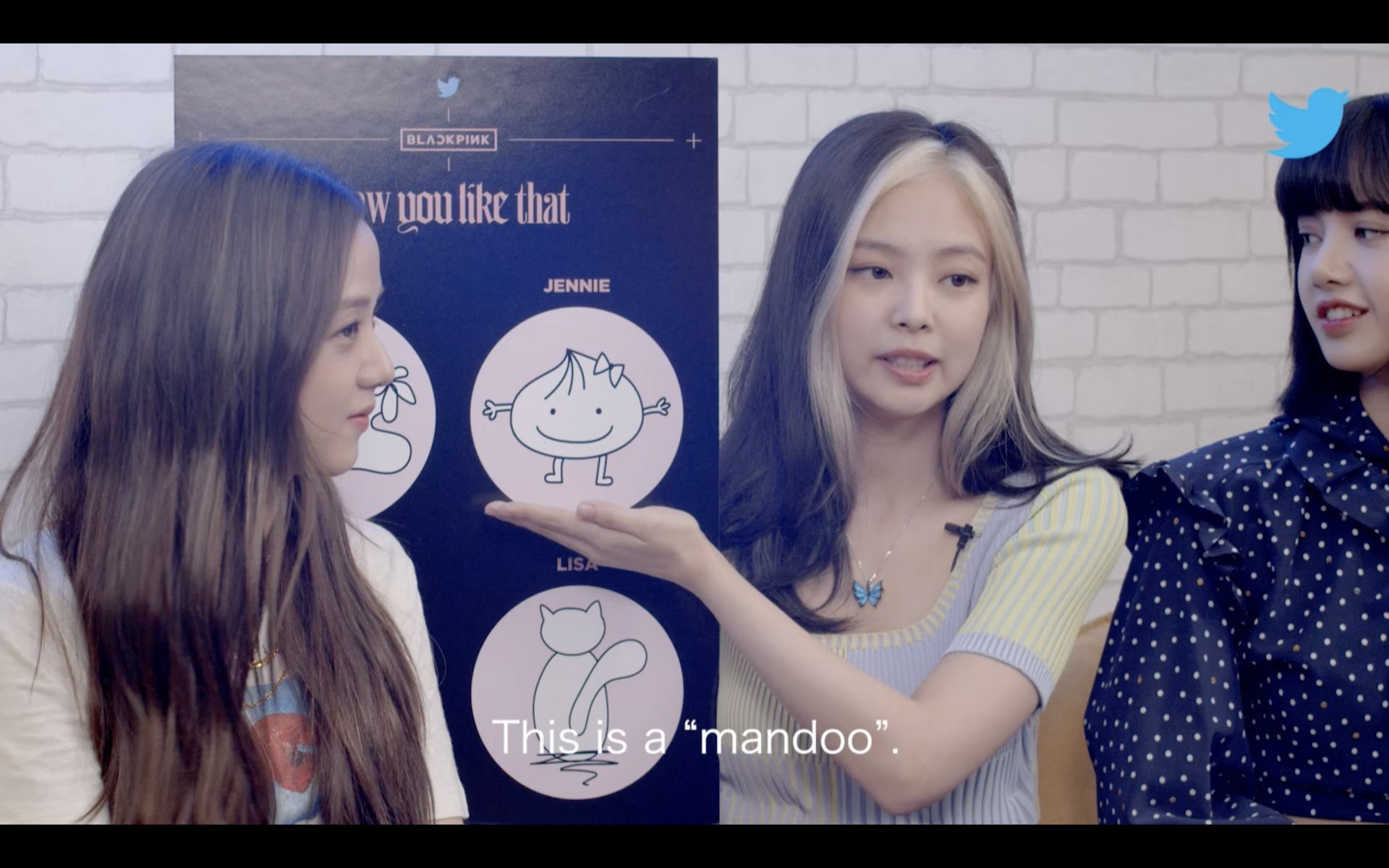 During the #TwitterBlueroom live main event, the Q&A, a variety of questions were posed and answered. Some of the questions posed about the new song were: "Which part of the new music video was inspired by the ideas of the members?" "Which part of the new song does each member think is the killer part?" "What are the key points of the choreography used for the new song would you like the fan club members to pay particular attention to?" Members of BLACKPINK communicated with their fans by sharing the behind-the-scenes anecdotes that answered fans' questions. Other questions about the members posed included, "If you had to eat only one type of food, what would it be?" "What hair color would you like to try?" "You take a lot of photos together. What are the key points you have in mind when taking these photos?" "What do you think you would be doing if you were not a member of BLACKPINK?" Of particular note was when asked, "If you could live as another member in your group, who would you like to be?" Rosé, Jennie and Lisa all answered that they would like to be Jisoo, showing the love and support the members have for each other.
After the Q&A session where fans could tune into BLACKPINK's new song, 'How You Like That' and a number of anecdotes related to the song, BLACKPINK finally revealed their custom album covers to BLINK members worldwide. Members of BLACKPINK closed the #TwitterBlueroom stream by asking fans to follow their Twitter account and promising that they will be communicating via their Twitter account more frequently going forward. After the stream, the group posted a fun image taken using the Twitter 360 booth, keeping their promise. Jennie and Lisa featured "BLACKPINK in Your Area" opening part of their new single with a signature pose, and Jisoo and Rosé' made various gestures expressing their character. The two Twitter 360 videos posted by the group received a lot of attention from fans worldwide and recorded over seven million cumulative views. Over the course of seven days, from the launch of their new Twitter handle on June 26 to July 2, BLACKPINK generated a total of 19.1 million Tweets worldwide, demonstrating their popularity as the most talked-about Kpop girl group on Twitter.
If you are curious about #BLACKPINK, check them out on Twitter!