Perspective
#WorldCup on Twitter: Soccer's borderless fandom

It's happening again: The quadrennial meeting of sport, passion, loyalty, and glory known as the FIFA World Cup. And while soccer fans are famously passionate, on Twitter their fandom knows no bounds. So let's take a look at why Twitter is where soccer lives. Including how brands can tap into this community and conversation to hit their goooooooals! (Sorry, couldn't resist.)
Soccer Twitter is
Soccer is the most Tweeted about sport on the planet, with 1.8 billion Tweets in 2021. That's triple the conversation since the last event took place just four years ago. In fact, in 2018, #WorldCup was the most Tweeted sporting event hashtag of the entire year.1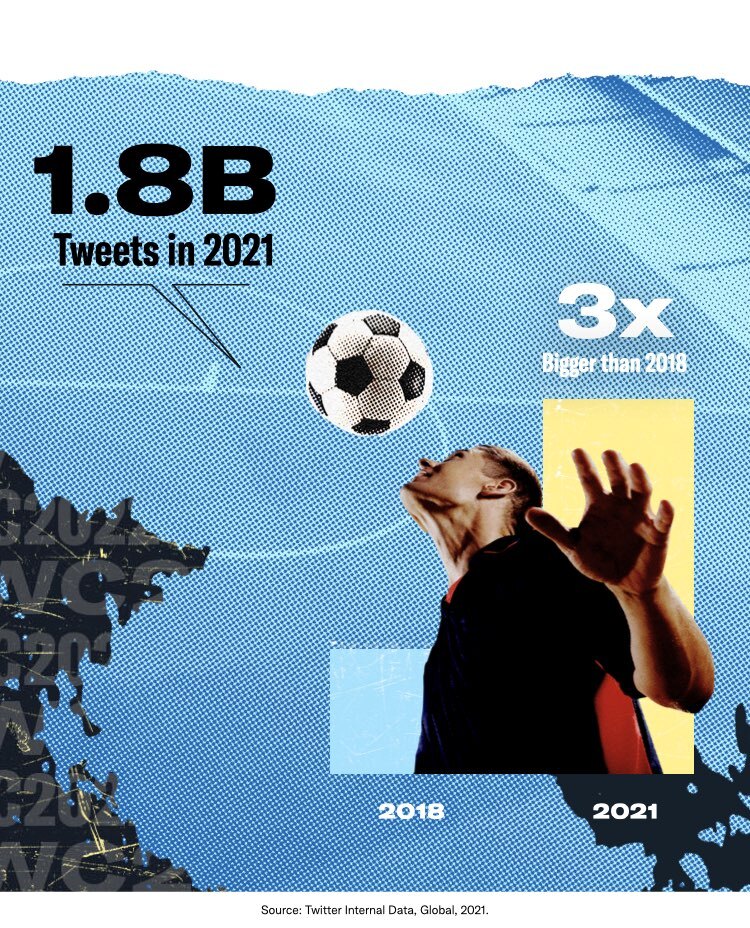 Of course, none of this should come as a surprise, since 75% of people on Twitter consider themselves fans of the tournament, compared to just 49% of those off the platform.2 From favorite players to the biggest moments, fans come to Twitter to talk about all things soccer — and this is the height of their obsession. 

For brands and marketers, it's a dream audience: a global community of engaged, passion-driven fans, Tweeting and devouring content before, during, and after the competition.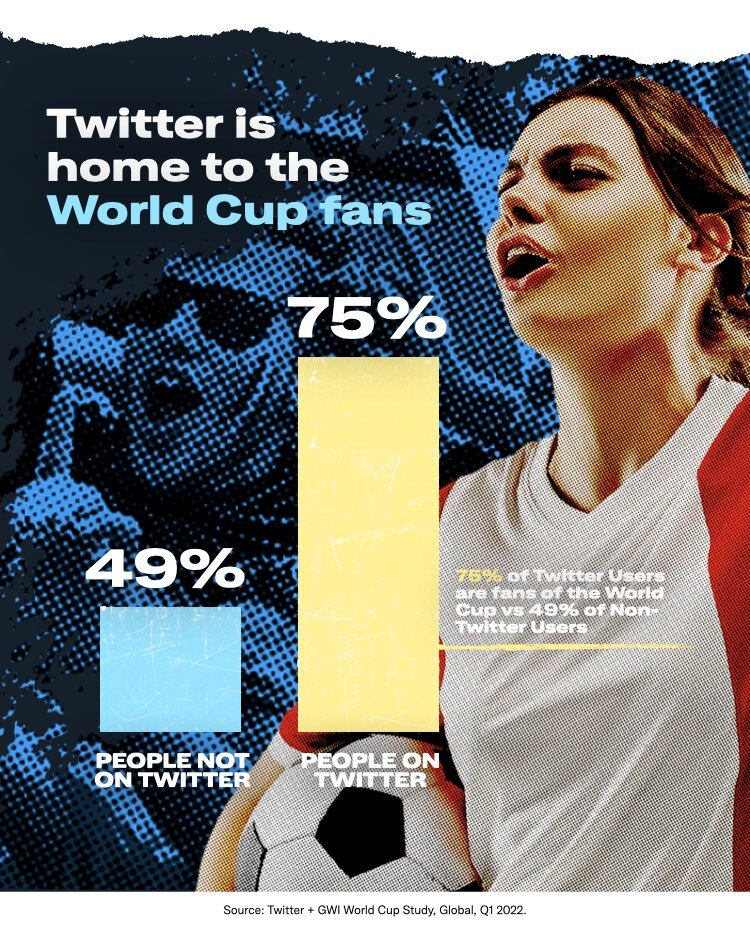 "That's all great. But what happens when our country's team gets eliminated? Will the fans disappear?" It's a legit question, especially in markets with lower-ranked national teams. But this is where the borderless nature of Twitter's soccer fandom shines. 
Since soccer is a truly global sport, a team's fans are often spread around the world. Just think about your own company, you likely have co-workers cheering on Brazil, England, or Mexico. This seems especially true in "melting pot" countries with large immigrant communities, where fans and families bring their allegiances — and Tweets — with them.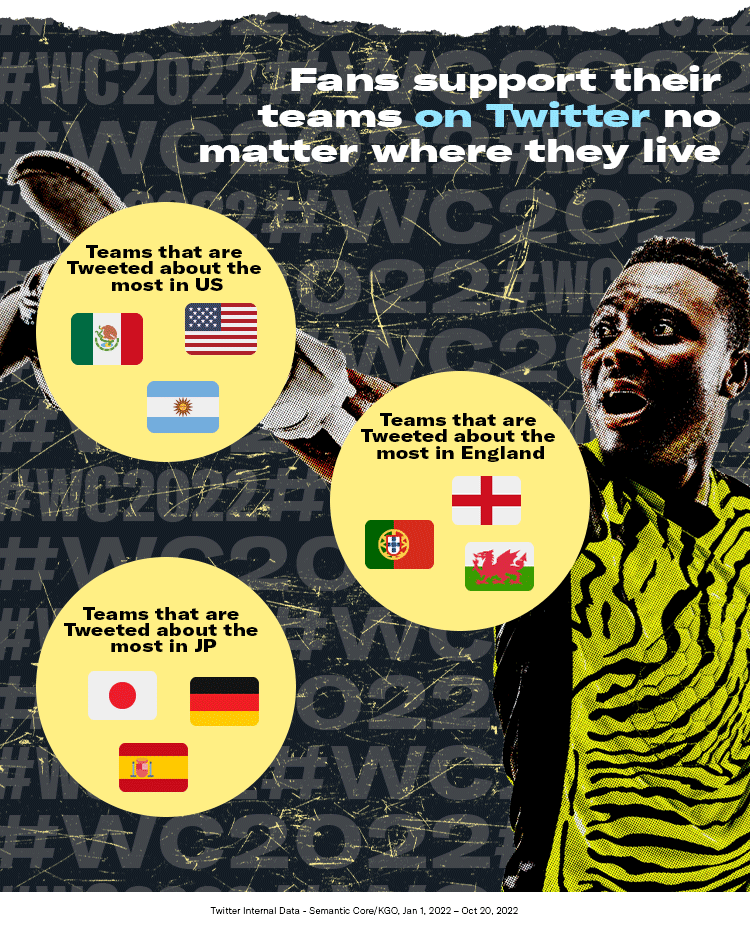 So while people in the United States naturally support the US team, we also see huge amounts of Tweets about the Mexican and Argentine teams. Fans in Japan also Tweet about German and Spanish squads in big numbers, while those in England also talk about the Wales and Portugal sides3

As a global platform, Twitter has fans talking about their teams, no matter where they live.
The Beautiful Game always wins
Beyond national loyalty though, there's one universal truth that drives #WorldCup on Twitter: These fans love and show up for the game. The action, the world class players, and the emotional moments transcend borders and connect people in ways only other fans (and some astute marketers
) can understand. 
It's said that the legendary Brazilian star Pelé first coined the term Jogo Bonito, or "The Beautiful Game". Today, that joyful appreciation and passion for soccer keeps fans watching and Tweeting throughout the tournament.
We see this play out in a recent Twitter + Global Web Index (GWI) survey, in which 80% of fans said they'd keep watching if their team is knocked out.  And in the US, that number rises to 90%.4 Which means soccer fans are going to stay engaged regardless of how their team fares.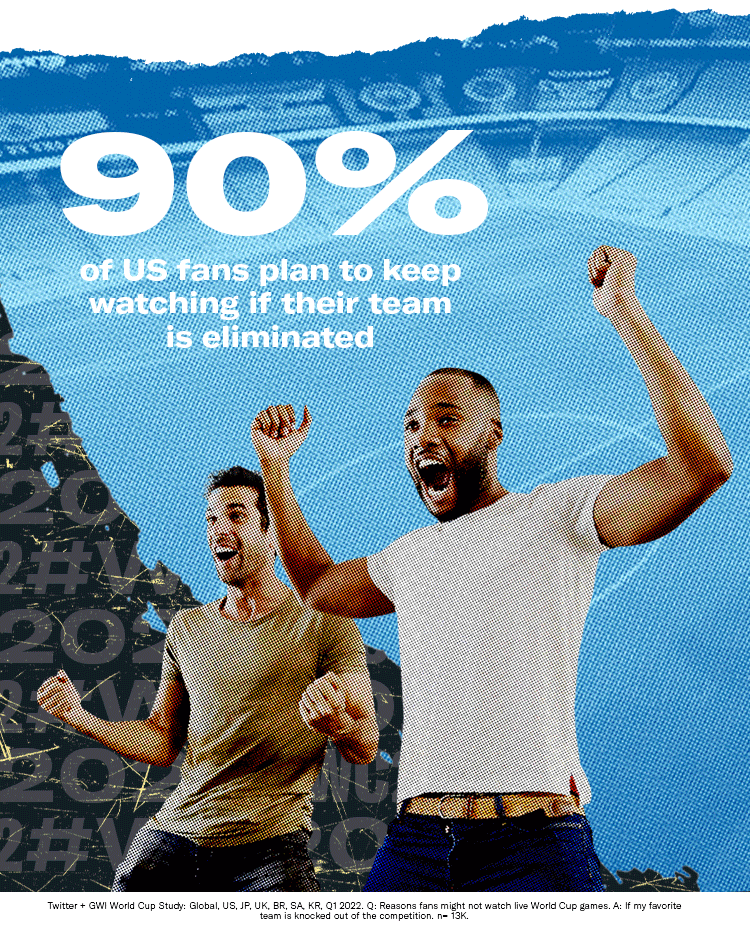 In fact, only 4% of US fans say they'll watch the tournament because of their favorite team.5 Globally, 47% of World Cup fans plan to watch as many games as possible.6 And if 2018 is any indicator, the proportion of Tweets from fans outside the competing countries will increase with every round.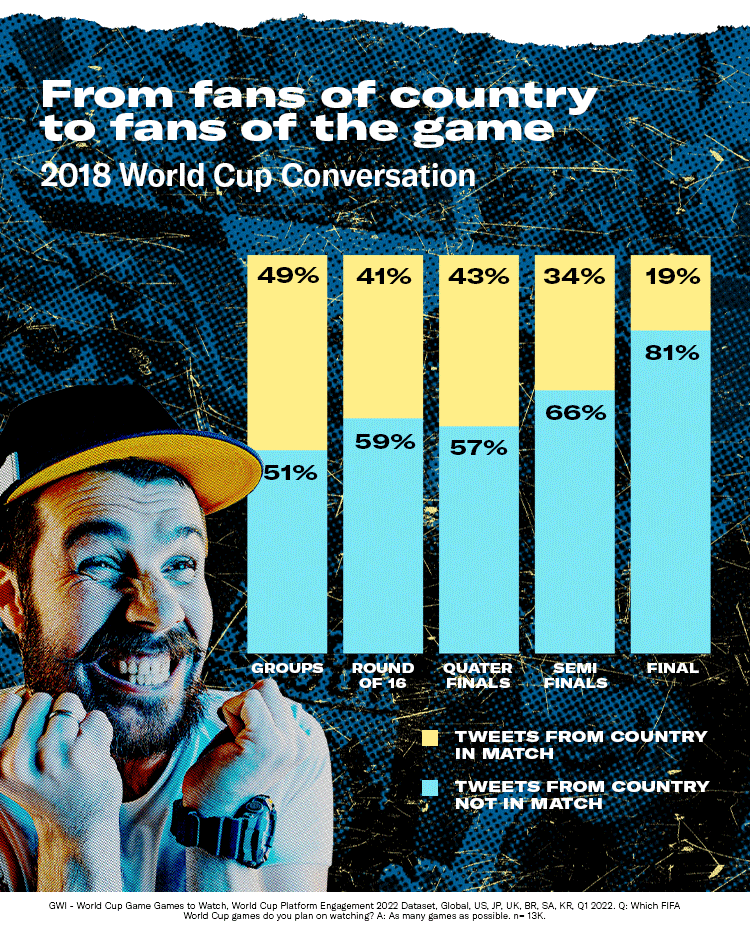 Every team, even the biggest underdog, thinks it can win the 2022 FIFA World Cup. And it's not too late for your brand to capture some glory too. Thanks to the borderless fandom of #WorldCup on Twitter, you have an engaged, enthusiastic audience ready to connect with, no matter how far your country's team advances.
Some pro-tips:

Have a winning game plan

Work with your Twitter team to build the right strategy for your market, leveraging our latest Twitter insights and the conversation thus far.
Tap into different fan loyalties
Besides country, fans follow favorite players, club teams, and leagues. Soccer also overlaps with culture, so find opportunities with market-specific music, entertainment, and celebrities. Twitter can help you tap into those communities to maintain an emotional connection.
Combine your calendars
This year's tournament is much later in the year, overlapping with the holiday season. As the competition gives soccer fans their favorite gift of all, how can you weave the excitement into your existing December plans? 
Acknowledge the diverse audience
The Tweets show the conversation happening in many languages, with English, Portuguese, and Spanish leading the way. Consider a bilingual/multilingual approach to connect with the borderless fandom in your market.
Twitter is where soccer lives
The game is on the field, but Twitter is where the World Cup fans come to life, united by a love of soccer that breaks down borders and barriers. Let us know how we can help your brand win. 
Sources
1. Twitter Internal Data, Global, 2021
2. Twitter + GWI World Cup Study, Global, Q1 2022
3. Twitter Internal Data - Semantic Core/KGO, Jan 1, 2022 – Oct 20, 2022
4. Twitter + GWI World Cup Study: Global, US, JP, UK, BR, SA, KR, Q1 2022. Q: Reasons fans might not watch live World Cup games. A: If my favorite team is knocked out of the competition. n= 13K.
5.  GWI - World Cup Game Games to Watch, World Cup Platform Engagement 2022 Dataset, Global, US, JP, UK, BR, SA, KR, Q1 2022. Q: Which FIFA World Cup games do you plan on watching? A: Only games featuring my favorite team. n= 13K
6. GWI - World Cup Game Games to Watch, World Cup Platform Engagement 2022 Dataset, Global, US, JP, UK, BR, SA, KR, Q1 2022. Q: Which FIFA World Cup games do you plan on watching? A: As many games as possible. n= 13K