Increase Tweet engagements with Promoted Tweets
People on Twitter love to discover and share interesting content, take part in enthusiastic conversations, and connect with others outside their immediate circles.

Becoming part of that active engagement is a fantastic way to raise brand awareness, build relationships, and create advocates for your business.
 
How to get more Retweets, likes, and replies
A Tweet engagements campaign promotes your Tweets to a large, targeted group of people. It enables you to place your best content in front of the audience that matters to you, at the time it will have most effect.
Tweets in these campaigns are clearly labeled as Promoted but are like regular Tweets in every other way. People can Retweet them, reply to them, like them and more.
Promoted Tweets appear in timelines, on profile pages, and on Tweet detail pages. You can create a Tweet engagements campaign on ads.twitter.com.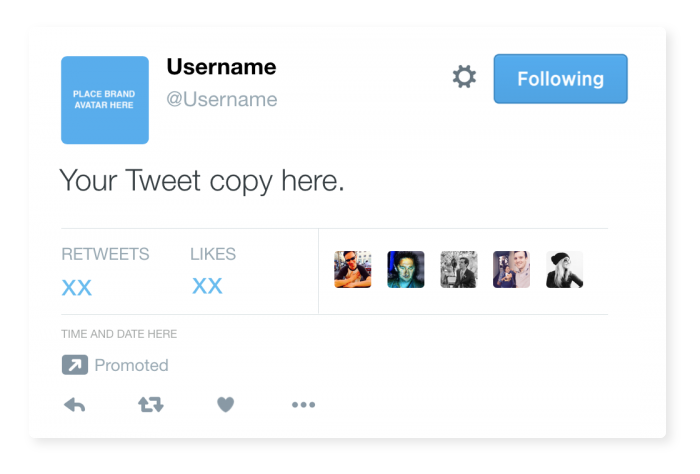 Set up your campaign for success
Your Tweet engagements campaign will be more effective if you produce compelling Tweets to promote.
In this video guide, you can discover creative ways to develop interesting Tweet content and engage people on Twitter in relevant conversations.
These tips include advice on how to:
start conversations with customers
encourage discussion around your new products or services
develop your content strategy and plan your editorial calendar
People are much more likely to engage with Tweets containing visuals, so experiment with images or video. Get creative with Vine to create short, looping videos or add up to four images in a single Tweet.

Get an overview of your best-performing Tweets. Track clicks, Retweets, replies, likes, and more.

Learn more in-depth information on creating, running and targeting Tweet engagements campaigns.

Monitor your ad campaigns. See the number of impressions, the engagement rate, and the cost-per-engagement.

Learn how other businesses achieved success with Tweet engagements campaigns